Custom Scenario: Sibling Rivalry Mod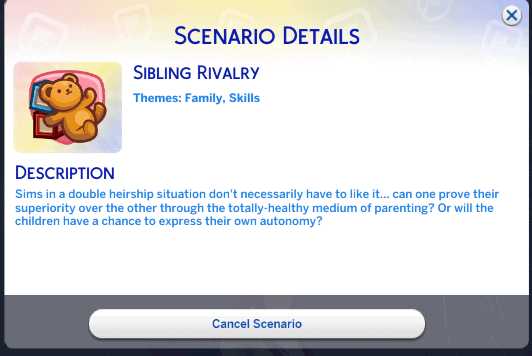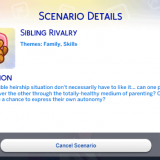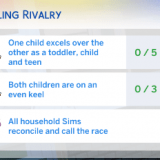 Custom Scenario: Sibling Rivalry Mod
This one is basically a merger between Living with Enemies and Too Many Toddlers: it requires two YAs+ and two toddlers (preferably the set-up should be that the adults are siblings and the toddlers are cousins, but I have yet to find a way to program it so the Sims must be related to each other, as opposed to must not). There's three listed endings to be found, explained here for ease of in-game legibility.
– one where, out of five required criteria, one toddler gets three-to-five of them while the other gets two-to-nought: maxing four toddler skills (sans potty), getting all four childhood skills to 5, completing a childhood aspiration, getting an A in grade school (must age up to teen for this to tick off), and maximizing the Scout activity.
– one where both toddlers throw in the whole business out of spite – both must get a D in grade school (again, needs aging to teen), both must become acquaintances with each other, and at least one child must be enemies with their parent.
– and one where everyone in the household reconciles to the level of friends, with no negative sentiments.
And of course there's the usual bad endings where one or more Sims leave the household, but we try not to think about those.
Let me know if there's anything that I can add to make this more robust!