International Relations Mod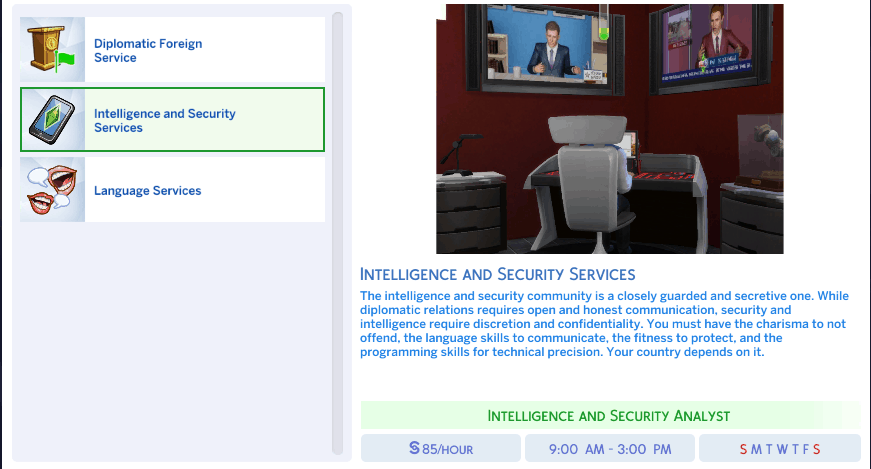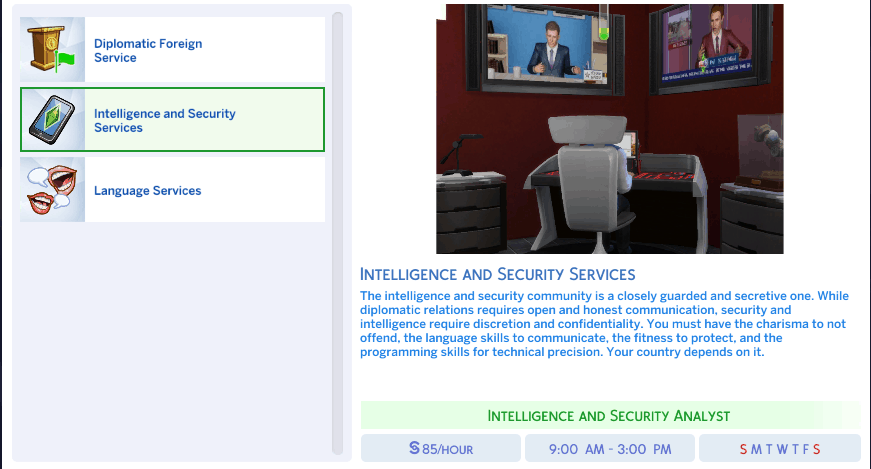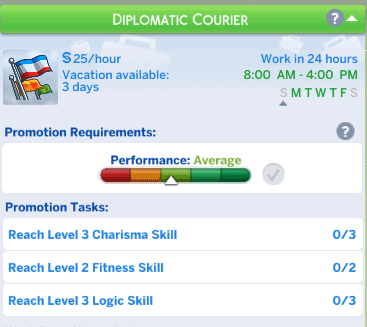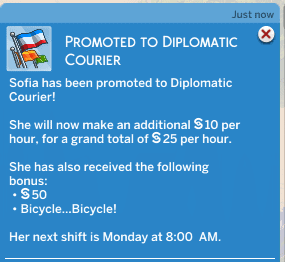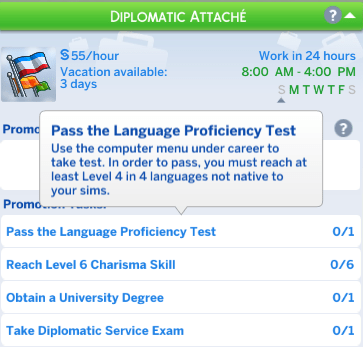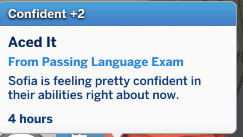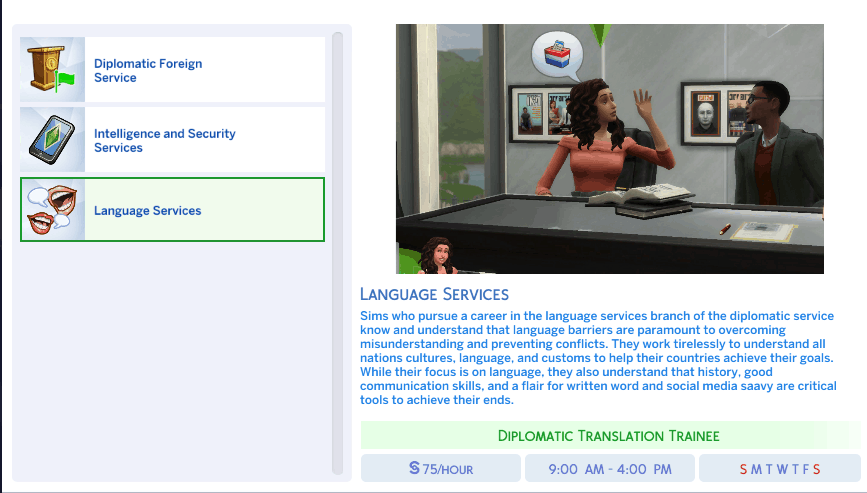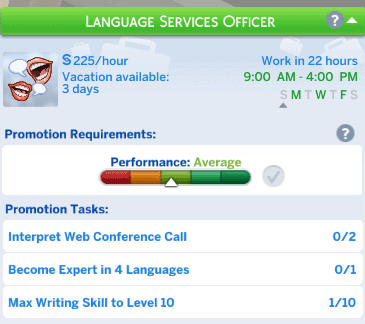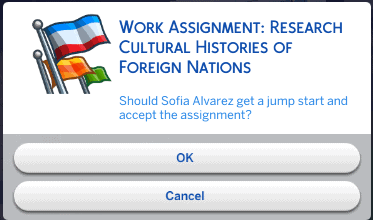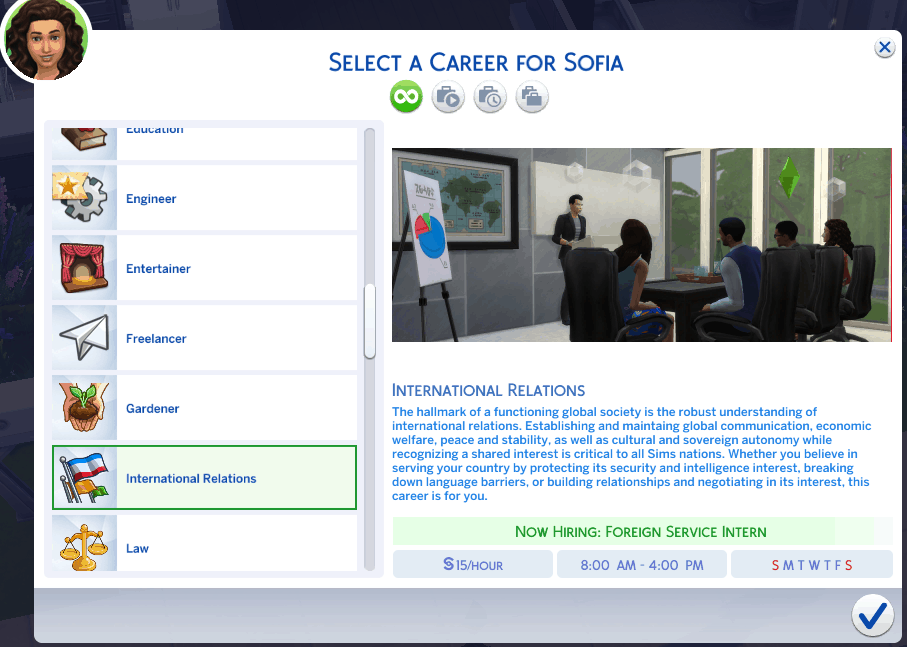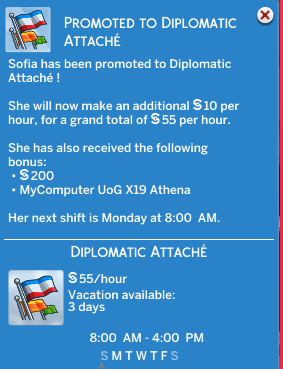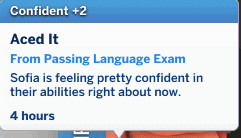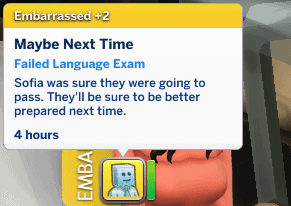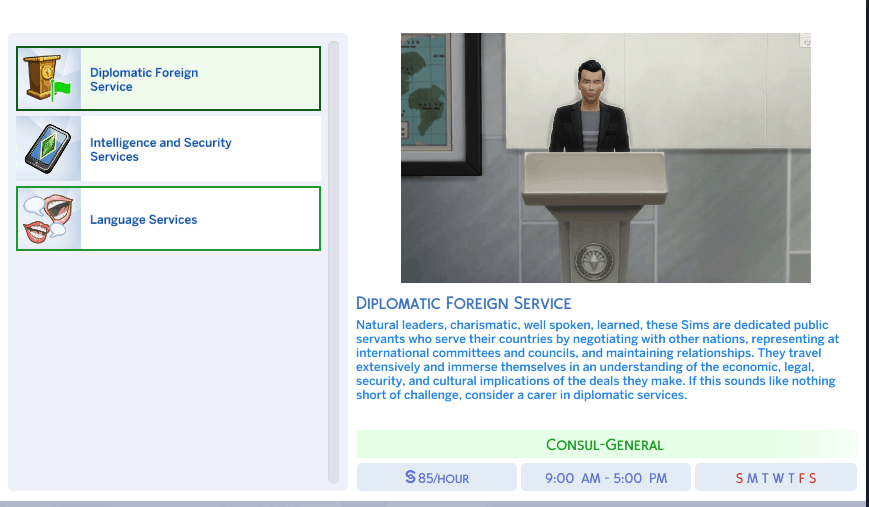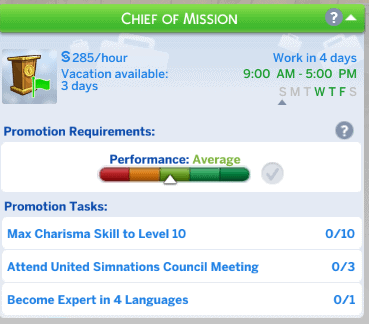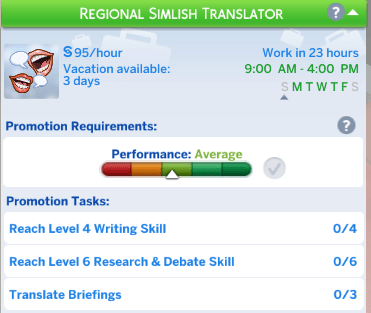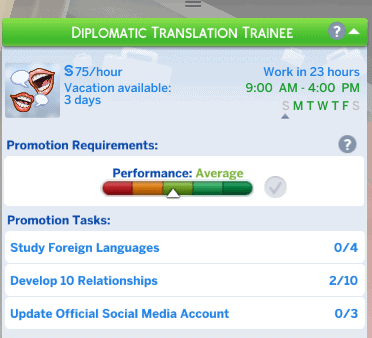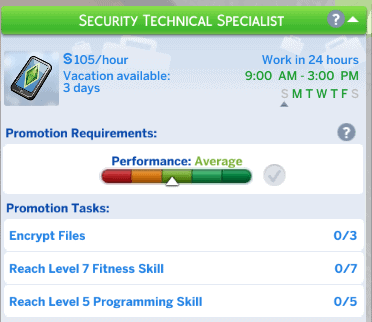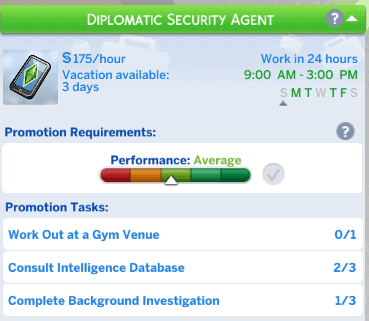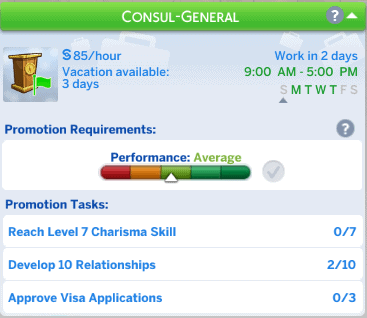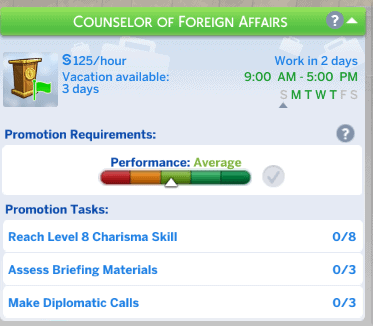 International Relations Mod
This is an entirely new career made with the purpose of using Frankk's Language Barriers to allow my sims of different worlds more of a reason to connect to each other.
International Relations Career
This career is a semi-active career in that you do have work from home assignments at the base level and then branch specific ones.
Features:
Semi-Active career with work from home assignments
Three Branches: Diplomatic Foreign Services, Intelligence and Security Service, and Language Services
Custom social interactions
Custom phone and computer interactions
Custom rabbithole interactions
Custom hidden trait: Diplomatic- Diplomatic sims are those who excel in cultural and mental activities. They enjoy building relationships, learning about different cultures, and pursuing education and mental pursuits. The trait allows for the making of friends easier 2x, the building of non-native language skills 2x, job performance .6x, Charisma, Research and Debate, Logic, Writing, and Programming 1.6x.
Compatibility
This career requires a few expansion packs as well as two custom mods.
Packs *REQUIRED*: Jungle Adventures, Get to Work, City Living, Island Living, University Life, Get Famous, and Snowy Escape
Custom Mods *REQUIRED* : Frankk made an amazing mod that introduces Languages to the world of the Sims. It is absolutely required for this career. Please download this free mod HERE
You will also need the XML Injector found HERE
Please do not try to play this career without these two mods. You will get errors and it will not work.
Skills (Base branch):
Charisma
Logic
Research and Debate
Writing
Non-Native Language Skills – Selvadoradian, Simlish, Komorebigo, TokiSulani, and Windenburgish
Fitness
Work from Home Assignments:
Study Foreign Language
Research Cultural Histories
Edit Briefings
Levels:
Foreign Service Intern
M-F, $15/HR
Your foot is in the door. You've applied for an intern position to learn the ropes in the diplomatic service offices, but you'll need to shore up on your language skills and charisma to get promoted.
Diplomatic Courier
M-F, $25/HR
You're an official, though lowly, member of the Diplomatic Service Corp. Finally! Right now you deliver diplomatic messages and papers to dignitaries, field offices, consulates, and embassies. While not the most exciting work, it is important and you do take it seriously. Do it well and promotions may be in store.
Foreign Service Analyst
M-F, $35/HR
You now work at headquarters and are itching to do something more than the desk work they have you do. Maybe if you work hard on your languages, charisma, and writing, you'll achieve a promotion.
Foreign Services Specialist
M-F, $45/HR
You are now a fully fledged member of the Diplomatic and Foreign Services of your country. You must work on your logic and charisma skills as well as start a presence online.
Diplomatic Attach?
M-F, $55/HR
Official business now hits your desk at regular intervals. You have been assigned to a consulate and work for the Counselor. After some time on the staff, learning the ropes of your new assignment, you must choose which track in the diplomatic service you wish to seek and pass the Diplomatic Service Exam. A degree will be helpful in Communications, History, Economics, Computer Science, or Language and Literature.
At this point in the career, before you choose a branch, you must pass two exams, one rabbithole, and one computer with a pass or fail buff, and either have a degree or a certain level of Charisma. You can choose the option to always require a degree in order to advance. Please choose the correct file for the experience you prefer. Degree requirements are: Any Economics, History, Language and Literature, Computer Science, or Communications degree.
Diplomatic Foreign Service Branch
Natural leaders, charismatic, well spoken, learned, these Sims are dedicated public servants who serve their countries by negotiating with other nations, representing at international committees and councils, and maintaining relationships. They travel extensively and immerse themselves in an understanding of the economic, legal, security, and cultural implications of the deals they make. If this sounds like nothing short of challenge, consider a career in diplomatic services.
Work from Home Assignments:
Study Foreign Language
Travel and Meet new sims in different Simnations
Catch up on Current Events
Connect to Conference Calls
Give Speech on Diplomatic Relations
Skills:
Charisma
Research and Debate
Writing
Non-Native Language Skills – Selvadoradian, Simlish, Komorebigo, TokiSulani, and Windenburgish
Consul General
M-F, $85/HR
As consul general, you oversee the consulate diplomatic mission of your country. You help nationals of your country while they are visiting or living in other nations. Plenty of charisma, an understanding of languages, and the powers of reasoning are all useful skills in your post.
Counselor of Foreign Affairs
M-Th, $125/HR
Counselor of Foreign Affairs is a step up and you oversee many operational aspects of larger diplomatic missions for your country. Continuing to work on your language skills and charisma will allow you to make better deals and maintain better relations with your counterparts.
Minister Plenipotentiary
T-Th, $200/HR
A high ranking government representative, your duty is to your country and your diplomatic mission. Continue to build relationships and negotiate agreements on behalf of your government.
Chief of Mission
W-F, $285/HR
You are the principal officer in charge of all of your country's diplomatic mission to a foreign country, foreign territory, or international organization, answerable only to the Ambassador. You take care of all logistical and cultural matters and can engage in negotiations on behalf of your country.
United Simnation Ambassador
W-Th, $350/HR
As the United Simnation Ambassador of your country, you are its representative on the world state. The ambassador enjoys many priveleges but with these come great responsibility. Everything from trade agreements, health crises, and international treaties are under your purview and you have proved capable of handling them.
Intelligence and Security Service Branch
The intelligence and security community is a closely guarded and secretive one. While diplomatic relations requires open and honest communication, security and intelligence require discretion and confidentiality. You must have the charisma to not offend, the language skills to communicate, the fitness to protect, and the programming skills for technical precision. Your country depends on it.
Work from Home Assignments:
Study Foreign Language
Travel and Meet new sims in different Simnations
Do Research on Logic and Programming
Practice Programming
Workout for 2 Hours Energized
Skills:
Programming
Logic
Fitness
Non-Native Language Skills – Selvadoradian, Simlish, Komorebigo, TokiSulani, and Windenburgish
Intelligence and Security Analyst
M-F, $85/HR
Your job is to collect and analyze information for your government to assess security threats by international actors. You will need to be physically and mentally fit as well as tech saavy.
Security Technical Specialist
M-F, $105/HR
As a security technical specialist, you will provide support for and assist in international technical security programs to protect from technical espionage, acts of terrorism, and crime.
Diplomatic Security Agent
M,T,Th,F, $175/HR
You are in charge of ensuring security for your country's missions and embassies. Youn conduct background investigations and provide personal protecting for the diplomats of your country so peak physical fitness is required.
Diplomatic Counterintelligence Officer
M-W, $250/HR
You develop systems to help detect and neutralize the efforts of foreign intelligence services targeting your country's personnel, facilities, and diplomatic missions. Sharp wits and a technologically saavy mind are your greatest assets.
Chief Diplomatic Security Officer
T,F, $325/HR
As the Chief Diplomatic Security Officer, you oversee all diplomatic missions. You develop and implement security measures to safeguard all diplomatic personnel who work in every diplomatic mission for your country and to protect classified information at these locations.
Language Services Branch
Sims who pursue a career in the language services branch of the diplomatic service know and understand that language barriers are paramount to overcoming misunderstanding and preventing conflicts. They work tirelessly to understand all nations cultures, language, and customs to help their countries achieve their goals. While their focus is on language, they also understand that history, good communication skills, and a flair for written word and social media saavy are critical tools to achieve their ends.
Work from Home Assignments:
Study Foreign Language
Travel and Meet new sims in different Simnations
Watch Cultural World
Write Translations
Read 3 Books on Foreign Culture at the Library
Skills:
Charisma
Writing
Research and Debate
Non-Native Language Skills – Selvadoradian, Simlish, Komorebigo, TokiSulani, and Windenburgish
Diplomatic Translation Trainee
M-F, $75/HR
As a trainee in the Language Services, you work on honing your language skills, developing your communications skills, and establishing a social media presence. While not on missions yet, you are working your way up.
Regional Simlish Translator
M-F, $95/HR
As the Regional translator for the world's most common international language, you help with facilitating language learning of Simlish at diplomatic missions of your country. You focus on education and training programs in your host nation.
Language and Culture Specialist
M,T,Th,F, $150/HR
As a Language and Culture Specialist, your focus is on not only learning the language and culture of the countries your nation has diplomatic relations with, but also on training others in the field. Field officers and diplomats will look to you to help them with their skills and to not make missteps while fulfilling their duties to avoid unnecessary embarassment and gaffes.
Language Services Officer
M,W,F, $225/HR
As a Language Services Officer, you participate in and provide supervision in various language translation and interpretation activities related to diplomatic operations. You will perform interviews with non-native speakers, prepare reports, and translate written material.
Diplomatic Language Expert
T-W, $300/HR
You are frequently called on to translate treaties, trade agreements, economic sanctions, newspaper articles, and official documents of your government into the languages of the world. As a leading expert in the world's most used languages, you bring a deep knowledge of cultural understanding to your work, as well. The benefits of removing language as a barrier are directly tied to your work.