Living Life Aspiration (Custom Aspiration) Mod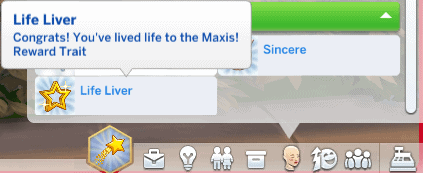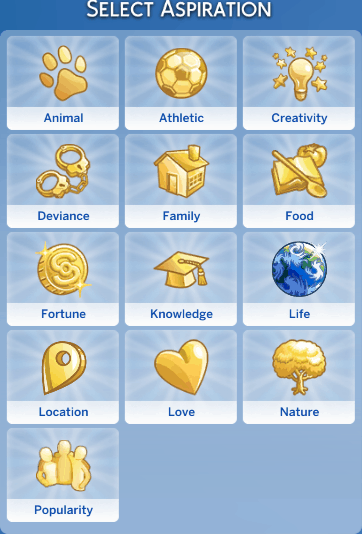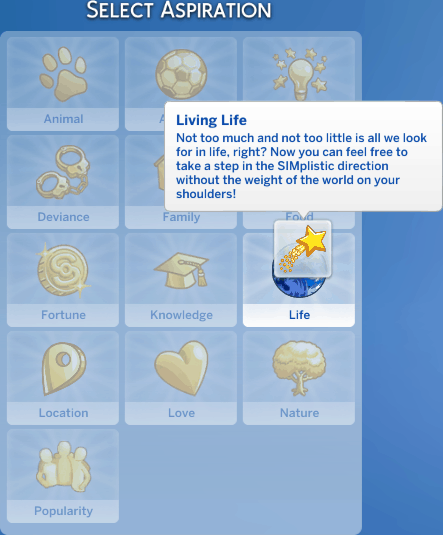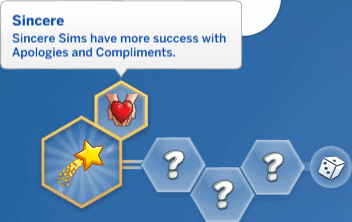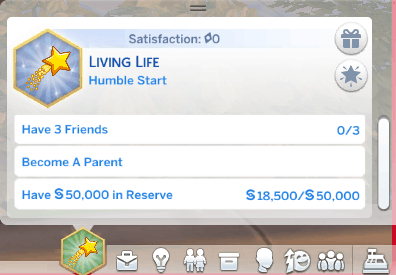 Living Life Aspiration (Custom Aspiration) Mod
UPDATE: 02/16/2021
– I am so very sorry in the delay of updating this mod. I have been busy but I think I have fixed everything and it might work with the latest edition of Sims 4(no way for me to test for Paranormal nor Batuu since I do not have them yet)
-The description will have the updates to the mod with any previous versions comparison.
UPDATE: 02/18/2021
– Forgot to readd the Whims to the mod. They are now added.*
So in my journey to find a simple aspiration mod, I alas could not find one! So I made one!
This is a simple custom aspiration that players can use towards challenges or whatever it wished upon. It has two milestones: Humble Start and Lived Life, and one custom Reward Trait: Life Liver.
Humble Start:
* Have 3 Friends
* Become a Parent
* Have 50,000 Simoleons in Reserve (Prev: Have 50,000 Simoleons)
Lived Life:
* Become A Elder
* Have 4 Grandchildren (Prev: Have 1 Grandchild; I could not lower the number for Grandkids no matter what I tried)
Life Liver:
"Congrats you've lived life to the Maxis!"
*Buffs: Elated-Hidden Mood Buff (Prev: None, currently as I had problems making them work.(may come in future update) )
Whims:
Send a happy text
Dance to Stereo Music
Call Someone on the Phone
Hug Someone
Compliment Someone
Chat with Someone
Meet Someone New
Make a Friend
Tell a Joke
Dance at Bonfire*New*
Become Happy*New*
– This is shouldnt have any conflicting mods(I had used MCCC to help me test this mod. (Prev: I had used the Pregnancy Mega Mod to help me test the Parent and Grandchild parts), so that one works), but if you find any conflicting mods; please let me know.
– This should work with the most recent patch; if it does not please let me know.
This is my very first mod, so please if you find any problems in game that I didn't notice in my testings; please feel free to message about it, so that I may fix it.
Additional Credits:
Update Made with Zerbu's The Sims 4 Mod Constructor(v4) program
Made with Zerbu's The Sims 4 Mod Constructor(v2 Beta) program