MAD MEN FALL HOUSE Mod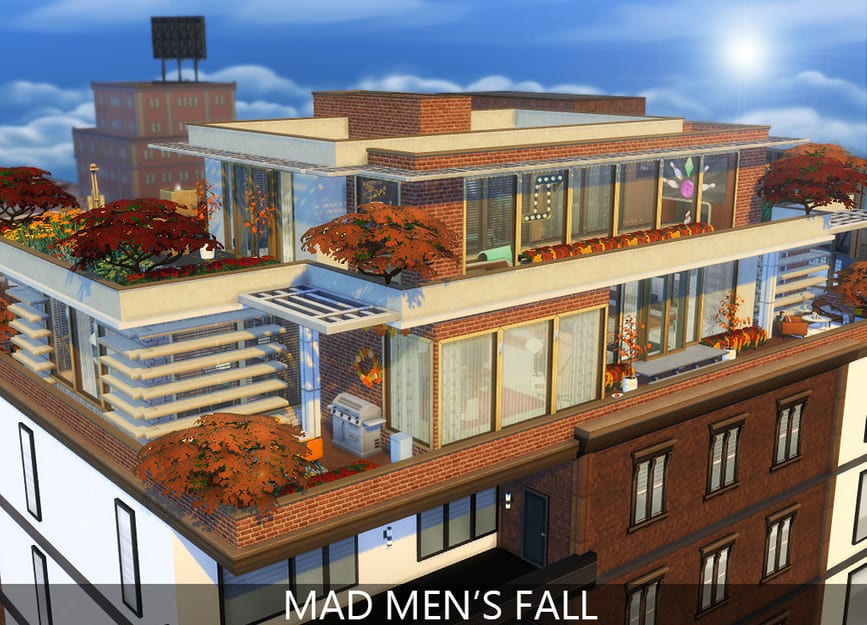 MAD MEN FALL HOUSE Mod
MAD MEN FALL is an amazing penthouse inspired by Don and Megan apartment. This lovely house features a beautiful open space with living area, a kitchen and a dining room, plus an office, a play room, a bowling alley, two bedrooms, three bathrooms and terraces with some attractions.
Please, use code bb.moveobjects on before you place the house.
Size: 30×20
Value: $ 168 089
CUSTOM CONTENT!
bb.moveobjects on
bb.ignoregameplayunlocksentitlement
Installed packs:
Star Wars Journey, Realm of Magic, StrangerVille, Jungle Adventure, Parenthood, Vampires. Dine Out, Spa Day, Outdoor Retreat, University,
Island Living, Get Famous, Seasons, Cats and Dogs, City Living, GetTogether, Get To Work, My First Pet, Laundry Day, Toddler, Fitness,
Bowling Night, Vintage Glamour, Backyard, Kids Room, Romantic Garden, Movie Hangout, Spooky, Cool Kitchen, Perfect Patio, Luxury Party,
Holiday Celebration and Dark Guitar
Beautiful CC by:
NynaeveDesign
RAVASHEEN
padre
wondymoon
ArtVitalex
BuffSumm
jomsims
INSTALLATION GUIDE:
– download the house
– unzip files
– copy house files and paste them into your Tray catalog ([…]My Documents/Electronic Arts/The Sims 4/Tray]
– put CC in the Mods folder
If you don't see the house in Gallery check the advanced options, and active "Include custom content"!
Value: 168089
Furnished: Fully
Decorated: Throughout
Bedrooms: 2
Bathrooms: 3
Stories: 2
Lot Size: 30×20
Custom content: CC used