Marketing Career Mod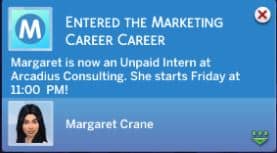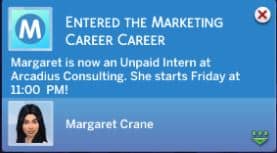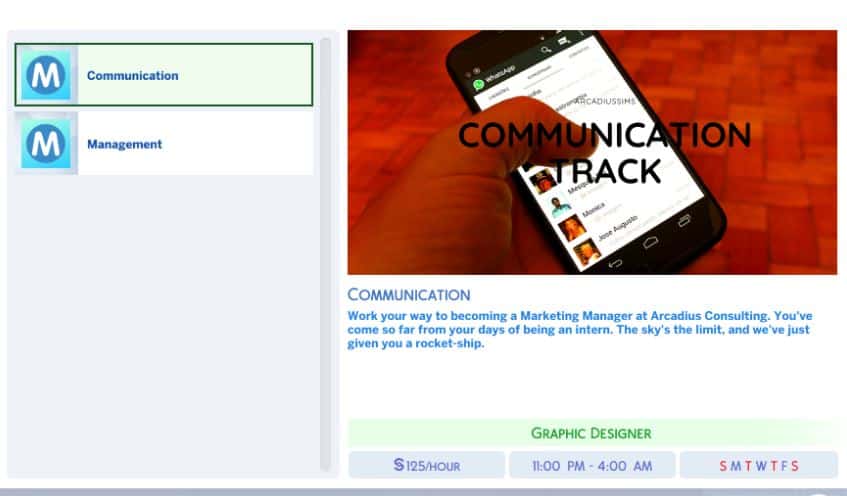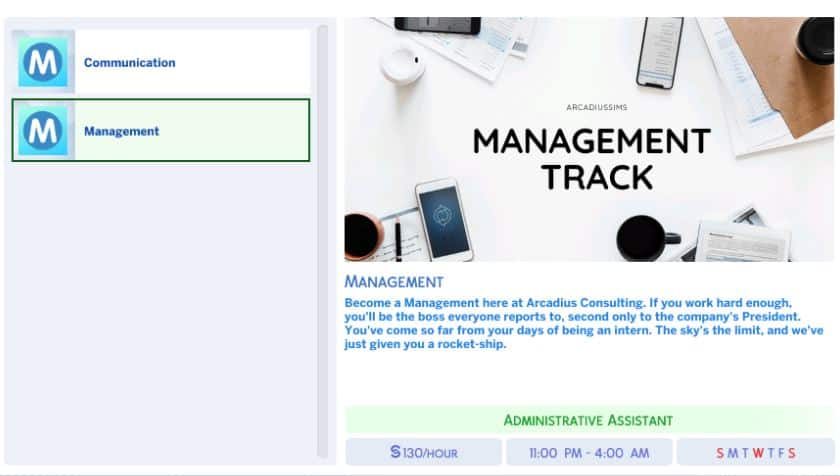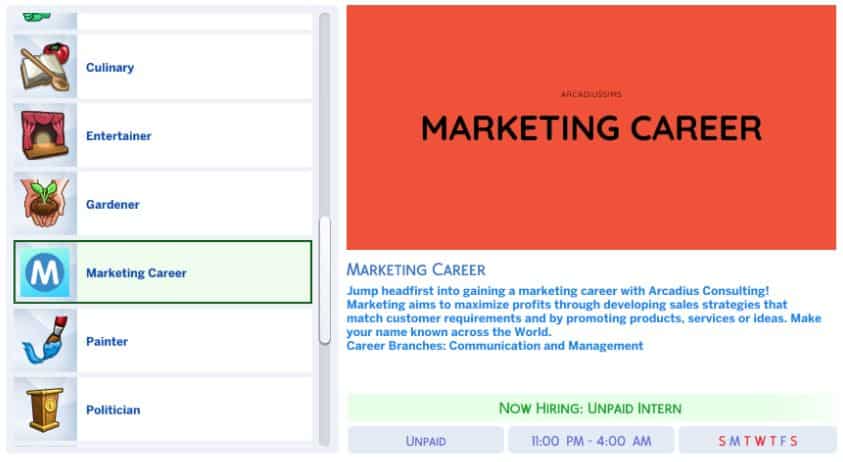 Marketing Career Mod
Here at Arcadius Consulting, we're always looking for fresh new faces to join our ranks.
Here are the available positions:
Unpaid Intern —> $0 MF
Though this position isn't paid, you're still an important part of Arcadius Consulting. Work hard at developing the necessary skills and you'll make it to the top.
Grant Writer —-> $30 MTS
Here at Arcadius Consulting, grant writers familiarize themselves with an organization's programs, goals and financial needs. They also look into potential funding sources. After compiling all the information they need, grant writers compose and send their proposals.
Donor Relations —-> $50 SS
You've moved up to the next step in Arcadius Consulting – Donor Relations. Work with the new Grant Writer to oversee how contributions are received and utilized. Donor Relations Coordinator helps to develop mailing lists using computer applications and techniques which allow the company to communicate with donors through newsletters and specialized emails.
Program Coordinator —-> $70 MTFS
Program Coordinators at Arcadius Consulting work with staff members, budgets, and procedures to ensure the implementation and success of programs. You'll monitor your staff members' workloads and hours, coordinate their schedules, and plan their time off.
Once you surpass this level, you'll have two tracks to choose between: Communication & Management.
The Communication Track:
Graphic Designer —-> $125 MWF
As a Graphic Designers here at Arcadius Consulting, you will create visual concepts to communicate ideas that inspire, inform, and captivate consumers. Develop the overall layout and production design for various applications such as advertisements, brochures, magazines, and corporate reports.
Publicist —-> $140 TTS
Image is everything here at Arcadius Consulting. Your job is managing it. Gain understanding and support for the company, as well as influence opinion and behavior. You'll use all forms of media and communication to build, maintain and manage the reputation of the company and report to the Marketing Director.
Community Outreach —-> $160 TTS
Arcadius Consulting wouldn't exist without the patronage of the community. The influential Outreach Coordinator acts as the link between the organization and the people we aim to assist.
Social Media Coordinator —-> $200 MWTS
You're almost there! As a Social Media Specialist, you will be responsible for keeping Arcadius Consulting hip with the youth by developing and implementing our social media strategy in order to increase our online presence and improve our marketing and sales efforts. You will report to the Marketing Director.
Marketing Director —-> $250 MTTS
You've made it as the Marketing Director for Arcadius Consulting. A bigger paycheck, however, means a bigger workload. You'll be developing the marketing strategy for new and existing products and overseeing implementation of the Marketing strategy – including campaigns, events, digital marketing, and PR.
The Management Track:
Administrative Assistant —-> $130 MTTS
We at Arcadius Consulting are looking for a responsible Administrative Assistant to perform a variety of administrative and clerical tasks. Duties of the Administrative Assistant include providing support to our managers and employees, assisting in daily office needs and managing our company's general administrative activities.
Human Resources Manager —-> $145 MWFS
Here at Arcadius Consulting, the HR Manager develops policy and directs and coordinates human resources activities, such as employment, compensation, labor relations, benefits, training, and employee services by performing the following duties. We won't treat you like Toby Henderson, though.
Associate Director —-> $200 MTTF
Your duties involve assisting in developing and implementing plans and goals for the company. You'll also be working with the executive director to coordinate and supervise Arcadius Consulting's daily operations.
Executive Director —-> $250 MTWTF
The Executive Director here at Arcadius Consulting is responsible for overseeing the administration, programs and strategic plan of the organization. Other key duties include fundraising, marketing, and community outreach. The position reports directly to the COO and the company President.
Chief Operational Officer —-> $350 MTWTF
Your years of hard work has finally paid off, and you've carried Arcadius Consulting on your shoulders like the mighty god you are. We're very proud of you. You will be the company's second-in-command and responsible for the efficiency of business. The COO role is a key member of the senior management team, reporting only to the company President. The goal of the COO position is to secure the functionality of business to drive extensive and sustainable growth.
We certainly hope these sound appealing to you! With us you'll unlock new skills and maximize your full potential. We want nothing but the best for you here at Arcadius Consulting, so drop off your resume today!
———————————————————–
Mod made with PC 1.48.94.1020
———————————————————–
This is my first ever mod, please let me know what you think. I'm fairly pleased. I'm open to making more careers if you have any suggestions. Also looking forward to learning what chance cards are and how to integrate them into this mod.
Basic Download and Install Instructions:
1. Download: Click the File tab to see the download link. Click the link to save the .rar or .zip file(s) to your computer.
2. Extract: Use WinRAR (Windows) to extract the file(s) from the .rar or .zip file(s).
3. Cut and paste the file(s) into your Mods folder
Windows XP: Documents and Settings(Current User Account)My DocumentsElectronic ArtsThe Sims 4Mods
Windows Vista/7/8/8.1: Users(Current User Account)DocumentsElectronic ArtsThe Sims 4Mods
Need more information?
Anyone can use both .rar and .zip files easily! On Windows, use WinRAR.
If you don't have a Mods folder, just make one.