Mega Siblings Mod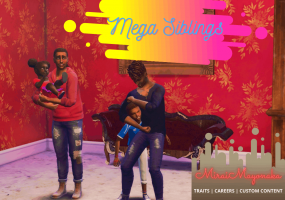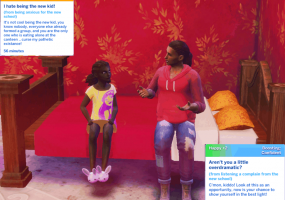 Mega Siblings Mod
Do you feel like most interactions are heavily focused on couples? Then great, I'm not the only one! Although I don't play that much anymore since I started modding, I must admit that I like my family stories, so I always wanted more siblings related interactions. I don't even want to start with all these generic interactions that give you nothing when performed. Anyway, this small mod gives you 13 new interactions for children and teens. Bear in mind that they can be performed only from and towards this age group and only between relatives (with a few exceptions). The interactions are available for siblings, step-siblings and cousins, also some of them are available for roommates and friends with a high level of friendship (best friends). So let's see what are the interactions?
The interactions come in their own menu "Mega Siblings". Depending on the age of the sibling you will see some of these interactions, but never all together.
Interactions options:
Child towards Child Available:
"Gossip About Classmates/Teachers"
"Express Anxiety From Moving To New School"
Child towards Teen Available:
the two Gossip interactions and School Anxiety
"Ask about their first kiss"
"Share being mocked at school"
"Ask Advice About Friendship"
Child towards Parent Available:
"Ask How Do You Know You Have a Crush On Someone?"
Teen towards Child Available:
"Tease About Crush", + the two Gossip interactions and School Anxiety
Teen towards Teen Available:
the two Gossip interactions, School Anxiety, First Kiss, Mocked at School, and Friendship Advice
"Share Fear For University"
"Share Excitement For University"
"Talk About Your First Time"
"When Will You Teach Me To Drive" – this interaction has two outcomes, depending on how strong the relationship is.
All interactions give different moodlets, and some of them give notification with a little context.
Interactions: