Musical Theatre Career Mod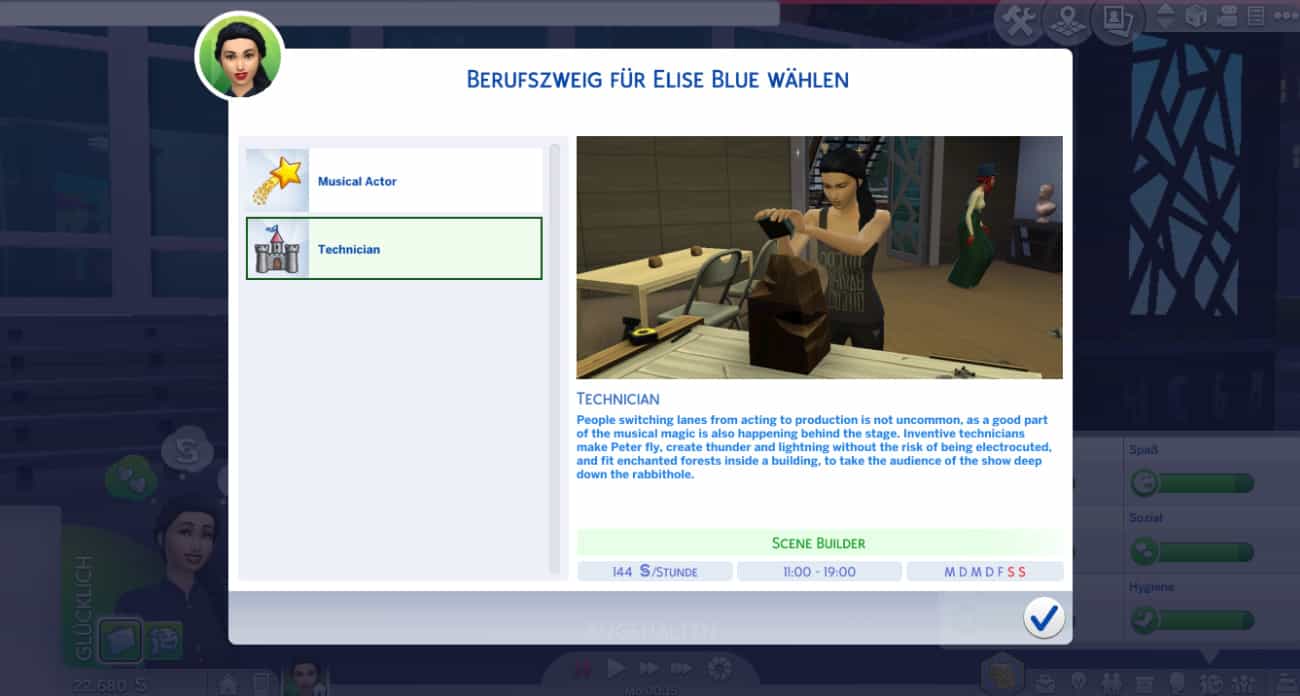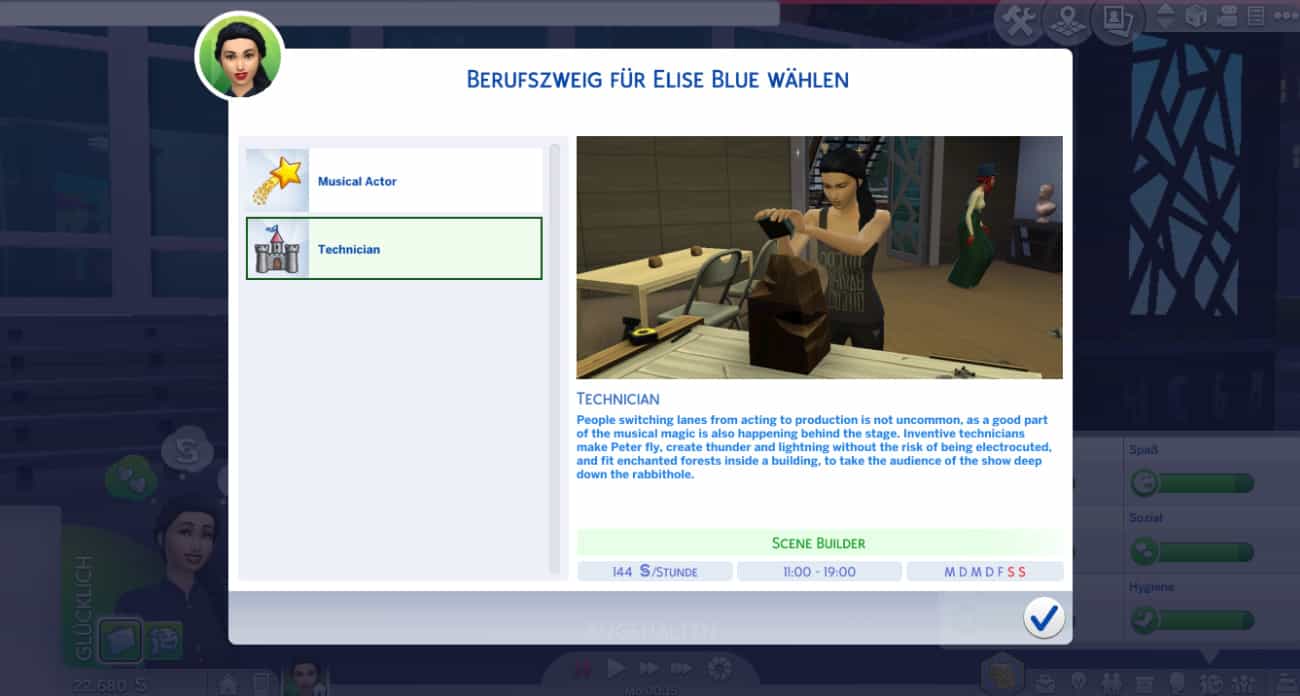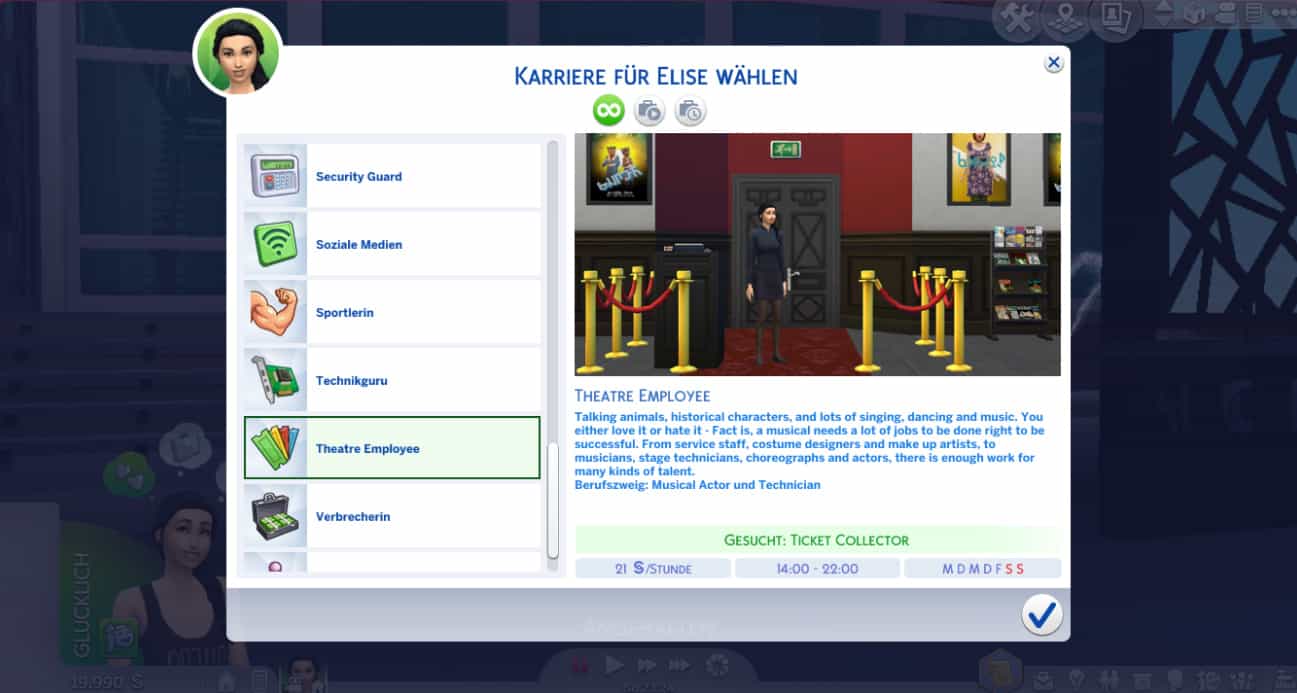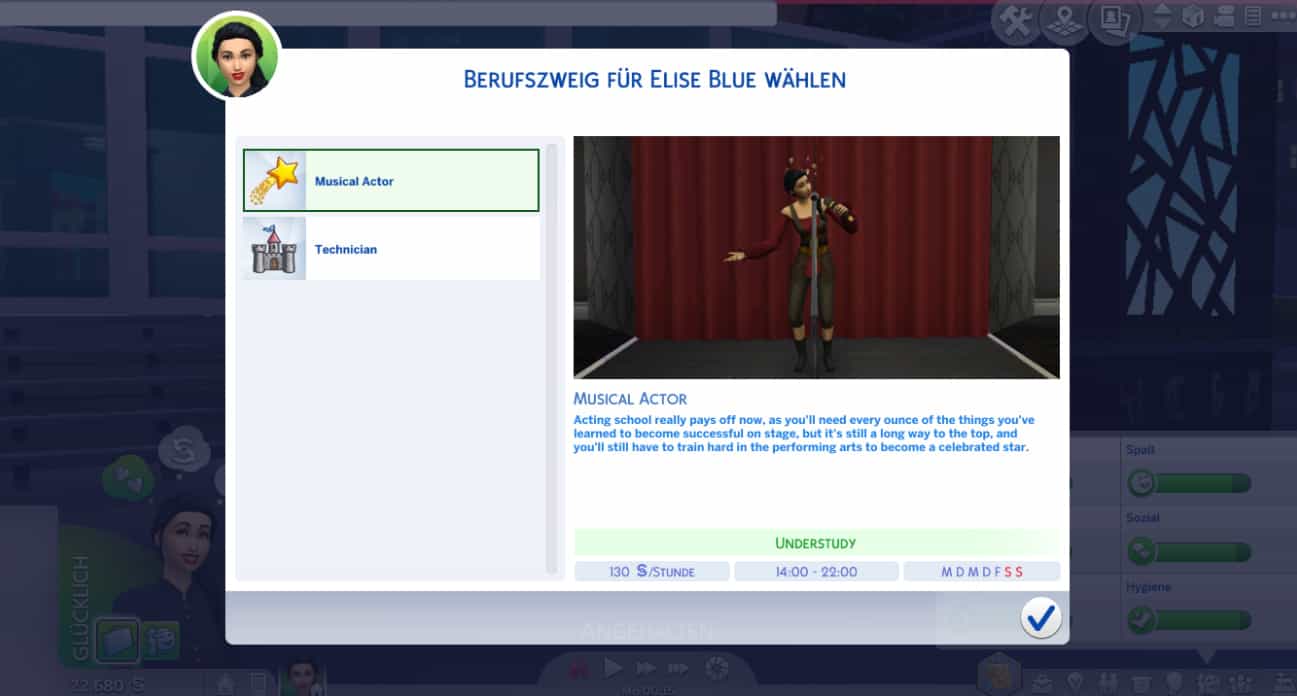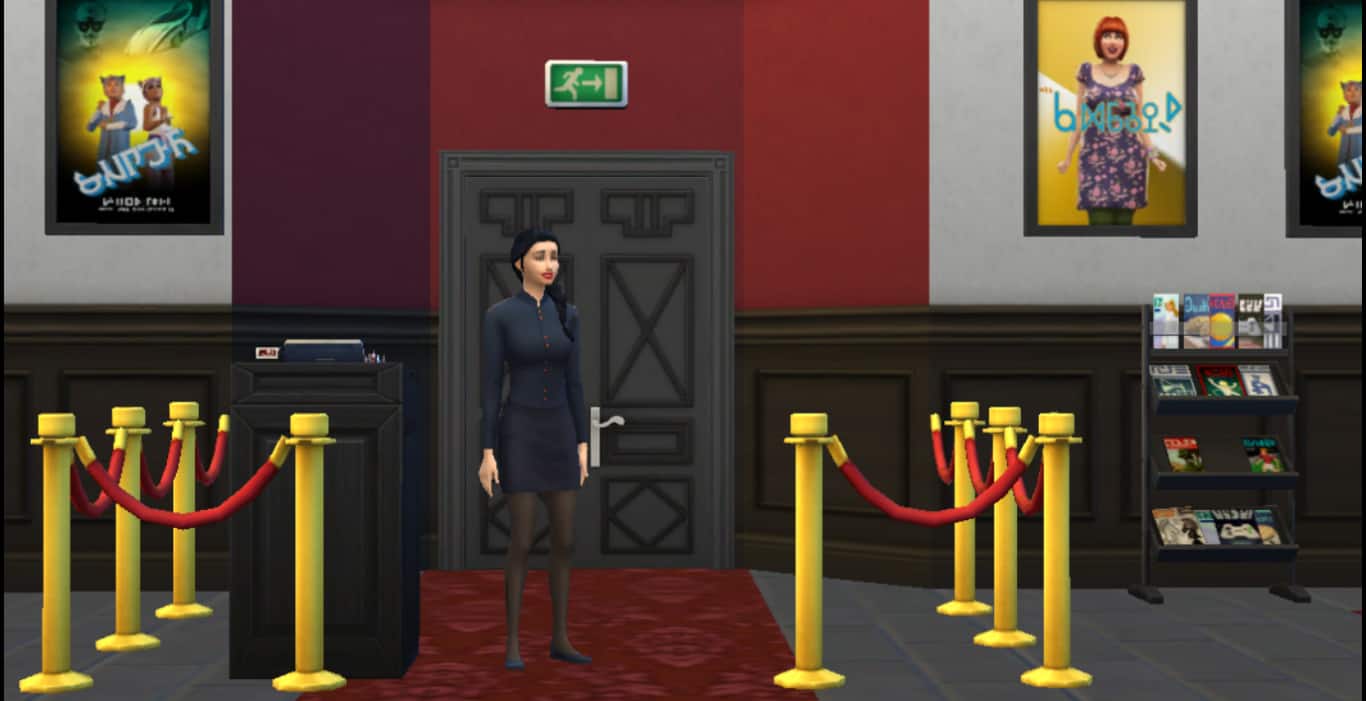 Musical Theatre Career Mod
14/02/2019: Update for Patch 1.49.65.1020!
Game Version 1.46.18.1020
Created with Neias Create-A-Career Tool Beta. (so no chance cards, rewards, daily tasks, or work outfits.)
In this custom made rabbit hole career with 10 Levels, sims start out as Theathre Employee at "The Dramatic Stage" Musical Theatre Company, and can choose between Musical Star or Theatre Technician as promotion track. Each comes with individual skill sets as objectives.
Description:
Talking animals, historical characters, and lots of singing, dancing and music. You either love it or hate it – Fact is, a musical needs a lot of jobs to be done right to be successful. From service staff, costume designers and make up artists, to musicians, stage technicians, choreographs and actors, there is enough work for many kinds of talent.
Track:Theatre Employee
Level 1: Ticket Collector 21$/h
Acting school doesn't pay for itself, so you acquired a job at "the dramatic stage" to earn money. Work is dull, but you can make some useful contacts, and watching the musicals is free, when the audience is in.
Work: M T W T F – – 2pm-10pm
Objectives: Singing 2
Mood: Confident
Level 2: Cloakroom Service 29$/h
Well, the work is still dull-ish, but here and there you get a tip, which helps out a lot. You also befriended one of the technicians, who lets you take a peek backstage sometimes.
Work: M T W T F – – 2pm-10pm
Objectives: Singing 3 Charisma 2
Mood: Confident
Level 3: Stage Hand 34$/h
Taking the opportunity to work as stage hand has pulled the curtain to the magical musical-world aside. It's a lot more of a hurry for everyone as one might expect, to deliver a perfect show.
Work: – T W T F S – 2pm-10pm
Objectives: Singing 4 Handiness 2
Mood: Focused
Level 4: Assistant Stylist 47$/h
Good woork doesn't go unnoticed, So you now assist in preparing the costumes for getting swapped, and even doing some basic stage-makeup for the cast. The job is fun, but also somewhat demanding.
Work: – T W T F S – 2pm-10pm
Objectives: Singing 5 Painting 2
Mood: Focused
Level 5: Show Extra 66$/h
You got the offer to work as show extra. Now you actually work with the cast of the show, sometimes even swapping a friendly word, while jumping in and out of costumes for the next scene.
Work: M T – T F S – 2pm-10pm
Objectives: Singing 6 Charisma 3
Mood: Inspired
Level 6: Choir Member 93$/h
As you've been caught red-handed by the stage caller testing the accoustics of the stage by singing a really silly song, you've been transfered to the musical choir. So your singing couldn't have been too bad,
Work: M T – T F S – 2pm-10pm
Objectives: Singing 7 Charisma 4
Mood: Inspired
Track: Musical Actor
Acting school really pays off now, as you'll need every ounce of the things you've learned to become successful on stage, but it's still a long way to the top, and you'll still have to train hard in the performing arts to become a celebrated star.
Level 7: Understudy 130$/h
It's a lot of work, as you're expected to be able to replace different people on demand, but you dig in to it, because it might even mean that you're getting to play one of the important characters, if only for a night.
Work: M T W T F – – 2pm-10pm
Objectives: Singing 8 Charisma 5
Mood: Inspired
Level 8: Supporting Role 182$/h
You've got casted for one of the supporting roles, which means after all that work you're finally a regular part of the main cast. You're getting your own small share of fame, giving autographs and getting recognized when you're out and about.
Work: – T W – F S – 11am-7pm
Objectives: Singing 9 Charisma 6
Mood: Inspired
Level 9: Main Actor 273$/h
You've got an offer for the main role, the place in the spotlight on stage is finally yours! Your passion for what you're doing bestows you an ever growing fanbase, and the shows are almost always sold out to the last seat.
Work: – T W – F S – 4pm-10pm
Objectives: Singing 10 Charisma 7
Mood: Inspired
Level 10: Musical Star 454$/h
Reaching fame on an international level, you get invited to all famous events, partys and tv shows. Everywhere you go you're greeted by the cameras of paparazzis, but the love of your fans makes up for that part of your life.
Work: – T W – F S – 4pm-10pm
Objectives: –
Mood: Inspired
Track: Technician
People switching lanes from acting to production is not uncommon, as a good part of the musical magic is also happening behind the stage. Inventive technicians make Peter fly, create thunder and lightning without the risk of being electrocuted, and fit enchanted forests inside a building, to take the audience of the show deep down the rabbithole.
Level 7: Scene Builder 144$/h
You're a crafter of worlds. From medieval castles to shady alleys in SimCity, there's nothing you can't tinker with some wood, plaster and paint. Luckily you don't need to rely on just that, your budget allows for much more, maybe even that giant projection screen…
Work: M T W T F – – 11am-7pm
Objectives: Handiness 4 Painting 4
Mood: Inspired
Level 8: Gaffer 166$/h
Lights, Music, Action! Without you, the stage would be pitch black, or even worse, the light could make the actors look sick. You develop and manage the lighting of every scene of the show – even if an actor was sick nobody in the audience would notice it.
Work: – T W – F S – 11am-7pm
Objectives: Handiness 6 Painting 6
Mood: Inspired
Level 9: Sound Engineer 238$/h
From music to soundeffects, you are in charge of the accoustics of the show and assure that every sung word is heard crystal clear over the new 9.2 surround installation of the theatre – You can't deny that you're a bit of an audiophile.
Work: – T W – F S – 4pm-10pm
Objectives: Handiness 8 DJ 4
Mood: Inspired
Level 10: Creative Director 409$/h
You've come the far way from a mere side job to pay your student fees, to the top of the dream factory. Now it's your job to make the magic come true. Working with playwrights and composers, the stage callers and chief technicians of the theatre, hiring cast and staff.
Work: – T W – F S – 4pm-10pm
Objectives: –
Mood: Inspired
Pto (Paid Time Off): LvL 1-6: 0.20/Day LvL 7-8: 0.25/Day LvL 9-10: 0.34/Day
Career Cheat: careers.promote musical
Basic Download and Install Instructions:
1. Download: Click the File tab to see the download link. Click the link to save the .rar or .zip file(s) to your computer.
2. Extract: Use WinRAR (Windows) to extract the file(s) from the .rar or .zip file(s).
3. Cut and paste the file(s) into your Mods folder
Windows XP: Documents and Settings(Current User Account)My DocumentsElectronic ArtsThe Sims 4Mods
Windows Vista/7/8/8.1: Users(Current User Account)DocumentsElectronic ArtsThe Sims 4Mods
Need more information?
Anyone can use both .rar and .zip files easily! On Windows, use WinRAR.
If you don't have a Mods folder, just make one.