Accounting Career Mod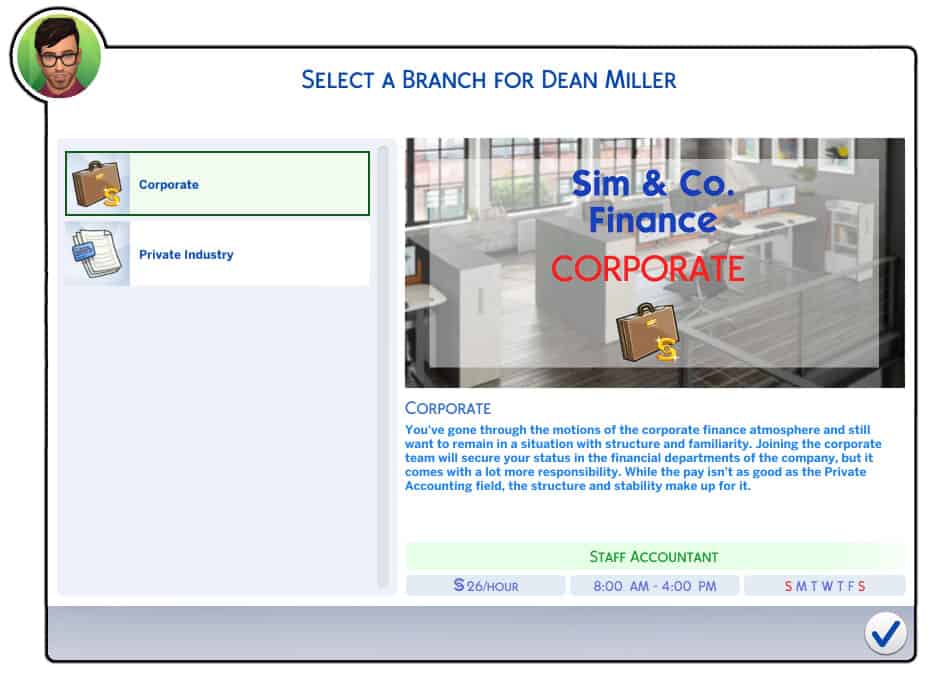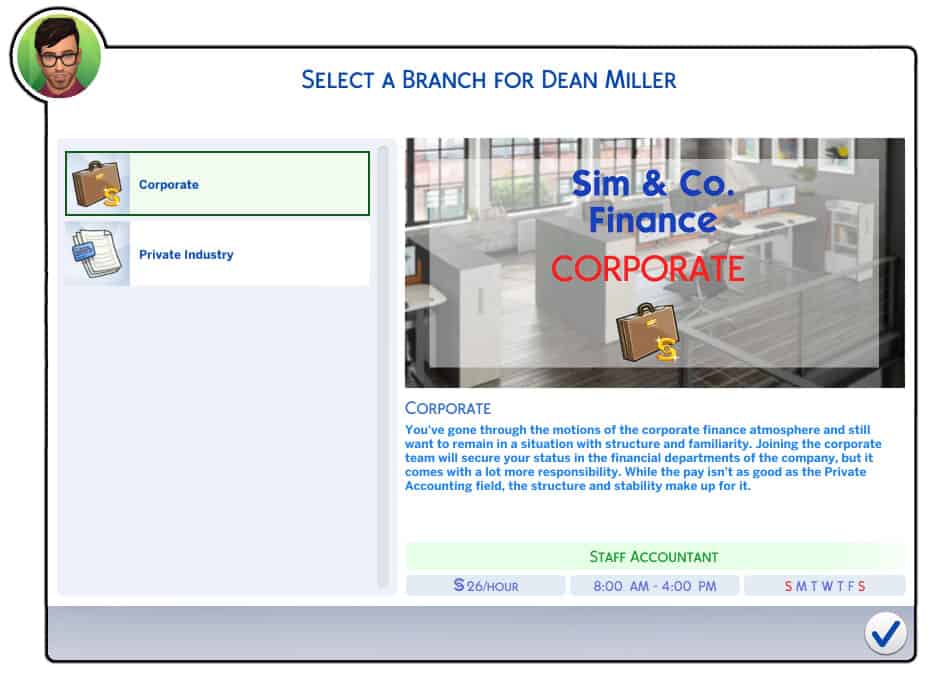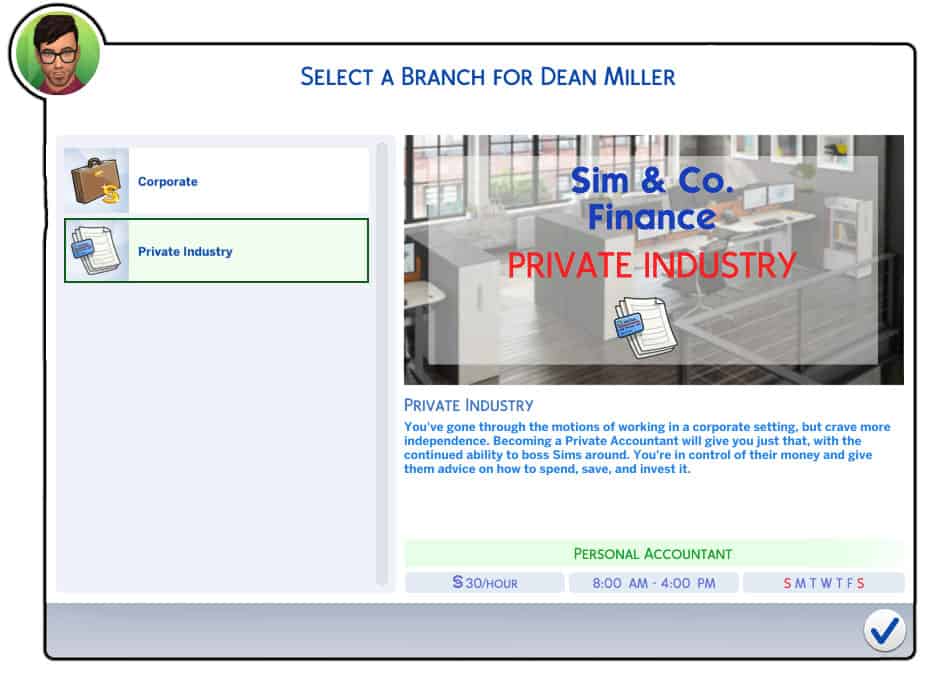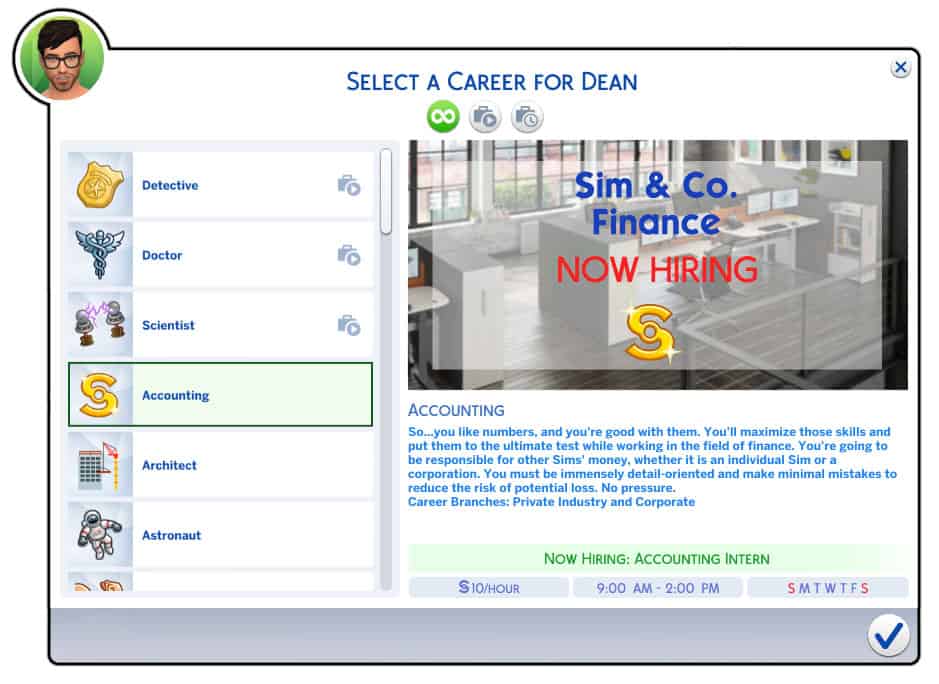 Accounting Career Mod
Welcome!
Have you ever wanted your Sims to have an expanded business career? Well, I do. That's why I created the Accounting career for The Sims 4. I tried to make it as realistic as possible while still keeping up thematically with the realm of The Sims. It's my first mod and first career, but I think I did pretty well!
Sim & Co. Finance is Hiring!
You may have your Sim(s) join the Accounting career, begin as a paid Accounting Intern, and work their way up through six levels and have the choice of two different branches: Private Industry and Corporate, where four additional levels await!
Career details:
Accounting
So…you like numbers, and you're good with them. You'll maximize those skills and put them to the ultimate test while working in the field of finance. You're going to be responsible for other Sims' money, whether it is an individual Sim or a corporation. You must be immensely detail-oriented and make minimal mistakes to reduce the risk of potential loss. No pressure.
Level 1: Accounting Intern
MTWTF – 9am to 2pm
$10/hour
You've joined the field of finance, but you have to start somewhere. Follow the yellow brick road down the path of money, fiscal responsibility, and tedious daily activities. We hope you don't mind filing paperwork and doing coffee runs!
Level 2: Entry Level Accountant
MTWTF – 8am to 4pm
$13/hour
You've made it past the initial tedium and frustration and have joined the ranks of entry level accountants! You'll now dive head first into the world of finance, and while you're still not responsible for other Sims' money just yet, you'll be getting a firm understanding of how it all works.
Level 3: Bookkeeping Clerk
MTWTF – 8am to 4pm
$15/hour
In Accounts Payable, as a bookkeeper, you'll now be responsible for paying suppliers, vendors, and contractors in a timely manner. Be sure to key invoices into the company system in time for the weekly check run to ensure prompt payment for services rendered.
Level 4: Bookkeeping Specialist
MTWTF – 8am to 4pm
$18/hour
Congratulations on your first advancement in the Accounts Payable department! You're now a specialist, which means that you solve any problems that the clerks are having! Sims will come to you for almost everything, so be sure to sharpen your charisma skills…you're going to need them.
Level 5: Payroll Generalist
MTWTF – 8am to 4pm
$22/hour
As a Payroll Generalist, you're responsible for making sure everyone in the company is paid on time. In addition, you're responsible for processing time off requests into the system and ensuring that all paperwork, forms, queries, and taxes are applied appropriately. Make sure your charisma skills are sharpened, you're going to need them when frustrated employees come knocking on your door.
Level 6: Accounting Manager
MTWTF – 8am to 4pm
$26/hour
You're at the top of the clerical totem pole, but the great view somes with a lot of responsibility. You now manage and supervise the entire base department, which means that everyone's problems become your problems. Be sure to address those complaints quickly before contractors and suppliers bill you for late fees.
Private Industry:
You've gone through the motions of working in a corporate setting, but crave more independence. Becoming a Private Accountant will give you just that, with the continued ability to boss Sims around. You're in control of their money and give them advice on how to spend, save, and invest it.
Level 7: Personal Accountant
MTWTF – 8am to 4pm
$30/hour
While not the most glamorous position in the Private Accounting field, your duties as a Personal Accountant is to keep your client's finances in check. Track their spending, monitor their credit, search for investment opportunities, and coordinate strategies to maximize profit and minimize loss.
Level 8: Budget Analyst
MTWTF – 8am to 4pm
$40/hour
Budget Analysts have the luxury of working from home, but your client wants you on-site during work hours. Plum. You're responsible for developing, analyzing, and executing budgets for the quarter, as well as estimating future financial responsibilities. You'll report directly to the Financial Assurance Manager, who oversees the client's business aspects over personal spending.
Level 9: Financial Assurance Manager
MTWTF – 8am to 4pm
$95/hour
You've reached the top of the business aspect of private industry, which means that your office has the best views. You'll report directly to the client and work parallel to the client's Financial Advisor, who has a say in everything to do with the client's portfolio. You're tasked with overseeing the business aspects of the client's portfolio and ensuring that budgets are never exceeded while optimizing profit on a quarterly basis.
Level 10: Financial Advisor
MTWTF – 8am to 4pm
$125/hour
You've done it; you've reached the top in the private industry. You're now a Financial Advisor, which means that your clients depend on your every word before they make any financial decisions. You're still tracking their spending, monitoring their credit, and seeking investment opportunities. However, your position now allows for more flexibility and freedom. Congratulations!
Corporate:
You've gone through the motions of the corporate finance atmosphere and still want to remain in a situation with structure and familiarity. Joining the corporate team will secure your status in the financial departments of the company, but it comes with a lot more responsibility. While the pay isn't as good as the Private Accounting field, the structure and stability make up for it.
Level 7: Staff Accountant
MTWTF – 8am to 4pm
$26/hour
As a Staff Accountant, you'll report directly to the Controller. You're now responsible for maintaining financial reports, records, and general ledgers. As if that wasn't enough, you'll assist the Financial Analyst by preparing and analyzing quarterly and annual budgets, in addition to general bookkeeping alongside the clerks and specialists.
Level 8: Financial Analyst
MTWTF – 8am to 4pm
$32/hour
You're officially one of the most important employees in the department! You're tasked with studying trends and analyzing budgets to provide the Controller and CFO with guidance on making investment decisions, supplier contracts, and wholesale accounts. It's one of the most stressful jobs in the company, but everyone relies on you to make money moves, so be sure to bring your pen and notepad to the weekly meetings.
Level 9: Controller
MTWTF – 8am to 4pm
$55/hour
You're in control. Literally. You're the Controller. Literally nothing happens without your say…to an extent. You have some of the most important decisions to make in the finance field and while the headaches may be in abundance, at least the amount of control you have will compensate for the control you don't have. Just be sure to keep the CFO's schedule in check; after all, part of your job is becoming their glorified assistant.
Level 10: CFO
MTWTF – 8am to 4pm
$85/hour
Chief Financial Officer…how do you like the sound of that? You've hit a concrete ceiling with this title, as there's literally nowhere left to go. You're at the top of the corporate finance ladder and all of the tedious and repetitive nonsense has finally paid off. You're still a busy bee, but with an assistant around to take care of the hum-drum daily tasks, feel free to sneak in a nap or two during the day.
Updates
I updated the mod to version 1.5 which contains increased pay rates, but still Maxis Match; nothing crazy.
Hours & Pay
I structured the work hours and pay to be realistic, but still functional within the world of The Sims 4. I may change them in future updates depending on player feedback.
Technical Chatter
> Working and tested on 8/26/2018 on PC with Patch 1.46.18.1020. I did not create this mod to work with Mac.
> Please Note: this mod is in English only.
Creator's Notes:
This is my first mod and I'm really proud of it. I hope you like it and thank you for downloading it. Please feel free to give your feedback in the comments section and be sure to report any issues or bugs you may come across so that I may fix them and update the mod. Thank you!
Basic Download and Install Instructions:
1. Download: Click the File tab to see the download link. Click the link to save the .rar or .zip file(s) to your computer.
2. Extract: Use WinRAR (Windows) to extract the file(s) from the .rar or .zip file(s).
3. Cut and paste the file(s) into your Mods folder
Windows XP: Documents and Settings(Current User Account)My DocumentsElectronic ArtsThe Sims 4Mods
Windows Vista/7/8/8.1: Users(Current User Account)DocumentsElectronic ArtsThe Sims 4Mods
Need more information?
Anyone can use both .rar and .zip files easily! On Windows, use WinRAR.
If you don't have a Mods folder, just make one.