Acrobat Career Mod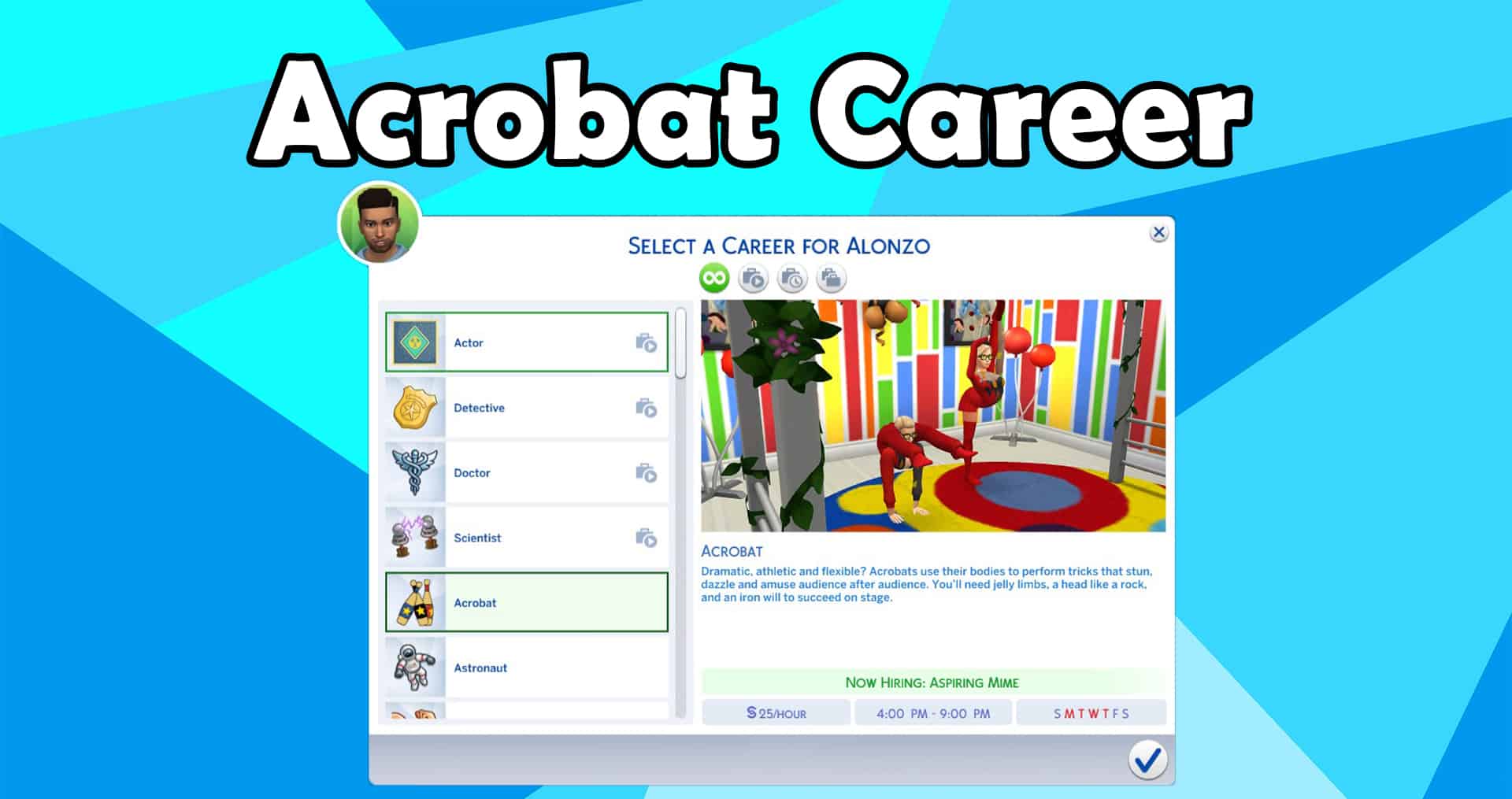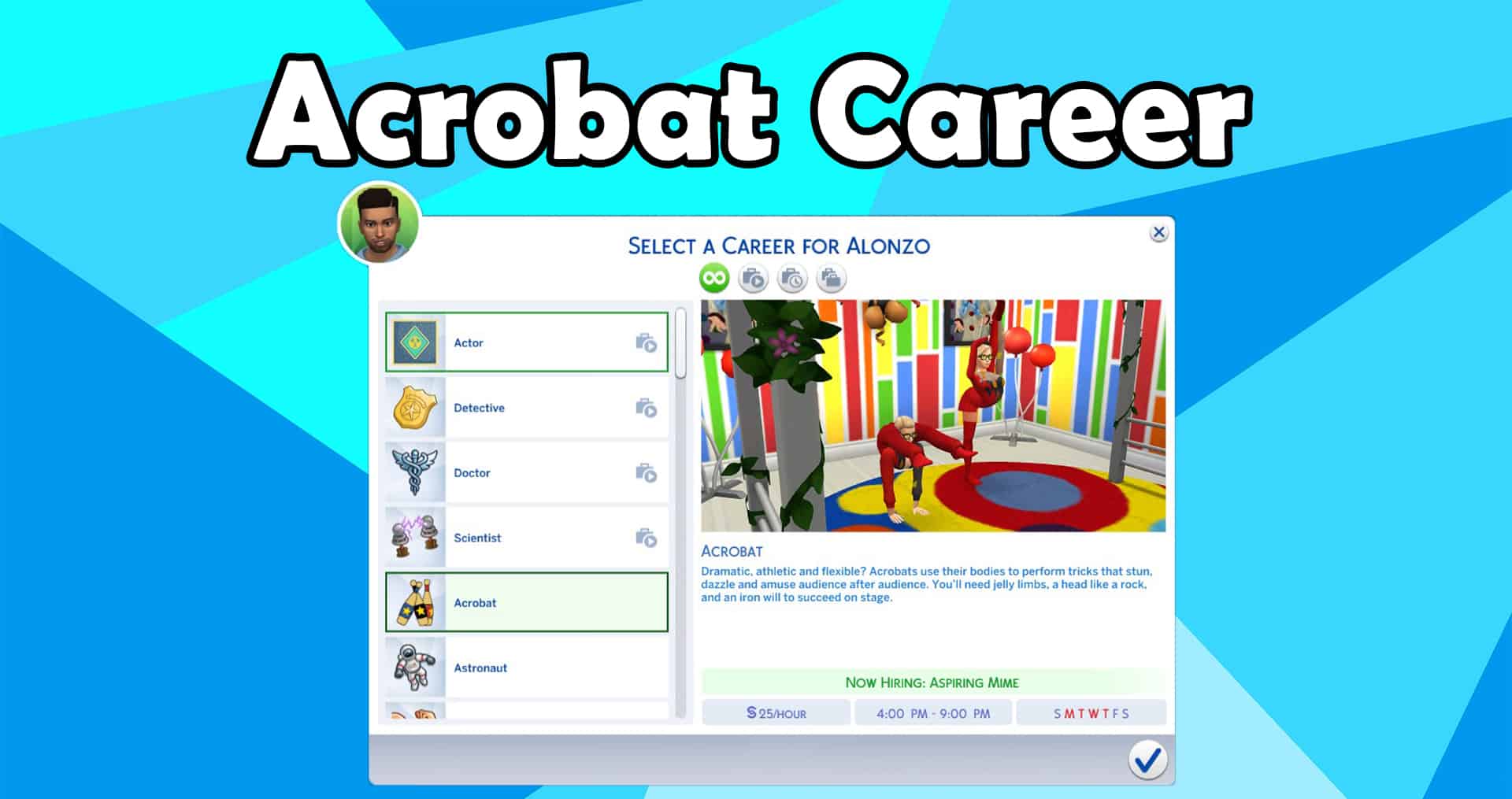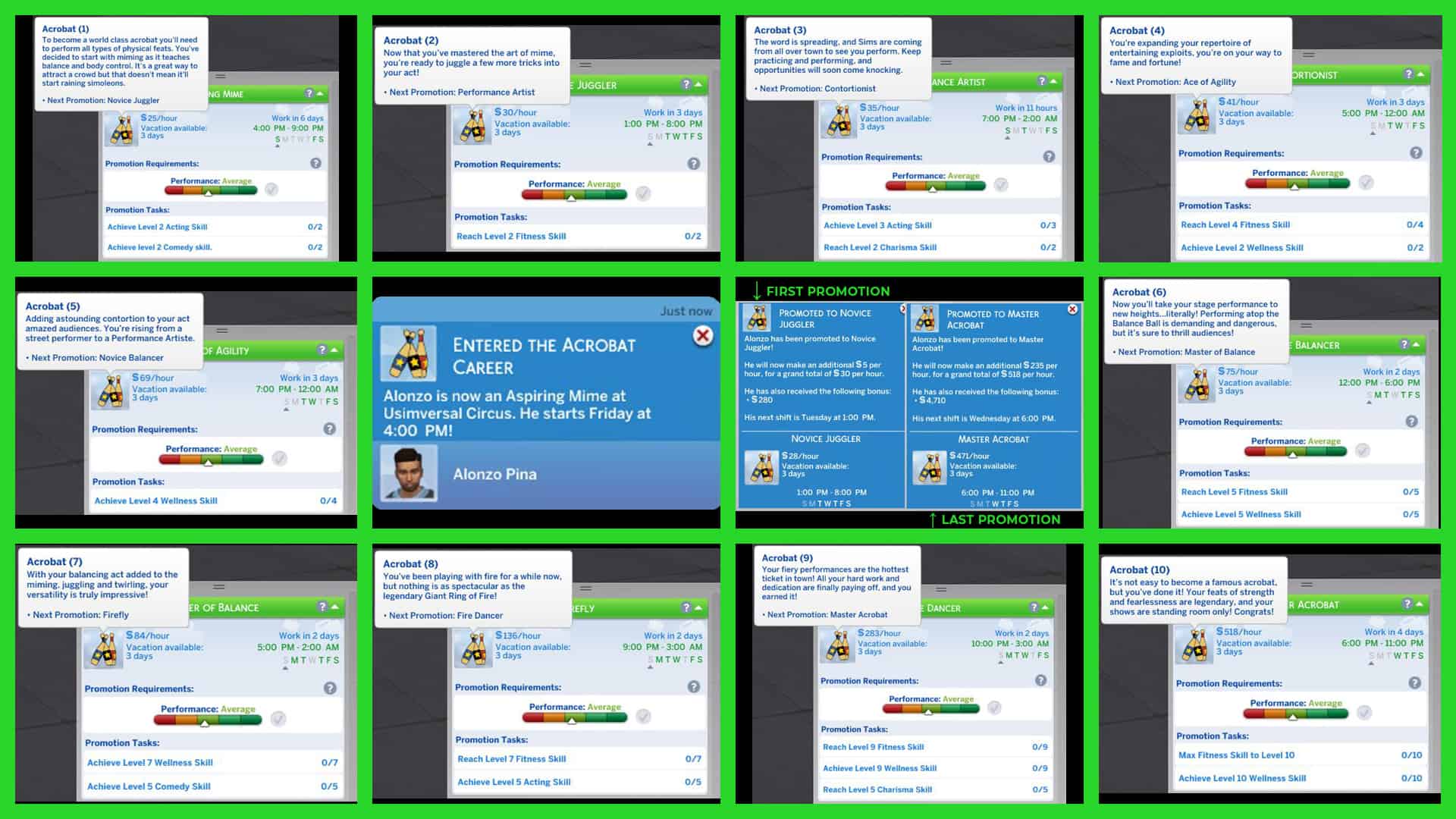 Acrobat Career Mod
This mod will add the 'Acrobat' career to your game.
There is one branch with 10 levels.
This career is based on: TS3's Acrobat Profession
You will need:
Get Famous – Acting Skill
Get To Work
Spa Day – Wellness Skill
All skills needed to advance: Acting, Charisma, Comedy, Fitness and Wellness
Job description:
Dramatic, athletic and flexible? Acrobats use their bodies to perform tricks that stun, dazzle and amuse audience after audience. You'll need jelly limbs, a head like a rock, and an iron will to succeed on stage.
1- Aspiring Mime
§23/h │4pm to 9pm│ – – – – F S S
To become a world class acrobat you'll need to perform all types of physical feats. You've decided to start with miming as it teaches balance and body control. It's a great way to attract a crowd but that doesn't mean it'll start raining simoleons.
2- Novice Juggler
§28/h │1pm to 8pm│ – T W T F S –
Now that you've mastered the art of mime, you're ready to juggle a few more tricks into your act!
3- Performance Artist
§32/h │7pm to 2am│ – T – – F S S
The word is spreading, and Sims are coming from all over town to see you perform. Keep practicing and performing, and opportunities will soon come knocking.
4- Contortionist
§38/h │5pm to 12am│ – T W – F S –
You're expanding your repertoire of entertaining exploits, you're on your way to fame and fortune!
5- Ace of Agility
§63/h │7pm to 12am│ – T W – F S –
Adding astounding contortion to your act amazed audiences. You're rising from a street performer to a Performance Artiste.
6- Novice Balancer
§69/h │12pm to 6pm│ M T – T F S –
Now you'll take your stage performance to new heights literally! Performing atop the Balance Ball is demanding and dangerous, but it's sure to thrill audiences!
7- Master of Balance
§77/h │5pm to 2am│ M T – T F S –
With your balancing act added to the miming, juggling and twirling, your versatility is truly impressive!
8- Firefly
§124/h │9pm to 3am│ M T W – F S –
You've been playing with fire for a while now, but nothing is as spectacular as the legendary Giant Ring of Fire!
9- Fire Dancer
§258/h │10pm 3am│ M T W – F S –
Your fiery performances are the hottest ticket in town! All your hard work and dedication are finally paying off, and you earned it!
10- Master Acrobat
§471/h │6pm to 11pm│ – – W T F S –
It's not easy to become a famous acrobat, but you've done it! Your feats of strength and fearlessness are legendary, and your shows are standing room only! Congrats!
Career tested on version: 1.69.57.1020