Andromeda Bedroom Set Mod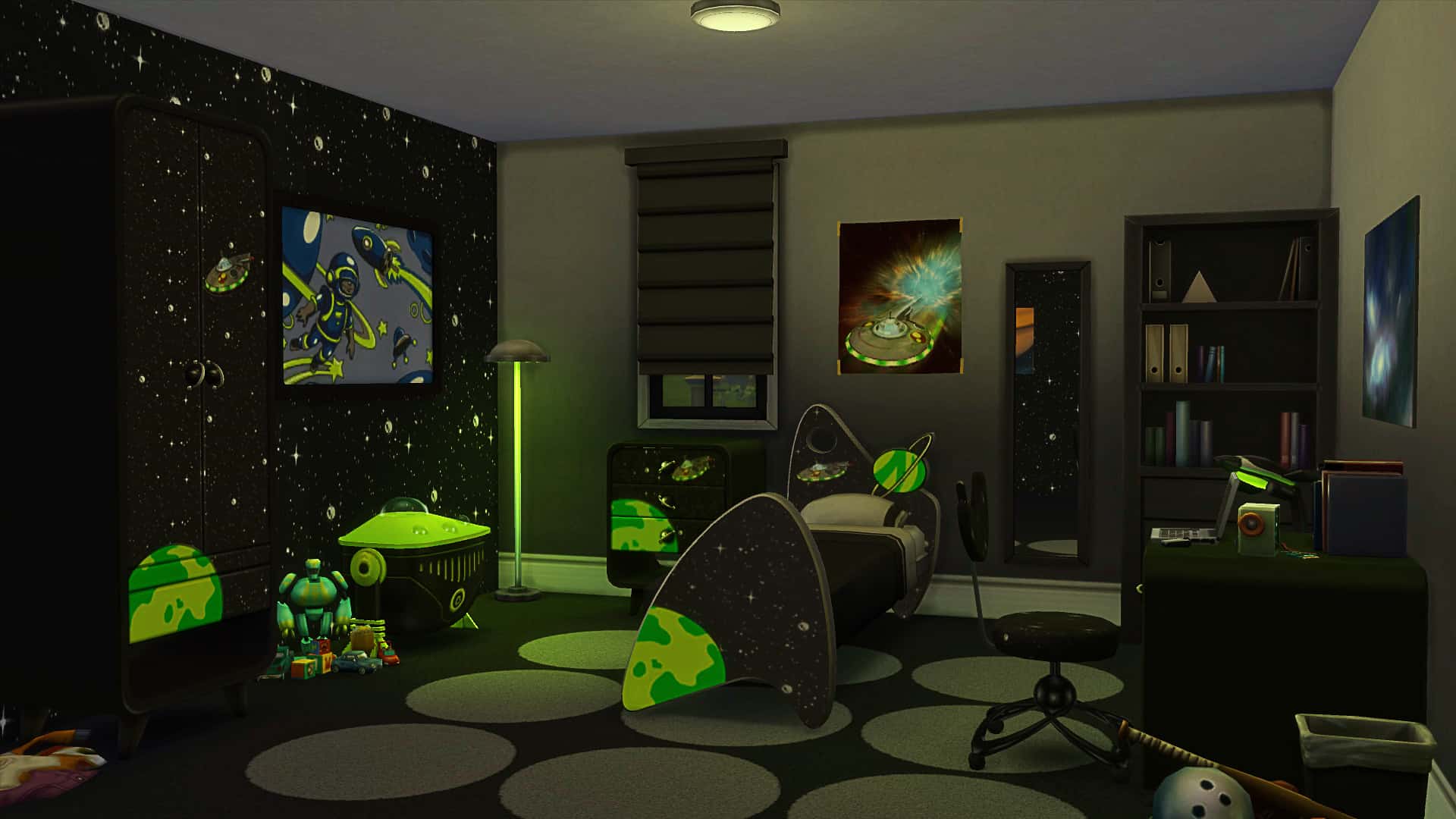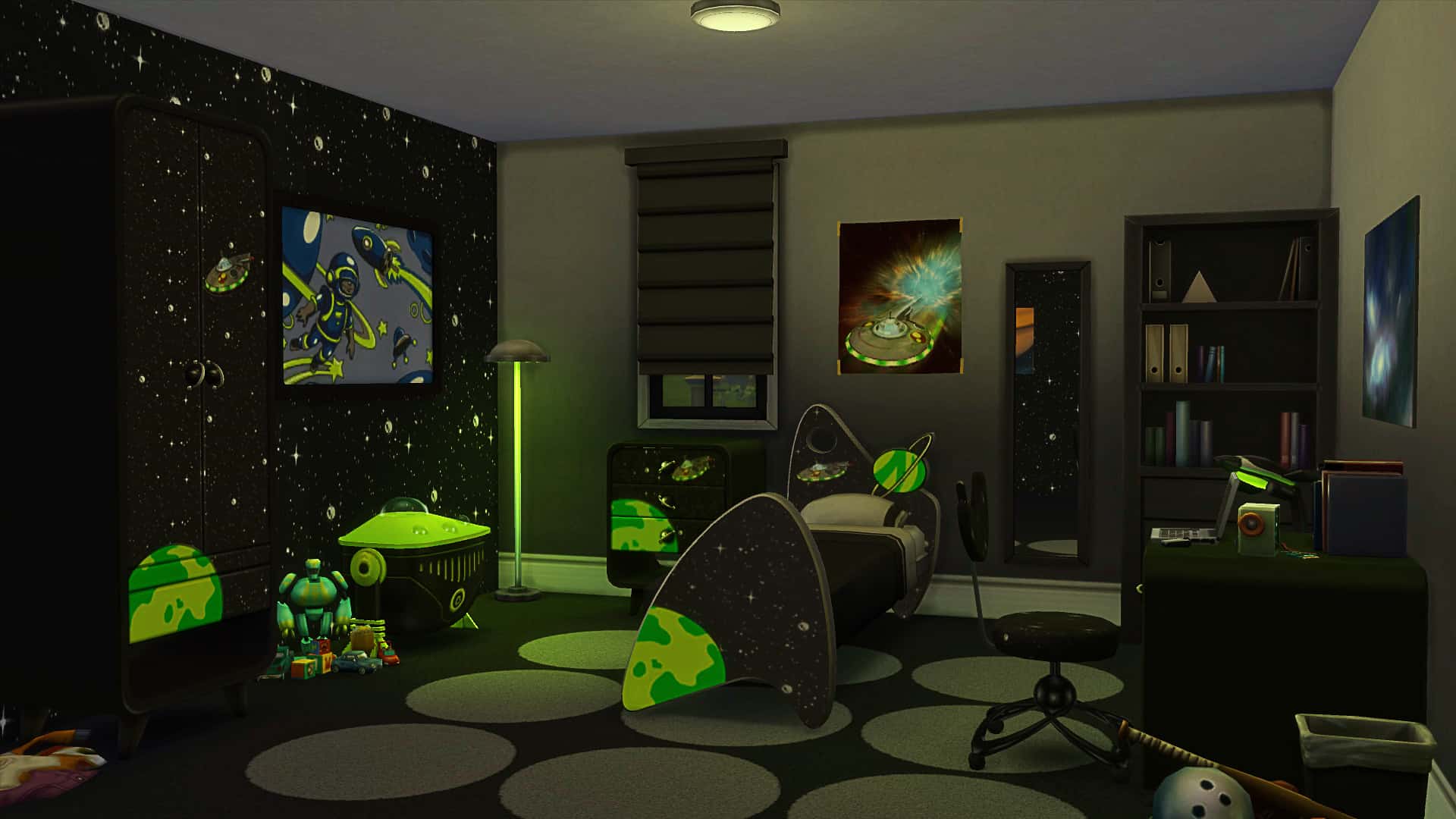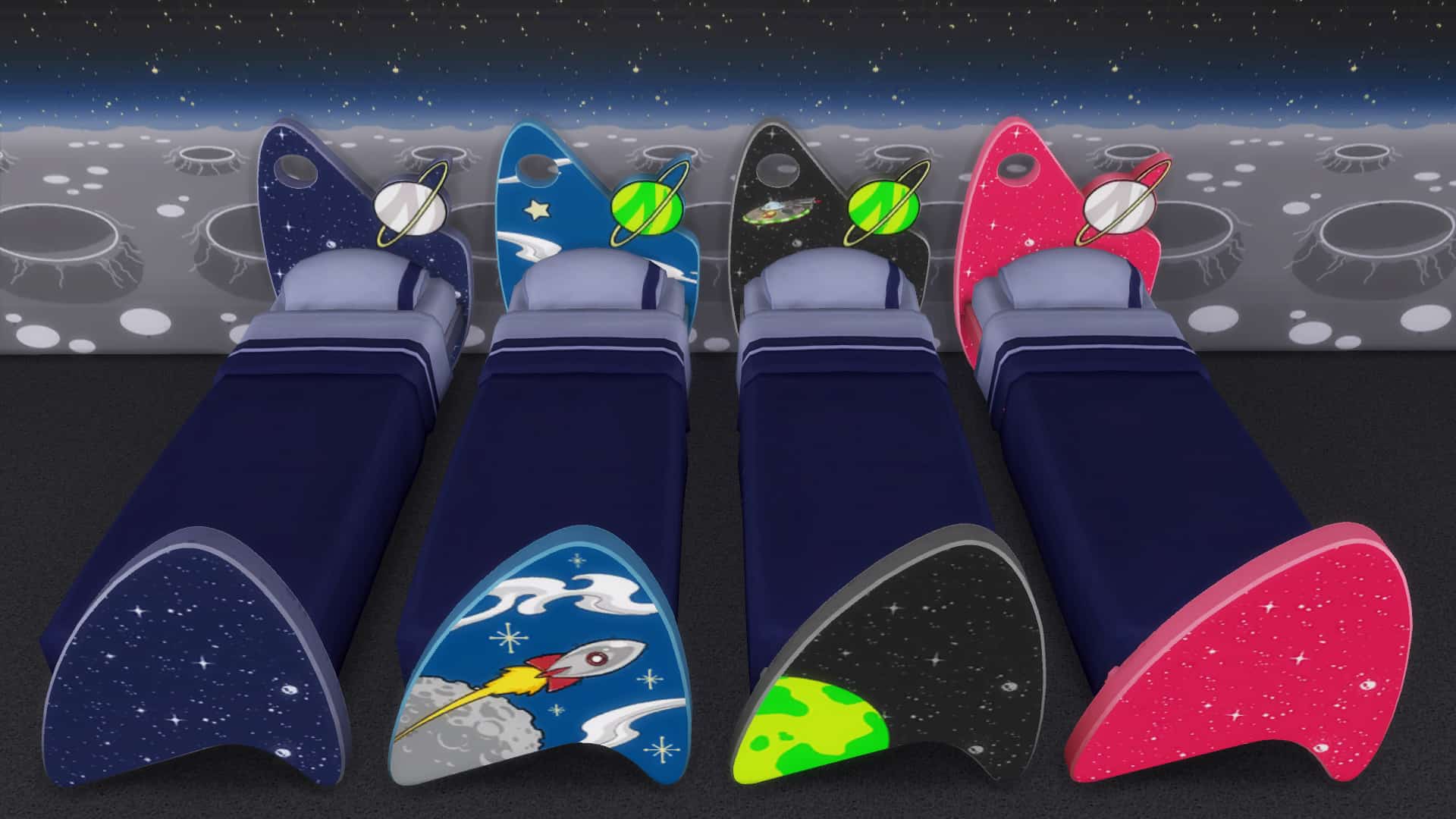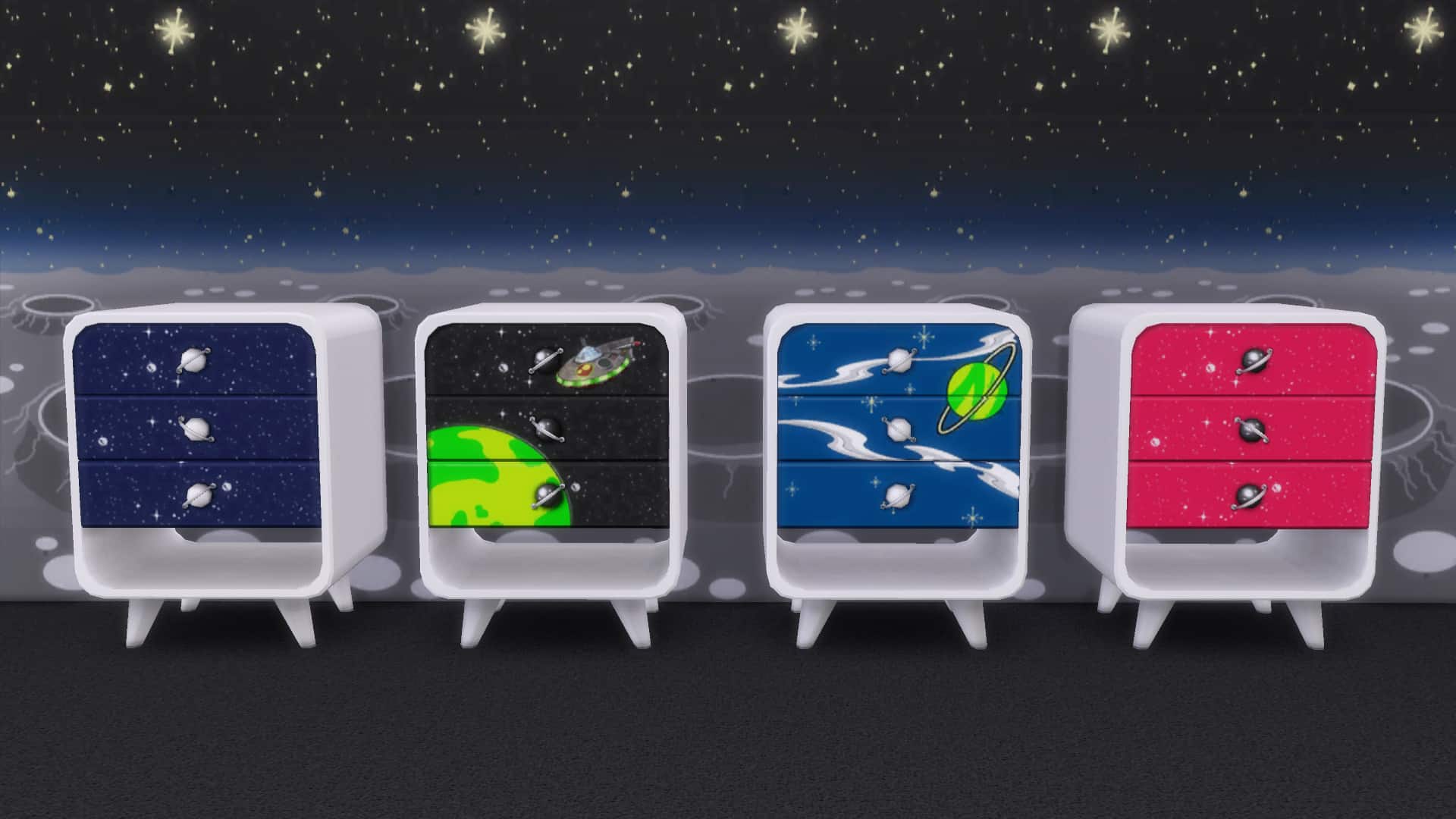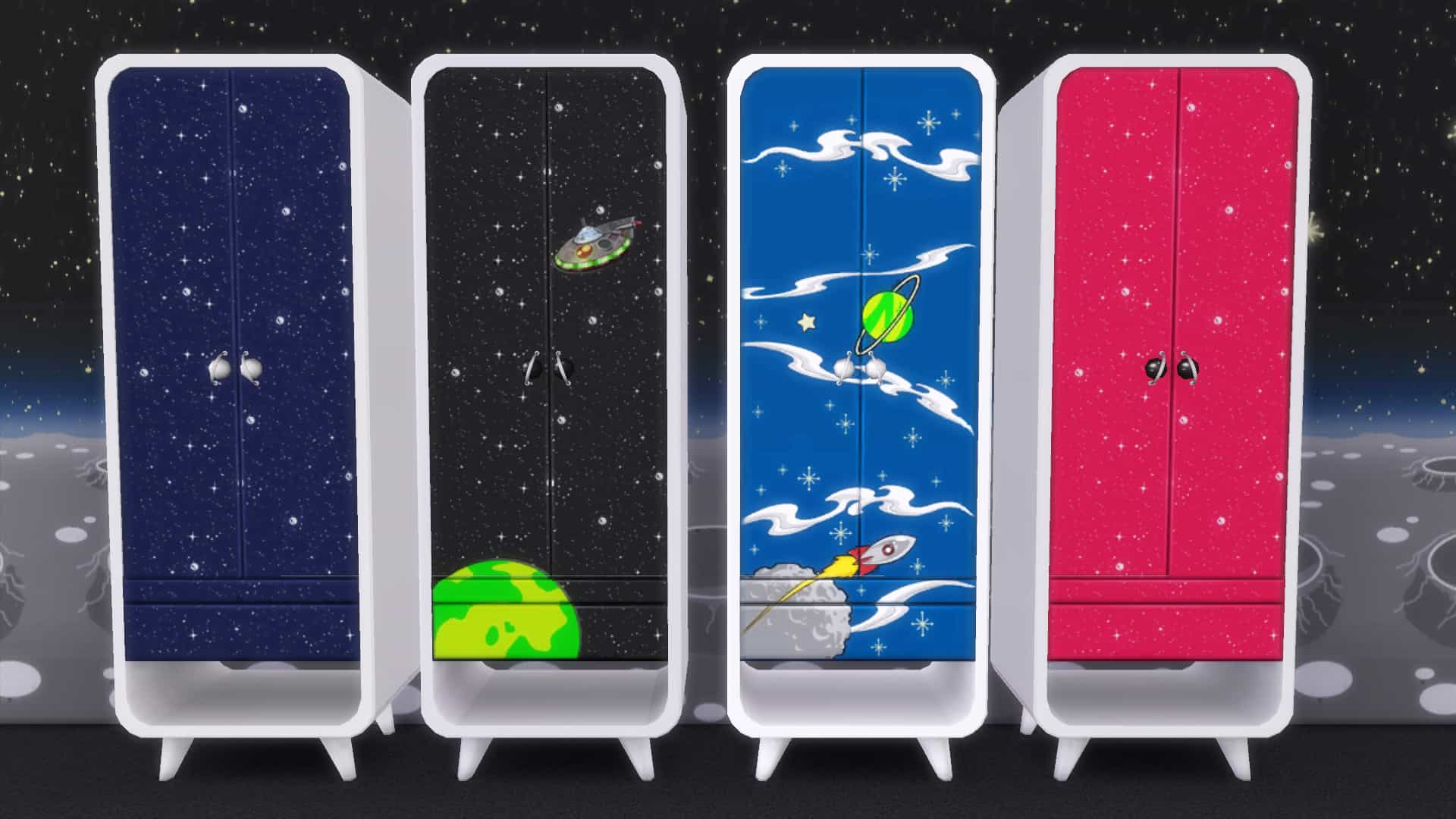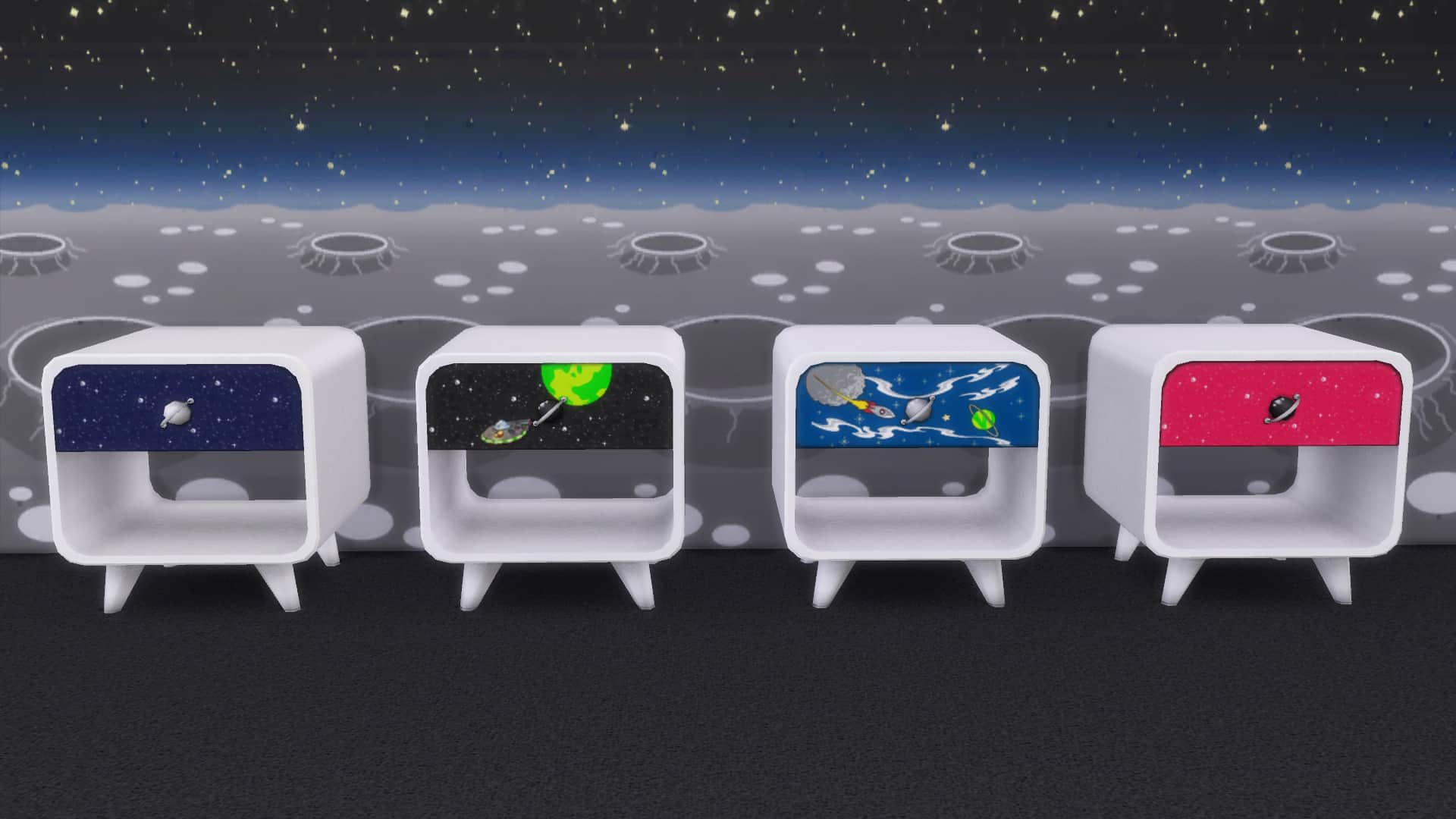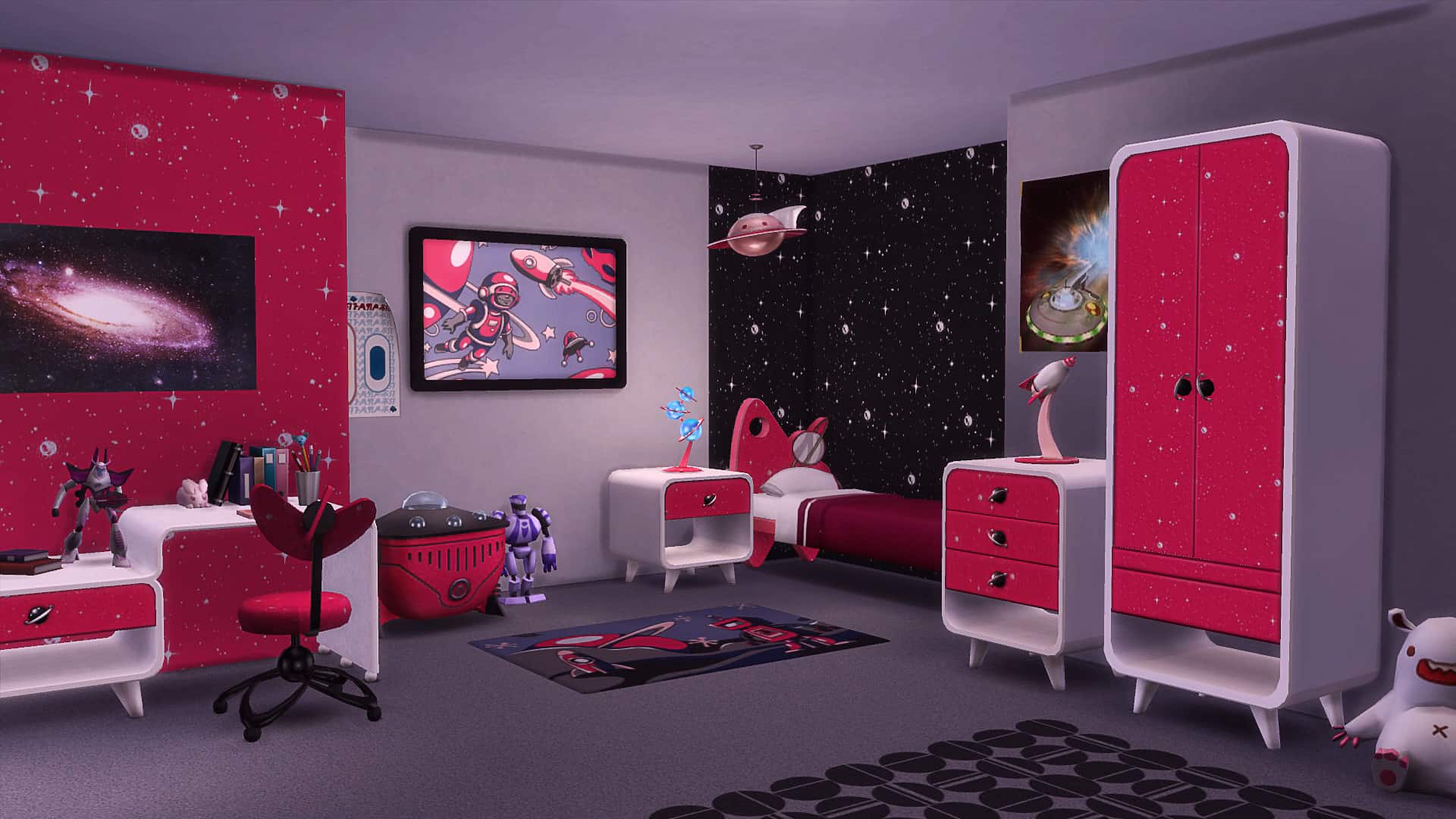 Andromeda Bedroom Set Mod
If you have any problems while unpacking, be sure to try out both Winrar/7-zip/File Viewer + updating to their latest versions
Hello all once again, it's been a while!
It has definitely been quite busy for me these past few months, however due to the recent events I finally found some spare time to complete this set that I absolutely adore.
With that said I present to you:
THE ANDROMEDA BEDROOM SET (there was no official name in ts2 so I made this up)
This set includes around 20 brand new space themed bedroom items (converted straight from TS2)
NOTES:
1) EVERYTHING has been playtested within the game [If you encounter any issues feel free to comment, so I can take a look!] 2) The lamp has been correctly vertex painted, so it lights up properly when the lights are on!
3) Added a lot of custom recolors so you can mix and match items with ease!
4) The "Circular Logic" Carpet that is included in this set can also be found on my "Ultimate Carpet Collection" (Don't worry if you have both. I made sure only one catalog entry is shown!)
5) All of the wallpapers have a custom inverted swap for more variety when painting!
TS2 furniture are more detailed than the ones in TS4 (even TS3!) that means their polycounts are somewhat higher than a typical sims 4 item.
I tried to reduce their polys as much as possible without distorting them much, however they still are "somewhat" high. My mediocre PC runs fine with a huge lot filled with this stuff
so you probably won't run into any issues. Just thought I would put a warning for y'all.
What's Included?!
With this set you get 20 brand new space themed items PLUS 9 recolors for the "Kid's Floor Light" (available in Base Game)
More specifically:
COMFORT
Comfort/Beds:
1.SpaceKid Sim's Sonic Sleeper – 500$ [Energy score:4]
Comfort/Dining-Desk Chairs:
2.Little Space Ranger's Chair – 115$
SURFACES
Surfaces/Accent Tables:
3.Junior Cosmonauts Bedside Table – 115$
Surfaces/Desks:
4.Andromeda Lil' Austronaut Desk – 550$
DECORATIONS
Decor/Paintings:
5.The Truth Is Somewhere – 50$
6.U-R Here -n- We-R-Here Poster – 55$
7.Spacious Spaces – 295$
Decor/Ceiling Decorations:
8."It's Out There" by Xenotech – 85$
Decor/Rugs:
9.Planetoid Explorer Rug – 175$
LIGHTING
Lighting/Table Lamps:
10.The Children's Fusion Lamp by Galactico – 220$
Lighting/Floor Lights:
11.Kid's Floor Light (9 custom additional recolors)
STORAGE
Storage/Dressers:
12.Andromeda Far Out Dresser – 485$
13.SpaceKid Sim's Atomic Armoire – 850$
KIDS
Kids/Toys
14.Atomotoybot by Galactico – 190$
Kids/Decorations:
15. The Prototype X94 "Angsternaut" Robosuit – 150$
16. Hydrocyanic Cat NO.7 – 165$
WALLPAPERS
Wallpapers/Misc.
17. KiddoGo! Wall Covering – 9$
18. Saturn Kids! by Wallz – 9$
19. Asteroidastic Wallpaper – 9$
20. Moon Thrusters by Wallz – 8$
FLOORS
Floors/Carpet
21.Circular Logic Carpet – 8$
That's all!
Now, go and have fun in your new galactic adventures!!!
POLYGON COUNTS: HIGH/MEDIUM/LOW LODS
1.SpaceKid Sim's Sonic Sleeper – 2183/2183
2.Little Space Ranger's Chair – 1618/1174/1043
3.Junior Cosmonauts Bedside Table – 688/688/688
4.Andromeda Lil' Austronaut Desk – 1450/1450/800
5.The Truth Is Somewhere – 76/76/76
6.U-R Here -n- We-R-Here Poster – 80/80/80
7.Spacious Spaces – 194/194/194
8."It's Out There" by Xenotech – 1438/1057
9.Planetoid Explorer Rug – 176
10.The Children's Fusion Lamp by Galactico – 1504/1504
11.Andromeda Far Out Dresser – 1348/924/653
12.SpaceKid Sim's Atomic Armoire – 1330/1037/755
13.Atomotoybot by Galactico – 1412/1412
14. The Prototype X94 "Angsternaut" Robosuit – 1584/1189/1064
15. Hydrocyanic Cat NO.7 – 1474/982/748
Additional Credits:
EA/Maxis (for their original meshes and textures)
Photoshop
Sims4Studio
Blender