Boarding Kennels Career *Now Working with latest PATCH!* Mod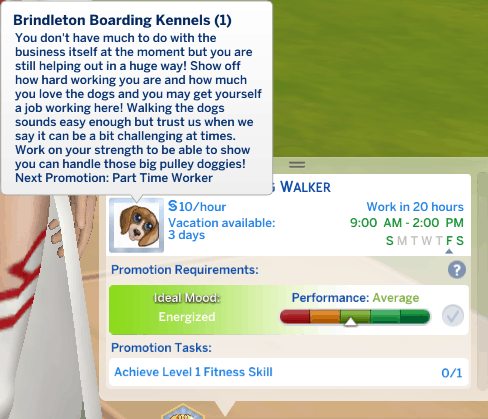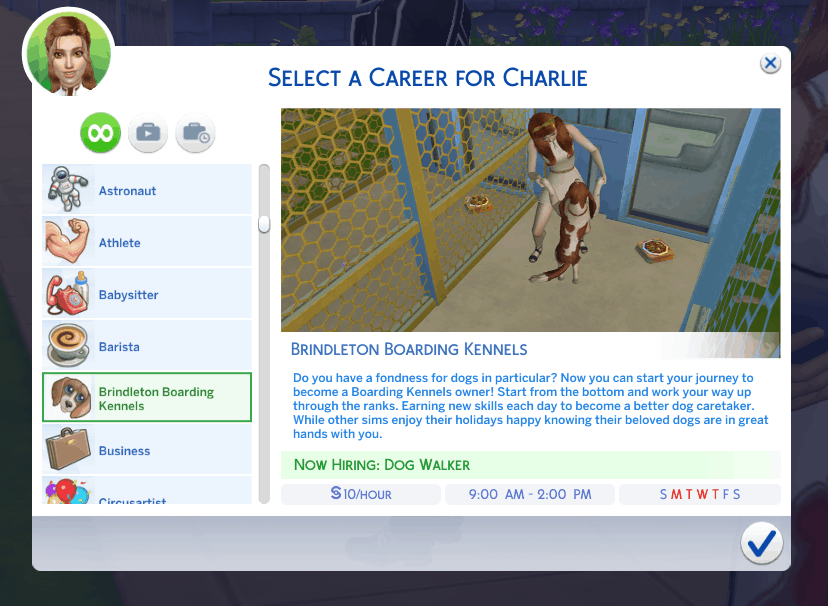 Boarding Kennels Career *Now Working with latest PATCH!* Mod
~ Hello ~
This is a rabbit hole career, meaning your sim will go to work on their own. Sadly you can not join them. You will need the sims 4 Cats and Dogs pack in order to meet the requirements for some of the levels. I am not sure if it will work without the pack. If your sims has the required skills it may skip levels..
PLEASE MAKE SURE TO REMOVE ALL OLD FILES BEFORE INSTALLING THE NEWEST UPDATED VERSIONS!
Does your sim have a special love for dogs in particular? Well now they can enrol themselves into a new Career at Brindleton Boarding Kennels!!
When other sims go off on holiday they will send their beloved dog/s to the local Boarding Kennels. There your sim will walk, clean, feed and care for their furry friends. Starting with a weekend job with little pay your sims will have to work hard on building their experience and skills to become more and more apart of the hard working team. They will have to prove themselves fit and deserving of longer hours and pay.
In real life I work at a Kennels and I really wanted there to be a career in my game for my pet loving sims, So I decided to create this. Credits to Neia Sims for Create a Career Beta, without which this wouldn't be possible. For Career Level Spoilers please look below.
Installation instructions
Simply extract the file that is downloaded and place the folder that appears as it is into your mods folder. Inside is the Package file, the TS4Script file and Neia_Careers_Commons.package file. (Which might be needed for the career requirements to show up. Credits for this file to Neia fully!)
This is my first attempt at making a career so I really hope everyone enjoys it.
~ SimmerCharlie xox
LEVEL SPOLIERS BELOW WARNING LOOK AWAY NOW IF YOU DON'T WISH TO SEE
Boarding Kennels
Do you have a fondness for dogs in particular? Now you can start your journey to become a Boarding Kennels owner! Start from the bottom and work your way up through the ranks. Earning new skills each day to become a better dog caretaker. While other sims enjoy their holidays happy knowing their beloved dogs are in great hands with you.
Level 1 ~ Dog Walker
Hourly Pay ~ $10-00
Days Work ~ Friday, Saturday & Sunday
Start at ~ 9:00am
Hours Work ~ 5hrs
Requirements ~ Fitness 1
Description ~ You don't have much to do with the business itself at the moment but you are still helping out in a huge way! Show off how hard working you are and how much you love the dogs and you may get yourself a job working here! Walking the dogs sounds easy enough but trust us when we say it can be a bit challenging at times. Work on your strength to be able to show you can handle those big pulley doggies!
Level 2 ~ Part Timer
Hourly Pay ~ $25-00
Days Work ~ Thursday, Friday, Saturday & Sunday
Start at ~ 9:00 am
Hours Work ~ 9hrs
Requirements ~Fitness 2 / Dog Training 2 / Gardening 1
Description ~ Getting here wasn't easy but now you have a lot of work to do to prove that you belong here. Show that you deserve the opportunity to work at the kennels more then you're able to now. Not everyone makes the mark so you'll have to work hard! Walking the dogs is now the easy part for you. You'll have to lean how to clean them out, feed, pick up after them and overall care for other sims pets. It's not all about playing with the dogs anymore you may have to do some other non dog related jobs as well to help maintain the amazing appearance of the kennels such as washing/wiping up, tending to the grass/flowers, painting and more.
Level 3 ~ Full Timer
Hourly Pay ~ $50-00
Days Work ~ Monday, Tuesday, Wednesday, Thursday, Friday & Saturday
Start at ~ 9:00 am
Hours Work ~ 9hrs
Requirements ~Dog Training 3 / Fitness 3 / Charisma 3 / Gardening 3
Description ~ You did it! You proved that you deserved a job at the kennels! But don't start slacking off now. You still have a long way to go. Continue all the hard work and work on improving your dog training and handling skills.
Level 4 ~ Kennel Hand
Hourly Pay ~ $100-00
Days Work ~ Monday, Tuesday, Wednesday, Thursday & Friday
Start at ~ 9:00 am
Hours Work ~ 9hrs
Requirements ~ Dog Training 4 / Fitness 4 / Charisma 4
Description ~ Congratulations you are more a member of the team now. You can serve the customers, answer the phone and of course still work with the animals. You have more work to do now and more skills you need to refine. So keep up the good work!
Level 5 ~ Manager
Hourly Pay ~ $150-00
Days Work ~ Monday, Tuesday, Wednesday, Friday & Sunday
Start at ~ 8:00 am
Hours Work ~ 10hrs
Requirements ~ Dog Training 5 / Fitness 5 / Charisma 5
Description ~ The owners have decided that they would like to take a step back and soon maybe look to retire. This is the time that you have to really show that you can handle running this business. There is a lot you have to prove to the owners in order for them to hand the successful business to you. Work hard on building up both your animal related and sim related skills.
Final Level ~ Owner
Hourly Pay ~ $500-00
Days Work ~ Monday, Tuesday, Wednesday, Friday & Sunday
Start at ~ 8:00 am
Hours Work ~ 10hrs
Requirements ~ None
Description ~ You have done it! Congratulations! All the hard work you have put into this business has finally paid off. The owners saw how dedicated and how hard working you are. That they trust you'll continue to keep this a successful business. You now control everything to do with the kennels. With your skills and love for the place everything should work out well as long as you keep the hard work up!
Working with Game Patch: 1.48.94.1020
English Language only sorry.
Basic Download and Install Instructions:
1. Download: Click the File tab to see the download link. Click the link to save the .rar or .zip file(s) to your computer.
2. Extract: Use WinRAR (Windows) to extract the file(s) from the .rar or .zip file(s).
3. Cut and paste the file(s) into your Mods folder
Windows XP: Documents and Settings(Current User Account)My DocumentsElectronic ArtsThe Sims 4Mods
Windows Vista/7/8/8.1: Users(Current User Account)DocumentsElectronic ArtsThe Sims 4Mods
Need more information?
Anyone can use both .rar and .zip files easily! On Windows, use WinRAR.
If you don't have a Mods folder, just make one.