Dock Worker Career (Part Time) Mod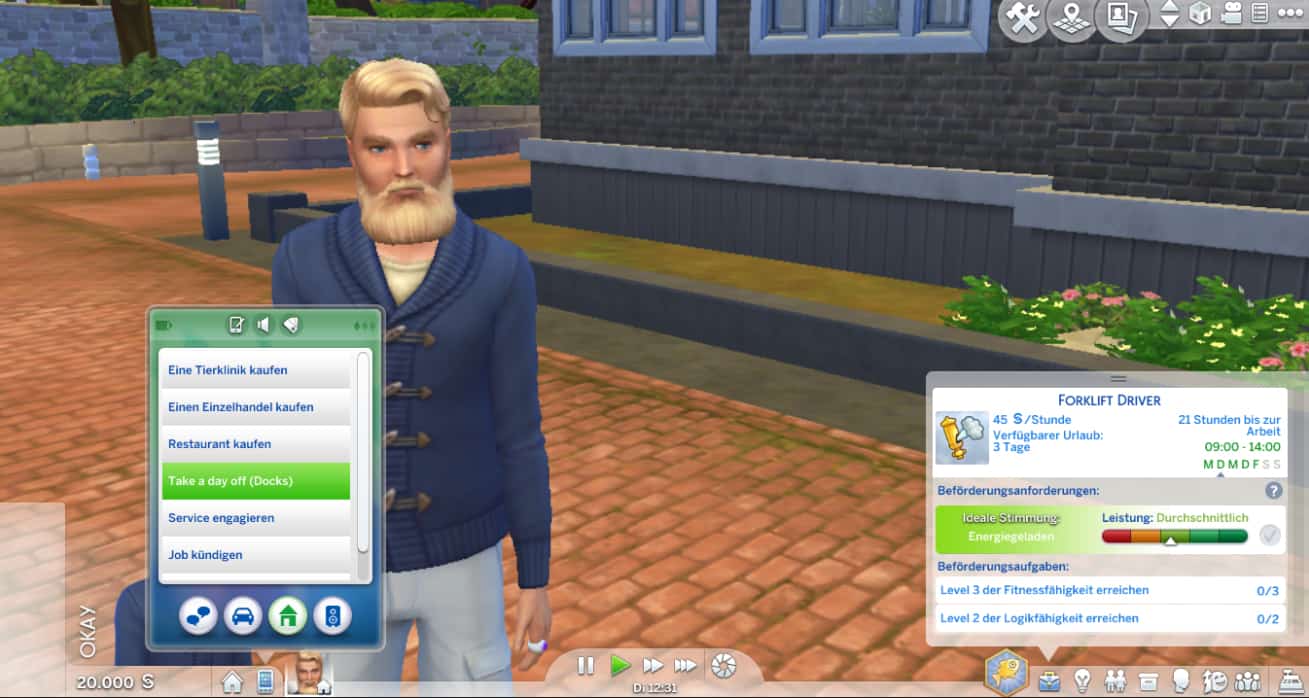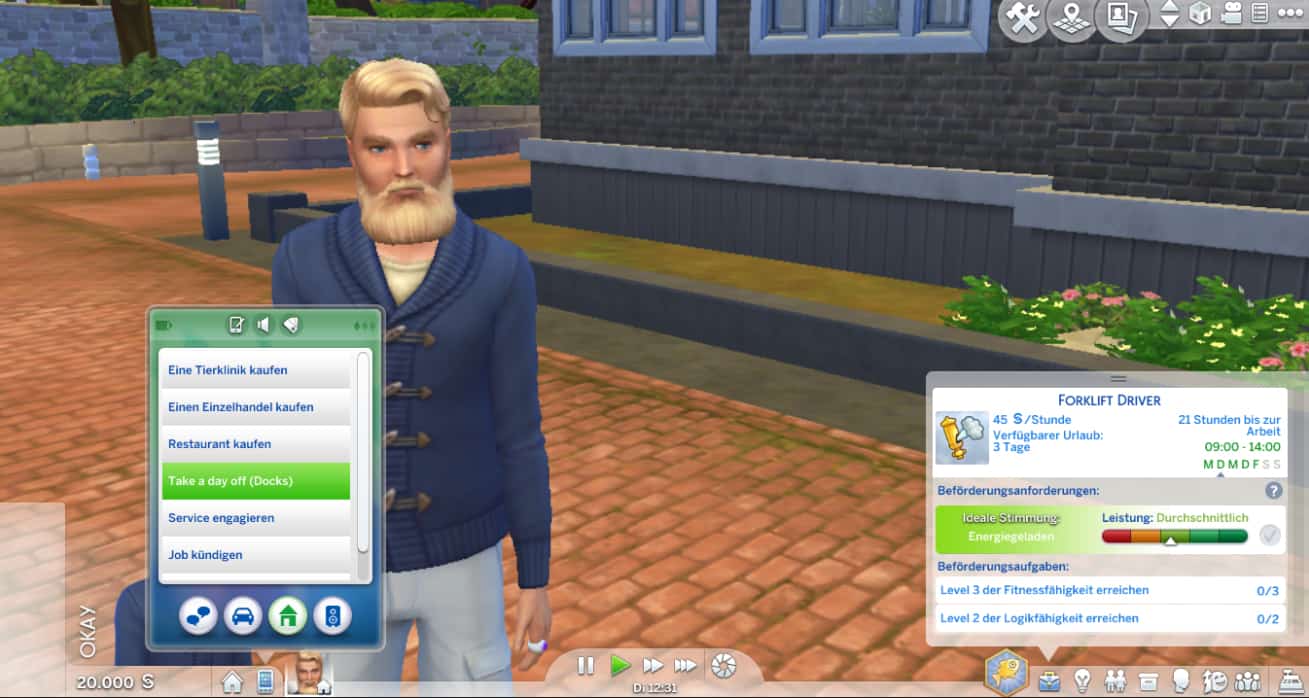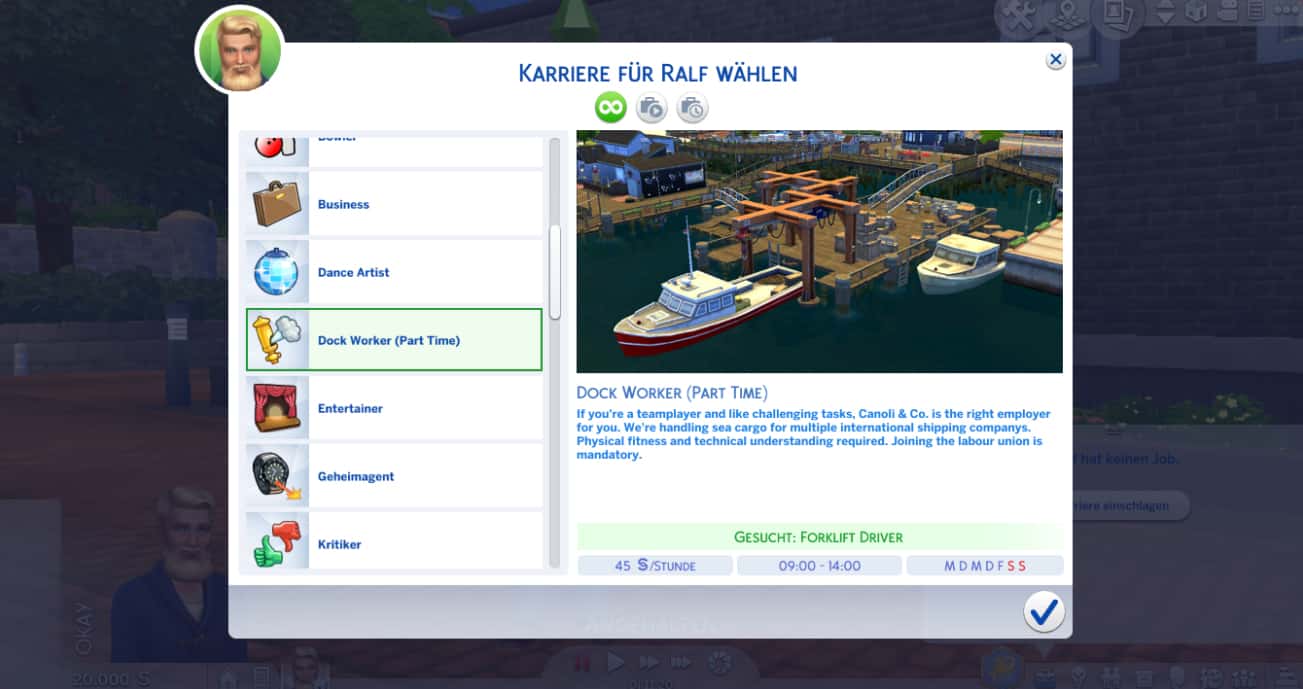 Dock Worker Career (Part Time) Mod
14/02/2019 Update for Patch 1.49.65.1020!
Here's one more for the sim-moms and -dads that don't want the TV to raise their children.
This part time career earns a little more money than the last two but it's still the same range as the vanilla careers.
This time i made it a manual labour job, and as there are already career mods for construction workers, i chose another very common job: the Dock Worker, who could live and work like this in Brindleton Bay, for example.
It is a 3 Level rabbit hole career, made with Neias Ceate-A-Career Tool Beta. (So no chance cards, rewards or job outfits.) and was made with Patch Version 1.46.18.1020
Career Details:
If you're a teamplayer and like challenging tasks, Canoli & Co. is the right employer for you. We're handling sea cargo for multiple international shipping companys. Physical fitness and technical understanding required. Joining the labour union is mandatory.
Level 1: Forklift Driver 45 $/h
It's a bit like playing Blic Block, just with bigger blocks, and you're driving an expensive machine. Also, if you get it wrong, it's Game Over.
Work: M T W T F – – 9am-2pm
Mood: Energized
Objectives: Fitness 3, Logic 2
Level 2: Crane Operator 59$/h
Time is money, as you load and unload containers to and from big ships all day. It's not your money, but keeping up to the schedule keeps you employed. At least your operators cabin is waterproof.
Work: M T W T F – – 9am-2pm
Mood: Energized
Objectives: Fitness 5, Logic 3
Level 3: Foreman 70$/h
Being promoted to foreman for a gang of dockers brings more money, but not less work. If problems occur while loading or unloading a ship, it's now also your job to solve them. Fast.
Work: M T W T F – – 9am-2pm
Mood: Energized
Objectives: –
PTO (Paid Time Off) 0.17/Day for all Levels
Career Cheat (with testingcheats true) careers.promote DockWorker
Basic Download and Install Instructions:
1. Download: Click the File tab to see the download link. Click the link to save the .rar or .zip file(s) to your computer.
2. Extract: Use WinRAR (Windows) to extract the file(s) from the .rar or .zip file(s).
3. Cut and paste the file(s) into your Mods folder
Windows XP: Documents and Settings(Current User Account)My DocumentsElectronic ArtsThe Sims 4Mods
Windows Vista/7/8/8.1: Users(Current User Account)DocumentsElectronic ArtsThe Sims 4Mods
Need more information?
Anyone can use both .rar and .zip files easily! On Windows, use WinRAR.
If you don't have a Mods folder, just make one.