Event Planner Career Mod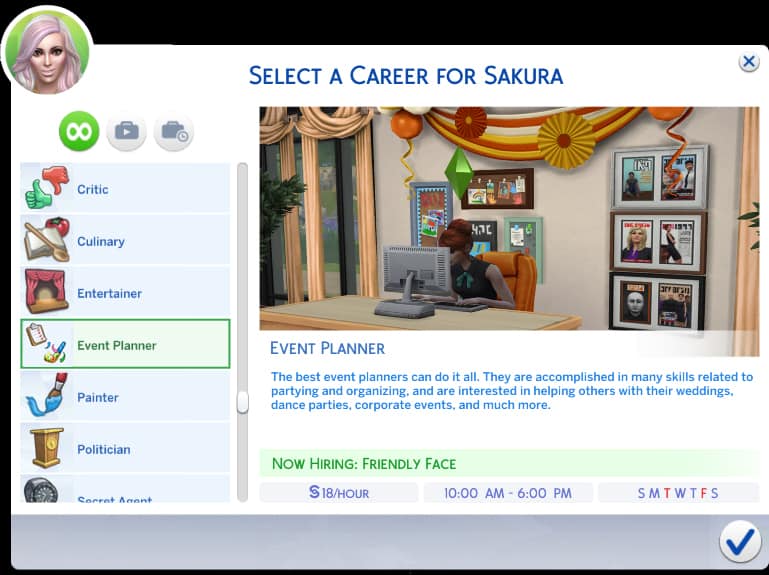 Event Planner Career Mod
Hello Everyone!
Event Planner Career
13DEC18–New version with updated Careers_Commons file attached! All in good working order. Thanks again for your patience
15NOV18–I am waiting for Neia to update the Create-a-Career tool, at which time I will update my careers. Thank you for your patience!
13NOV18–Careers seem to be working with this latest update. If you encounter an issues, please let me know in the comments.
Thank you!
07/16/2018 Icons and Module Image fixed
07/16/2018 French Version added
–For those who have updated their game with the July 31 update, careers created with Neia's Create-a-Career tool before this date will no longer work until they have been recreated. Please be patient while creators fix their careers —
06AUG–I have updated this career to work with the July 31 update. Please re-download if you have the update using the Simmiller_Careers_EventPlanner EIG 31JUL18.zip file. This contains the English version along with the Italian and French translations.–
We've had Event Planners for Sims 2 and Sims 3, but not for Sims 4, as far as I could find, so here you go!
The career name is the only thing I took from the earlier games. All of the levels and objectives are by me.
Anyone who wants to translate to languages other than English, please let me know!
**Italian Version Now Available Thanks to redabyss **
**French Version Now Available Thanks to cinthila **
15APR- Anyone who has had text issues with this career, please redownload V2
Send your Sim off to a fun filled day of learning the skills of event planning.
The best event planners can do it all. They are accomplished in many skills related to partying and organizing,
and are interested in helping others with their weddings, dance parties, corporate events, and much more.
This is a 10 level career. Chance cards for irresponsible and responsible traits are active only if you have Parenthood installed, as with any TS4 career.
Mood and skill requirements vary, as many of the levels are quite different from each other.
Start out as a Friendly Face and finish as an Elite Event Planner for Five Star Sims Events, the premium event planning
company in town.
Made with Neia's Create-A-Career tool in game version 1.41.42.1020.
Unzip the contents of the download file into your Mods folder. If you already have the Neia_Careers_Commons package in your Mods folder,
it is not necessary to put it in again.
Basic Download and Install Instructions:
1. Download: Click the File tab to see the download link. Click the link to save the .rar or .zip file(s) to your computer.
2. Extract: Use WinRAR (Windows) to extract the file(s) from the .rar or .zip file(s).
3. Cut and paste the file(s) into your Mods folder
Windows XP: Documents and Settings(Current User Account)My DocumentsElectronic ArtsThe Sims 4Mods
Windows Vista/7/8/8.1: Users(Current User Account)DocumentsElectronic ArtsThe Sims 4Mods
Need more information?
Anyone can use both .rar and .zip files easily! On Windows, use WinRAR.
If you don't have a Mods folder, just make one.