Fitness Instructor Mod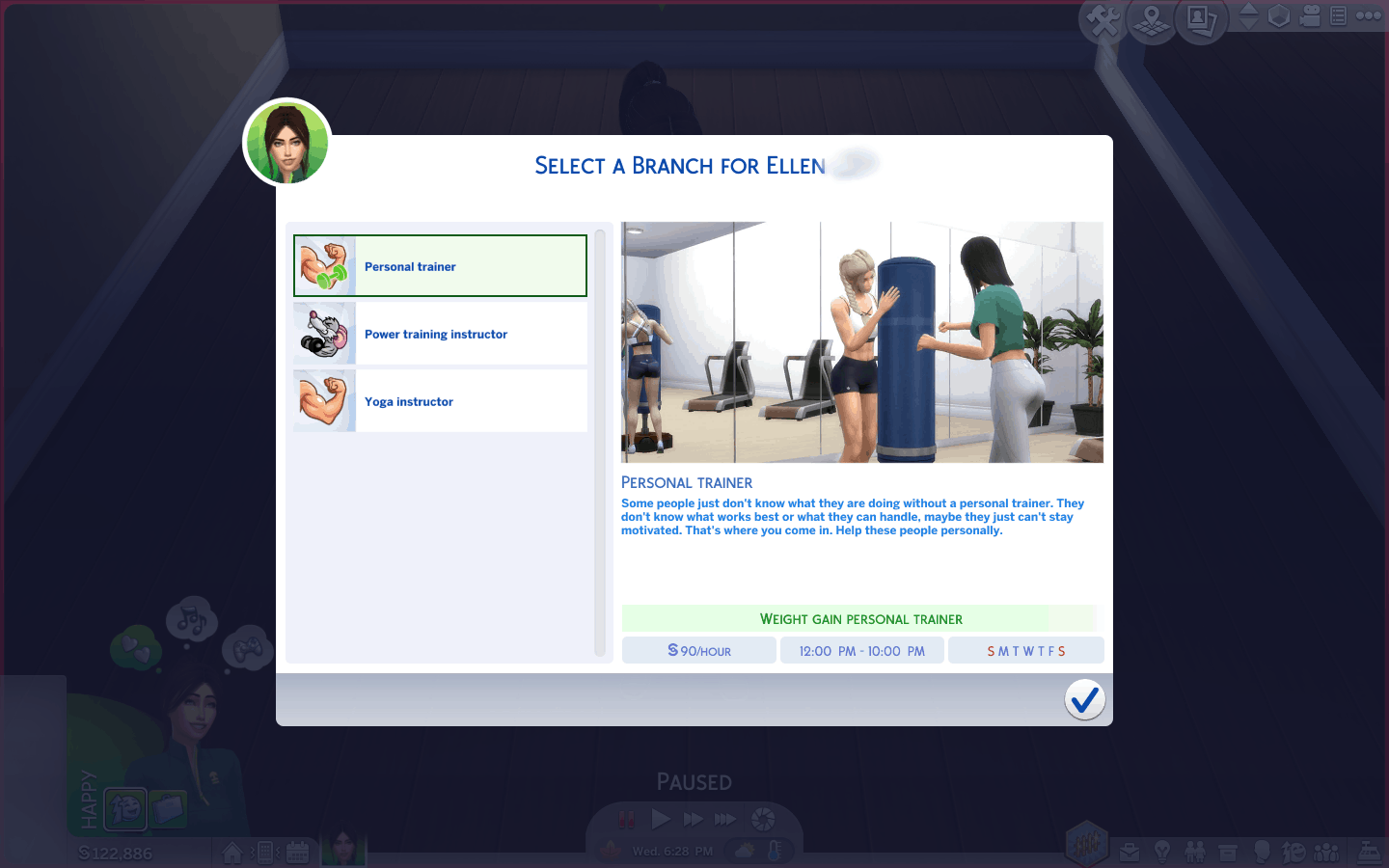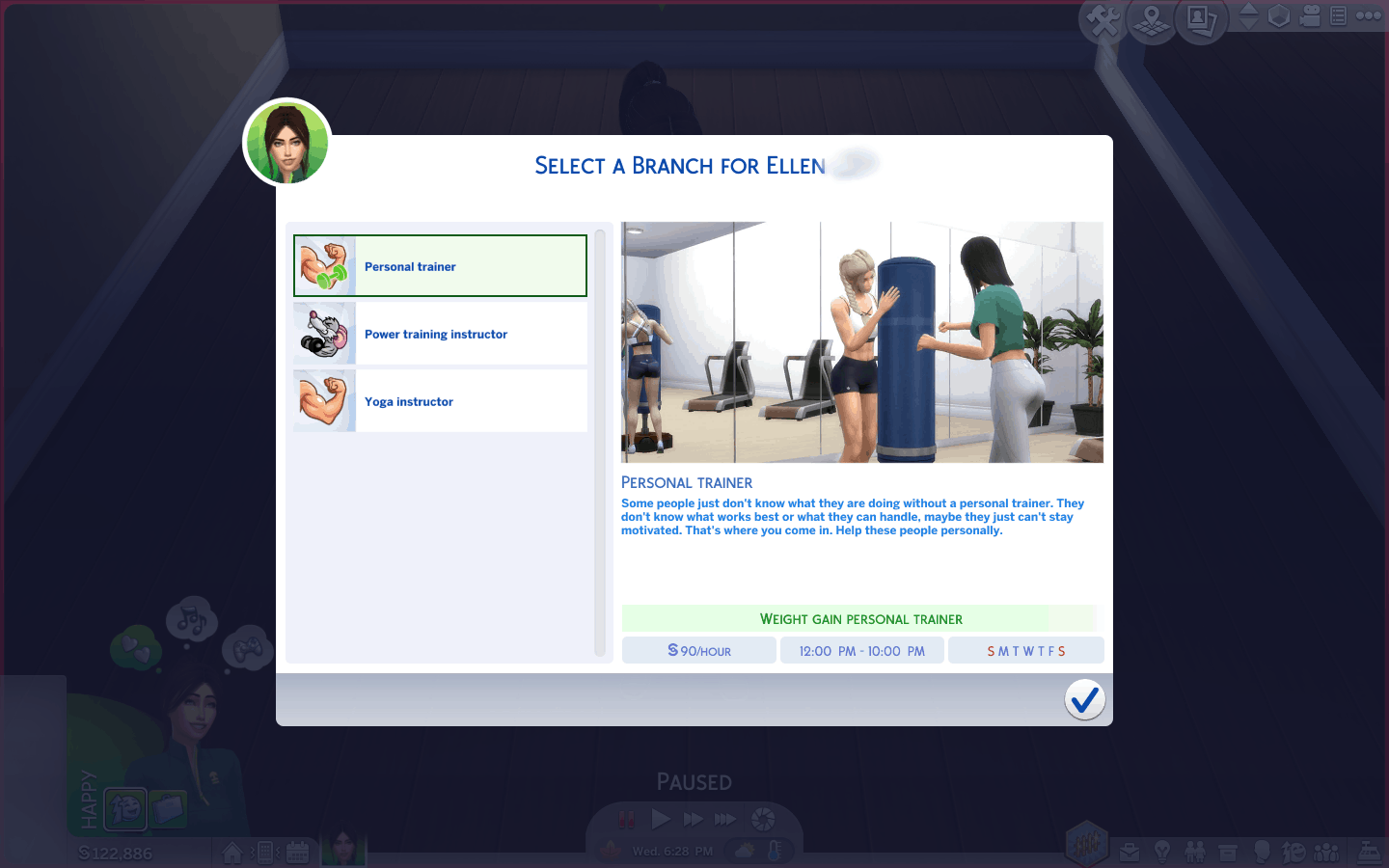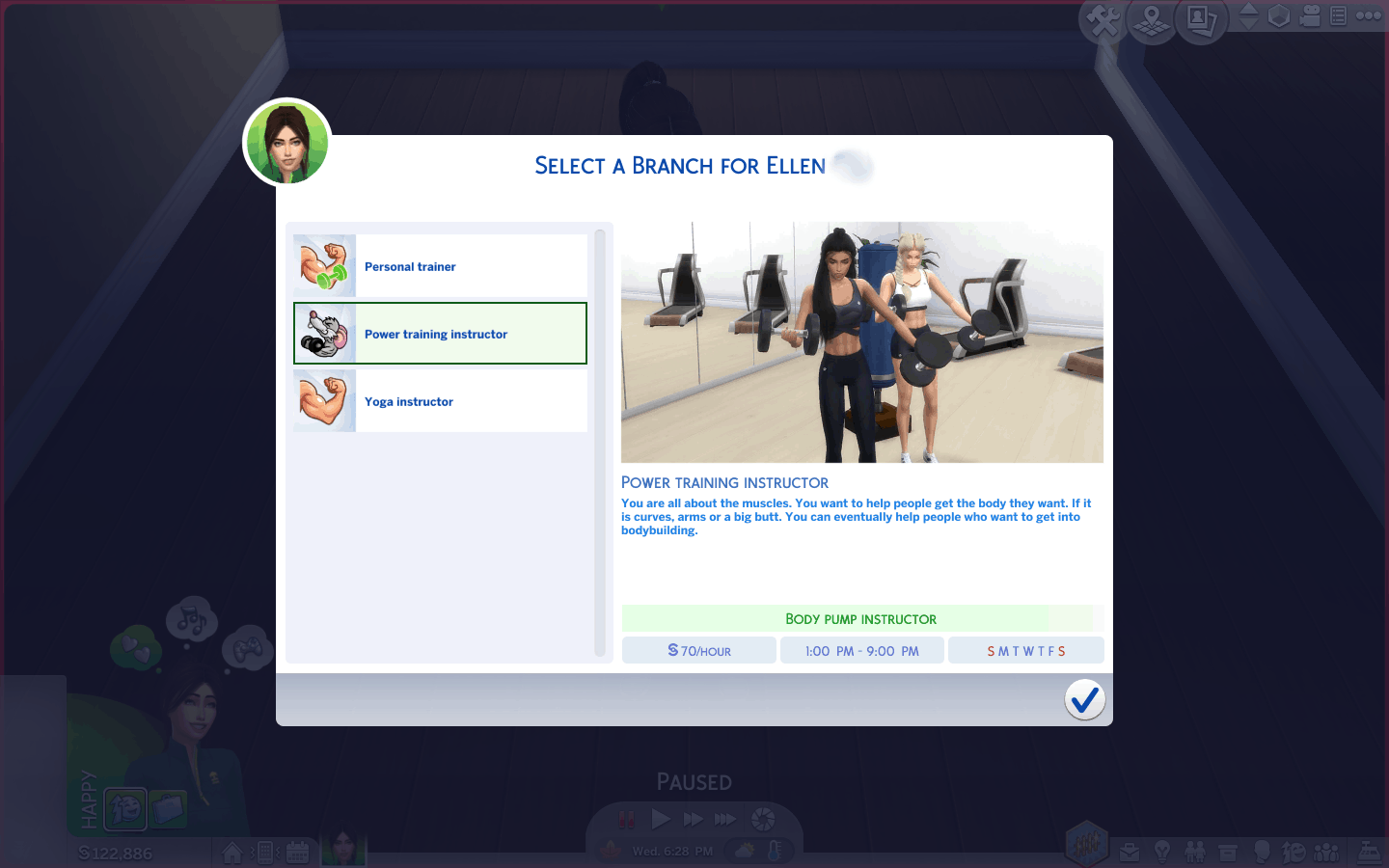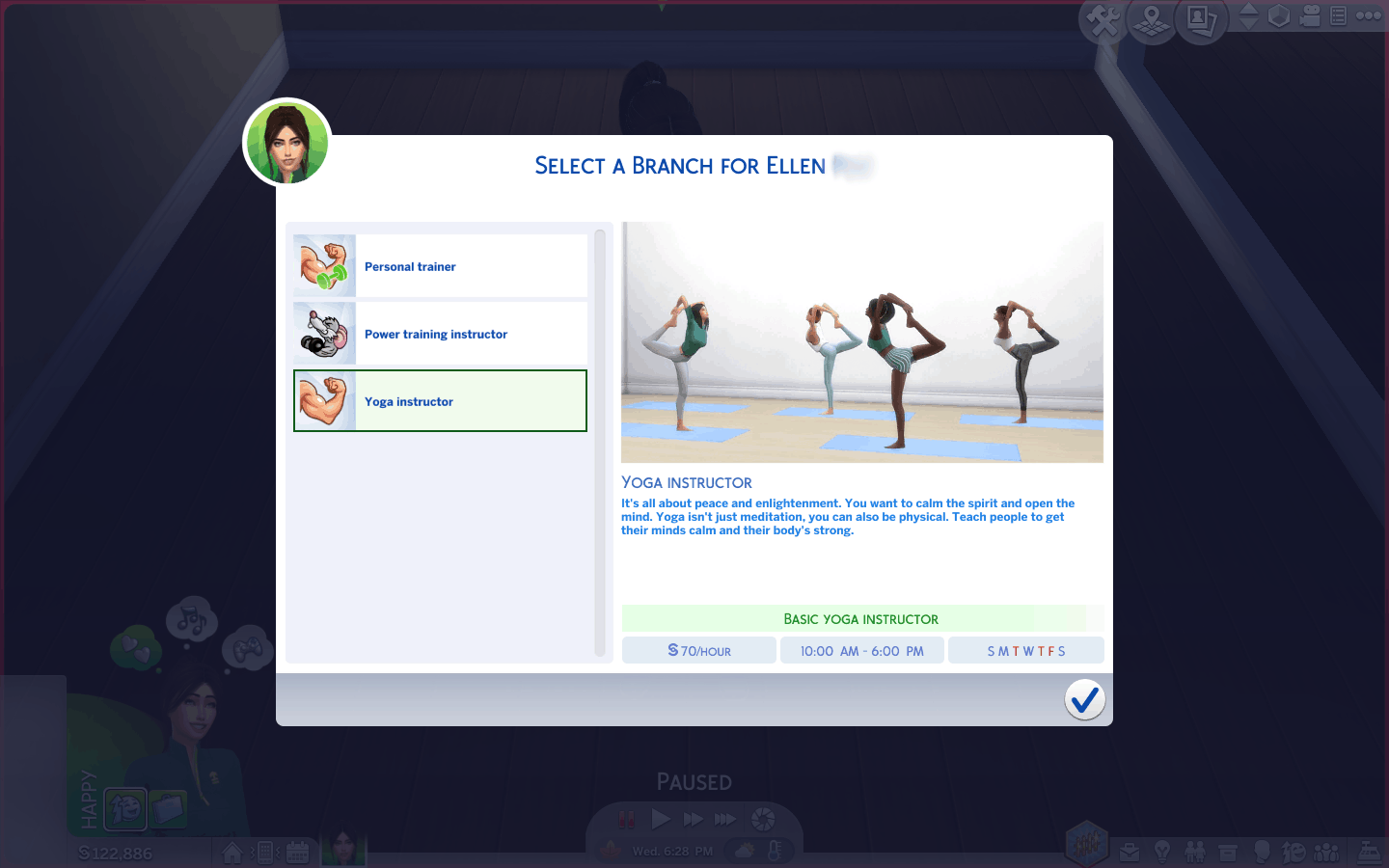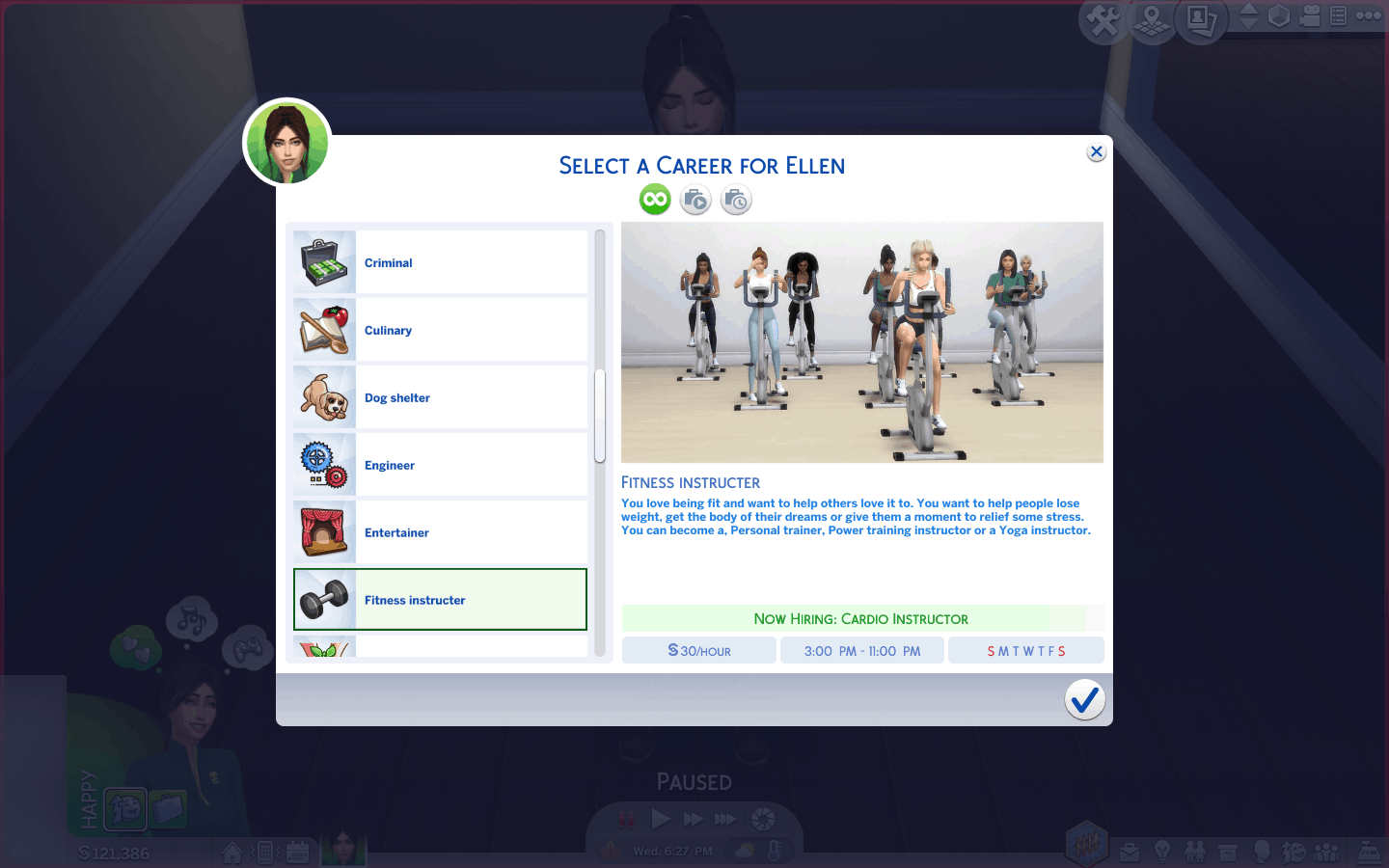 Fitness Instructor Mod
The Fitness instructor is a custom career.
Patch required: 1.48.94.1020
This career requires the base game only.
I could've but the wellness skill in there but since the spa pack isn't that popular I made it base game compatible.
Fitness instructor
You love being fit and want to help others love it to. You want to help people lose weight, get the body of their dreams or give them a moment to relief some stress. You can become a, Personal trainer, Power training instructor or a Yoga instructor.
Cardio Instructor (30/H)
We all now them from tv, but you get to do them in front of a whole class. It may not be as challenging for you, but most of the people in class are beginners. Make their intrudoction with the gym a great one.
MTWTF
Zumba instructor (40/H)
Now this is fun, music and dancing. Who doesn't love zumba. This may be the best option for people who don't love working out, maybe you can change their minds?
MTWTF
Bodypump instructor (50/H)
The power is coming. Weights and endurance. Make it fun for your class because this is getting harder on everyone.
MTWTF
Cycle class instructor (60/H)
This is wat most people are looking for, but it takes a little while for people to be able to take this class. Because this is so hard! You need a lot of endurance and you need to be fit. All the fitgirls will be in your class. With the right playlist and motivational words you can help everyone in the class.
MTWTF
Track 1: Personal trainer
Some people just don't know what they are doing without a personal trainer. They don't know what works best or what they can handle, maybe they just can't stay motivated. That's where you come in. Help these people personally.
Weight gain personal trainer (90/H)
Some people want to gain weight. They want their body's to be curvy and bulky. Help them with a meal plan and a workout plan. If you make a good enough impression they might want to keep you around.
MTWTF
Weight loss personal trainer (100/H)
Some people don't know how they can lose weight. Every body works different. Find out what works for who. Help them with meal plans and workout plans. Help them achieve their body goals.
MTWF
Personal trainer of the stars (150/H)
Even our most beloved stars struggle with working out. Some actors or actresses need to adjust their body's for their acting gigs, help them get their and get back to their originals body. Maybe some singers need to get their cardio up for some huge performances. You are the one they come for!
MWTF
Track 2: Power training instructor
You are all about the muscles. You want to help people get the body they want. If it is curves, arms or a big butt. You can eventually help people who want to get into bodybuilding.
Advanced Body pump instructor (70/H)
People who just get into power trainging might want to start with a class. Music, weight and motivational words. Help these people get through, luckily you don't have to be there for the sore muscles.
MTWTF
Group power instructor (90/H)
Some people want help with the weights. You walk around the gym and help people with their exercises. Motivate them and teach them how they could do it on their own.
MTWTF
Bodybuilder instructor (120/H)
Bodybuilding is something else. Body fat, muscle weight and strict meal plans. These people are determinant to hit their goals. Help them through this journey. Maybe you'll get abonus if they win first place.
MTTF
Track 3: Yoga instructor
It's all about peace and enlightenment. You want to calm the spirit and open the mind. Yoga isn't just meditation, you can also be physical. Teach people to get their minds calm and their body's strong.
Basic yoga instructor (70/H)
Your class has to start somewhere. You start with a little meditation, then some exercise and then some more meditation. Make it calm and easy. Keep the lessons interesting and people will want more.
MWSS
Power yoga instructor (80/H)
You've got a lot of people asking more from your yoga classes. Challenge them. You have to be strong and flexible for power yoga. People will get a really strong body and strong mind from taking these classes.
TWTS
Pilates instructor (90/H)
It may not be completely yoga but the exercises are similar. Now that people got their minds strong they are getting even stronger body's. Since you are teaching these classes, you will be ripped to!
MWTF
Download the file and added it to your mods folder.
I also attached a Neia Careers Commons package which you will need to run this mod.
Basic Download and Install Instructions:
1. Download: Click the File tab to see the download link. Click the link to save the .rar or .zip file(s) to your computer.
2. Extract: Use WinRAR (Windows) to extract the file(s) from the .rar or .zip file(s).
3. Cut and paste the file(s) into your Mods folder
Windows XP: Documents and Settings(Current User Account)My DocumentsElectronic ArtsThe Sims 4Mods
Windows Vista/7/8/8.1: Users(Current User Account)DocumentsElectronic ArtsThe Sims 4Mods
Need more information?
Anyone can use both .rar and .zip files easily! On Windows, use WinRAR.
If you don't have a Mods folder, just make one.