Hero Career! My Hero Academia career path Mod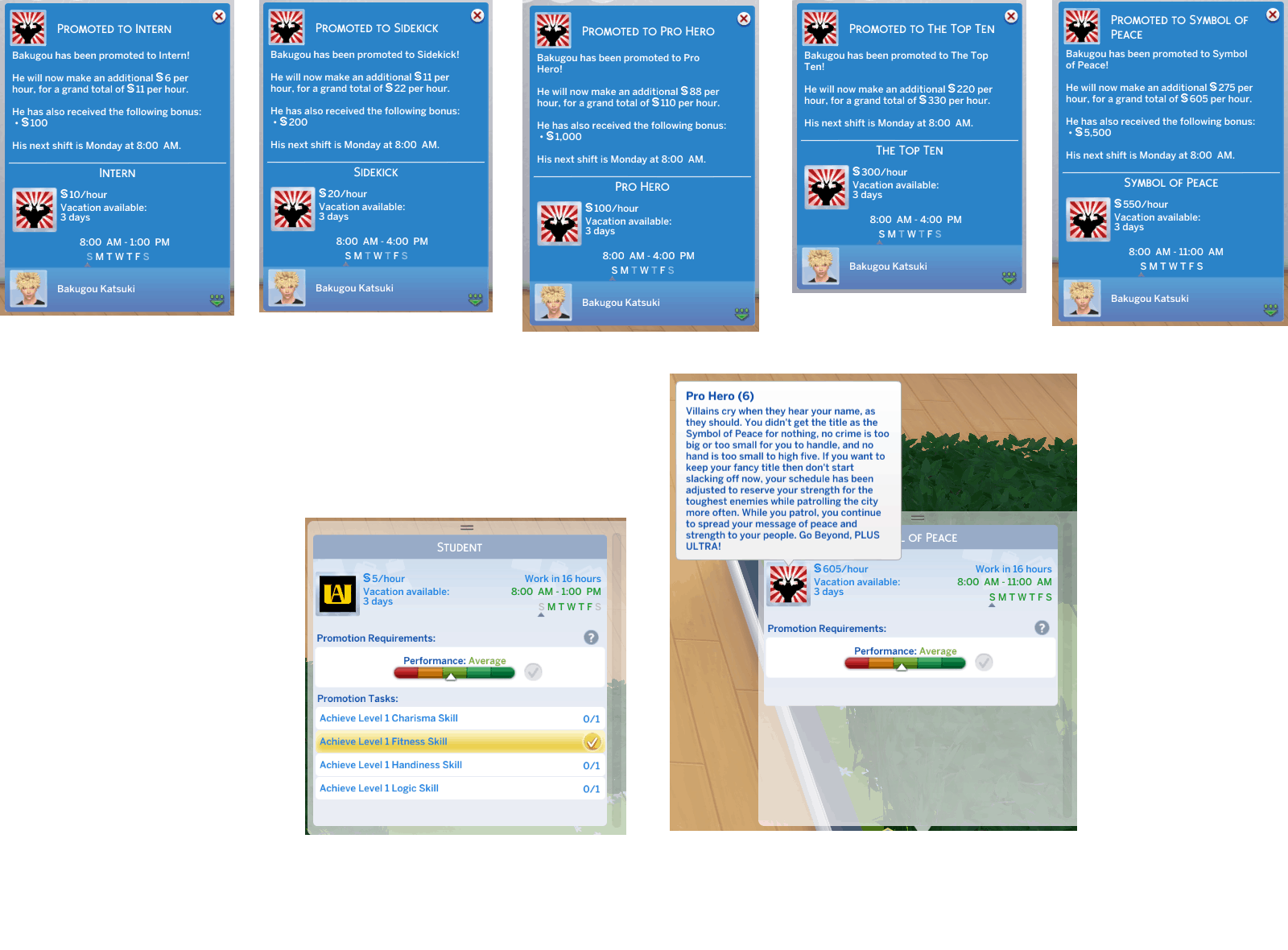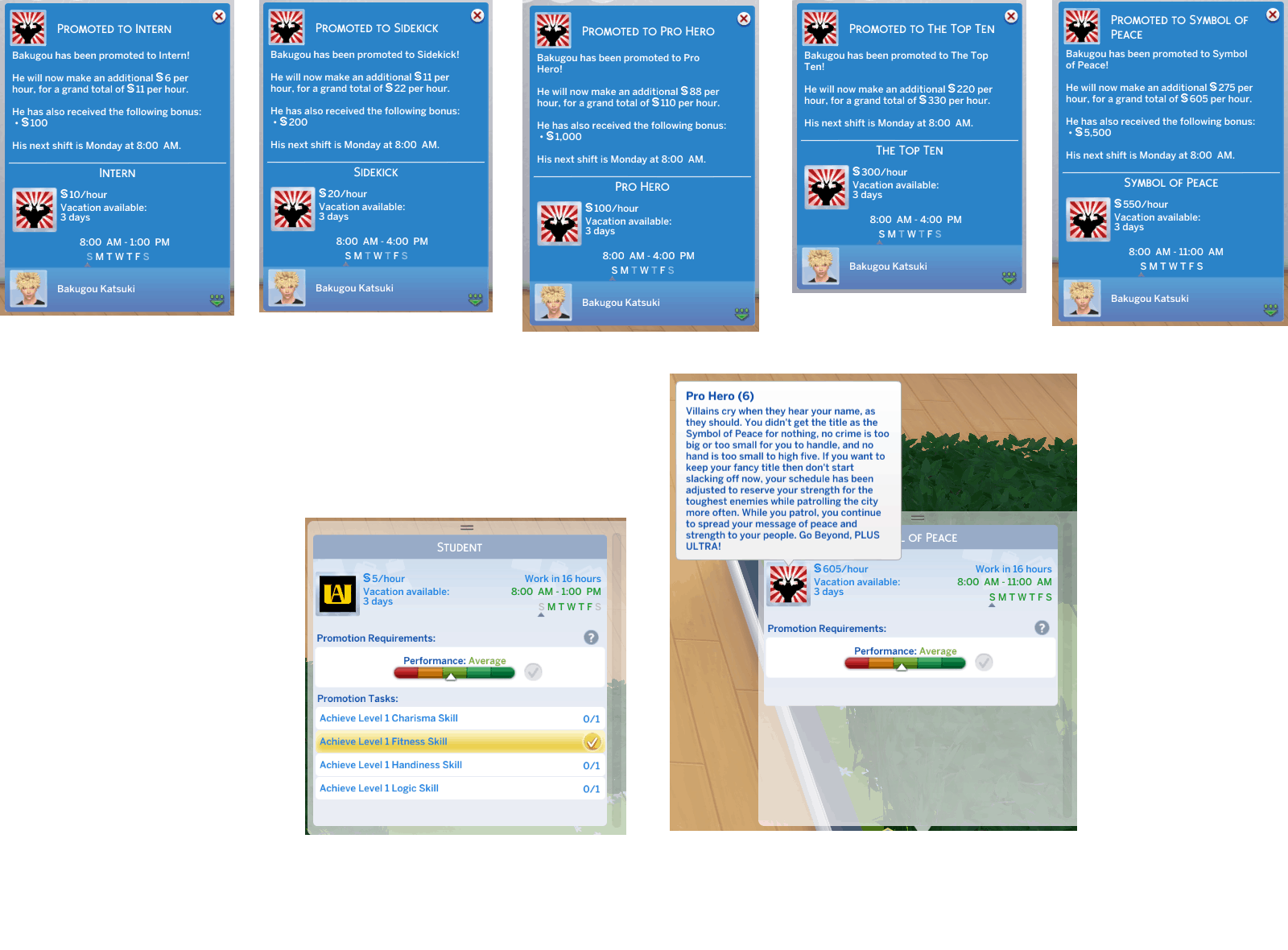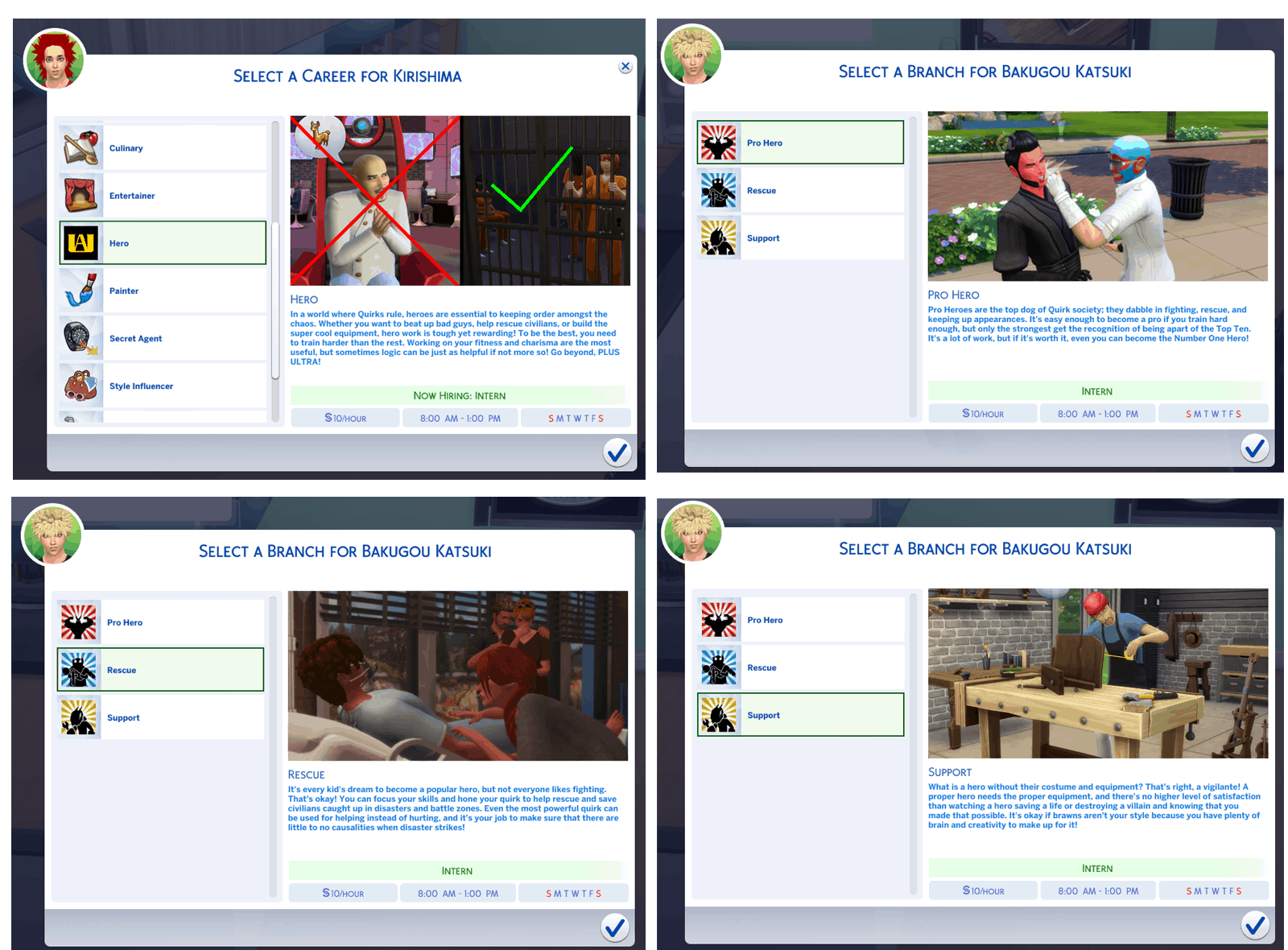 Hero Career! My Hero Academia career path Mod
I decided to make a career path for the My Hero Academia sims! Forgive the snapshots, I didn't have much to work with so I had to scavenge.
After becoming a student, you have the opportunity to choose which branch to intern under. Once chosen, YOU CANNOT PICK AGAIN,
so choose wisely! As you climb the ranks you'll see something similar to the image below depending on which path you choose.
Once you become the best, expect to work everyday (If you wanna stay at the top you need to be dedicated!), but don't worry, it doesn't require as many hours.
More about the branches!
Every branch promotes you to an intern to learn the ropes, afterwards, you are promoted to positions that best reflect your field.
Hero: In a world where Quirks rule, heroes are essential to keeping order amongst the chaos. Whether you want to beat up bad guys, help rescue
civilians, or build the super cool equipment, hero work is tough yet rewarding! To be the best, you need to train harder than the rest. Working on your
fitness and charisma are the most useful, but sometimes logic can be just as helpful if not more so! Go beyond, PLUS ULTRA!
Student: Welcome to UA! It's good to learn about all available fields before making a decision on where you want to work. Take this time to
consider which path you'll want to take and learn as much as you can!
Pay: $5/hr
MTWTF
8am-1pm
Charisma, Fitness, Handiness, Logic: 1
I tested it out with career cheats and it works fine, but I have no idea what the work outfits are, and there aren't any chance cards
(until someone can link me to a tutorial on how to make them). Also, once you choose a path for a sim (Hero, Rescue, Support)
you wont be able to change paths, even if you quit. You can reapply, but you will still be on the path you originally chose.
The images attached are just snippets of the ranks and stuff.
This is my first upload and I just started making mods, so if you use it, leave a comment and let me know what you think!
I also have Bakugou and Kirishima's hair (3 different styles, you can see the icons in the snapshot images), the AU gym uniform
(not perfect, but it works), some custom shirts/shoes, and I'm currently working on Ashido's hair (eyes are done). I'm not sure how popular BnHA
is on this site, but I'm making the mods for myself and wanted to share~
The install details are saying to place the packages in the Downloads for whatever reason. Once you unzip the file, place both packages (2) in the Mods folder.
Documents>Electronic Arts>The Sims 4>Mods
And make sure you have mods enabled in game.