Knight career Mod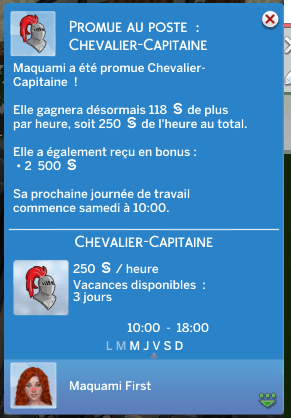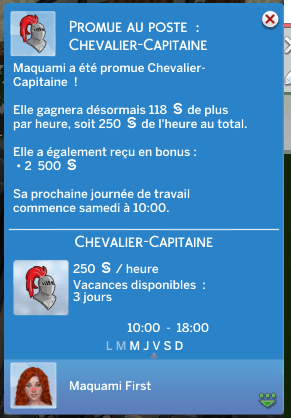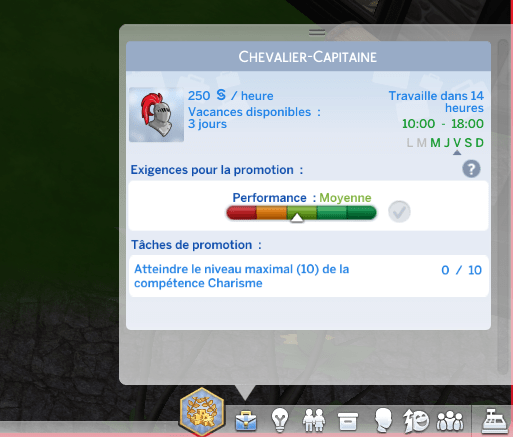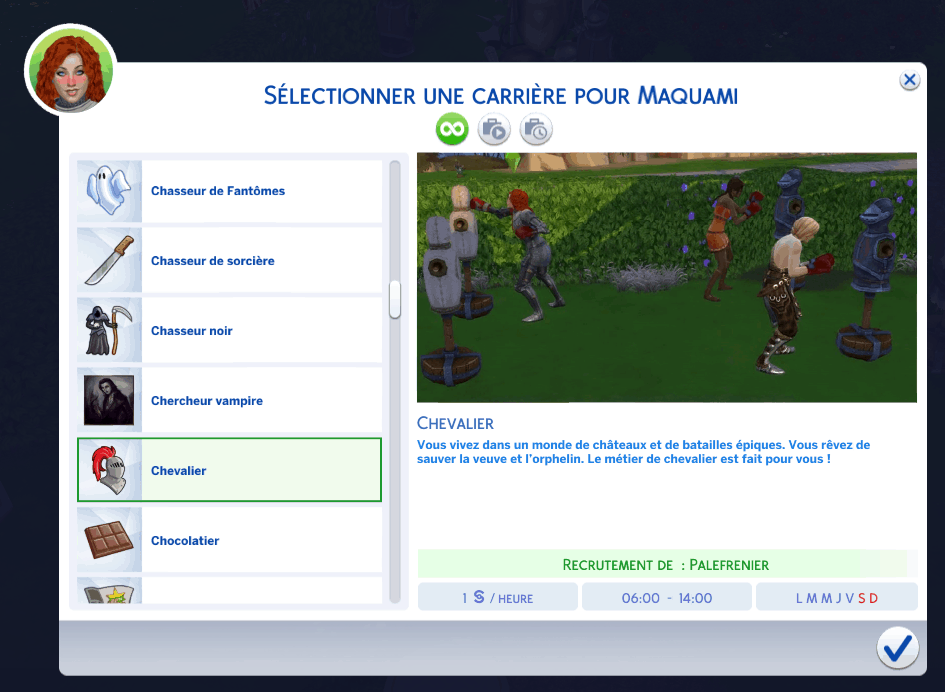 Knight career Mod
Always for my own gameplay needs, I have created this new career. I hope you'll like it too ♥
No expansions are required ?
Game version : 1.50.67.1020
It's in French, but I also translate it into English (my English is not perfect )
You can translate it in another language if you want, but ask me ?
Knight
You live in a world of castles and epic battles. You dream of saving the widow and the orphan. Knight's job is for you!
(7 levels)
Level 1: Stableman (M T W T F – -,1§/h, 8§/d, Handiness 1)
You are for the moment only a slave not very considered. Knights of high rank, treat you rather badly and your only duty is to feed and cure the horses, as well as clean the stable.
Level 2: Page (M T W T F – -,17§/h, 102§/d, Fitness 3, Charisma 2)
You have been noticed by a knight who decides to make you his page. You learn essential social rules from the women of domestic service and the basic principles of handling weapons and riding with your master.
Level 3: Squire (M T W T F – -, 21§/h, 126§/d, Fitness 5)
Here you are now Squire! You can accompany your knight in battles and proudly wear his shield. Defeat a knight in battle, and you will have the recognition of your kingdom to become a true knight!
Level 4: Antrustion (- T W T F – -, 55§/h, 330§/d, Fitness 7)
You are officially a warrior, you may be personally called to fight without accompanying your master, but you are still considered a servant.
Level 5: Knight (- – W T F S S, 85§/h, 510§/d, Fitness 8, Charisma 4)
That's it ! You are knighted! It was an immense ceremony in your honor and you received your sword and your own horse, as well as lands! To you the glory of adventure and the rescue of damsels and flocks in distress!
Level 6: Knight-under-Captain (M – – T F S S, 132§/h, 792§/d, Fitness 10, Charisma 7)
You are now of a higher rank. You have proved yourself and have been entrusted with the task of leading a few men.
Level 7: Knight-Captain (- – W T F S S, 250§/h, 2000§/d, Charisma 10)
You now lead all the knights. You are a brave among the brave, a medieval hero! Your deeds are told throughout the kingdom and beyond. Your name will still be sung in thousands of years. Congratulations !
required :
Neia career package