Media Influencer Mod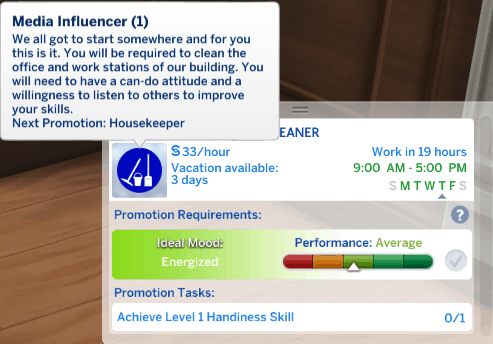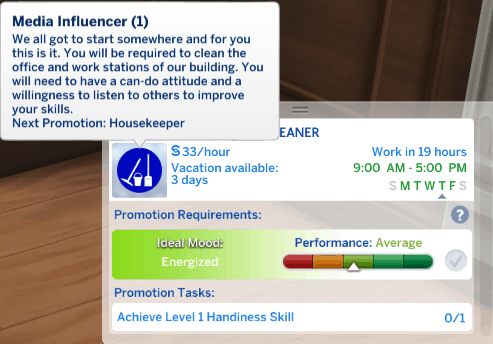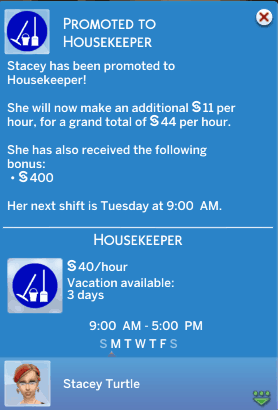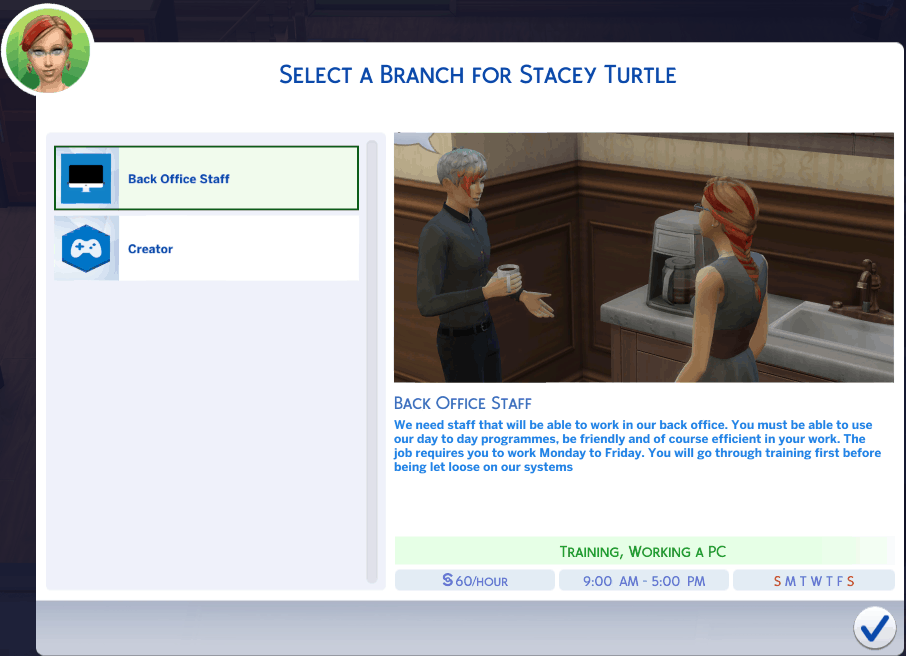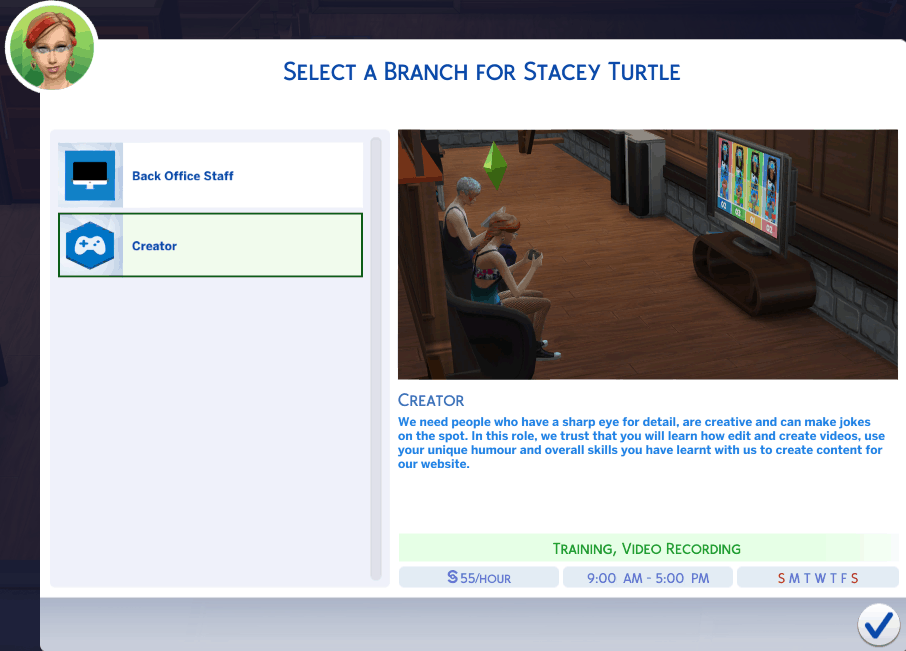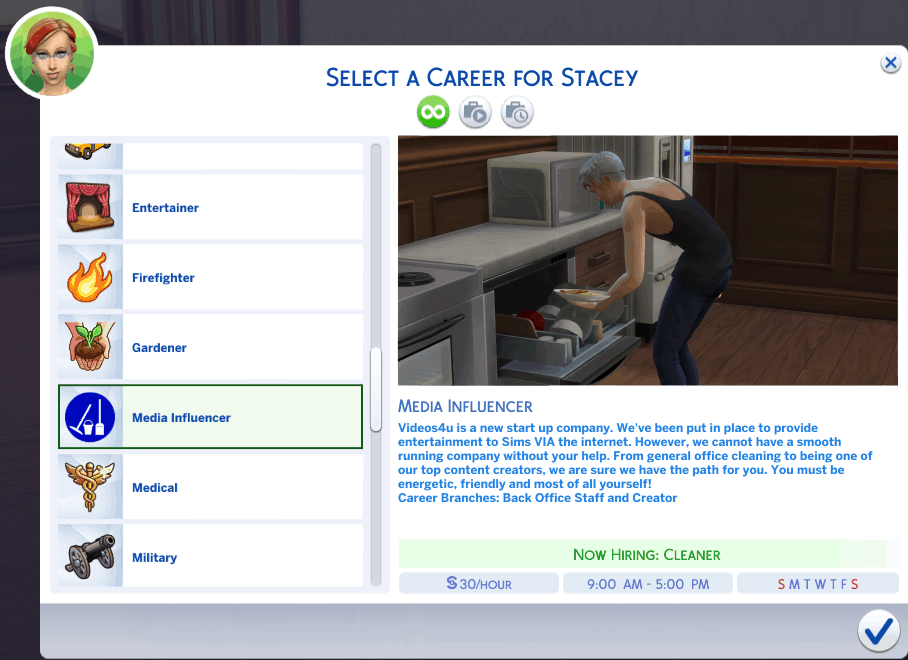 Media Influencer Mod
Works with game patch version 1.47.51.1020
I have completely recreated my first attempt at a job mod and have made this! This is a Media Influencer job role for your Sims! There are two different branch off jobs that your Sims can take, this is back office roles and front line roles. Below are the descriptions for each job!
Main Track – Office Handiman
Videos4u is a new start up company. We've been put in place to provide entertainment to Sims VIA the internet. However, we cannot have a smooth running company without your help. From general office cleaning to being one of our top content creators, we are sure we have the path for you. You must be energetic, friendly and most of all yourself!
Cleaner
We all got to start somewhere and for you this is it. You will be required to clean the office and work stations of our building. You will need to have a can-do attitude and a willingness to listen to others to improve your skills.
Monday – Frinday work days
Energized attitude
§30 an hour
Handiness 1
Housekeeper
It is your job as a Housekeeper to keep the offices maintained to a high level. You will be in charge of cleaning staff, making sure clean supplies are stocked as well as occasionally greeting visitors that come to the building. You are the face of the company on a more ground level.
Monday – Friday work days
Energized attitude
§40
Handiness 3, Charima 1
Branch off 1 – Back Office Staff
We need staff that will be able to work in our back office. You must be able to use our day to day programmes, be friendly and of course efficient in your work. The job requires you to work Monday to Friday. You will go through training first before being let loose on our systems
Training, working a PC
You will be trained on how to work the PC we supply you, how to turn it on, how to keep it maintained etc. The PC will be your main tool in this job, it is important you know how to keep it fully maintained.
Monday – Friday work days
Focused attitude
§60
Charisma 2, Logic 1
Training, Our Systems
You will learn how to operate our software. In this training you'll be learning the in's and outs of our software, troubleshooting for the content creators as well as how to enter new content creator details onto the system.
Monday – Friday work days
Focused attitude
§70
Charisma 3, Logic 2
Training, Complaints
Here you'll be learning about complaints, when a complaint is regonised and how to resolve a complaint. Many of our complaints are about our content creator's content, so we will be training you on how to resolve it on both end so all parties are happy.
Monday – Friday work days
Focused attitude
§80
Charisma 4, Logic 3
Training, Payroll
You'll be learning how to pay the staff, including yourself! Everyone needs money to pay the bills, feed themselves, buy grandmother that turbo walking stick 6000 she's been asking for since Christmas and we'll show you how exactly to get that money into your account.
Monday – Friday work days
Focused attitude
§90
Charisma 5, Logic 4
Admin Assistant
You have the skills required for the job. Now it's time to work in our office. We will let you loose onto our systems, as well as viewers and the content creators. It will be your job to make sure enquires are dealt with, handle complaints, complete payroll and source more staff to name a few.
Monday – Friday work days
Focused attitude
§100
Charisma 6, Logic 5
Senior Admin
It will be your job to handle the team of admin's in the office. You will need to make sure office stocks are plentifull, staff are happy, arrange staff days out etc. You must be friendly and approachable as you will be representing our company.
Monday – Friday work days
Focused attitude
§120
Charisma 9, Logic 9
Branch off 2 – Creator
We need people who have a sharp eye for detail, are creative and can make jokes on the spot. In this role, we trust that you will learn how edit and create videos, use your unique humour and overall skills you have learnt with us to create content for our website.
Training, Video Recording
We'll be teaching you everything from focus, best sound software to use for picking up you voice, how to project your voice etc. This is a hands on training course where you will record videos ready for your next training class should you pass.
Monday – Friday work days
Focused attitude
§55
Charisma 2, Comedy 1, Mischief 1
Training, Video Editing
We will be training you on the best and latest video editing software out there. In this training class you'll learn how to edit videos with sound, visuals and voice overs.
Monday – Friday work days
Focused attitude
§65
Charisma 3, Comedy 2, Mischief 2
Content Moderator
You'll be moderating content put up on our website. In this you'll be making sure videos are fit for viewers as well as reaching out to creators if they're content is questionable. It'll be your job to make sure videos stay within the video age limits.
Monday – Friday work days
Confident attitude
§75
Charisma 4, Comedy 3, Mischief 3
Content Editor
You'll be editing other creators content ready for posting. This job will also let you put your new skills into action before moving onto your own creations.
Monday – Friday work days
Inspired attitude
§85
Charisma 6, Comedy 5, Mischief 5
Content Creator
You'll be making your own content for our website. It'll be your job to record and put out quality content for all sims around the world rather they're coming back from school or work.
Monday – Friday work days
Inspired attitude
§95
Charisma 8, Comedy 7, Mischief 7
Basic Download and Install Instructions:
1. Download: Click the File tab to see the download link. Click the link to save the .rar or .zip file(s) to your computer.
2. Extract: Use WinRAR (Windows) to extract the file(s) from the .rar or .zip file(s).
3. Cut and paste the file(s) into your Mods folder
Windows XP: Documents and Settings(Current User Account)My DocumentsElectronic ArtsThe Sims 4Mods
Windows Vista/7/8/8.1: Users(Current User Account)DocumentsElectronic ArtsThe Sims 4Mods
Need more information?
Anyone can use both .rar and .zip files easily! On Windows, use WinRAR.
If you don't have a Mods folder, just make one.