More Dormant Occult Traits Mod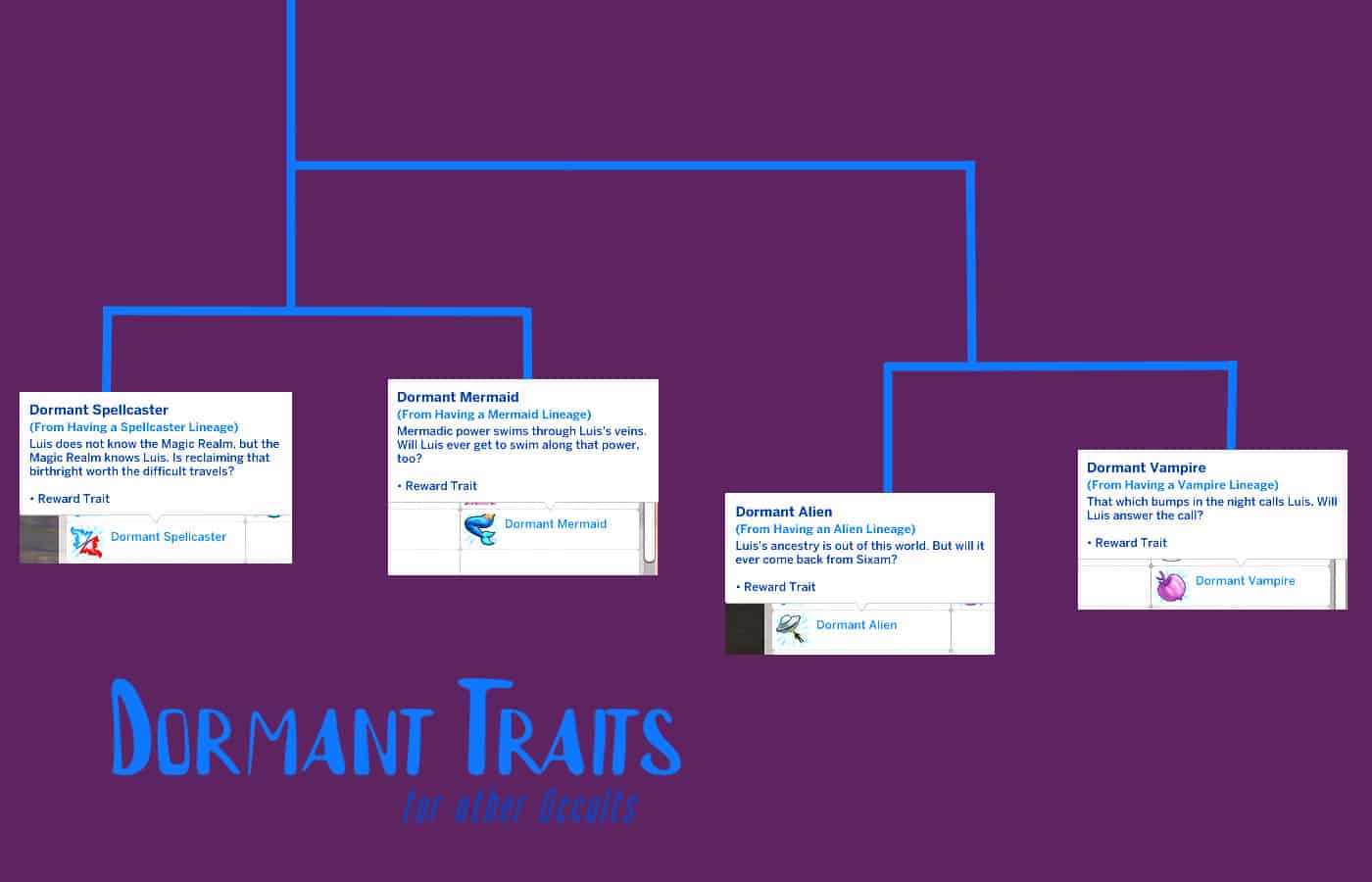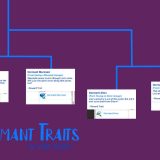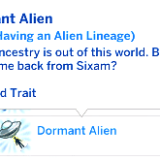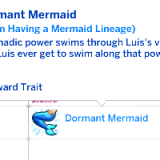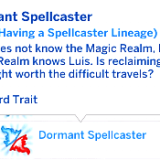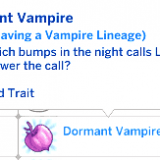 More Dormant Occult Traits Mod
This mod requires MAL22's Trait Tracker Injector, and will not work without it.
Whenever an Occult has a child who doesn't get their parent's respective Occult trait, there is a YES/NO chance they might get the Dormant Occult instead. They can either get it or not get it, both possibilities have the same weight. So they either get the Dormant Occult or they don't.
Naturally, this doesn't include Werewolves. Specifically this includes: Vampires, Aliens, Mermaids, and Spellcasters.
The odd one out is Dormant Alien, which when its conditions are fulfilled, has a 75% chance to turn your Sim into a Half-Alien and 25% chance to turn them into a full Alien. All others are straight-forward, like Dormant Vampire can unlock Vampire status, etc. To avoid glitchiness, this unlocking must also happen at age Teen or older.
Each of these Dormant traits also has its own unlock conditions in order for your Sim to gain the respective occult status. These shall be found within the spoiler tags as not to spoil it for anyone who wants to find out for themselves.
to trigger the conditions of Dormant Alien, your Sim must be:
A: abducted by aliens (Nyx's Enhanced Alien's interaction will count for this)
B: in Sixam
to trigger the conditions of Dormant Mermaid, your Sim must be:
A: swim in the ocean
B: explore Sulani's beach cave
to trigger the conditions of Dormant Spellcaster, your Sim must be:
A: obtain a wand
B: in Magic HQ
to trigger the conditions of Dormant Vampire, your Sim must be:
A: be drunk from by a Vampire
B: witness a death (can't guarantee custom deaths will be counted for this)
Known issues:
Due to the game's habit of sometimes ignoring interactions etc., there's a chance they may need to be performed more than once. After testing different possibilities for the test conditions, I ended up settling for the ones that seem to work consistently, but please report any issues.
Languages:
All strings are in English as of the initial release.

Note to translators: Strings can be found on the core tuning package.
IMPORTANT:
If you have my Dhampyrs 2.0 mod, use the version of Dormant Vampires labeled as compatible for that, and delete the other one. You can only have one version of Dormant Vampire.