No More Annoying Invitations Mod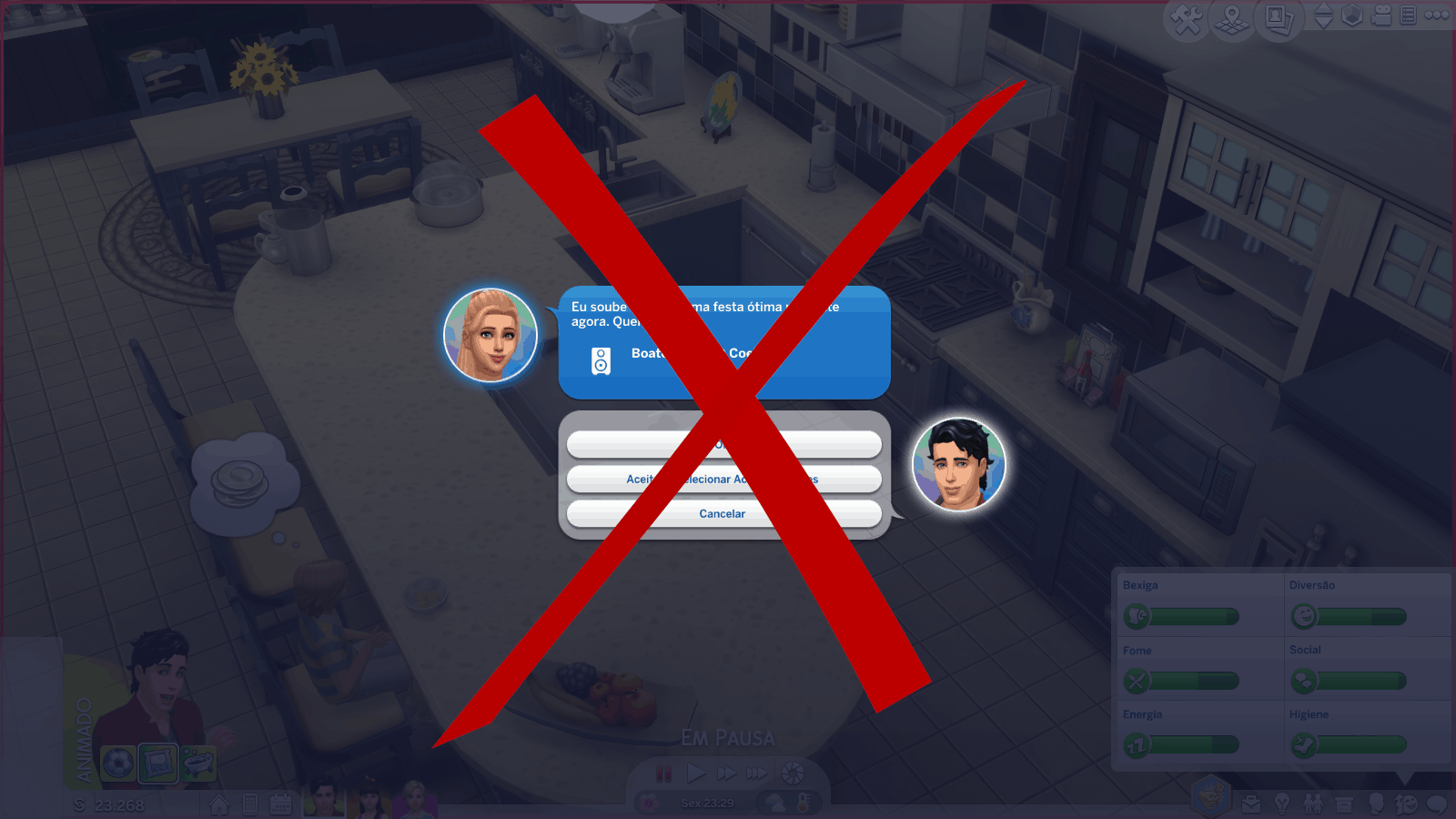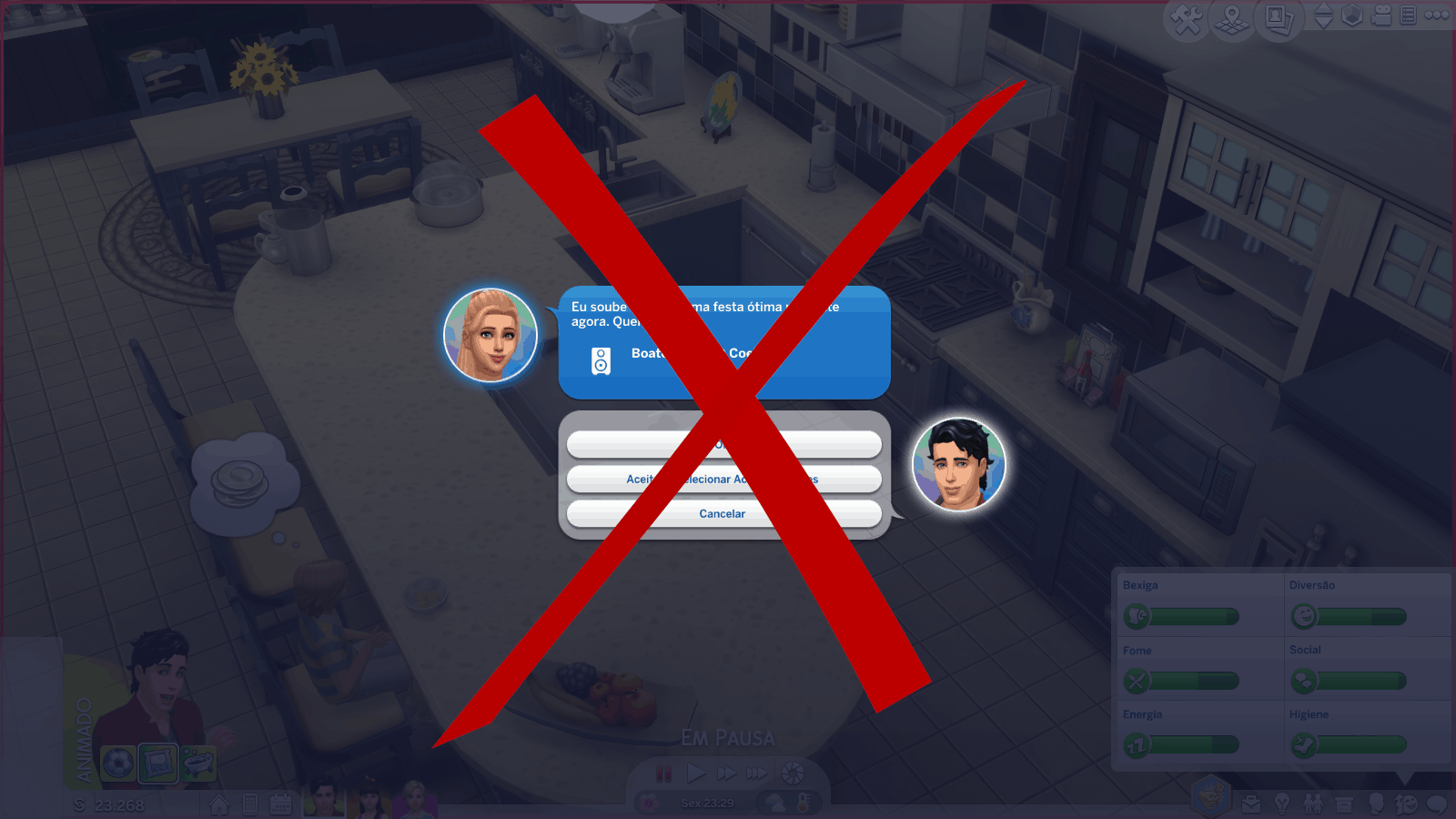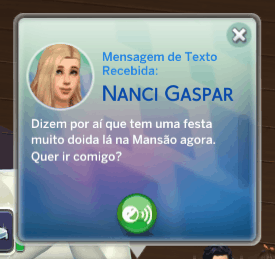 No More Annoying Invitations Mod
Are you also bothered by the frequent phone invitations that the sims receive, especially if you have "Get Together" expansion pack?
With this simple mod you will not longer receive any kind of phone invitations, luckily I didn't forget one type (I kept the invitations from when the player send an emotional text in the cell phone unchanged, as this is a player initiated event).
Made with game version 1.61.15.1020.
Used XML files:
The game uses one XML file for each invitation type, the ones modified by this mod are:
2553F435!00000009!000000000001EB5B.clubInviteDramaNode_joinClubFriend.DramaNodeTuning.xml
2553F435!00000009!000000000001EB9D.DramaNode_NPCInvite_Date_GoingOutSocials.DramaNodeTuning.xml
2553F435!00000009!000000000001EB76.clubInviteDramaNode_JoinClubStranger.DramaNodeTuning.xml
2553F435!00000009!000000000001EBAE.dramaNode_NPCInvite_GoDancing.DramaNodeTuning.xml
2553F435!00000009!000000000001EBC5.dramaNode_NPCInvite_CelebratePromotion.DramaNodeTuning.xml
2553F435!00000009!000000000001EBFA.dramaNode_NPCInvite_PlayHooky.DramaNodeTuning.xml
2553F435!00000009!000000000001EDF4.dramaNode_NPCInvite_ClubFriends.DramaNodeTuning.xml
2553F435!00000009!000000000001F1C5.dramaNode_NPCInvite_GoDancing_Ruins.DramaNodeTuning.xml
2553F435!00000009!000000000001F1C6.dramaNode_NPCInvite_GoDancing_Bluffs.DramaNodeTuning.xml
2553F435!00000009!000000000001F1C7.dramaNode_NPCInvite_GoDancing_Chalet.DramaNodeTuning.xml
2553F435!00000009!000000000001F7BF.dramaNode_Phone_NPCInvite.DramaNodeTuning.xml
2553F435!00000009!000000000001F19A.dramaNode_BarNights_SinglesNight.DramaNodeTuning.xml
2553F435!00000009!000000000001F19B.dramaNode_BarNights_GuysNight.DramaNodeTuning.xml
2553F435!00000009!000000000001F98A.clubInviteRequestDramaNode_RequestInvite_NotInviteOnly.DramaNodeTuning.xml
2553F435!00000009!000000000001F196.dramaNode_BarNights_BearNight.DramaNodeTuning.xml
2553F435!00000009!000000000001F197.dramaNode_BarNights_AliensNight.DramaNodeTuning.xml
2553F435!00000009!000000000001F198.dramaNode_BarNights_GhostsNight.DramaNodeTuning.xml
2553F435!00000009!000000000001F199.dramaNode_BarNights_LadiesNight.DramaNodeTuning.xml
2553F435!00000009!000000000001F335.clubGatheringDramaNode_Default.DramaNodeTuning.xml
2553F435!00000009!000000000001F569.dialogDramaNode_GoingOutSocials_OffLot_BreakUpSims_Divorce.DramaNodeTuning.xml
2553F435!00000009!000000000001F989.clubInviteRequestDramaNode_RequestInvite_InviteOnly.DramaNodeTuning.xml
2553F435!00000009!000000000001FD3C.dramaNode_BarNights_KnightNight.DramaNodeTuning.xml
2553F435!00000012!00000000000285A0.dramaNode_Phone_NPCInvite_Family_Venue.DramaNodeTuning.xml
2553F435!00000012!000000000002858F.dramaNode_Phone_NPCInvite_Family.DramaNodeTuning.xml
2553F435!00000000!000000000001E7AD.dialogDramaNode_Phone_InviteNPCOver.DramaNodeTuning.xml
2553F435!00000000!000000000001E64F.dramaNode_NPCInvite_Date.DramaNodeTuning.xml
2553F435!00000000!000000000001E71E.runAffordanceDramaNode_Phone_Chat.DramaNodeTuning.xml
2553F435!00000000!000000000001E650.dramaNode_NPCInvite_BirthdayParty.DramaNodeTuning.xml
2553F435!00000000!000000000001E651.dramaNode_NPCInvite_PlayDate.DramaNodeTuning.xml
2553F435!0000001A!000000000002E985.dramaNode_NPCInvite_Date_Holiday.DramaNodeTuning.xml