Part-time Astronaut Career Mod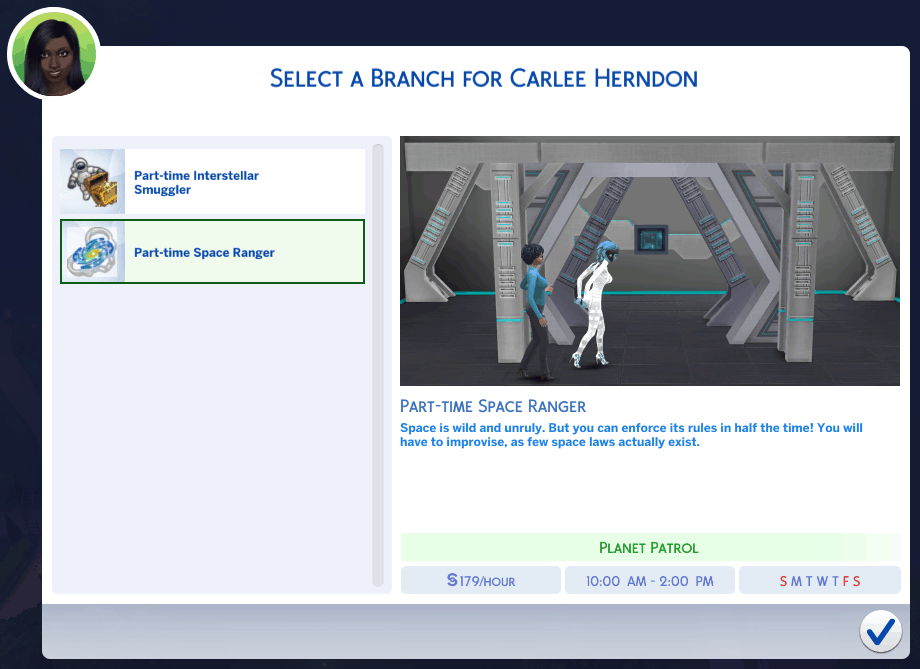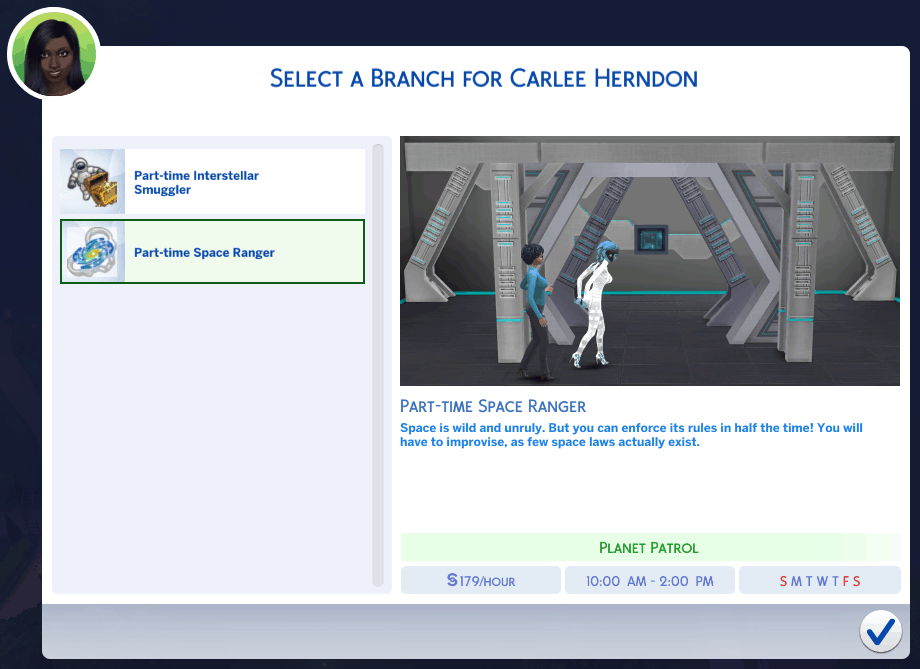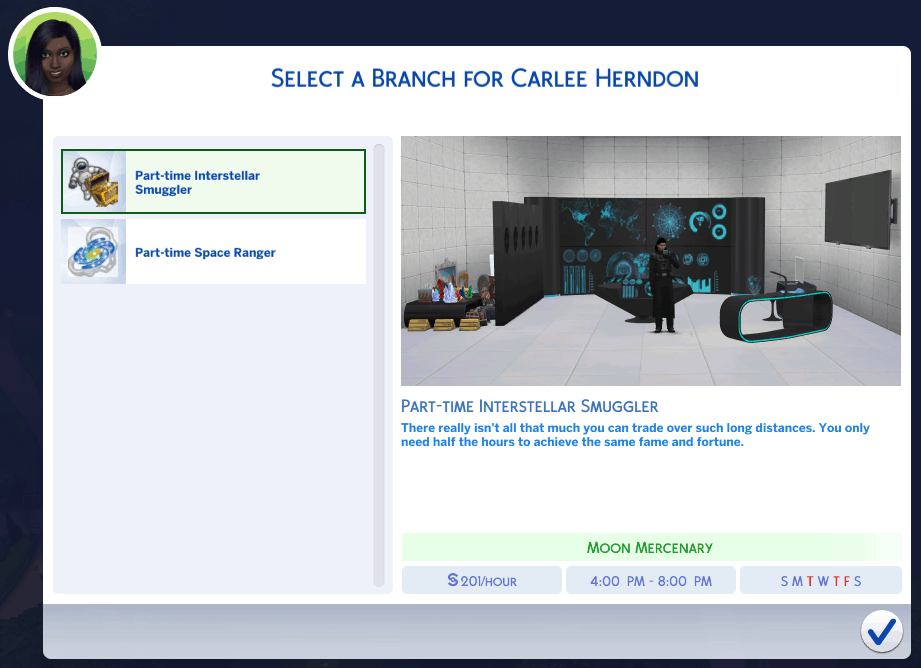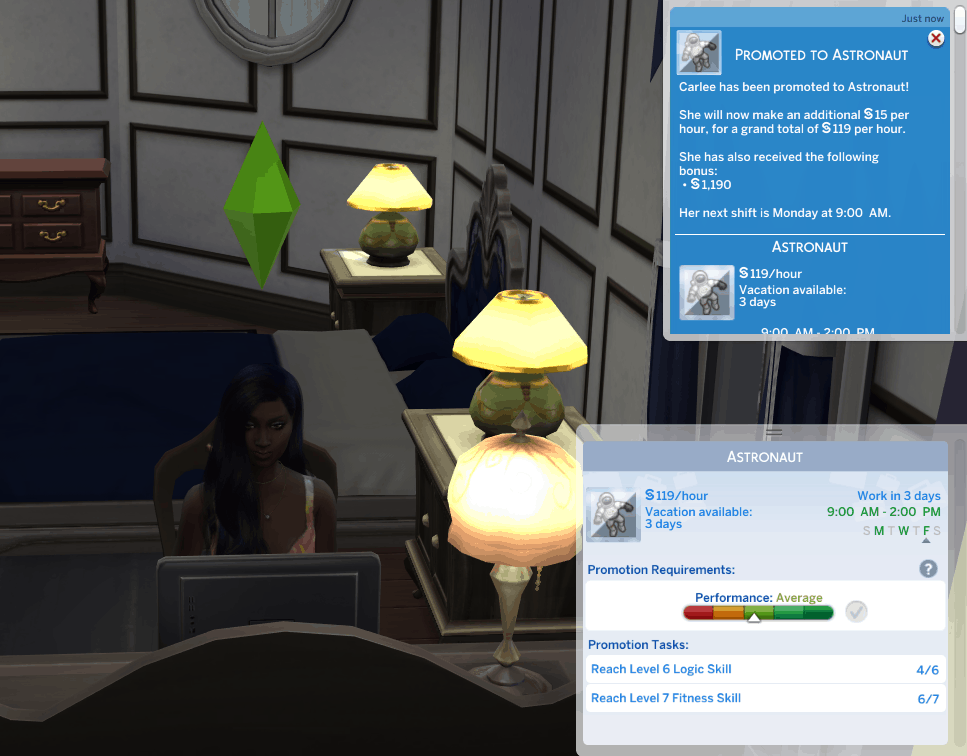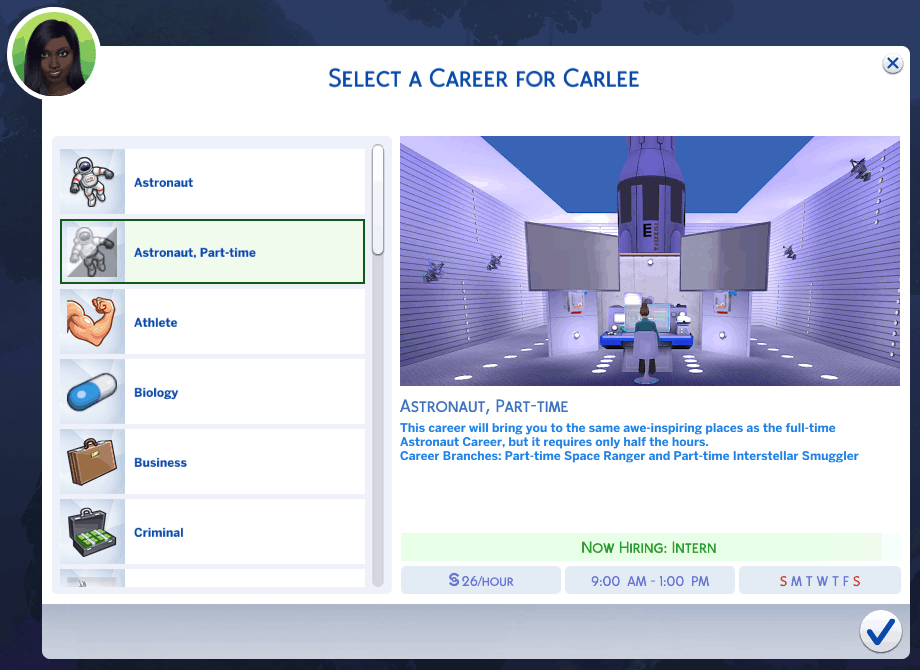 Part-time Astronaut Career Mod
BACKGROUND
My Sims have way too many kids, so I was desperate for part-time careers. Someone suggested part-time versions of the pre-made careers, which I thought was brilliant. It's simple; consistent with in-game experience; the balance of salary, skills, etc. is fool-proof. This one is my first: a part-time version of the base game Astronaut career.
OVERVIEW
Job titles and career tracks are the same as in the base game. Per-hour salaries are the same, so Sims will make about half as much per day. The skill requirements are almost identical, but there are no task requirements. The hours are simply cut in half. The schedule is about the same (start time and days), but they'll work e.g. 12pm-4pm, instead of 12pm-8pm.
Salary range: §26/h (Intern) – §442/h (Space Ranger) or §413/h (Interstellar Smuggler)
Work schedule: Shifts are 3 to 5 hours long, mostly 4. They are scheduled for late morning or early afternoon, except for the Smuggler track.
TECHNICAL
Uses only base game features; compatible with EPs
Patch version 1.50.67.1020
DESCRIPTION: PART-TIME ASTRONAUT CAREER
This career will bring you to the same awe-inspiring places as the full-time Astronaut Career, but it requires only half the hours.
Level 1: Intern Dive straight into the fascinating world above with this prestigious internship.
M T W T F – – [9am-1pm] §26 /h = 104 /d
Logic 2
Personal Time Off: 0.2 days / work day
Level 2: Module Cleaner This job may sound boring, until you realise that you are collecting star dust!
M T W T F – – [12pm-4pm] §34 /h = §136 /d
Logic 3
PTO: 0.2
Level 3: Technician You have learned the basics; now is the perfect time to impress your boss by getting a head start on your fitness training.
– T W T F – – [1pm-4pm] §54 /h = §216 /d
Fitness 2
PTO: 0.2
Level 4: Command Center Lead You can now command the astronauts' missions. Don't lose anyone in a black hole!
M T W – F – – [2pm-6pm] §71 /h = §284 /d
Logic 4, Fitness 3
PTO: 0.2
Level 5: Low-Orbit Specialist Finally! Your first visit to space. Even a low-orbit mission is sure to be amazing.
M – W – F – – [9am-1pm] §96 /h = §384 /d
Logic 5, Fitness 4
PTO: 0.25
Level 6: Space Cadet You are a regular part of the team now. Make sure you can keep up!
M – W – F – – [10am-3pm] §104 /h = §520 /d
Fitness 6
PTO: 0.25
Level 7: Astronaut You now know that space is a haven for criminal activity. Consider which side you want to be on: law enforcement or criminal mastermind.
M – W – F – – [9am-2pm] §119 /h = §595 /d
Logic 6, Fitness 7
PTO: 0.25
Track 1: Part-time Space Ranger
Space is wild and unruly. Few space laws actually exist, so you will have no problem enforcing them on a part-time schedule!
Level 8: Planet Patrol Hop from planet to planet and fight crime.
M T W T – – – [10am-2pm] §179 /h = §716 /d
Rocket Science 2
PTO: 0.3
Level 9: Sheriff of the Stars The heavenly stars are eternally grateful to you for keeping their crime rates low.
M T W T – – – [10am-1pm] §297 /h = §891 /d
Rocket Science 4, Fitness 10
PTO: 0.33
Level 10: Space Ranger Very few space laws have been enacted; but not to worry. Around here, YOU are the law.
M T W T – – – [10am-1pm] §442 /h = §1326 /d
PTO: 0.33
Track 2: Part-time Interstellar Smuggler
There really isn't all that much you can trade over such long distances. You only need half the hours to achieve the same fame and fortune.
Level 8: Moon Mercenary To get a foot in the door of the criminal overworld, why not offer your services to moneyed patrons.
M – W – – S S [4pm-8pm] §201 /h = 804 /d
Rocket Science 2, Fitness 8
PTO: 0.3
Level 9: Alien Goods Trader Alien tech, other-worldly gems, magical lasers, exquisite gooey food… Other galaxies harvest and produce items that no earthling has ever heard of.
M – – T – S S [4pm-7pm] §299 /h = §897 /d
Rocket Science 4, Fitness 10
PTO: 0.33
Level 10: Interstellar Smuggler Your enterprise has become the Amazon of Space. It may be illegal… but no one has created a Space Force yet. Nobody can stop you!
M – W – – S S [2pm-5pm] §413 /h = §1239 /d
PTO: 0.33
INSTRUCTIONS
Download the file. Unzip the file. You should get two files: a .package file and a .ts4script file (you don't need Neia's Commons file). Place both files in Documents>Electronic Arts>Sims 4>Mods. Reload game and enjoy the extra spare time!