Part-time Spa Career (Sims 3 Remake) (Updated 12/8) Mod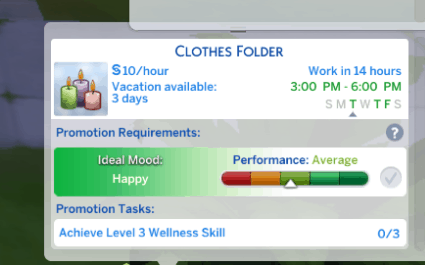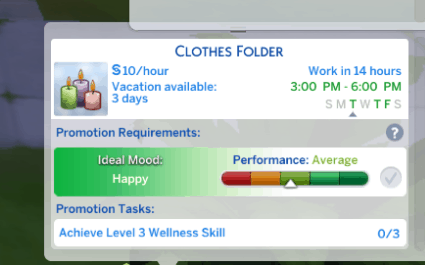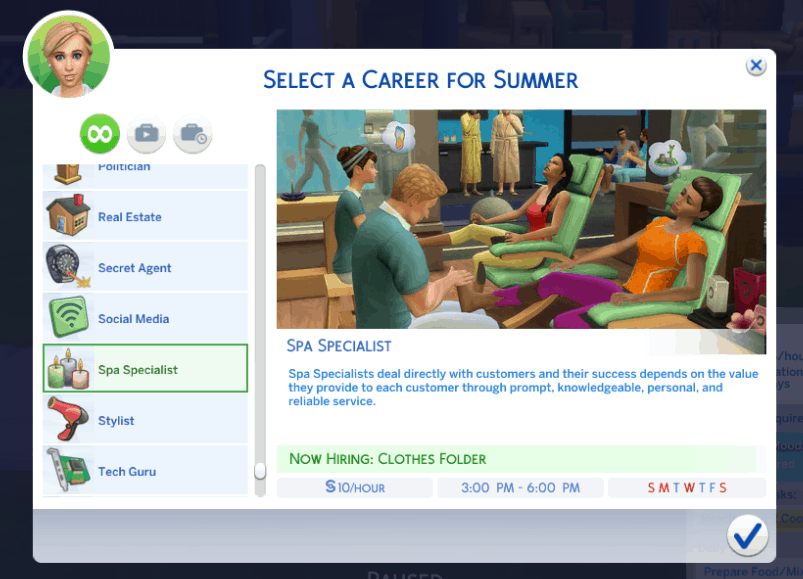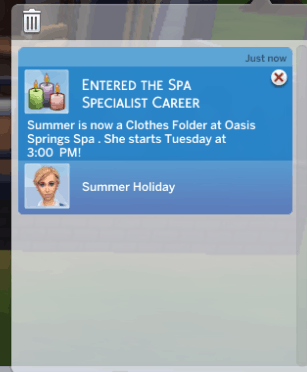 Part-time Spa Career (Sims 3 Remake) (Updated 12/8) Mod
Updated for Get Famous!
Part-time Spa job for your Sims from TS3. I have altered days and hours of work only. Ideal mood is happy.
0.2 PTO vacation days earned from attending each work day.
Base Game Compatible and Game Version:*1.41.42.1020
Career Description:: Spa Specialists deal directly with customers and their success depends on the value they provide to each customer through prompt, knowledgeable, personal, and reliable service.
Level 1:*Clothes Folder*
Tuesday, Thursday, Friday (3 to 6pm) and 10/hr
Skills: Wellness Level 3
Anyone can fold clothes, but can you get clothes to be perfectly two-dimensional? Attention to detail will get you far—far enough to never have to fold another shirt again!
Level 2:*Fitting Room Guard
Monday, Wednesday, Friday (2 to 6 pm) and 20/hr
Skills: Wellness Level 6
Shoplifting is bad for the bottom line, and you've got to protect that line. But you've got to strike a balance between friendliness and suspicion in order to curtail theft without driving away customers.
Level 3:*Spa Package Seller
Friday – Sunday (12 to 3 pm) and 30/hr
Skills: Wellness Level 10
Anyone can sell a spa treatment, but selling packages is what separates the experts from the rest. Talk up those add-ons and get your clients to pay more, more, more!
No chance cards, no career outfits (choose your own).
Basic Download and Install Instructions:
1. Download: Click the File tab to see the download link. Click the link to save the .rar or .zip file(s) to your computer.
2. Extract: Use WinRAR (Windows) to extract the file(s) from the .rar or .zip file(s).
3. Cut and paste the file(s) into your Mods folder
Windows XP: Documents and Settings(Current User Account)My DocumentsElectronic ArtsThe Sims 4Mods
Windows Vista/7/8/8.1: Users(Current User Account)DocumentsElectronic ArtsThe Sims 4Mods
Need more information?
Anyone can use both .rar and .zip files easily! On Windows, use WinRAR.
If you don't have a Mods folder, just make one.