Queen of Soul Career **TESTED WITH 12/20/18 PATCH** Mod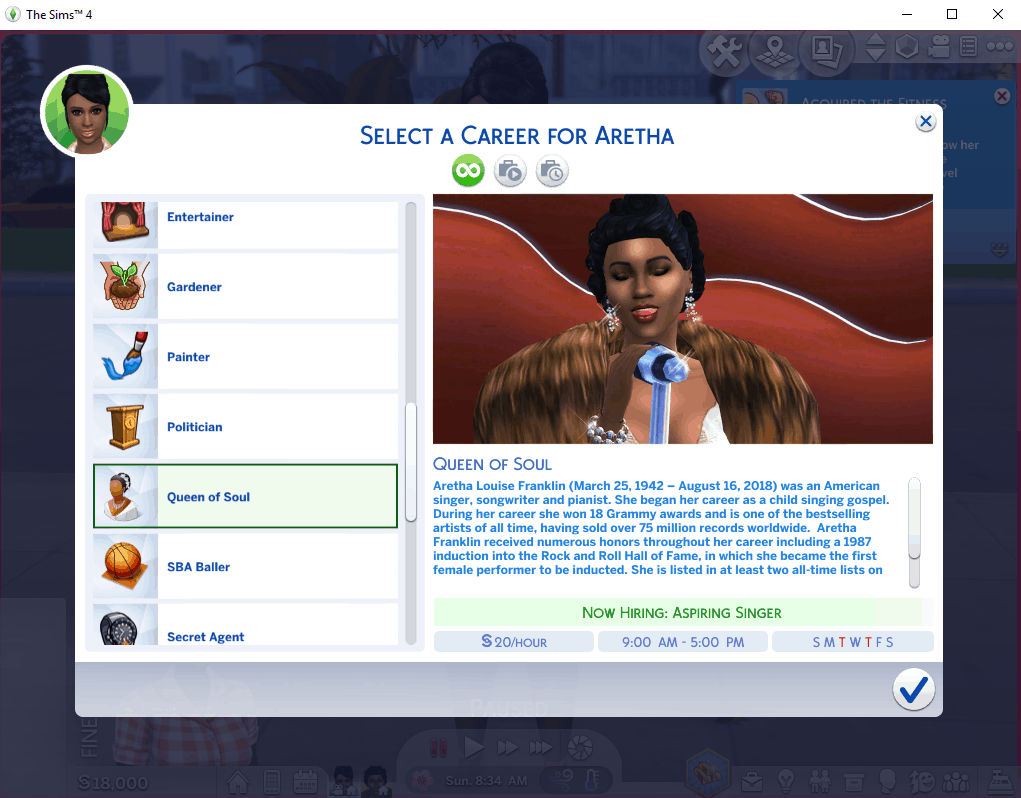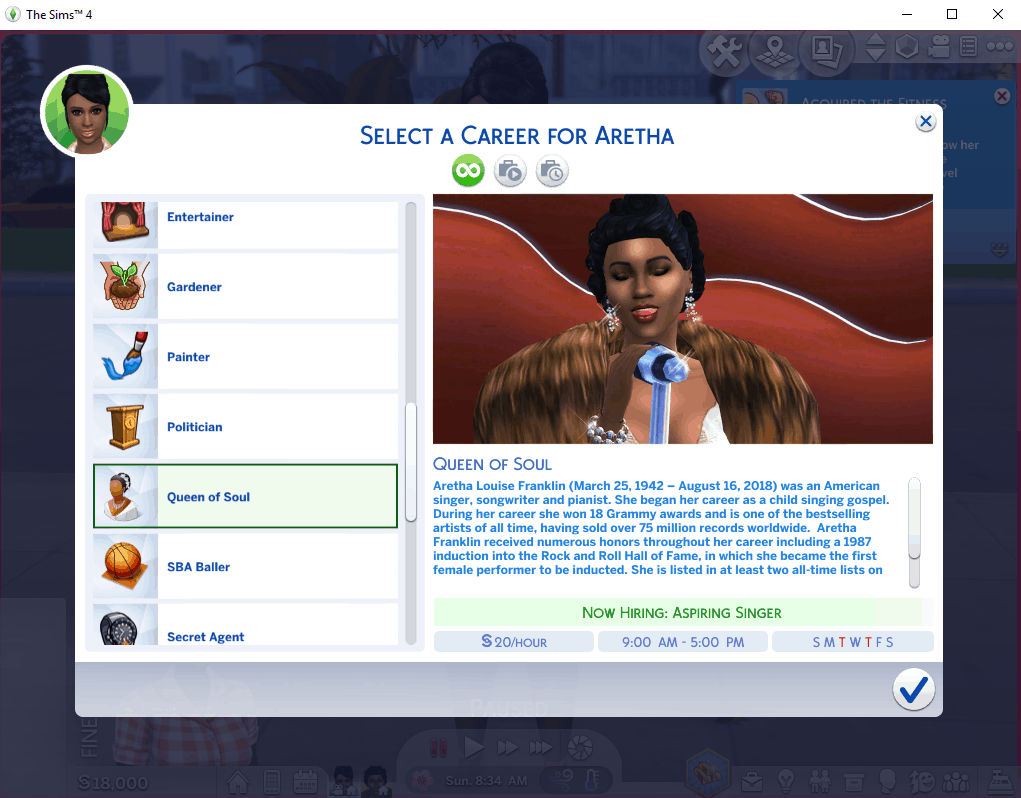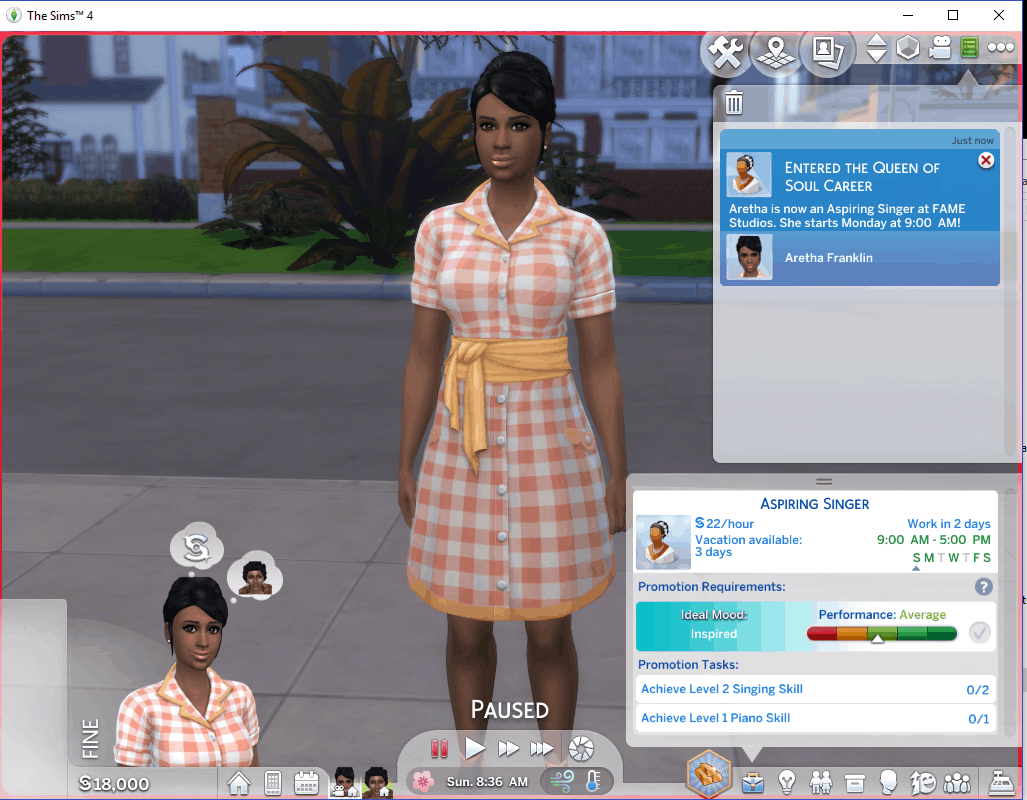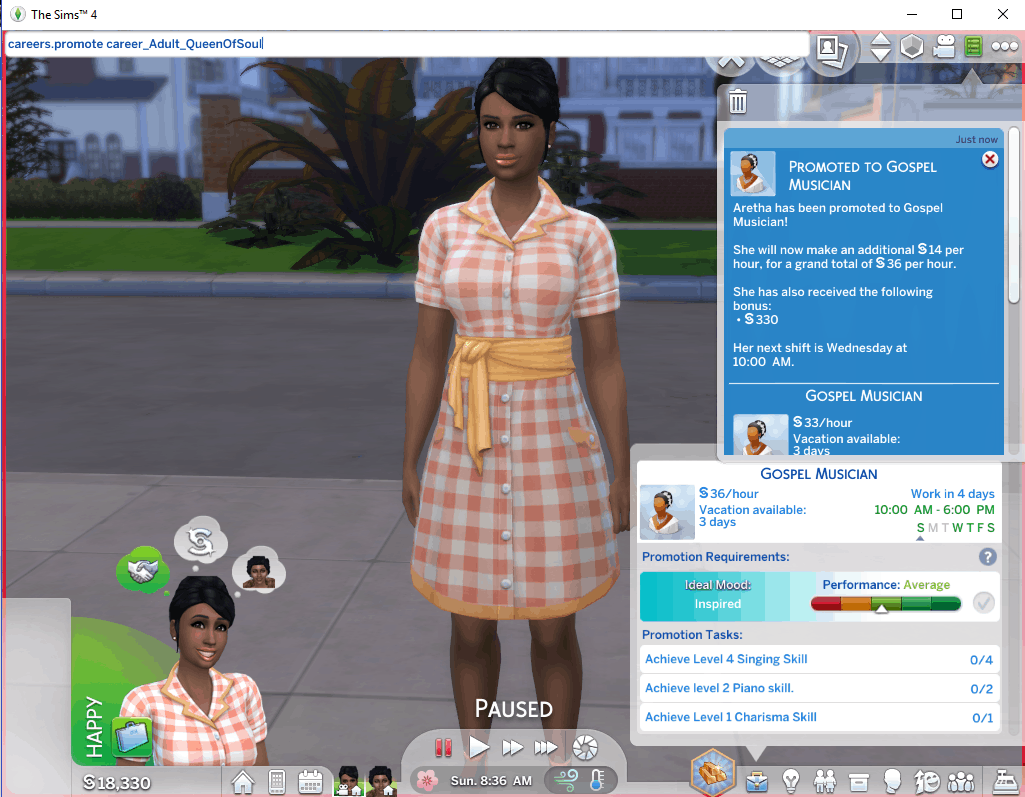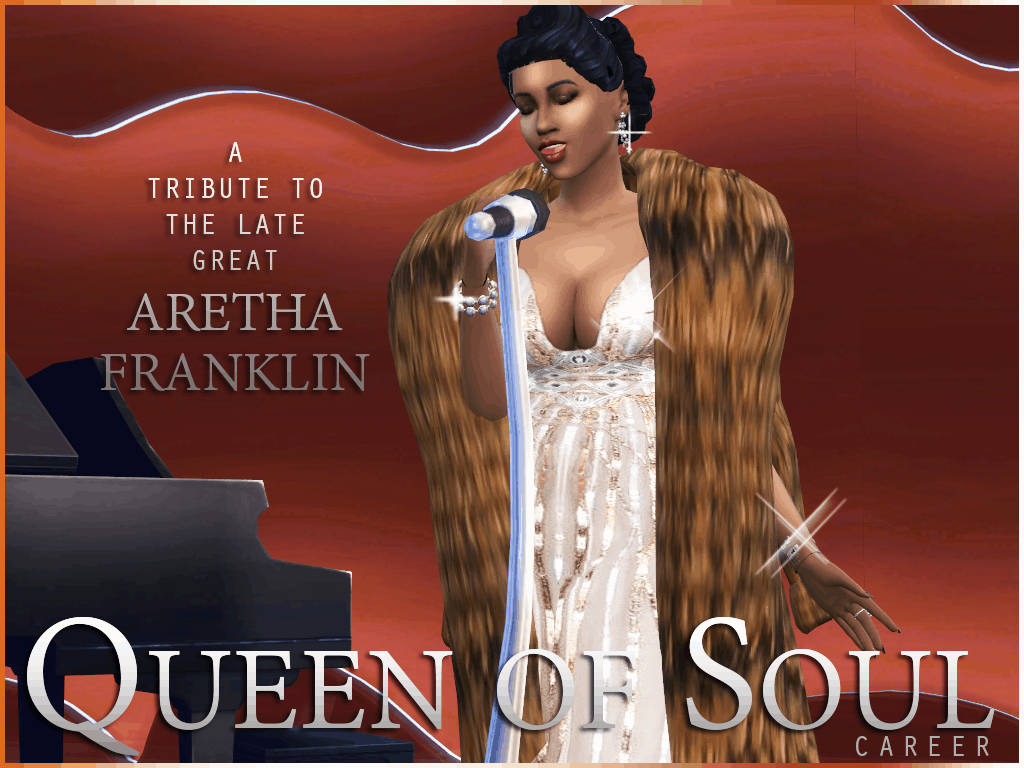 Queen of Soul Career **TESTED WITH 12/20/18 PATCH** Mod
*** Tested with Get Famous (not required) and Game Version 1.47.51.1020 – November 13, 2018 Update (definitely required) ***
PLEASE NOTE: You WILL need the newest Neia Career Commons file (included in download) also!
Also just as an FYI (because I thought it was a bug and was about to completely embarrass myself on Neia's forum)
as of the last patch, EA removed the "ideal mood" for rabbit hole careers.
Oh… You knew that already… Soooo… It was just me? Okay then…. Carry on.
So… obviously this career is based on a real person. A great person… the Queen of Soul, Aretha Franklin. I ADORED Aretha. If you love her as much as I do, maybe you'd like to have her walking around your town, living her best Sim life forever. Maybe (like I did as a kid) you wanted to BE Aretha. There will only ever be one Queen of Soul, but that doesn't mean you can't pay your own tribute in Sims right?
The pay levels are utterly ridiculous by EA standards… unless you happen to be a Platinum selling heritage artist like Aretha Franklin. They're researched against current annual earnings for similarly successful artists and are realistic.
With all of that said, I hope you enjoy…
Queen of Soul
Aretha Louise Franklin (March 25, 1942 – August 16, 2018) was an American singer, songwriter and pianist. She began her career as a child singing gospel. During her career she won 18 Grammy awards and is one of the bestselling artists of all time, having sold over 75 million records worldwide. Aretha Franklin received numerous honors throughout her career including a 1987 induction into the Rock and Roll Hall of Fame, in which she became the first female performer to be inducted. She is listed in at least two all-time lists on Rolling Stone magazine, including the 100 Greatest Artists of All Time, and the 100 Greatest Singers of All Time.
Career Details:
Aspiring Singer
You grew up in the church. Your father's emotionally driven sermons resulted in his being known as the man with the "million-dollar voice" and earning thousands of dollars for sermons in various churches across the country. You learned how to play piano by ear, and from the first time you lifted your voice to the rafters singing, "Jesus, Be a Fence Around Me." Everyone in the church knew something special was happening.
Mood: Inspired
Hourly Wage: 20
Daily Wage: 160
Schedule: M – W – F S S
Objectives: Singing 2, Piano 1
Gospel Musician
"Caravan tours" are exhausting work, but after your first gospel album, people start to take notice. Before you can say "Songs of Faith," you're touring with "The Soul Stirrers" and with Dr. Martin Luther King. You tell your father you'd like to follow in the footsteps of one of your favorites, Sam Cooke and move into pop music.
Mood: Inspired
Hourly Wage: 33
Daily Wage: 264
Schedule: – – W T F S S
Objectives: Singing 4, Piano 2, Charisma 1
Developing Artist
With the help of your family, you record your first secular demo. Legendary producer john Hammond takes note. "'This is the best thing I've heard since Billie Holiday. Who is she?" Columbia signs you as a "five percent artist" (a record contract with high royalties), and your first secular album, "Aretha: With the Ray Bryant Combo," features your first single to chart the Billboard Hot 100, "Won't Be Long", which peaks at number 7 on the R&B chart!
Mood: Inspired
Hourly Wage: 50
Daily Wage: 450
Schedule: M T W T F – –
Objectives: Singing 5, Piano 4, Charisma 3, Dancing 2
Solo Act
You're recording more and more pop music, reaching the top ten on the R&B chart with the ballad, "Runnin' Out of Fools" in early 1965. You've had two R&B charted singles with the songs "One Step Ahead" and "Cry Like a Baby" while also reaching the Easy Listening charts with the ballads "You Made Me Love You" and "(No, No) I'm Losing You".
Mood: Inspired
Hourly Wage: 130
Daily Wage: 1040
Schedule: – T W T F S –
Objectives: Singing 6, Piano 5, Charisma 4
Hit Maker
You're making great money from countless performances in nightclubs and theaters and appearing on rock and roll shows such as Hollywood A Go-Go and Shindig! But… is your potential being neglected at your label? Columbia executive John H. Hammond later said he felt Columbia did not understand your early gospel background and failed to bring that aspect out further at Columbia. Maybe is time to take a page out of The Miracles song book and "Shop Around."
Mood: Inspired
Hourly Wage: 480
Daily Wage: 3840
Schedule: – T W T F S –
Objectives: Singing 8, Piano 7, Charisma 6
Star
After, choosing not to renew your Columbia contract, you sign to Atlantic Records. You travel to Muscle Shoals, Alabama to record at FAME Studios and record the song, "I Never Loved a Man (The Way I Love You)" in front of the musicians of the famed Muscle Shoals Rhythm Section. The song shoots up to number one on the R&B chart, while also peaking at number nine on the Billboard Hot 100, giving you your first top ten pop single! The song's b-side, "Do Right Woman, Do Right Man", reaches the R&B top 40, peaking at number 37. And then… you release your version of Otis Redding's "Respect", which goes number one on both the R&B and pop charts. "Respect" became your signature song and is later hailed as a civil rights and feminist anthem!
Mood: Inspired
Hourly Wage: 4205
Daily Wage: 33640
Schedule: M – W T F – –
Objectives: Singing 9, Piano 8, Charisma 7
Queen of Soul
Your debut Atlantic album, I Never Loved a Man the Way I Love You, was commercially successful and went Gold. You scored two more top ten singles including "Baby I Love You" and "(You Make Me Feel Like A) Natural Woman". Later you issued the top-selling albums, Lady Soul and Aretha Now, which included some of your most popular hit singles, including "Chain of Fools", "Ain't No Way", "Think" and "I Say a Little Prayer". As your star continues to rise, you earn the first two of your Grammys, including the debut category for Best Female R&B Vocal Performance. You even appear on the cover of Time magazine. Fans begin calling you the Queen of Soul!
Mood: Inspired
Hourly Wage: 6730
Daily Wage: 53840
Schedule: – – W T F S –
Objectives: Singing 10, Piano 9, Charisma 8
Viva Las Vegas
While you continued to have R&B success with songs such as "Until You Come Back to Me" and "I'm in Love", by the middle of the next decade, your albums and songs are no longer top sellers. After Jerry Wexler left Atlantic for Warner Bros. Records you worked on the soundtrack to the film Sparkle with Curtis Mayfield. The album yielded your final top 40 hit of the decade, "Something He Can Feel", which also peaked at number one on the R&B chart. Your follow-up albums for Atlantic, including Sweet Passion, Almighty Fire and La Diva, bombed on the charts, and you moved the Arista… and of course performances in Vegas. There's always love in Las Vegas.
Mood: Inspired
Hourly Wage: 7500
Daily Wage: 30000
Schedule: – – W – F S –
Objectives: Piano 10, Charisma 9
Don't Call It a Comeback
Inspired by a desire to have a "younger sound" in your music, Who's Zoomin' Who? Becomes your first Arista album to be certified platinum. The album sells well over a million copies thanks to the hits, "Freeway of Love", the title track, and "Another Night". The following year's album nearly matched this success with the hit singles "Jumpin' Jack Flash", "Jimmy Lee" and "I Knew You Were Waiting for Me", your international number-one duet with George Michael. During that period, you provide vocals to the theme songs of the TV shows A Different World and Together. Comeback? You're quick to tell the press, "Don't say Aretha is making a comeback, because I've never been away!"
Mood: Inspired
Hourly Wage: 9615
Daily Wage: 57690
Schedule: – – W T F S –
Objectives: Charisma 10, Fitness 2, Logic 3
Legend
You've performed the Star-Spangled Banner at the Super Bowl. You've performed for the Queen of England. You've performed at three Presidential Inaugurations. Your cover of "Rolling in the Deep" in your first RCA release, Aretha Franklin Sings the Great Diva Classics made you the first woman to have 100 songs on Billboard's Hot R&B/Hip-Hop Songs chart. When you gave your acclaimed performance of "(You Make Me Feel Like) a Natural Woman" at the Kennedy Center Honors you dropped your fur coat to the stage, and the audience rewarded you with a mid-performance standing ovation. You will live forever in our hearts as the Queen of Soul!
Mood: Inspired
Hourly Wage: 24038
Daily Wage: 96152
Schedule: – – – T F S –
Objectives: Logic 5
Career cheat is tested and working!
Select CTRL+SHIFT+C
Enter:
testingcheats on
And then:
careers.promote career_Adult_QueenOfSoul
I did not in ANY way base this on any other career.
It's 100% my own creation (and you know Wikipedia's… kind of) and a LOT of work went into it. So…
Thank you so much in advance if you decide to try Queen of Soul. I hope you enjoy having a little Aretha in your game.
Disclaimer: There are real people, songs and record labels mentioned in this career. All songs and labels mentioned in this career are copyrighted, trademarks™ or registered® trademarks of their respective holders. Use of them does not imply any affiliation with or endorsement by them.
Basic Download and Install Instructions:
1. Download: Click the File tab to see the download link. Click the link to save the .rar or .zip file(s) to your computer.
2. Extract: Use WinRAR (Windows) to extract the file(s) from the .rar or .zip file(s).
3. Cut and paste the file(s) into your Mods folder
Windows XP: Documents and Settings(Current User Account)My DocumentsElectronic ArtsThe Sims 4Mods
Windows Vista/7/8/8.1: Users(Current User Account)DocumentsElectronic ArtsThe Sims 4Mods
Need more information?
Anyone can use both .rar and .zip files easily! On Windows, use WinRAR.
If you don't have a Mods folder, just make one.