Sims 4 Mod Conflict Detector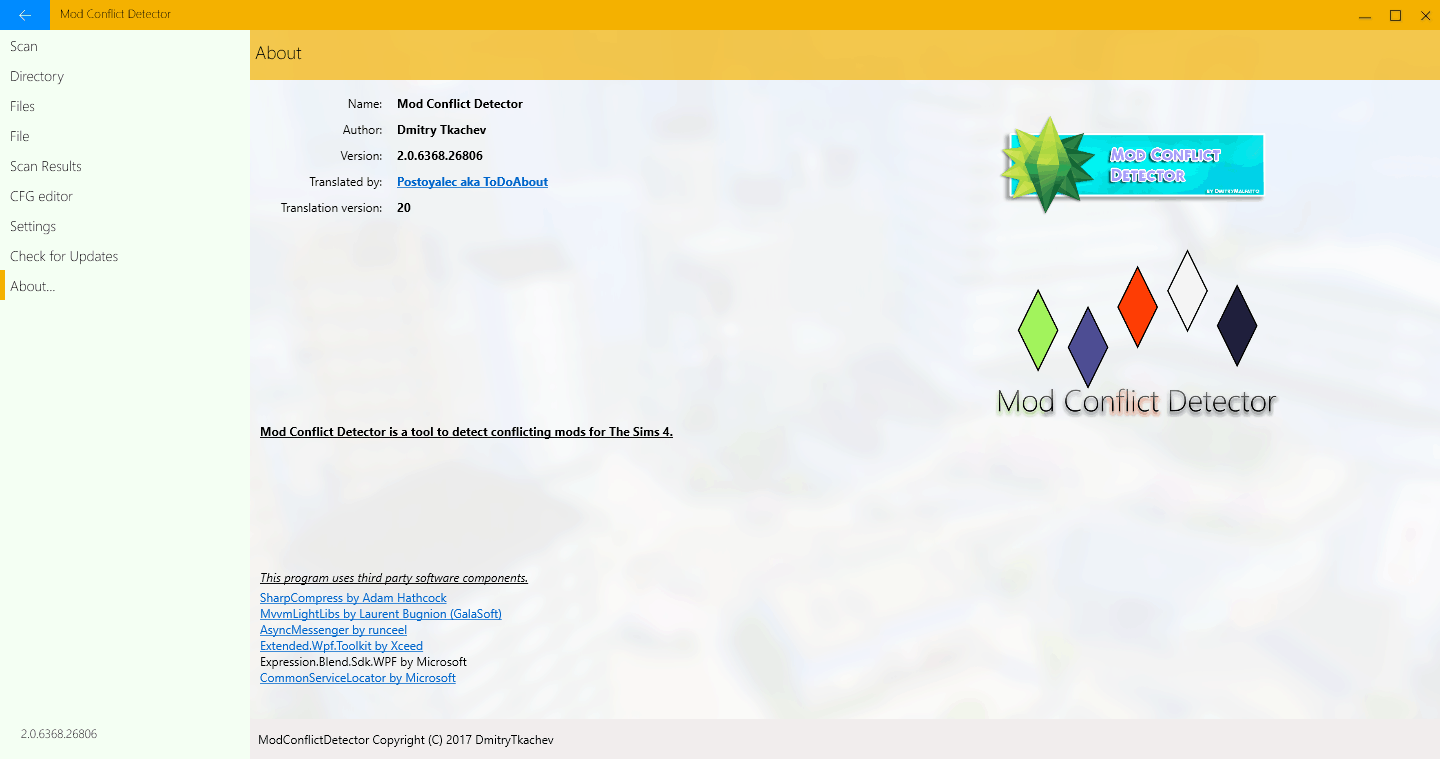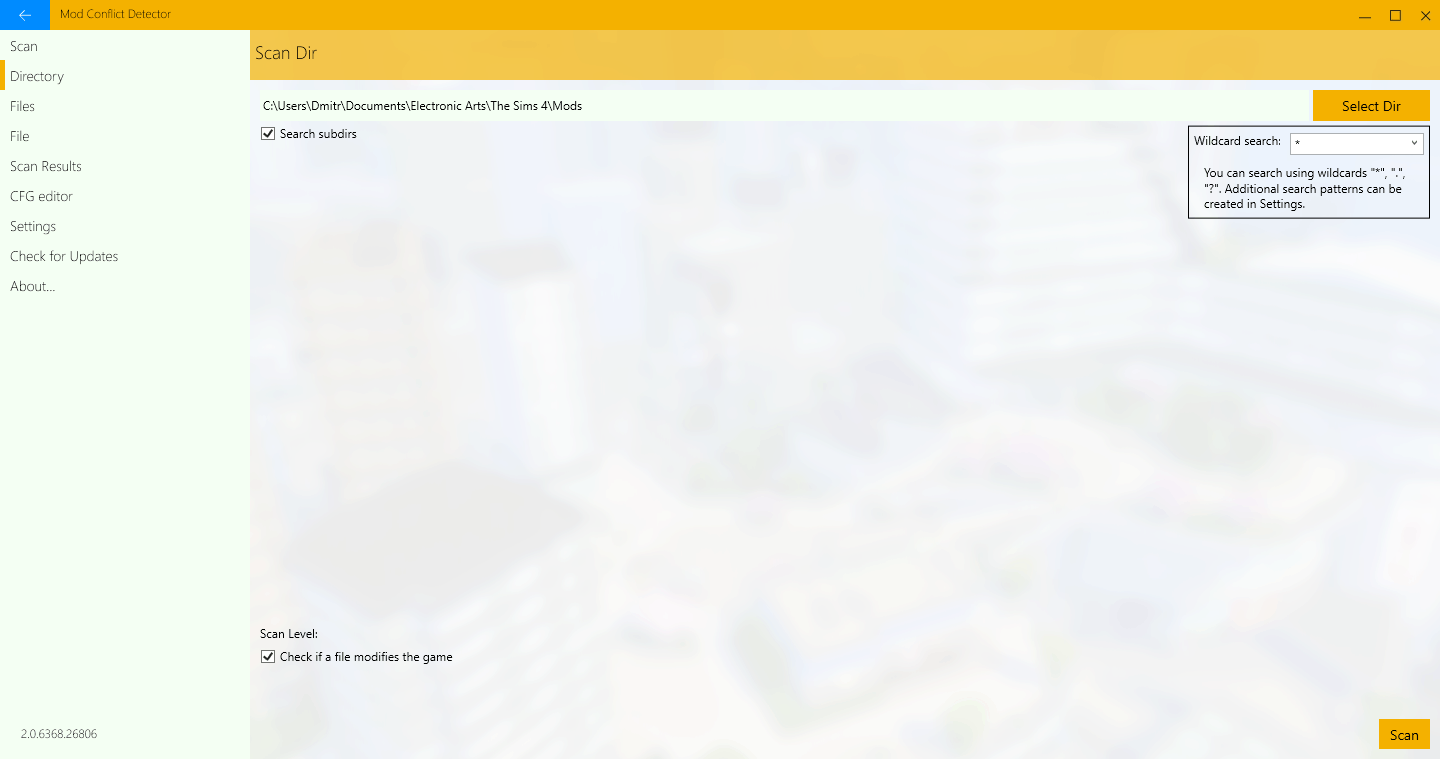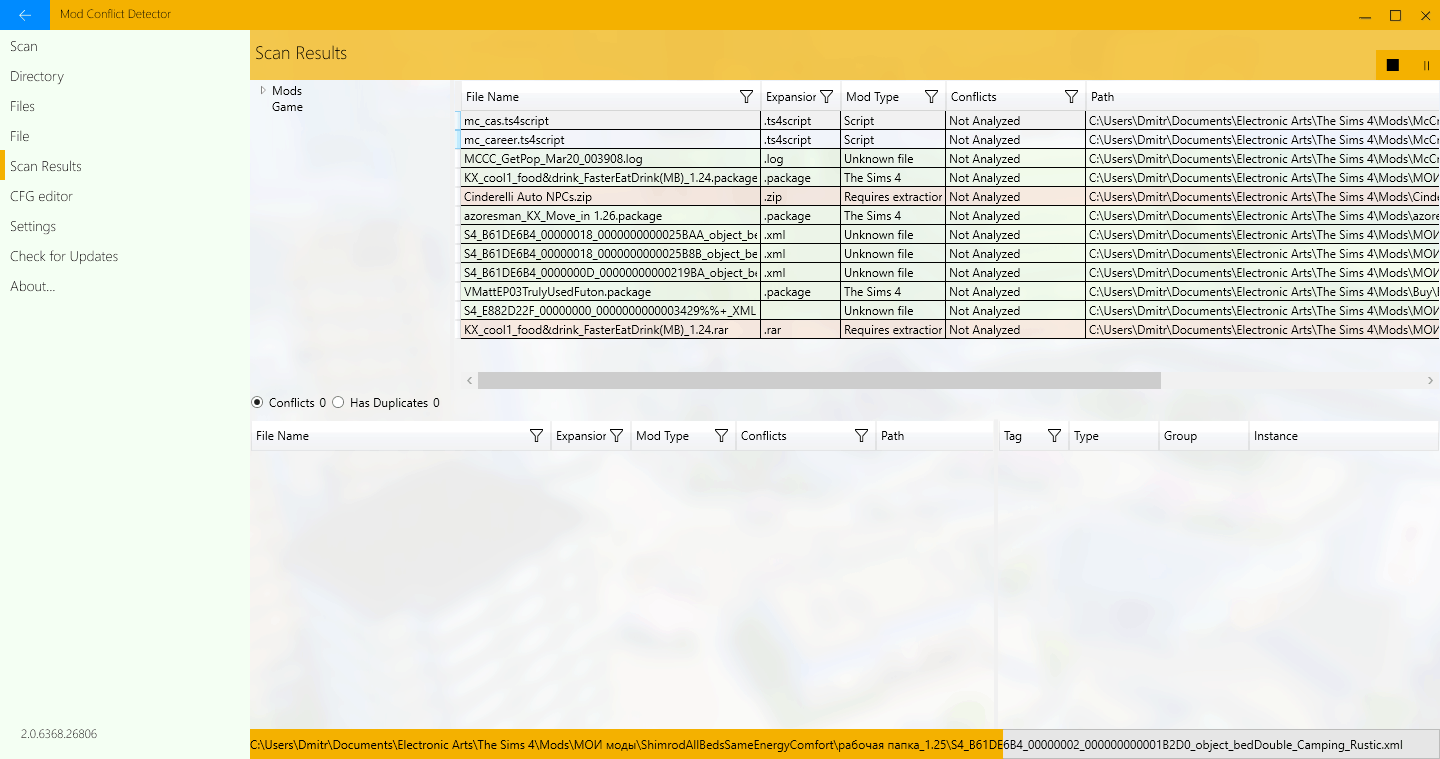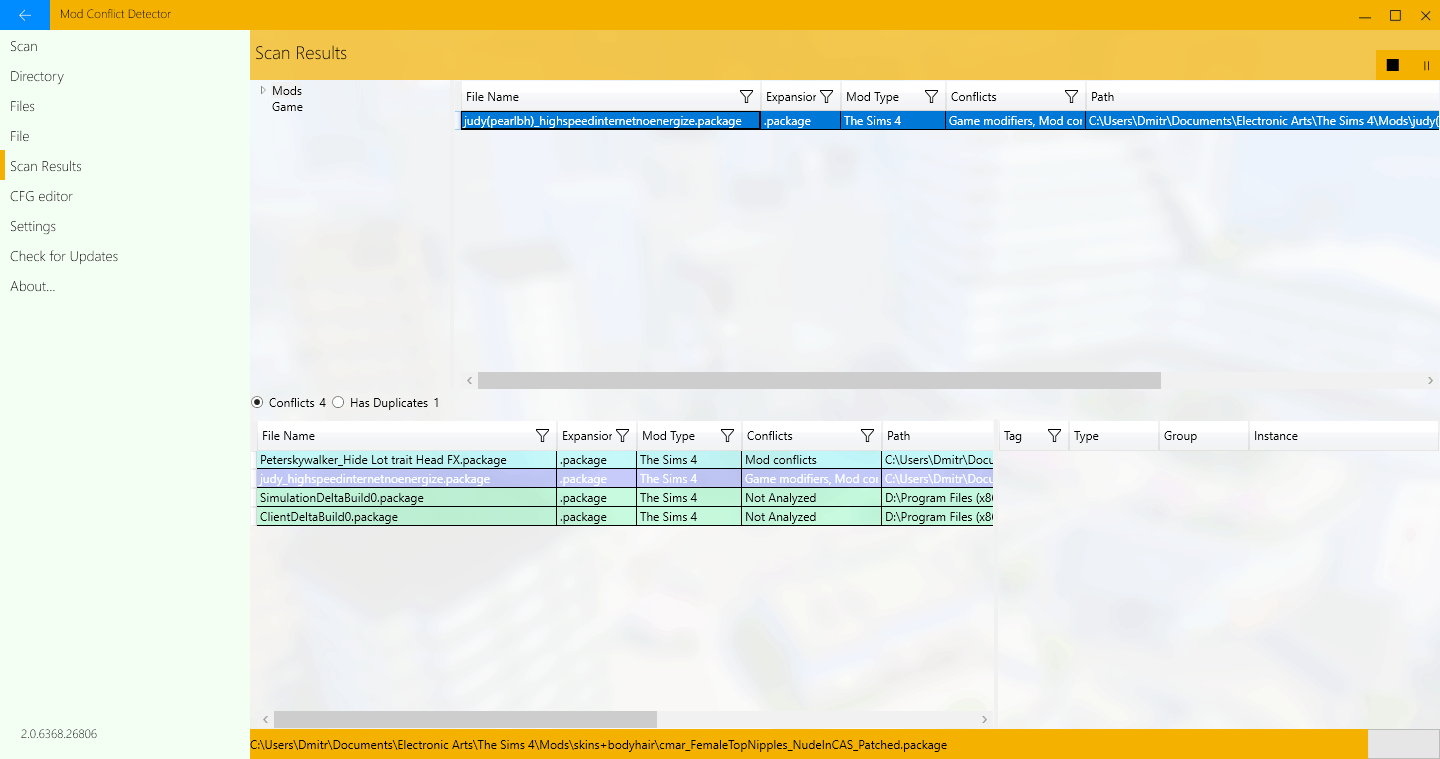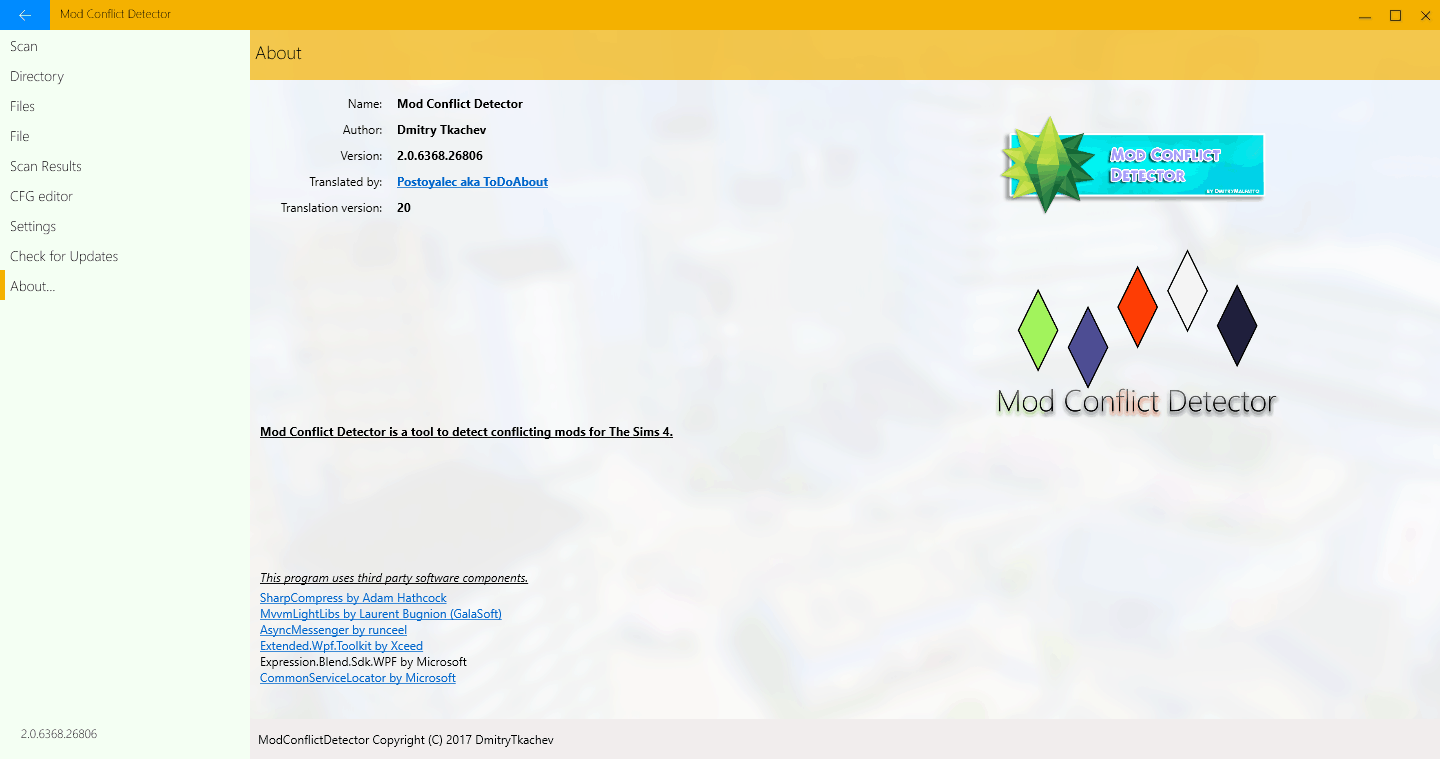 Sims 4 Mod Conflict Detector
Update 03/03/2018 (2.2.300)
Hi friends! I apologize for my absence. Unfortunately I will not develop MCD.I don't have enough time and energy. I have to work hard to make money for moving to another city.
A small update with the removal of ads and networking features will be released soon. Also will be laid out the source code of the program. Anyone will be able to continue the development of MCD.
I hope someone may be able to continue to develop and make MCD the best program for The Sims 4,
Sincerely, Dmitry Tkachev. Your Russian friend
You can always contact me in direct Instagram: @d_._v_._k
Update 23/07/2017 (2.2.100) More…
You were waiting for so long, and finally, Mod Conflict Detector has got a viewer! Now you can browse the content of your *.package files.
Update 18/06/2017 (2.1.6378.24471) More…
You were waiting for so long, and finally, Mod Conflict Detector has got a viewer! Now you can browse the content of your *.package files.
First Launch: During the first launch of the program you'll be advised to tune program settings (choose game dir, default scan dir, etc.)
Advanced User Mode: if you're a beginner, you can hide and don't use a number of features that are for advanced users only.
The game dir will be detected automatically now.
Duplicate search has been improved.
Some changes in pop-up menu.
Solved some problems with the settings migration (from one version of the program to another).
Starting with this version, the program will delete temporary files of version 1.x.
Errors fixed, performance improved.
Update 18/06/2017 (2.0.6368.26806) More…
One and a half years sure did fly fast, don't you agree? Sorry for being absent, I was helping Putin to train his bears.
Introducing Mod Conflict Detector 2.0, improved as follows:
The program is currently under development, but it's already far better than the previous version. And it's almost bug-free!
Windows XP is not supported anymore.
Thanks you very much for 2 million downloads! Stay tuned for the next update, sometime in 2024
Update 10/22/2016 (1.9.10.9063) More…
40% reduction in RAM usage
Chinese translations updated
Now you can open .CFG files with Mod Conflict Detector (it won't interfere with the main work of the program)
Update 09/10/2015 (1.9.9.8337) More…
The program is completely switched to .NET Framework 4.0 Client profile
Loading errors fixed
Errors of "Find Duplicates Only" mode fixed
New checkup algorhythm is 85% faster, albeit uses additional memory
For now on, no less than 1 Gb RAM is required for the program to run normally
File colors customization is improved (sadly, the previously created settings would not be saved)
More convenient access to panels
Dialog box errors fixed
Update 01/10/2015 (1.9.1.7925) More…
Fixed some errors; performance improved.
Update 31/08/2015 (1.8.7.7743) More…
Added online features: 'Send error report' & 'Check for updates'. Now you won't miss the next version of the program!
Fixed 'File' mode issues.
Fixed the issue when, if 'Find duplicates' checkbox was ticked off, some files were simply left unchecked.
Added feature: 'Customize file colors' (Options > Settings > Colors).
You can disable any file (almost; see below), but only disabled files can be enabled.
The game file cannot be disabled.
Performance improved, a bit.
CPU loading is more balanced now.
New filters for 'Mod Type' & 'Conflicts' columns.
Thanks to Aero&Win10 style, the program will now look the same on any supported OS (WinXP still making the list).
Various tweaks and improvements; old errors fixed, some brand new ones were made.
Update 19/08/2015 (1.8.5.6993)
"File" mode added
.CFG-file editor added
French localization updated
Some errors fixed
Added command line options: -Language:xx-XX, -NewProcess, -NoBlockingGame
Update 09/08/2015 (1.8.2.6755)
Fixed some errors
Improved performance
Added "Files" analysis mode
Other tweaks & fixes
New localizations: Chinese (zh-CN, zh-TW), Spanish (es-ES)
NOTE: Please extract all files from the archive into a folder before launching the program! To work correctly, the program needs not only .exe file, but all the provided .dll libraries as well.
Hi, my name is DmitryMalfatto. I'm from Russia.
Here's my project, Mod Conflict Detector for The Sims 4. It's a powerful GUI tool for detecting and solving mod conflicts in the game. Allows you to get rid of trouble-making mods, empty mods, mods for another games, or technically-not-even-mods, that got in the Mods folder by mistake. I've been developing this program since February 2015, and now it's finally available not only in Russian, but in English as well!
Main Features:
Detect non-TS4 files;
Detect stray files (not *.package, *.zip et al, but something that doesn't belong in your Mods folder);
Disable (particular) mods;
Open file in s4pi;
Show file in folder;
Delete file(s) straight from the program;
Search for duplicate mods;
Analyse files (to find out exactly in what way they modify the game);
Copy conflicting ResourceKeys.
System Requirements:
Operating system: Vista, 7, 8, 8.1, 10*;
RAM: 1 GB
.NET Framework 4.6
* RT, Phone and Mobile editions are not supported
Additional Credits:
A big thanks and a special mention goes to:
adamhathcock for SharpCompress library;
creators of Microsoft.Windows.Shell.dll library;
creators of s4pi for the inspiration;
KuriXarya for the very idea of the program & help with Russian grammar;
Petr54 for the testing & ideas on how to improve the program;
Postoyalec [ToDoAbout on MTS] for the English translation.
Now you will learn how to solve this problem effectively. Everything is simple: you must use Sims 4 Mod Conflict Detector.
Sims 4 Mod Conflict Detector – is a program for the fans of this game. It finds and solves problems of modicications. So, if you will make a desicion to download Sims 4 Mod Conflict Detector tool, you will play without interruption.
And while everyone are searching for Sims 4 Mod Conflict Detector download, want to say one more thing: be friendly and give a feedback.
Also, we wish a happy modding for everyone with Sims 4 Mod Conflict Detector free.