Summon All Urns and Log All Sim Families Mod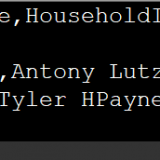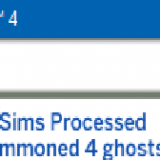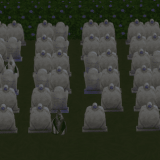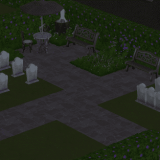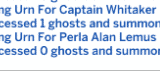 Summon All Urns and Log All Sim Families Mod
GrabNTag – Will summon all ghosts urns with gendertags for pregnancy and then removes those tags so that ghost won't be summoned a second time.
You just type "summon_hollows" into the console crtl-shift-c and it will put the urns in your inventory
it will also output the number of ghosts in the game, and the number of urns placed in your inventory.
Parameters Options
if no parameters are entered it will output as originally intended.
All – will give all urns regardless of Tags.
Lastname – will give the urns for ghost sims with the chosen last name.
!!Important!! if the last name has a space just replace the space with an Underscore Ex first "Perla" last "Lemus_Kale"
Firstname Lastname – will give urn for that specific sim alive or dead.
!!Important!! if the first name contains spaces Ex first "Perla Alan" last "Lemus" add anything after the first space to the last name with an Underscore _ Ex first "Perla" last "Alan_Lemus"
capitals are not nessecary.
SimLog – Will create a logfile with Sim name, Sim Id, Fathers name, Mothers Name, Spoues name, Household ID, and it will list their Family parents of sim, parents of parent sim etc. it will output the logfile as FamilyFile.txt in the mods folder.
Just type "printg" into the console crtl- shift-c, it will also output the number of sims processed in the list.
To Install, Just UnZIP and place the .Ts4Script files into your mods folder, The FamilyFile.txt should be created automatically but just incase i added it in and it should be placed in your mod folder also.
mods folder should be at Documents/Electronic Arts/The Sim4/ Mods
I made GrabNTag for the sole purpose of creating a graveyard in my sims 4 game, I could delete ghosts I didn't wanted from their urns and place the urns I wanted in the cemetary.
I made SimLog, as I am an avid spreadsheeter and I like to keep track of my generational sim play on it, and having a log file with the relevent information was nessecary.
This only requires the base game, and the urns generated will follow the species that the sim was in life, I've noticed that it pulls 3 different colored alien tombstones at random also.
Credit where Credit is Due:
SummonAllGhosts By Lynire
If I had not downloaded this mod, I would not have started modding the sims, so a very big thank you to Lynire and their mod that made me question whether I could summon just the urns.
Chnages:
10/8
SummonUrns 1.2 – Added parameters to the command allowing to choose which urns are placed in the inventory.
10/7
SummonUrns 1.1 – fixed download file not containing empty ts4script
SimFamilyLog 1.1 – fixed download file not containing empty ts4script