The Sims 4 H&B Store Stuff – Custom Stuff Pack Mod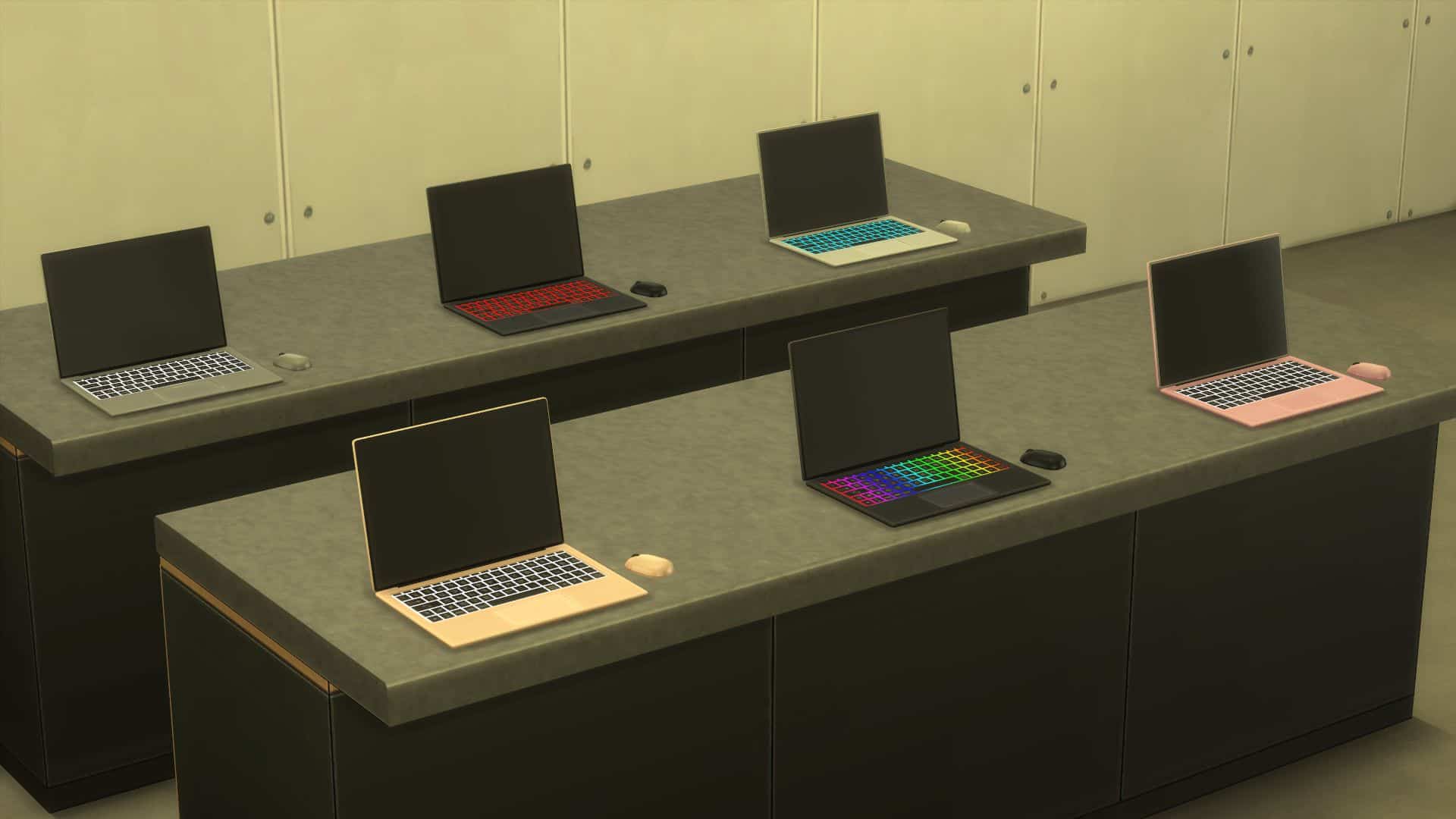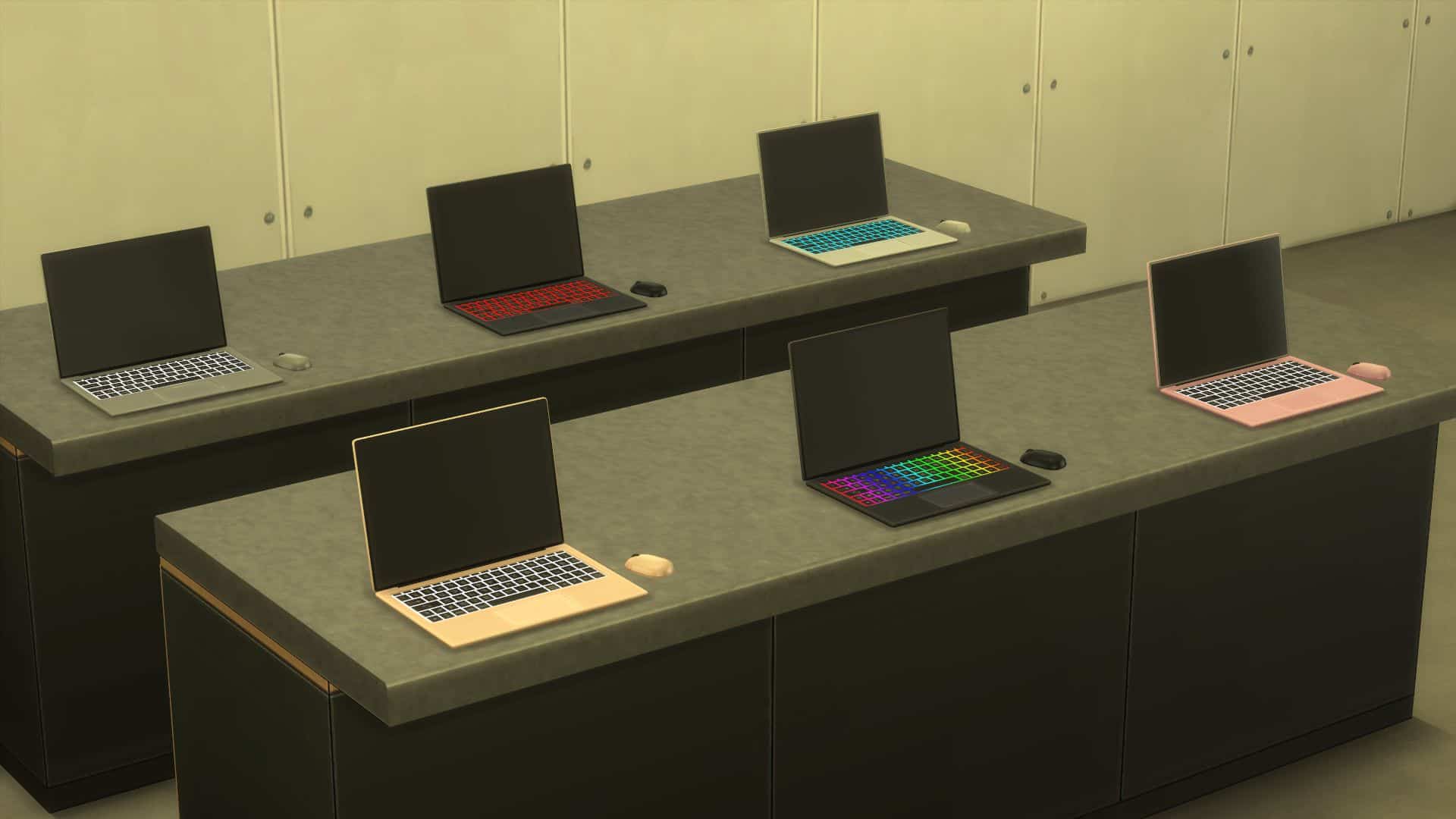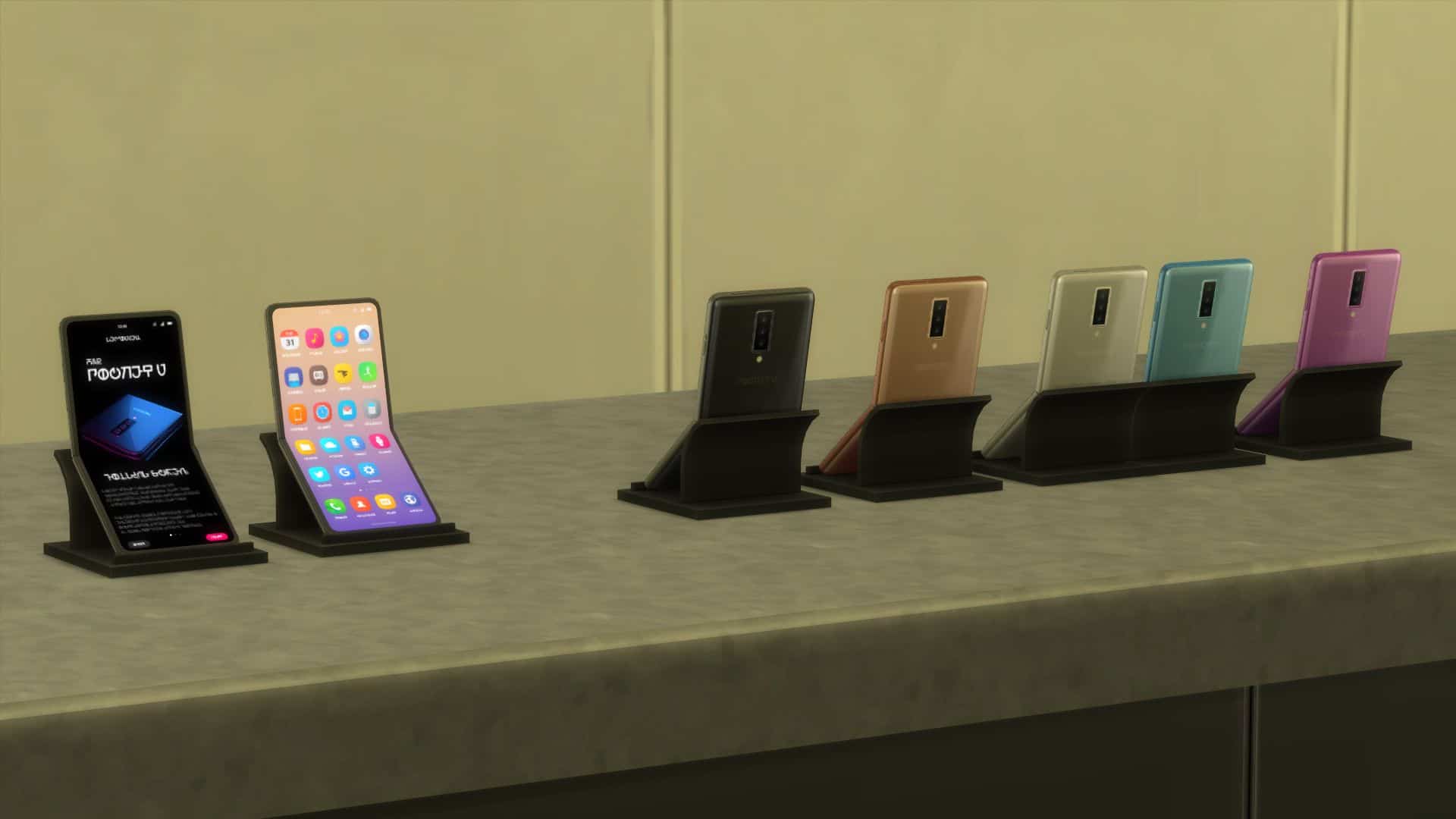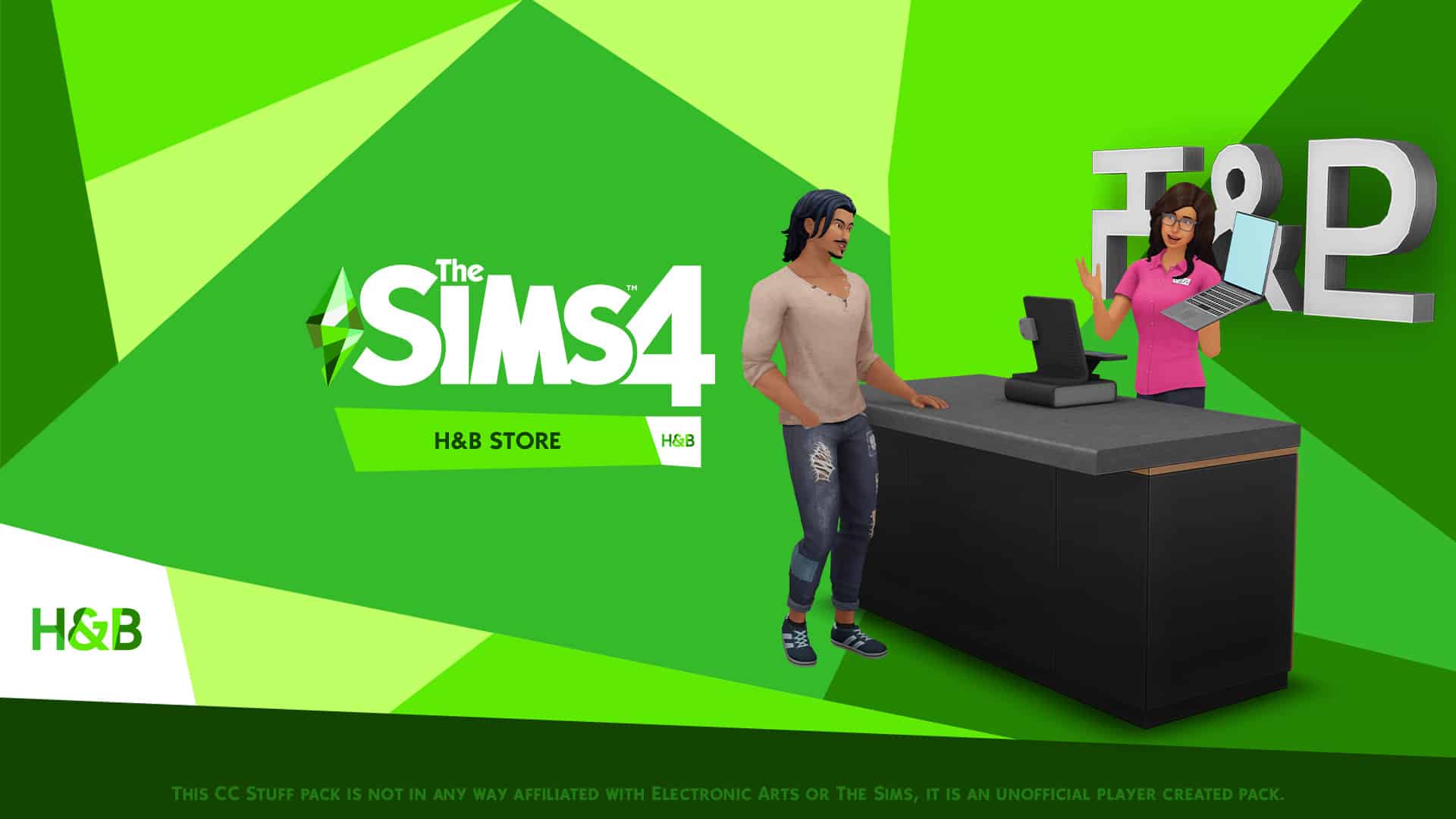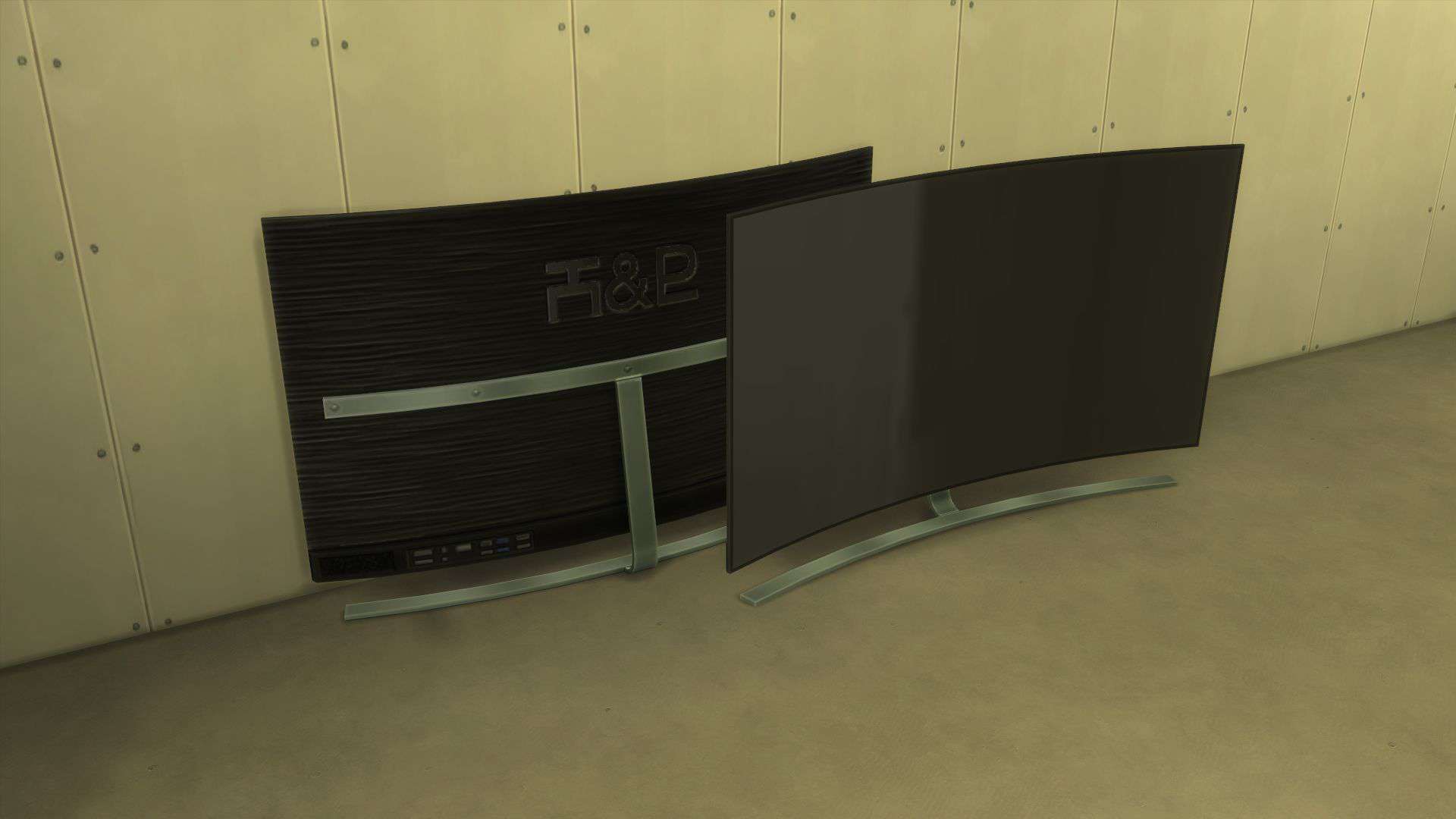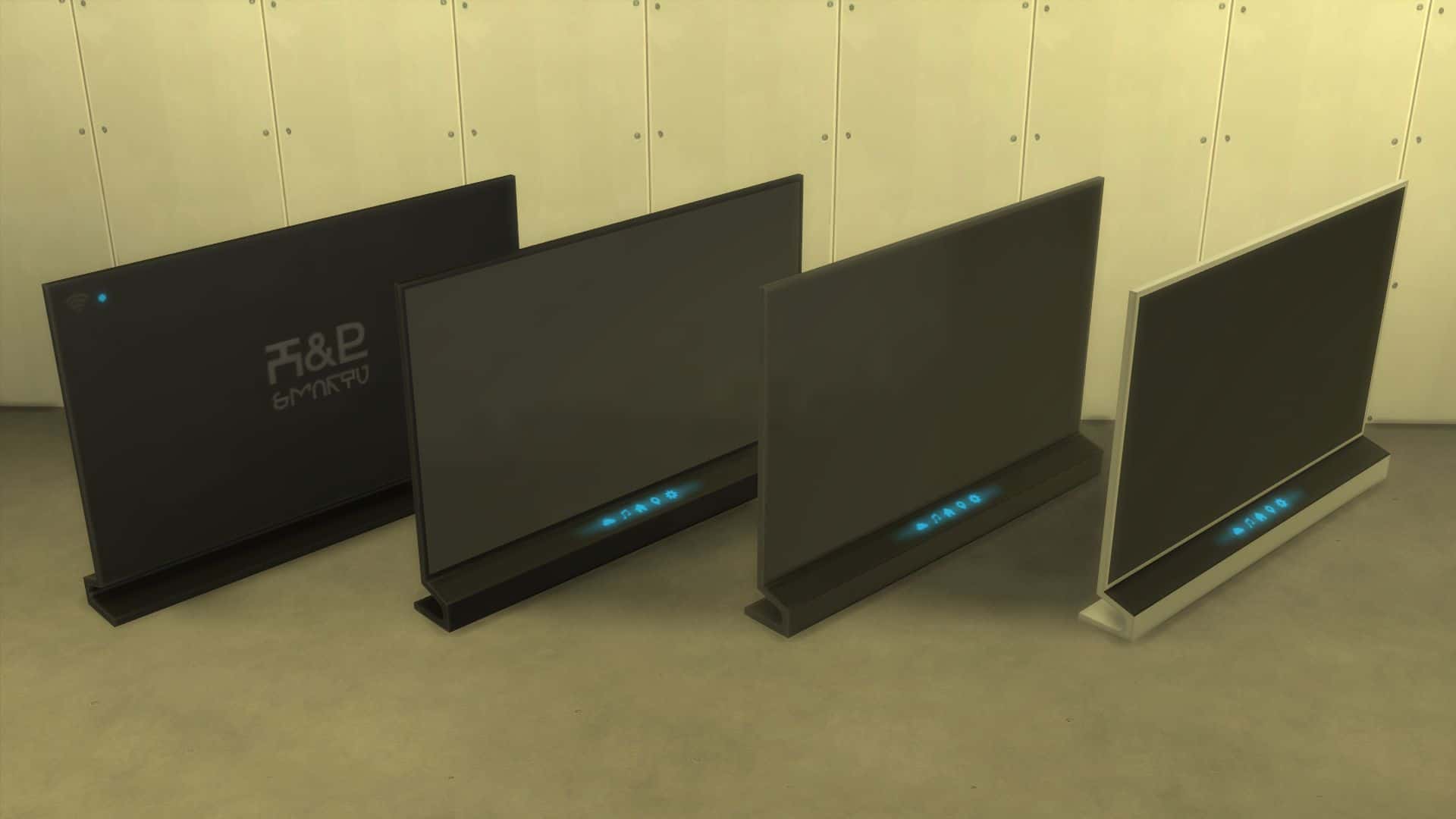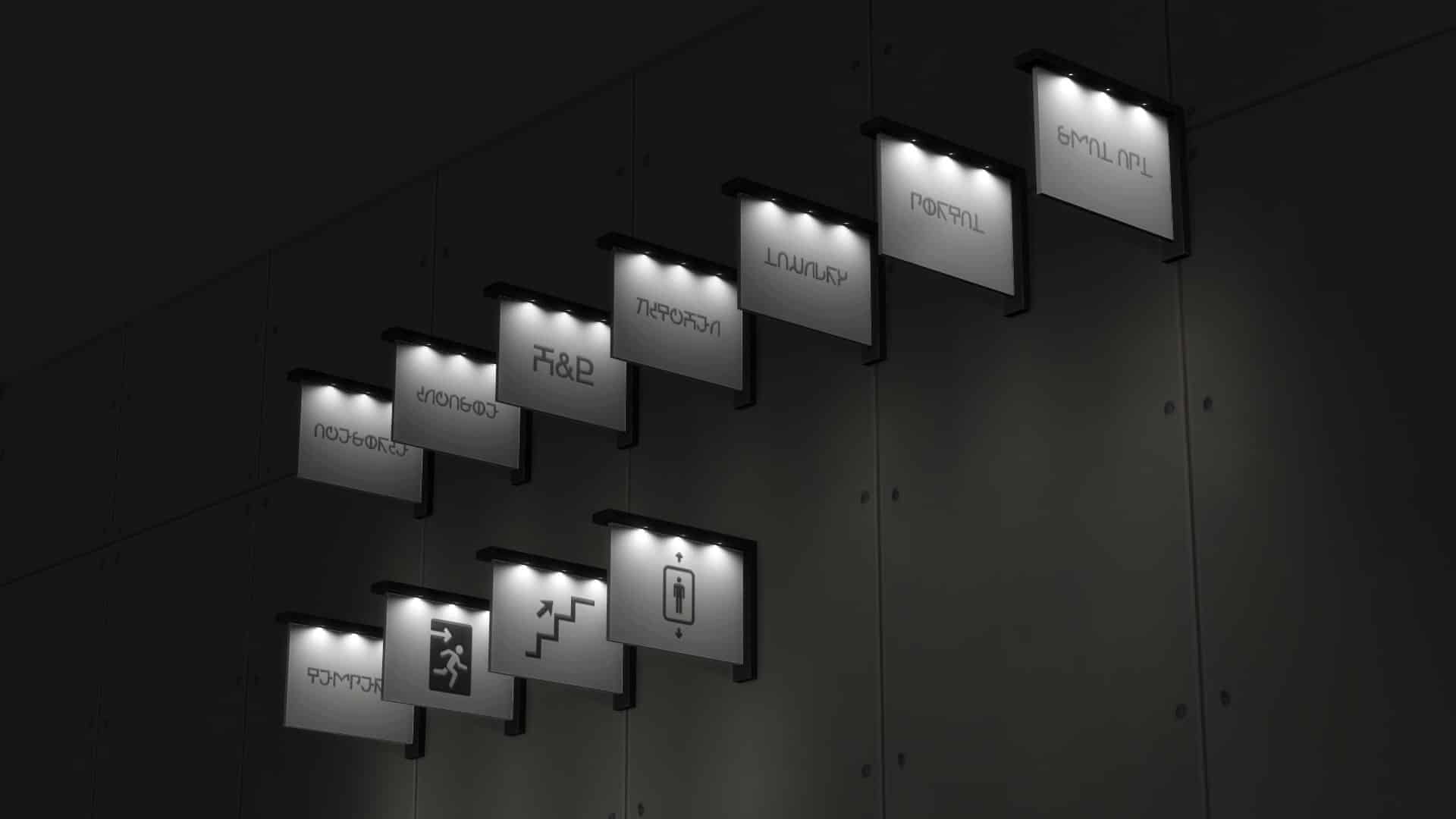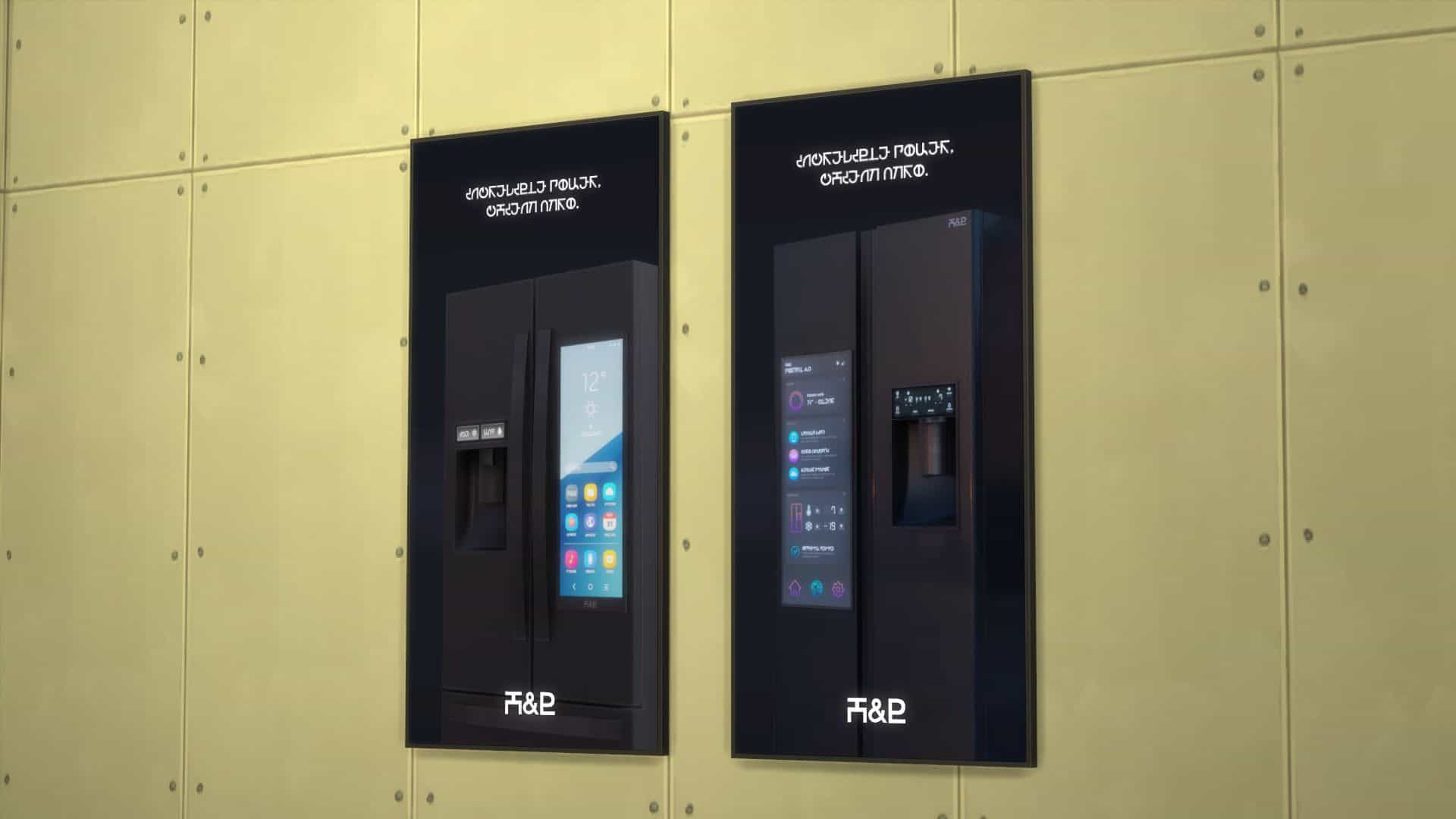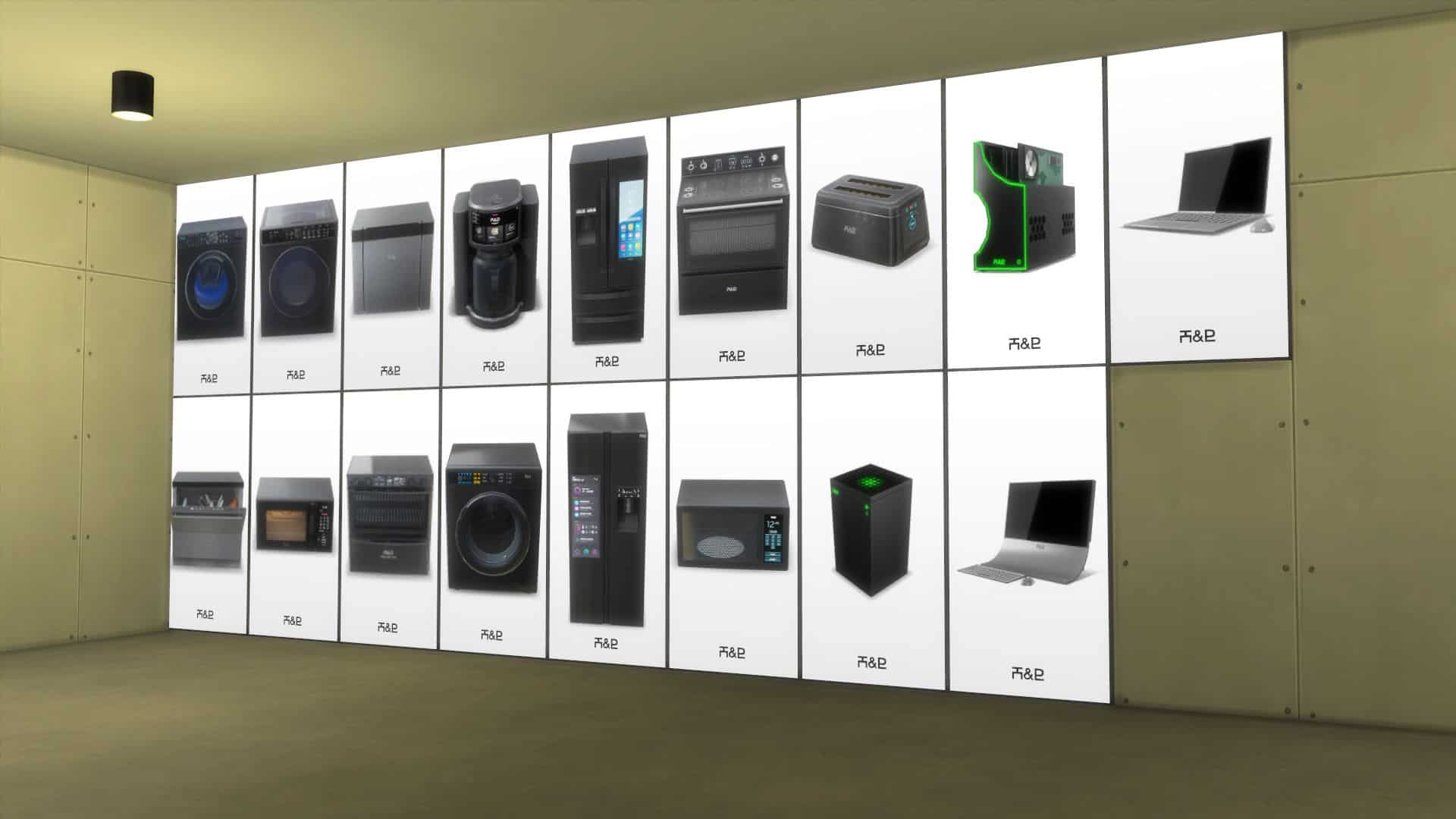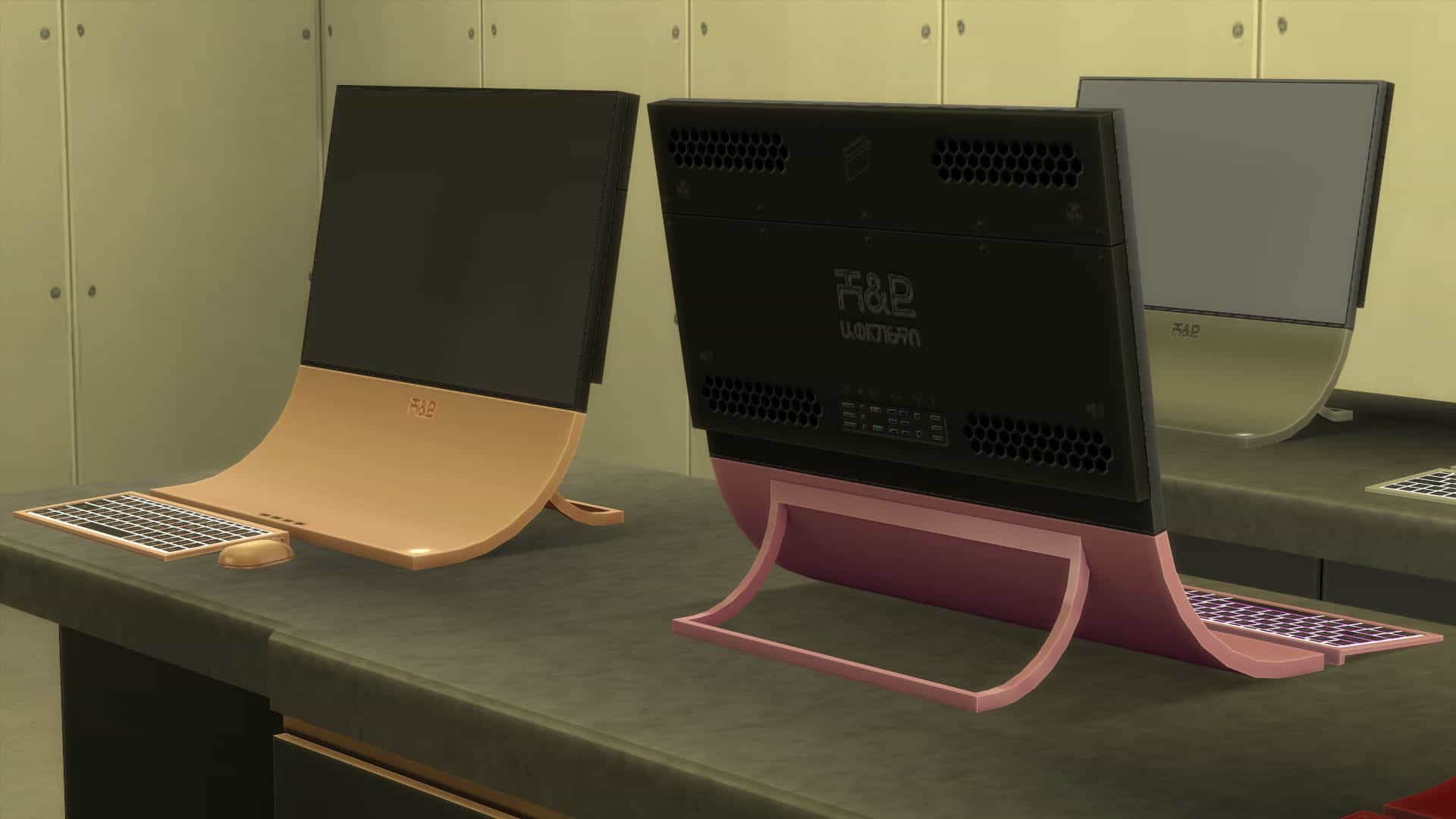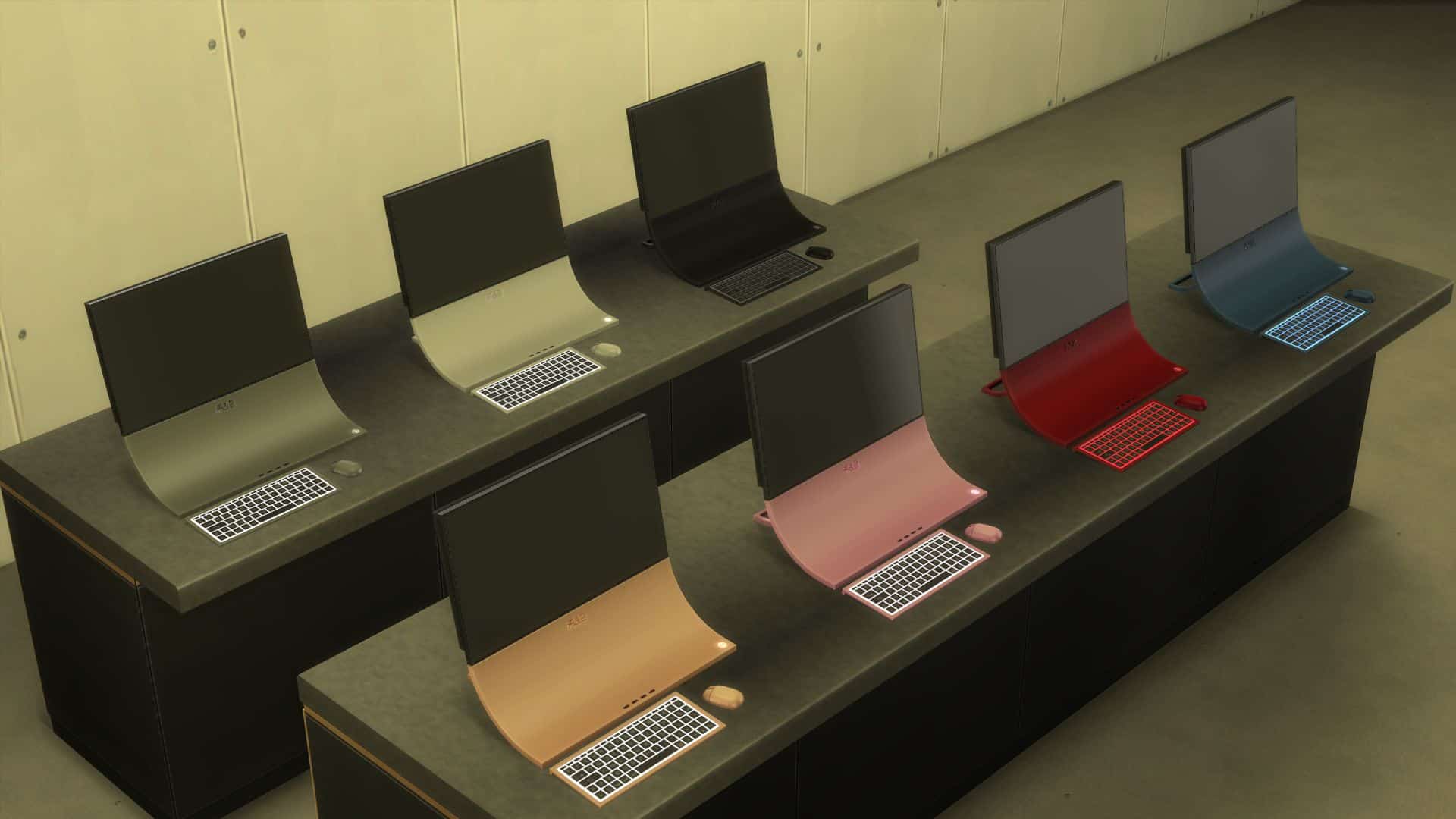 The Sims 4 H&B Store Stuff – Custom Stuff Pack Mod
This is a new mesh, and means that it's a brand new self contained object that usually does not require a specific Expansion pack (although this is possible depending on the type). It may have Recolours hosted on MTS – check below the description for more information.
Welcome to the H&B Store;
Take your Sims to the H&B Store and explore a whole new range of electronic products! From laptops to all-in-ones, H&B has really outdone themselves this time! Everything is absolutely upgraded and, because of that, also quite expensive!
Versartile items;
The Stuff Pack contains a brand new kitchen set, featuring a new counter set, a new island counter set, cabinets and a counter variation for built-in appliances. This counter variation doesn't have doors on the front and has a little icon burnt on the corkboard behind the counter.
100% original work, no EA textures or meshes recycling;
This collection of objects was created using exclusively original work made by me in either Blender or Photoshop, without re-using existing EA textures. All objects have a diffuse, specular and normal map guaranteed. Some objects have an emissive map. The style of both meshes and textures is maxis match.
H&B Store Lot Included;
You can download the lot i built in the biggest lot of Newcrest on my SimsFileShare Folder HERE. This link is not a direct download, it's my official SimsFileShare folder for this pack. It contains the tray files of the lot. Once put in your tray folder, the lot will appear in your locally saved lots on the gallery. That Lot download .ZIP contains all of the CC by me that was used from my past stuff packs, Chic Bathroom and Modern Kitchen. If you already have those packs, ignore the CC folders in the lot .ZIP!
Simple to fetch in game!
To show all the objects in game, simply type LITTLEDICA or H&B STORE in your game search box!
Stackable objects!;
Some objects in this Stuff Pack contain slots that allow for stacking and decor. The H&B Qube X console has a slot for the protective Glass object. The H&B Tablets boxes have a slot for stacking multiple boxes. The Stage Light Fixtures have slots to allow lights to be slotted on them.
PART 1
littledica.H&Bsignage.entranceAlarm: Entrance Alarm, Sculptures, 150$;
littledica.H&Bsignage.FloorScreen: H&B Floor Screen, Misc, 520$;
littledica.H&Bsignage.ceilingSign: H&B Store Ceiling Sign, Ceiling Decoration, 100$;
littledica.H&Bsignage.JumboCeilingSign: H&B Store Giant Sign, Ceiling Decoration, 1000$;
littledica.H&Bsignage.ceilingScreen1x3: Electronic Sign, Ceiling Decoration, 200$;
littledica.H&Bsignage.ceilingScreen1x2: Electronic Sign, Ceiling Decoration, 200$;
littledica.H&Bsignage.ceilingScreen1x1: Electronic Sign, Ceiling Decoration, 200$;
littledica.H&Bsignage.CardboardSign: Cardboard Sign; Sculpt, 20$;
littledica.H&Bsignage.H&BpocketV.StillScreen: H&B Pocket V Display Set (Home Screen), Misc, 1000$;
littledica.H&Bsignage.H&BpocketV: H&B Pocket V Display Set, Misc, 1000$;
littledica.H&Bsignage.SurfaceSign: H&B Store Counter top Sign, Misc, 35$;
littledica.H&Bsignage.counter.cabinet: Store Storage Storing Solution – Cabinet, Cabinets, 100$;
littledica.H&Bsignage.counter.island: Store Storage Storing Solution – Island, Counters, 100$;
littledica.H&Bsignage.counter.builtins: Store Storage Storing Solution – Built In Appliances, Counters, 100$;
littledica.H&Bsignage.counter: Store Storage Storing Solution, Counters, 100$;
littledica.H&Bsignage.divider: H&B Store Divider, Sculpt, 250$;
littledica.H&Bsignage.productCloseUp3: H&B Store Sign #6, Misc, 500$;
littledica.H&Bsignage.AltLogo2x1: H&B Store Front Logo Back Lit, Misc, 1250$;
littledica.H&Bsignage.Logo2x1: H&B Store Front Logo, Wall Sculptures, 1250$;
littledica.H&Bsignage.AisleSignLit: H&B Store Aisle Sign, Wall Sculptures, 500$;
littledica.H&Bsignage.PortalCloseUp: H&B Store Sign #5, Misc, 500$;
littledica.H&Bsignage.info2: H&B Store Sign #4, Misc, 500$;
littledica.H&Bsignage.productCloseUp.2×1: H&B Store Sign #3, Misc, 500$;
littledica.H&Bsignage.productCloseUp: H&B Store Sign #2, Misc, 500$;
littledica.H&Bsignage.info1: H&B Store Sign #1, Misc, 500$;
PART 2
littledica.H&Bsignage.stageFixtureShort1: Stage Lights Fixture – Straight, Ceiling Decoration, 151$;
littledica.H&Bsignage.stageFixtureShort2: Stage Lights Fixture – End Piece, Ceiling Decoration, 151$;
littledica.H&Bsignage.stageFixtureShort3: Stage Lights Fixture – Intersection, Ceiling Decoration, 151$;
littledica.H&Bsignage.stageFixtureShort4: Stage Lights Fixture – Curve, Ceiling Decoration, 151$;
littledica.H&Bsignage.stageFixtureMed1: Stage Lights Fixture Medium Walls – Straight, Ceiling Decoration, 152$;
littledica.H&Bsignage.stageFixtureMed2: Stage Lights Fixture Medium Walls – End Piece, Ceiling Decoration, 152$;
littledica.H&Bsignage.stageFixtureMed3: Stage Lights Fixture Medium Walls – Intersection, Ceiling Decoration, 152$;
littledica.H&Bsignage.stageFixtureMed4: Stage Lights Fixture Medium Walls – Curve, Ceiling Decoration, 152$;
littledica.H&Bsignage.stageFixtureTall1: Stage Lights Fixture Tall Walls – Straight, Ceiling Decoration, 153$;
littledica.H&Bsignage.stageFixtureTall2: Stage Lights Fixture Tall Walls – End Piece, Ceiling Decoration, 153$;
littledica.H&Bsignage.stageFixtureTall3: Stage Lights Fixture Tall Walls – Intersection, Ceiling Decoration, 153$;
littledica.H&Bsignage.stageFixtureTall4: Stage Lights Fixture Tall Walls – Curve, Ceiling Decoration, 153$;
littledica.H&Bsignage.stageLight1: Diffused Spot Light – Top Down, Ceiling Lights, 51$;
littledica.H&Bsignage.stageLight2: Diffused Spot Light – 40? Angle, Ceiling Lights, 52$;
littledica.H&Bsignage.stageLight3: Diffused Spot Light – 80? Angle, Ceiling Lights, 53$;
littledica.H&Bsignage.stageLight4: Spot Light – 90? Angle, Ceiling Lights, 61$;
littledica.H&Bsignage.stageLight5: Spot Light – 80? Angle, Ceiling Lights, 62$;
littledica.H&Bsignage.stageLight6: Spot Light – 40? Angle, Ceiling Lights, 63$;
littledica.H&Bsignage.stageLight7: Spot Light – Top Down, Ceiling Lights, 64$;
littledica.H&Bsignage.stageLight8: Diffused Light, Ceiling Lights, 70$;
PART 3
littledica.H&B.computer: H&B Work Station, Computers, 7000$;
littledica.H&B.CurvedTV: H&B Crystal Curve, Televisions, 5000$;
littledica.H&B.CurvedTVbig: H&B Crystal Curve XL, Televisions, 5500$;
littledica.H&B.MiniBook: H&B MiniBook, Computers, 4500$;
littledica.H&B.protab: H&B PROTab, Computers, 2500$;
littledica.H&B.protabArtist: H&B PROTab A, Computers, 3000$;
littledica.H&B.protabY: H&B PROTab Y, Computers, Toddlers Tablet, 850$;
littledica.H&B.smartv: H&B Smart TV, Televisions, 1700$;
littledica.H&B.WallCurvedTV: H&B Crystal Curve XL – Wall Mounted, Televisions, 7000$;
littledica.H&Bsignage.BoxMED: Medium Items Box, Misc, 120$;
littledica.H&Bsignage.BoxMEDLRG: Medium Large Items Box, Misc, 120$;
littledica.H&Bsignage.BoxProtab: H&B PROTab Box, Misc, 120$;
littledica.H&Bsignage.BoxProtabA: H&B PROTab A Box, Misc, 120$;
littledica.H&Bsignage.BoxProtabY: H&B PROTab Y Box, Misc, 120$;
littledica.H&Bsignage.BoxSML: Small Items Box, Misc, 60$;
littledica.H&Bsignage.TabletStand: H&B Store PROTab Stand, Misc, 10$;
littledica.H&Bsignage.TabletStand2: H&B Store PROTab A Stand, Misc, 10$;
PART 4
littledica.LitLetter.A: H&B Store Letter A, Wall Sculptures, 250$;
littledica.LitLetter.B: H&B Store Letter B, Wall Sculptures, 250$;
littledica.LitLetter.C: H&B Store Letter C, Wall Sculptures, 250$;
littledica.LitLetter.D: H&B Store Letter D, Wall Sculptures, 250$;
littledica.LitLetter.E: H&B Store Letter E, Wall Sculptures, 250$;
littledica.LitLetter.F: H&B Store Letter F, Wall Sculptures, 250$;
littledica.LitLetter.G: H&B Store Letter G, Wall Sculptures, 250$;
littledica.LitLetter.H: H&B Store Letter H, Wall Sculptures, 250$;
littledica.LitLetter.I: H&B Store Letter I, Wall Sculptures, 250$;
littledica.LitLetter.J: H&B Store Letter J, Wall Sculptures, 250$;
littledica.LitLetter.K: H&B Store Letter K, Wall Sculptures, 250$;
littledica.LitLetter.L: H&B Store Letter L, Wall Sculptures, 250$;
littledica.LitLetter.M: H&B Store Letter M, Wall Sculptures, 250$;
littledica.LitLetter.N: H&B Store Letter N, Wall Sculptures, 250$;
littledica.LitLetter.O: H&B Store Letter O, Wall Sculptures, 250$;
littledica.LitLetter.P: H&B Store Letter P, Wall Sculptures, 250$;
littledica.LitLetter.Q: H&B Store Letter Q, Wall Sculptures, 250$;
littledica.LitLetter.R: H&B Store Letter R, Wall Sculptures, 250$;
littledica.LitLetter.S: H&B Store Letter S, Wall Sculptures, 250$;
littledica.LitLetter.T: H&B Store Letter T, Wall Sculptures, 250$;
littledica.LitLetter.U: H&B Store Letter U, Wall Sculptures, 250$;
littledica.LitLetter.V: H&B Store Letter V, Wall Sculptures, 250$;
littledica.LitLetter.W: H&B Store Letter W, Wall Sculptures, 250$;
littledica.LitLetter.X: H&B Store Letter X, Wall Sculptures, 250$;
littledica.LitLetter.Y: H&B Store Letter Y, Wall Sculptures, 250$;
littledica.LitLetter.Z: H&B Store Letter Z, Wall Sculptures, 250$;
CITY LIVING
littledica.H&B.QubeConsole: H&B Qube, Videogame, Misc, Activities (Indoor), 950$;
littledica.H&B.QubeXConsole: H&B Qube X, Videogame, Misc, Activities (Indoor), 1120$;
littledica.H&B.QubeXConsoleGlass: H&B Qube X Protective Glass, TV, Videogame, 20$;
Polygon Counts:
Entrance Alarm: 166, 166, 166
H&B Floor Screen: 48
H&B Store Ceiling Sign: 78
H&B Store Giant Sign: 324
Electronic Sign (1): 196
Electronic Sign (2): 148
Electronic Sign (3): 92
Cardboard Sign: 88, 88, 88
H&B Pocket V Display Set (Home Screen): 326
H&B Pocket V Display Set: 348
H&B Store Counter top Sign: 102, 82
Store Storage Storing Solution – Cabinet: Different Pieces average: 150
Store Storage Storing Solution – Island: Different Pieces average: 170
Store Storage Storing Solution – Built In Appliances: 96
Store Storage Storing Solution: Different Pieces average: 170
H&B Store Divider: 60
H&B Store Sign #6: 166
H&B Store Front Logo Back Lit: 580
H&B Store Front Logo: 406, 406, 354
H&B Store Aisle Sign: 64
H&B Store Sign #5: 166
H&B Store Sign #4: 51
H&B Store Sign #3: 165
H&B Store Sign #2: 41
H&B Store Sign #1: 52
H&B Qube: 90
H&B Qube X: 3119 (Mesh on the higher poly side, consider your PC potential before installing)
H&B Qube X Protective Glass: 127, 127
H&B Work Station: 738, 610, 506
H&B Crystal Curve: 432, 280
H&B Crystal Curve XL: 432, 280
H&B MiniBook: 973, 685
H&B PROTab: 284, 212
H&B PROTab Y: 284, 212
H&B PROTab A: 284, 212
H&B Smart TV: 68, 68
H&B Crystal Curve XL – Wall Mounted: 826, 614
Medium Items Box: 30
Medium Large Items Box: 30
H&B PROTab Box: 14
H&B PROTab Y Box: 14
H&B PROTab A Box: 14
Small Items Box: 30
H&B Store PROTab Stand: 82, 82
H&B Store PROTab A Stand: 82, 82
Lights fixture set (very high poly meshes, consider your PC potential before installing)
Stage Lights Fixture – Straight: 3932
Stage Lights Fixture – End Piece: 1336
Stage Lights Fixture – Intersection: 5802
Stage Lights Fixture – Curve: 4216
Diffused Spot Light – All Angles: 250, 166, 118
Spot Light – All Angles: 570, 422, 280
Diffused Light: 404, 334, 226
H&B Store Letter A: 110
H&B Store Letter B: 98
H&B Store Letter C: 198
H&B Store Letter D: 66
H&B Store Letter E: 106
H&B Store Letter F: 38
H&B Store Letter G: 86
H&B Store Letter H: 62
H&B Store Letter I: 78
H&B Store Letter J: 134
H&B Store Letter K: 38
H&B Store Letter L: 30
H&B Store Letter M: 118
H&B Store Letter N: 78
H&B Store Letter O: 190
H&B Store Letter P: 78
H&B Store Letter Q: 174
H&B Store Letter R: 34
H&B Store Letter S: 194
H&B Store Letter T: 50
H&B Store Letter U: 130
H&B Store Letter V: 98
H&B Store Letter W: 110
H&B Store Letter X: 126
H&B Store Letter Y: 122
H&B Store Letter Z: 62