Ultimate Animator Career **TESTED WITH 12/20/18 PATCH** Mod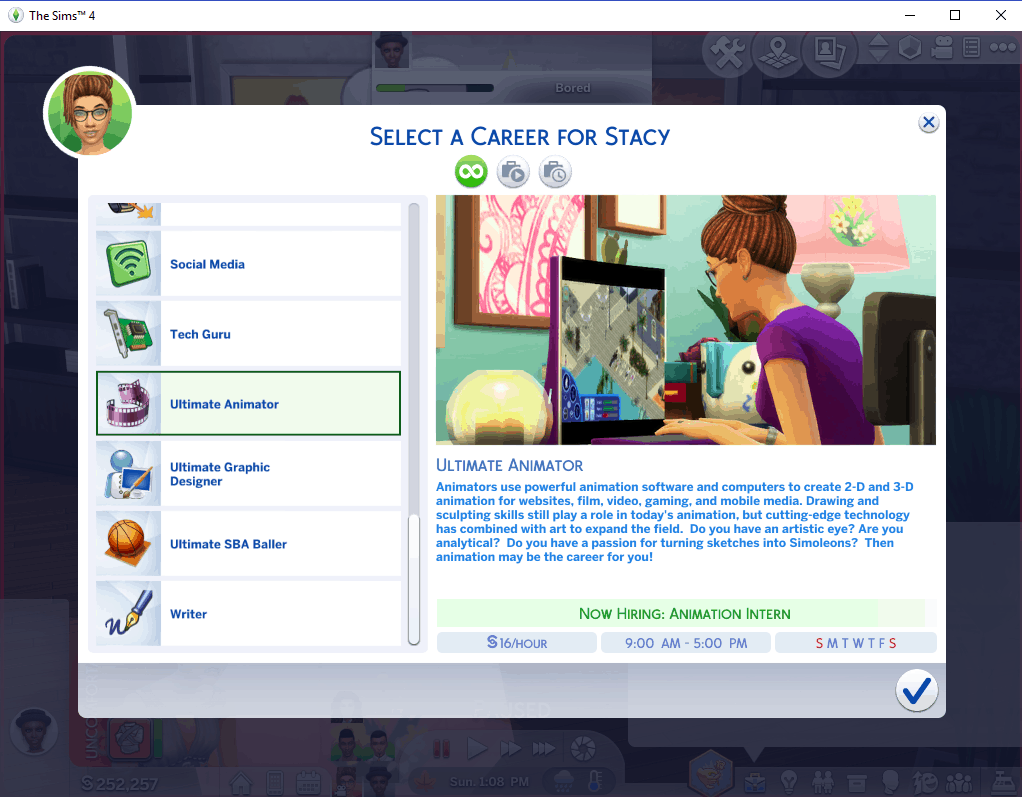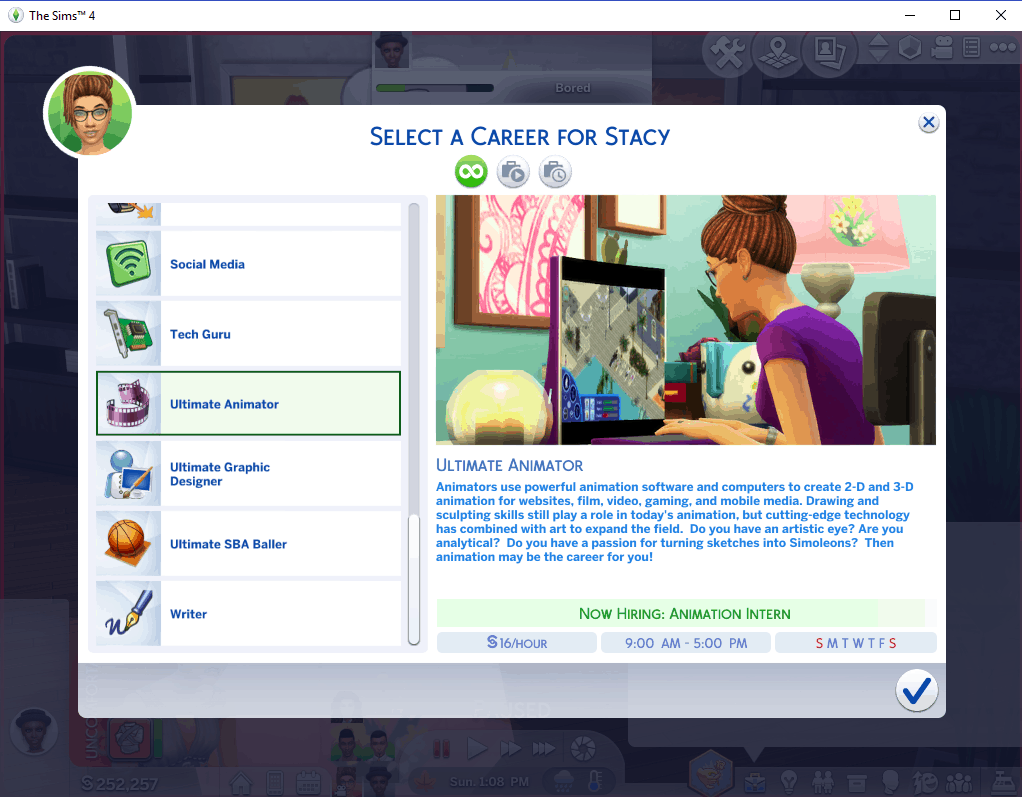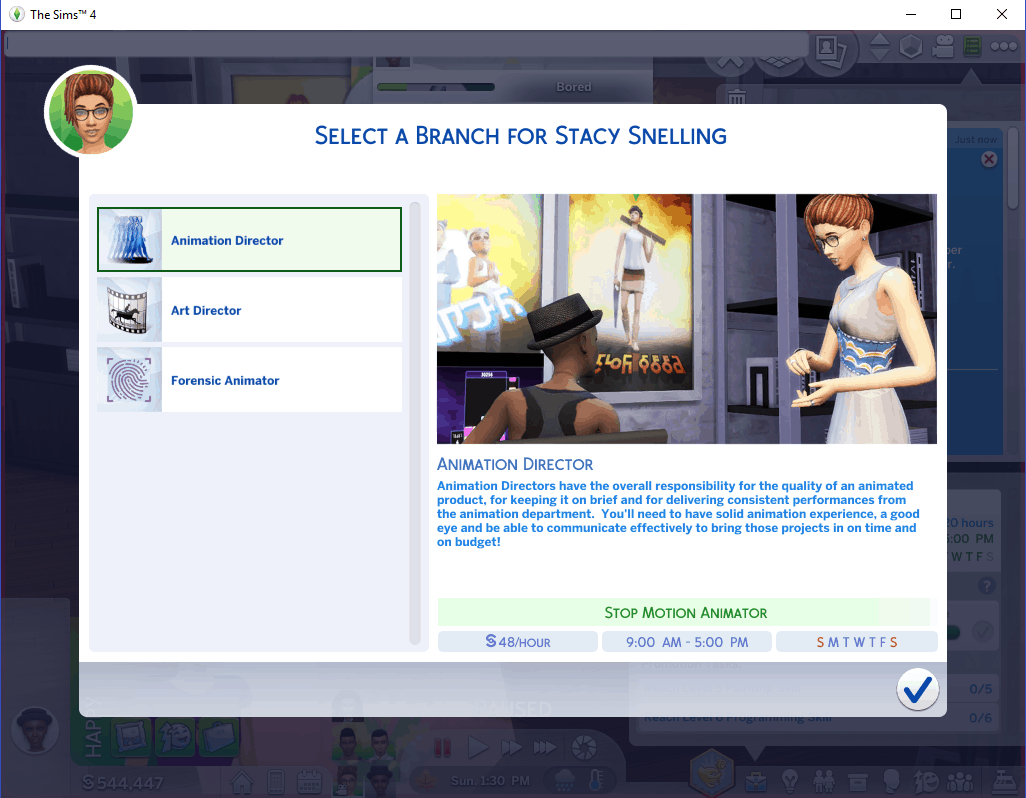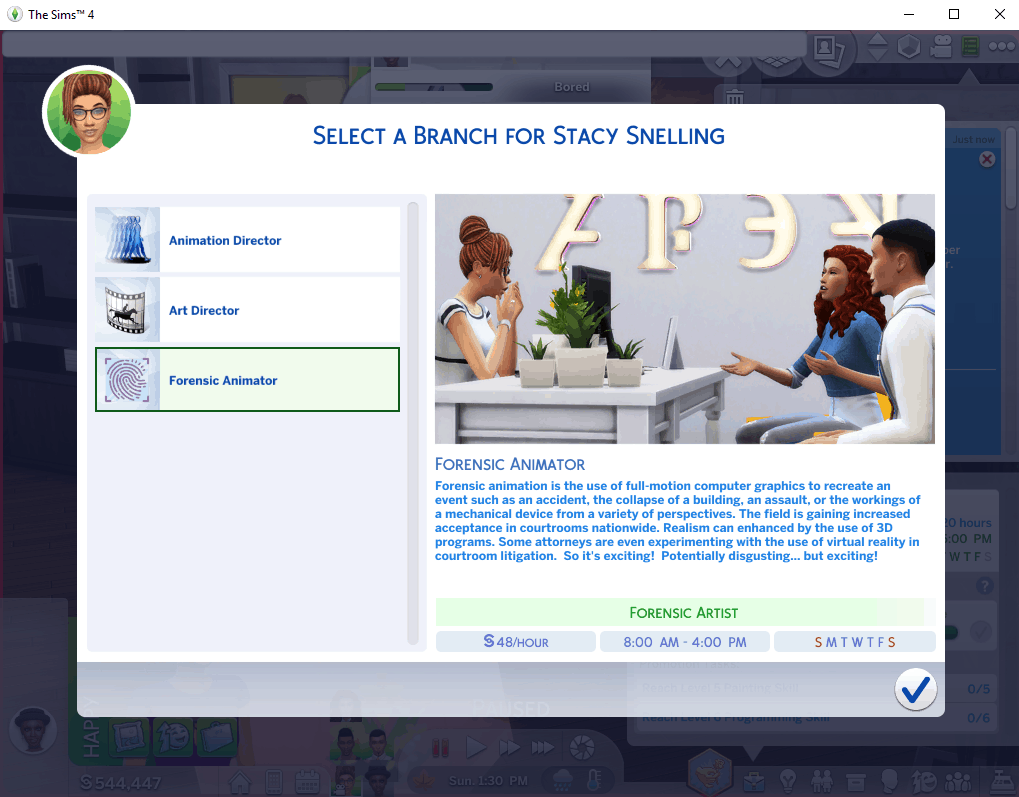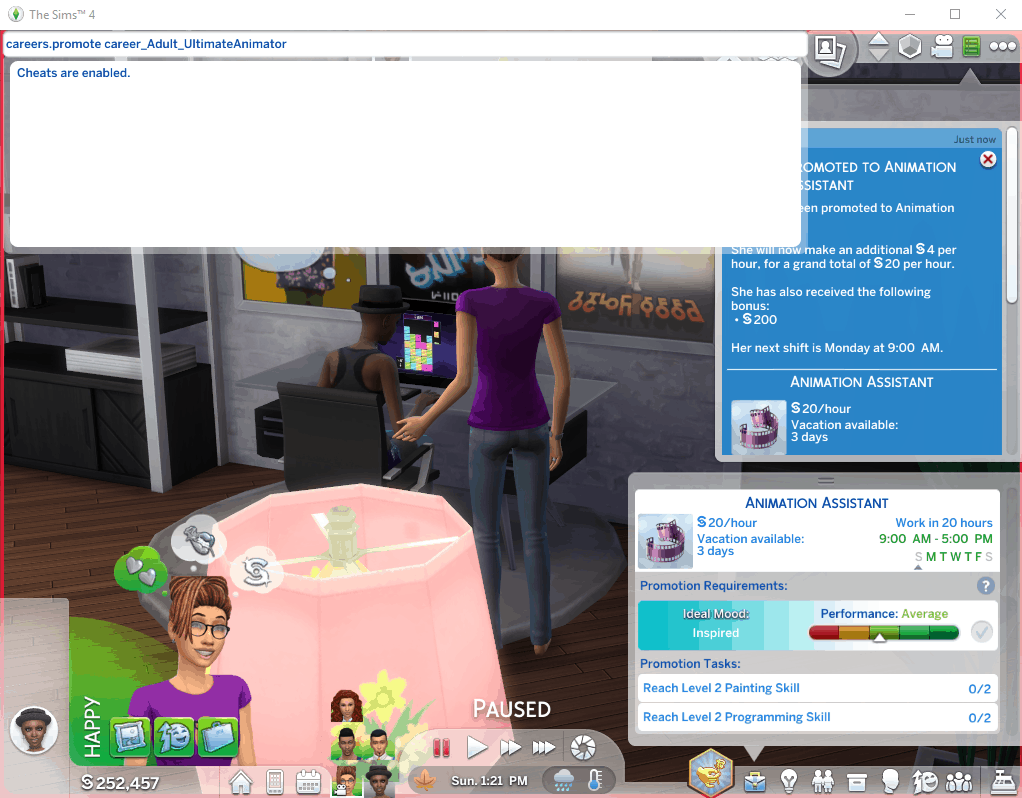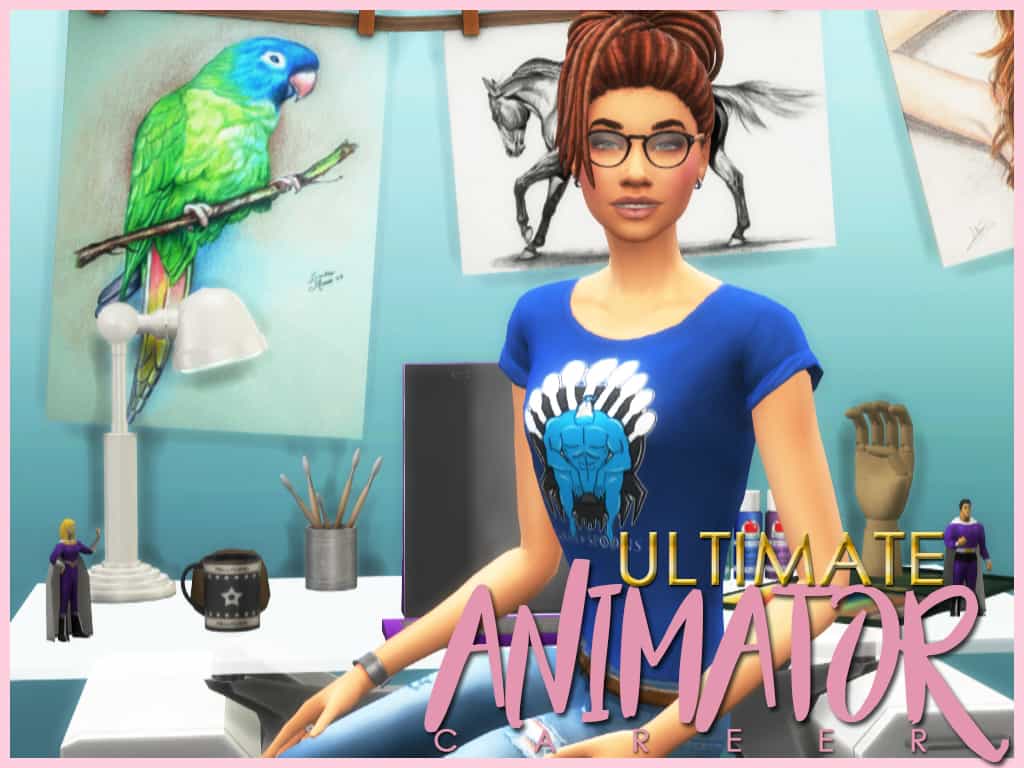 Ultimate Animator Career **TESTED WITH 12/20/18 PATCH** Mod
Updated 8/19/2018 with German translation by Shiipoopii. Thank you for the translation!
*** Tested with Get Famous (not required) and Game Version 1.47.51.1020 – November 13, 2018 Update (definitely required) ***
PLEASE NOTE: You WILL need the newest Neia Career Commons file (included in download) also!
Also just as an FYI (because I thought it was a bug and was about to completely embarrass myself on Neia's forum)
as of the last patch, EA removed the "ideal mood" for rabbit hole careers.
Oh… You knew that already… Soooo… It was just me? Okay then…. Carry on.
Animators have a unique combination of artistic and technological ability. From high definition movie CGI to Saturday morning cartoons, animation is everywhere. There are all kinds of artists so shouldn't there be all kinds of artists careers? Cupcake324 PMed me with this request. It seemed so cool (and she was kind enough to suggest most of the levels to give me a boost) that I finished it in 2 days! I hope you enjoy it too.
The pay levels are a bit light in spots compared to EA, but they've been researched against median pay levels for the actual jobs. They're pretty realistic. So… we give you…
Ultimate Animator
Animators draw or use complex animation software to make 2-D and 3-D animation for websites, film, video, gaming, and mobile media. Drawing and sculpting skills still play a role in today's animation, but cutting-edge technology has combined with art to expand the field. Do you have an artistic eye? Are you analytical? Do you have a passion for turning sketches into Simoleons? Then animation may be the career for you!
Career Details:
Animation Intern
As an intern, you will have the opportunity to work directly with a Windenburg Studios mentor as you explore all aspects of art, storytelling, and filmmaking. Your internship will also allow you to meet and collaborate with talented artists from around the globe and become part of a multi-disciplinary team focused on both individual and group projects. You'll also get coffee. Cup after cup of delicious coffee (and the occasional danish)!
Mood: Inspired
PTO: .33
Hourly: 16
Per Day: 128
Schedule: MTWTF–
Objectives: Painting 1, Programming 1
Animation Assistant
Apprenticeship offers the chance to understand the depth of your new skills, refine and strengthen key areas, apply them in our real-world environment, and work under the guidance of a Windenburg Studios mentor! You still make peanuts but occasionally some poor intern will get YOU coffee and doesn't that make it all worthwhile?
Mood: Inspired
PTO: .33
Hourly: 20
Per Day: 160
Schedule: MTWTF–
Objectives: Painting 2, Programming 2
3D Modeler
Character design starts with artists who create sketches and clay sculptures, to get each character just right. Then a digital modeler creates a virtual 3D model of the character. Use customized software to create, rotate, move, and scale your shapes to make a complex virtual 3D model. Kind of like toys. Yeah, exactly like making digital models of toys no one else gets to play with. Cool!
Mood: Inspired
PTO: .33
Hourly: 26
Per Day: 208
Schedule: MTWTF–
Objectives: Painting 3, Programming 3
Render Artist
Those models have to actually DO something don't they? A digital artists work is never done. Render Artist to the rescue! Learn MAYA! Learn RenderMan! Learn a lot of new stuff! Create libraries of shaders! Learn the production pipeline and soon you can move on up to full blown CGI animations!
PTO: .33
Hourly: 32
Per Day: 256
Schedule: MTWTF–
Objectives: Painting 4, Programming 4
CG Animator
Forget those model and scenes. You create whole worlds now! Most people don't consider the technology that goes into a CG scene. It's assumed that the computer does most of the work and those involved simply take the accolades. But you have the tools and the talent to take CG to bleeding edge of what was technically possible. As the saying goes: To infinity…and beyond!
PTO: .33
Hourly: 45
Per Day: 360
Schedule: MTWTF–
Objectives: Painting 5, Programming 6
Track 1: Art Director
Art directors develop design concepts and review material that will appear in digital media, newspapers, advertisements, books, magazines, and more. They control the overall visual direction of a project. You'll need to learn the entire animation pipeline before you can direct it. Time to sharpen those pixels and get to work!
Lighting Artist
Study how light works in real life on objects so they can apply that knowledge to a 3D model in a software to make an object look real. This job is important for 3D modeling. You need a deep understanding of traditional lighting concepts, outstanding communication skills, and an unbridled passion to raise the bar in the visual entertainment. Also, it's more interesting than it sounds.
PTO: .33
Hourly: 55
Per Day: 440
Schedule: MTWTF–
Objectives: Photography 2, Painting 6
Background Artist
You're really learning the pipeline now! The Background Artist establishes the color, style, and mood of a scene drawn by an animation layout artist. The methods used can either be through traditional painting or by digital media. If you're the type of person who gets excited about collaboration, communication, and community, then you're the type of person for this job
PTO: .33
Hourly: 61
Per Day: 448
Schedule: MTWTF–
Objectives: Painting 7, Programming 7
Character Artist
The character artist takes a concept to fruition. You'll work under the supervision of the art director and lead character artist to create character assets. Based on the concept artist's sketches, you create initial 2D illustrations. Those designs are presented to the art and design teams, tweaked, and revised. Next you model a 3D computer image, gradually adding definition, weight, and color. And then you have… a character. There has to be more than this.
PTO: .33
Hourly: 72
Per Day: 576
Schedule: MTWTF–
Objectives: Painting 8
Storyboard Artist
A storybook artist illustrates the narrative, planning shots, and drawing panels to demonstrate action and maintain continuity between scenes of an animation. Now you work with Art Directors and Writers to draw out important scenes that capture the concept of an animation, helps other artists understand the direction of the film. Can you tell a story and use your understanding of layout, composition and sequential drawing to bring a story to life?
PTO: .33
Hourly: 80
Per Day: 640
Schedule: MTWTF–
Objectives: Painting 9, Programming 9
Art Director
You've made it. You're Master of the Animation Universe! You use your leadership, organizational and communication skills to maximum effect. Y ou're in charge of the visual appearance of the project and communicate the desired mood, features and look of the scene. This is that exciting animation career you imagined! Stand at the helm and overlook ALL artistic aspects of an animation to make sure it follows the idea of the film!
PTO: .33
Hourly: 105
Per Day: 840
Schedule: MTWTF–
Objectives: Painting 10, Programming 10, Logic 3
Track 2: Animation Director
Animation Directors have the overall responsibility for the quality of an animated product, for keeping it on brief and for delivering consistent performances from the animation department. You'll need to have solid animation experience, a good eye and be able to communicate effectively to bring those projects in on time and on budget!
Stop Motion Animator
Stop motion animators are a unique bunch. They use models, puppets, or clay to create animated films, television commercials, branded entertainment, and more. Stop motion animation is also called stop frame, model animation, puppet animation, and clay animation. You do it all! You need an eye and attention to detail for this job… and patience… lots and lots of patience.
PTO: .33
Hourly: 48
Per Day: 384
Schedule: MTWTF–
Objectives: Painting 6, Programming 7
Traditional Animator
Traditional animation (or classical animation, cell animation or hand-drawn animation) is an animation technique in which each frame is drawn by hand on a physical medium. The technique was the dominant form of animation in cinema until the advent of computer animation. You do it the old fashion way. Frame. By Frame. By Frame… And you LOVE it!
PTO: .33
Hourly: 59
Per Day: 472
Schedule: MTWTF–
Objectives: Painting 7
2D Computer Animator
2D animators create characters, storyboards, and backgrounds for animation in a two-dimensional space. 2D animators may have titles such as animator, character designer, or storyboard artist. But!… Done on software that adopted the ways of traditional animation and can apply that quickly to the 2D animation. The "purists" may judge you, but you get it done twice as nice in half the time!
PTO: .33
Hourly: 71
Per Day: 568
Schedule: MTWTF–
Objectives: Programming 8, Logic 2
3D Computer Animator
3D Animators work with computer technology to digitally model and manipulate computer images. Your job is to make a flat image walk, talk, and bounce like a three-dimensional object. 3D Animators can even measure how things move in the real world, then use data to translate such movement to computer images. So, basically, you're a total boss…. but not the Boss. Yet.
PTO: .33
Hourly: 86
Per Day: 688
Schedule: MTWTF–
Objectives: Programming 9, Logic 5
Animation Director
What does an Animation Director do? Everything. Just like a live-action director, an animation director oversees the film's broad vision—its style, its tone, its color palette—and tinkers with every aspect of the production process. The main difference is that animation directors have much more control. Your job is to make sure every element fits together! How does it feel to be the boss, Boss?
PTO: .33
Hourly: 103
Per Day: 824
Schedule: MTWTF–
Objectives: Programming 10, Logic 6, Charisma 3
Track 3: Forensic Animator
Forensic animation is the use of full-motion computer graphics to recreate an event such as an accident, the collapse of a building, an assault, or the workings of a mechanical device from a variety of perspectives. The field is gaining increased acceptance in courtrooms nationwide. Realism can be enhanced by the use of 3D programs. Some attorneys are even experimenting with the use of virtual reality in courtroom litigation. So, it's exciting! Potentially disgusting… but exciting!
Forensic Artist
Composite drawing, crime scene sketching, courtroom drawings, demonstrative evidence, and postmortem and facial approximation aids. You do it all. You may have to communicate with witnesses, you may be called to crime scenes or to examine a deceased person's body to make a facial reconstruction. And… ew. You actually signed up for this job? You're basically a hero with a sketch pad!
PTO: .33
Hourly: 48
Per Day: 384
Schedule: MTWTF–
Objectives: Painting 6, Logic 3
2D Forensic Animator
Welcome to Windenburg Studios Forensic Animation Department. Sure, 2D animation is the bottom of the totem-pole here but a sketch jokey has to start somewhere. There are few, if any, training courses for this kind of work. What's more, you won't see an advertisement in your local newspaper for this gig. The way to break into the field is just how you're doing it! Learning the tools and job from the ground up!
PTO: .33
Hourly: 56
Per Day: 504
Schedule: MTWTF–
Objectives: Painting 7, Logic 5
Junior 3D Forensic Animator
3D Forensic Animators use computer generated recreations to assist investigators in visually explaining complex ideas. These animators are constantly working to develop and implement cutting-edge technology to revolutionize the field of forensic animation. YOU, are basically doing whatever they ask you to do while you learn the in and outs. Coffee may be involved, so yup. Basically, you're an intern again.
PTO: .33
Hourly: 68
Per Day: 544
Schedule: MTWTF–
Objectives: Programming 7, Logic 8
3D Forensic Animator
At last! Now you're the one using state-of-the-art technology to produce visualizations which communicate to a jury the findings of an expert's scientific analysis and reconstruction of the accident. You design the graphics and court exhibits. You model CG the environments! You solve problems using analytical thinking, a sense of humor and a strong stomach (you also encounter photographs of fatal accident and crime scenes)!
PTO: .33
Hourly: 100
Per Day: 800
Schedule: MTWTF–
Objectives: Programming 9, Logic 9
Director of Visualizations
Your visualizations and graphics have been admitted in courts all over the world. You've collaborated with engineers on hundreds of vehicle accident reconstructions and industrial accidents, specializing in photogrammetric analysis of accident scene evidence; mapping accident scene diagrams; and surveillance video analysis. You manage investigation, analysis, animation production and give expert witness testimony. What can we say but… whoa!
PTO: .33
Hourly: 205
Per Day: 1640
Schedule: MTWTF–
Objectives: Programming 10, Logic 10, Charisma 3
Career cheat is tested and working!
Select CTRL+SHIFT+C
Enter:
testingcheats on
And then:
careers.promote career_Adult_UltimateAnimator
I did not in ANY way base this on any other career. It's 100% my own (and Cupcake324s ) creation and a LOT of work went into it. So…
Thank you so much in advance if you decide to try Ultimate Animator. I hope your Sim enjoys living their professional animator dreams.
Basic Download and Install Instructions:
1. Download: Click the File tab to see the download link. Click the link to save the .rar or .zip file(s) to your computer.
2. Extract: Use WinRAR (Windows) to extract the file(s) from the .rar or .zip file(s).
3. Cut and paste the file(s) into your Mods folder
Windows XP: Documents and Settings(Current User Account)My DocumentsElectronic ArtsThe Sims 4Mods
Windows Vista/7/8/8.1: Users(Current User Account)DocumentsElectronic ArtsThe Sims 4Mods
Need more information?
Anyone can use both .rar and .zip files easily! On Windows, use WinRAR.
If you don't have a Mods folder, just make one.