Animal Rescue Career Mod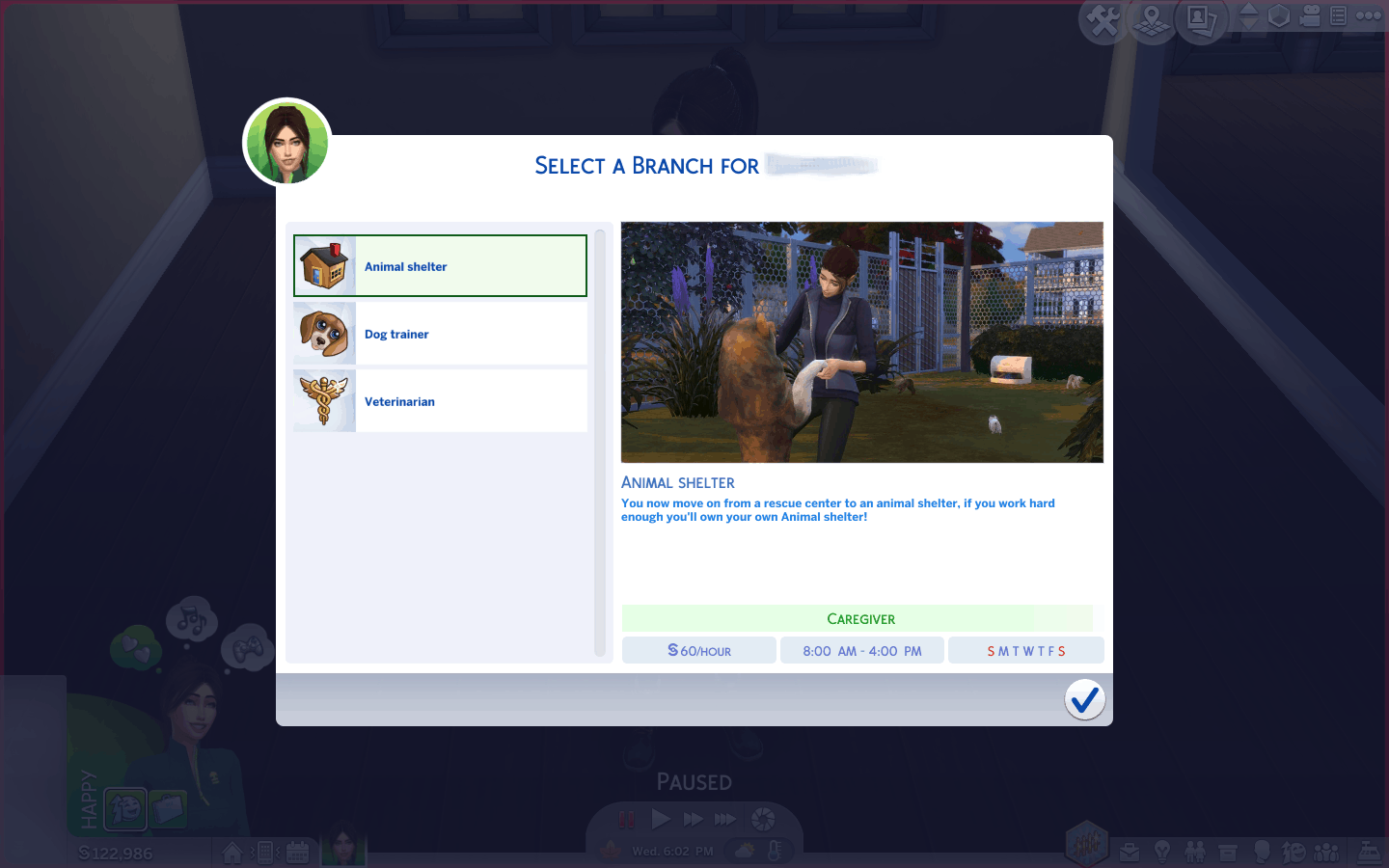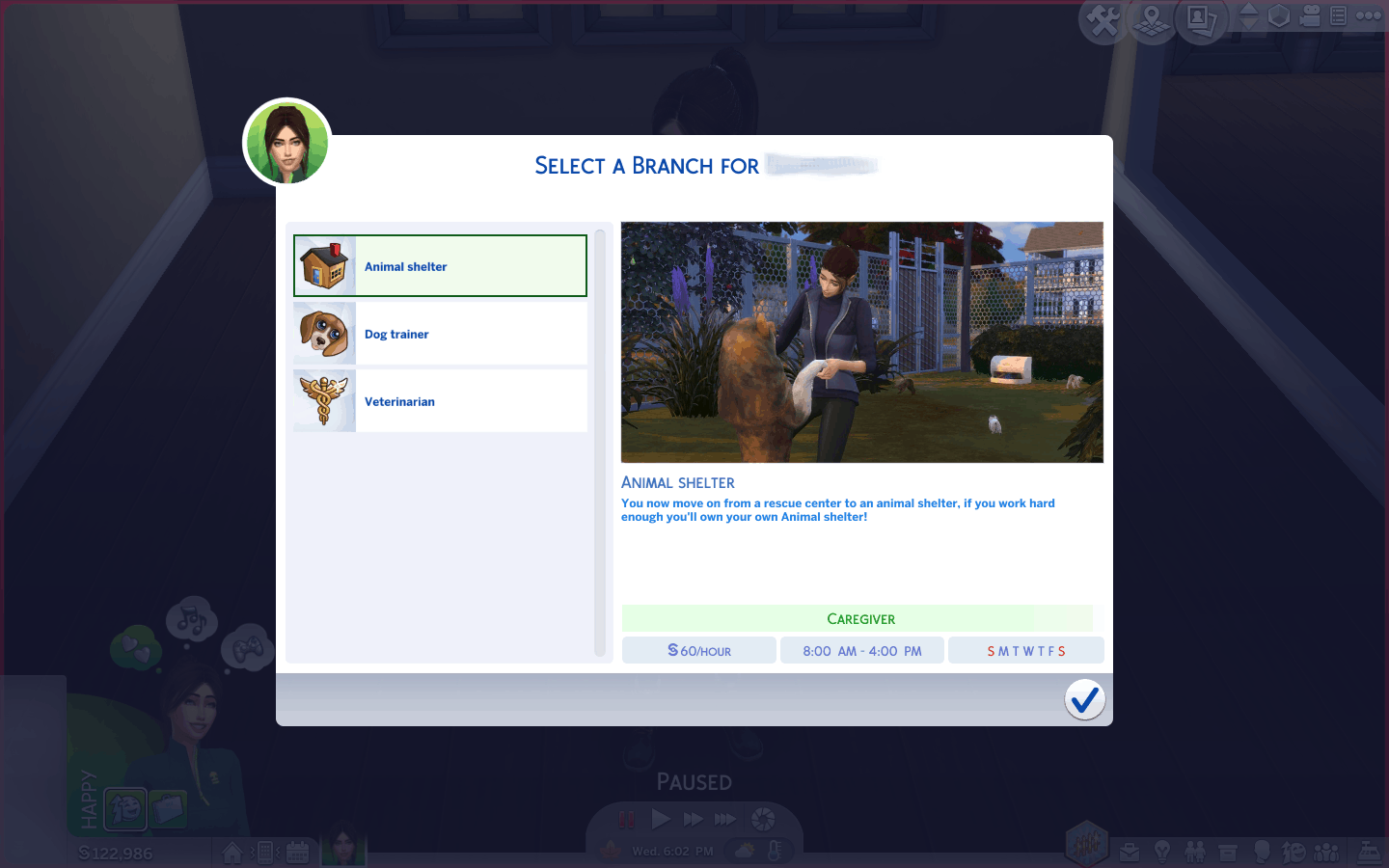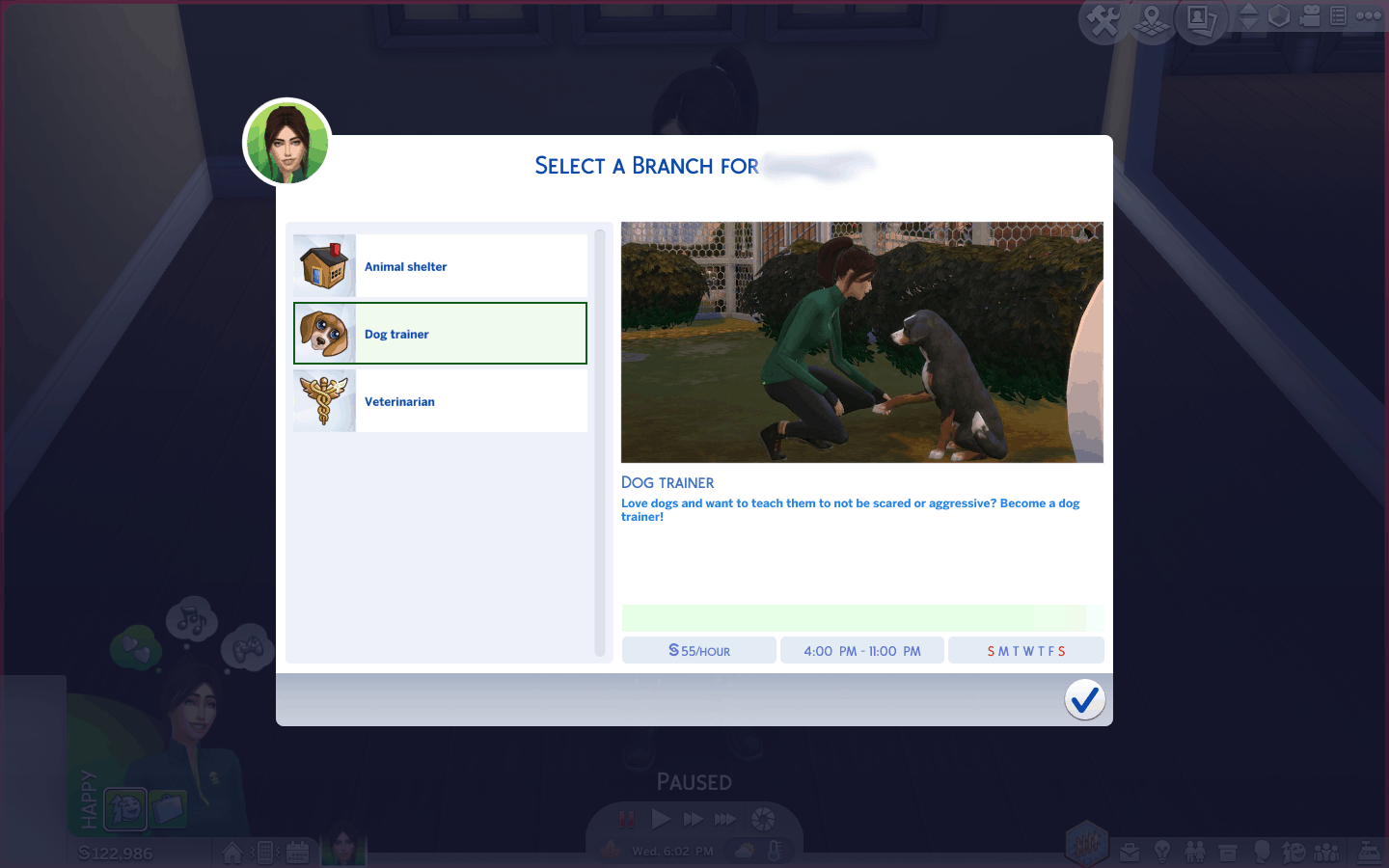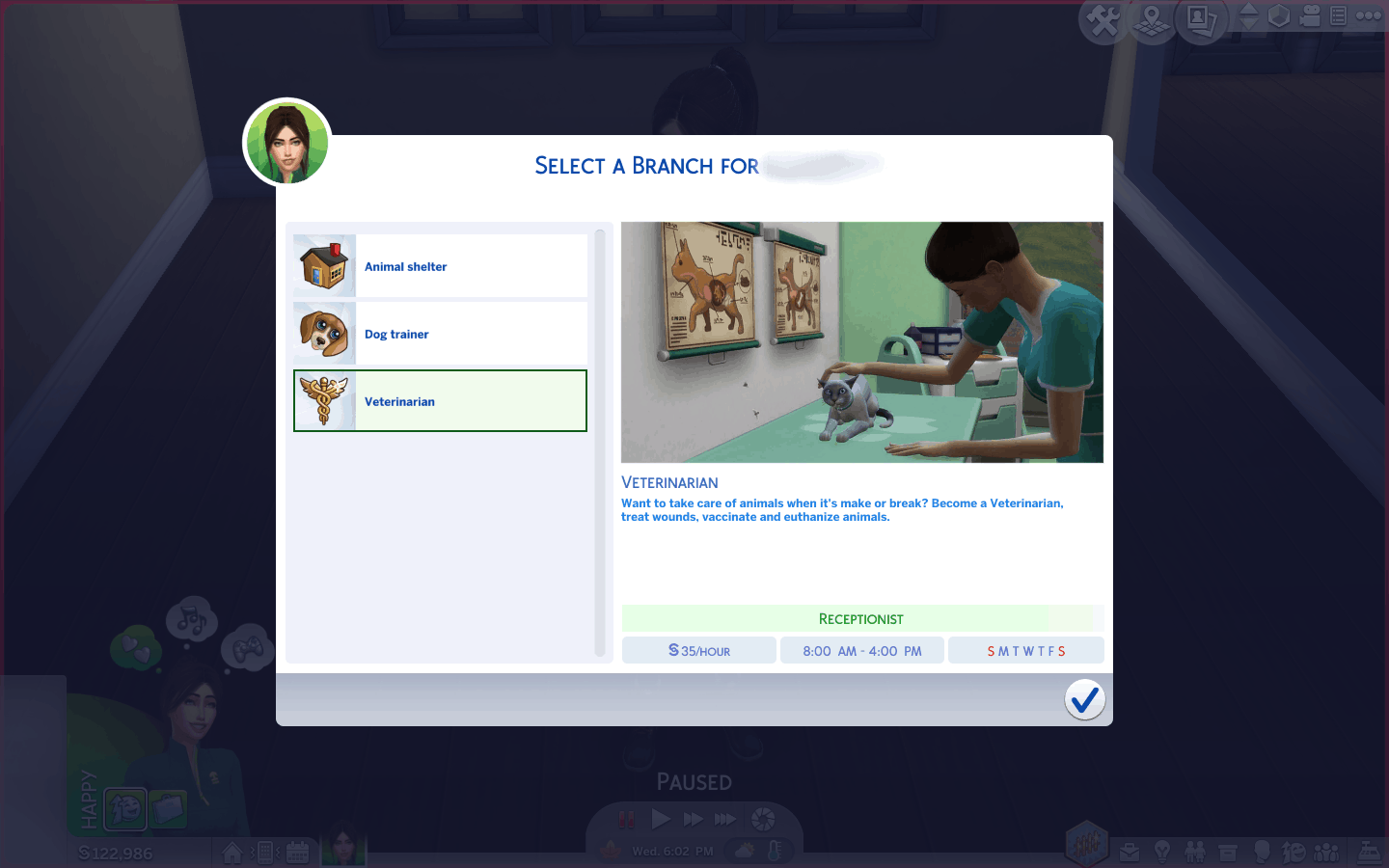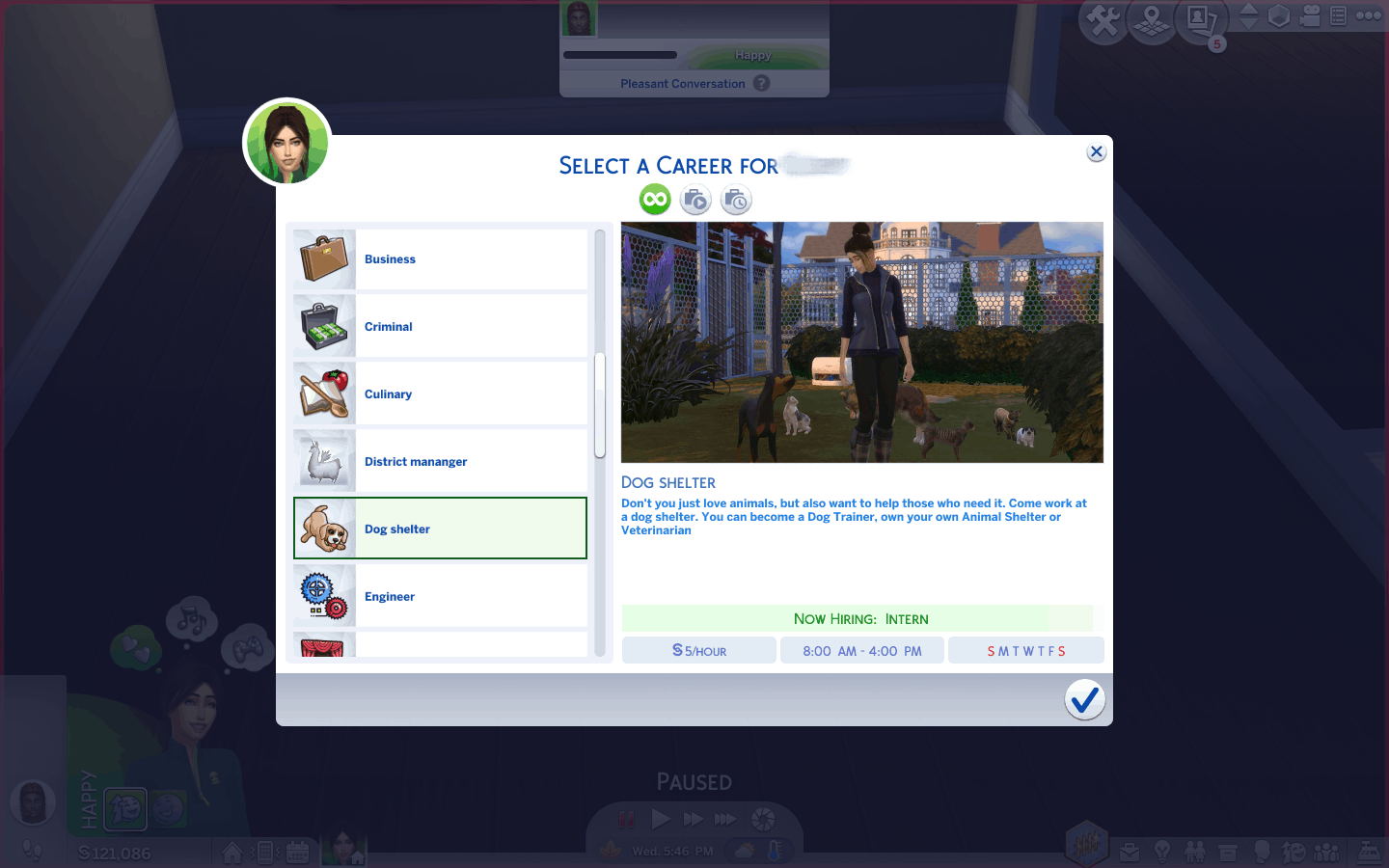 Animal Rescue Career Mod
The Animal Rescue Career is a custom career.
Patch required: 1.48.94.1020
Expansion required: Cats&Dogs
Dog shelter
Don't you just love animals, but also want to help those who need it. Come work at a dog shelter. You can become a Dog Trainer, own your own Animal Shelter or Veterinarian
Intern (5/H)
Explore the shelter, watch how the real professionals do it. Maybe you can help a little while watching.
MTWTF
Receptionist (35/H)
Answer the phone, make appointments, order food and treatments.
MTWTF
Animal Caregiver (45/H)
Take care of all the lovely animals, feed them, bathe them and love them.
MTWTF
Assistent animal rescue patrol (50/H)
Go outside to find animals who need to be rescued.
TTFS
Animal rescue patrol (60/H)
Lead the mission to go outside and find animals who need to be rescued.
TTFS
Branch 1: Animal shelter
You now move on from a rescue center to an animal shelter, if you work hard enough you'll own your own Animal shelter!
Caregiver (60/H)
Take care of all the lovely animals, feed them, bathe them and love them.
MTWTF
Animal shelter Attendant (80/H)
You now have a big role in the Animal shelter. You lead the team, make the work schedules, promote the animals for adoption and match the right animal with the right owners.
MTWTF
Owner of a small Shelter (60/H)
You start from the beginning. You have a few rescued animals, some ducks, dogs, cats and a little underweight bunny. Promote your shelter, donate money for supplies. You may not make much money but you do good work.
TWTFS
Owner of a well known shelter (120/H)
All that promoting worked off, you now have a small staff. You even have your own website! You post animals ready for adoption on there and people looking for a pet regularly check the site.
TWTFS
Owner of multiple animal shelters (300/H)
You really made a name for yourself, or atleast your shelter. The way you find the animals, the way you brind these animals back to health and the way you treat the animals. People adore you and your staff for that!
TTF
Branch 2: Dog trainer
Love dogs and want to teach them to not be scared or aggressive? Become a dog trainer!
Base training (55/H)
Give base training, learn the dogs to sit, heel, paw and more.
MTWTF
Puppy trainer (65/H)
Teach the puppy's to listen to their names, to sit and teach the owners how to make them listen.
MTWTF
Specialized scared dog trainer (80/H)
Some dogs are scared of everything. They won't go outside, they won't come out of their bench or they won't even come close to you. Give them their confidence.
MTWTF
Specialized aggresive dog trainer (100/H)
Some dogs can be aggresive. It's up to you to figure out why and solve the problem, so that the dog and the owner can be happy.
MTWTF
Dog whisperer (380/H)
You are the best trainer around. People call you the Dog whisperer. If a dog has a problem, people will come to you!
MWF
Branch 3: Veteriniarian
Want to take care of animals when it's make or break? Become a Veterinarian, treat wounds, vaccinate and euthanize animals.
Receptionist (35/H)
You're new here so you've got to start from the bottom. Answer the phone, make appointments, order food and treatments.
MTWTF
Treatment adviser (65/H)
Check the animals and advise the owners on their treatments. Does the pet need a shot or maybe some pills? Maybe they need an operation? You advice!
MTWTF
Operator of medical equipment (85/H)
You are the operator of the medical medical equipment, such as x-ray machines.
MTTF
Veterinarian (140/H)
Now you are really a vet! You do all the dirty work, by that I mean surgery's.
MTWF
Well known veterinarian (225/H)
If something is really wrong with a pet, they call you. You get calls from all over, sometimes you even have to be flown out, sometimes the neighbour needs you. If it is a hard surgery, you're there!
MWTF
Download the file and added it to your mods folder.
I also attached a Neia Careers Commons package which you will need to run this mod.
Basic Download and Install Instructions:
1. Download: Click the File tab to see the download link. Click the link to save the .rar or .zip file(s) to your computer.
2. Extract: Use WinRAR (Windows) to extract the file(s) from the .rar or .zip file(s).
3. Cut and paste the file(s) into your Mods folder
Windows XP: Documents and Settings(Current User Account)My DocumentsElectronic ArtsThe Sims 4Mods
Windows Vista/7/8/8.1: Users(Current User Account)DocumentsElectronic ArtsThe Sims 4Mods
Need more information?
Anyone can use both .rar and .zip files easily! On Windows, use WinRAR.
If you don't have a Mods folder, just make one.