Animated – Placeable Birds – Small Birds Pack Mod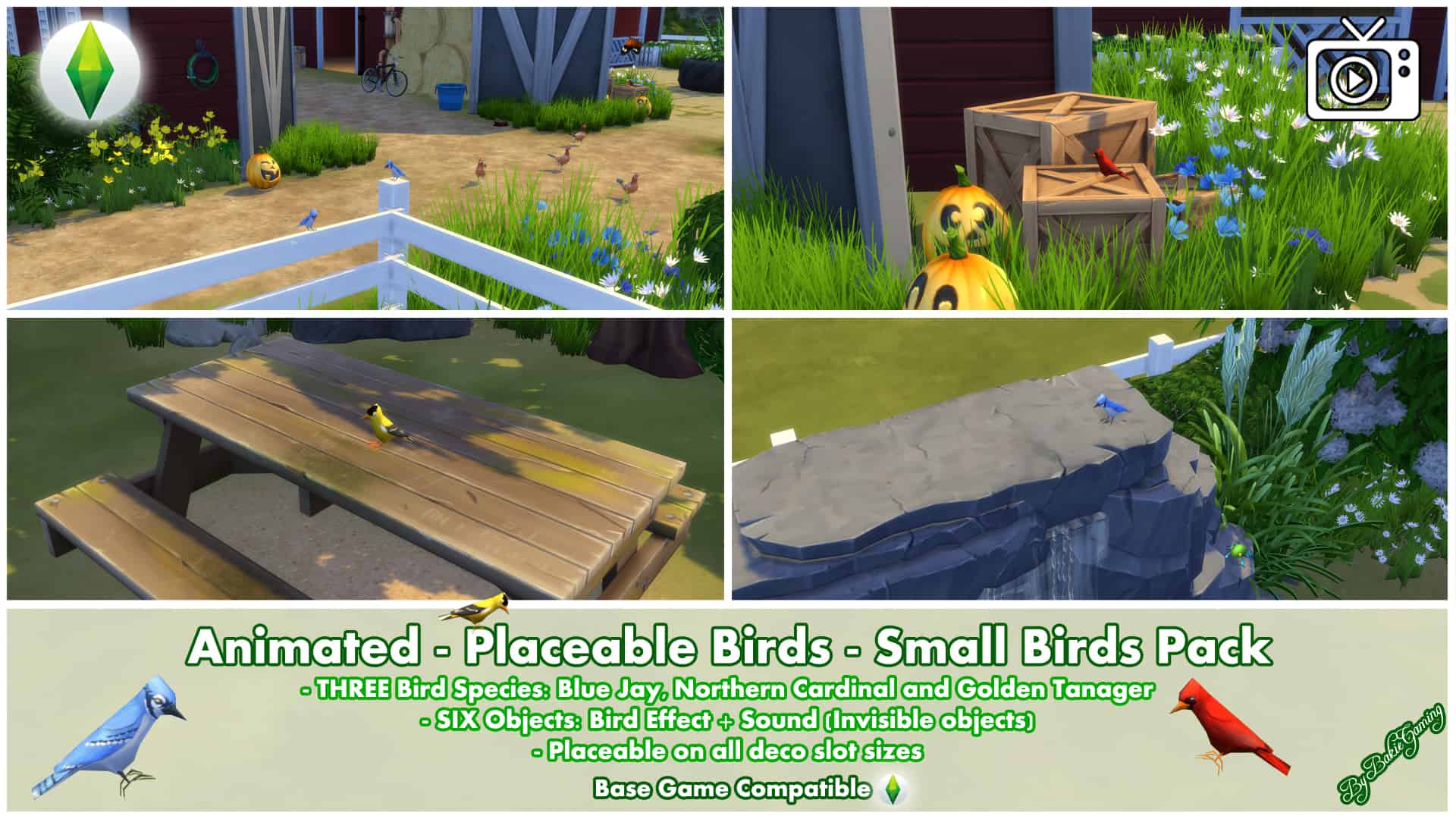 Animated – Placeable Birds – Small Birds Pack Mod
This is a new mesh, and means that it's a brand new self contained object that usually does not require a specific Expansion pack (although this is possible depending on the type). It may have Recolours hosted on MTS – check below the description for more information.
Animated – Placeable Birds – Small Birds Pack
In this small birds pack, you can find 3 different bird species divided into 6 different objects.
The bird species available in this pack are: the Blue Jay, Northern Cardinal and Golden Tanager.
As for the objects, you will find 2 objects for each bird. One object will spawn the bird just looking around and on the other one will spawn a bird looking around and eating.
Just as almost every Animated Animal object, the objects theirselfs are invisible. After placement, there won't be any bird yet, but go into live mode and it will appear.
Besides the possibility of placing them onto the ground, they're also placeable on all deco slot sizes. This makes it possible to place them onto my Wooden Fences for example, which I released a few weeks back. You can also place them on other objects containing deco slots, like picknick tables.
One disadvantage of these birds, is that they will disappear when moving too far away from your lot.
The only way to get them to re-appear is by opening the world map and loading your lot again.
To see all bird effects in motion, some more tips and tricks on how to use them, a few example scenes and the ability to download a BONUS object, take a look at the video (+ Description)!
Object information:
This mod only requires the Base Game.
It's a Standalone object, so it won't override any other objects in game.
To easily find the different bird species, type the following words into the search bar:
"Jay" for finding the Blue Jay objects, "Cardinal" for finding the Northern Cardinal objects and "Tanager" for finding the Golden Tanager objects.
You can also find them by going to the Decoration's Misc section OR the Roof's Decorations section.
It can be recognized by my "BakieGaming" icon in the lower right corner of the thumbnail.
The cost are for all of them: 4 Simoleons
Game Requirements:
Base Game compatible
Game Version:
Tested with gameversion: 1.62.67.1020
I hope you like this Animated Small Birds Pack and if you do, please leave a comment!
If you want to use it in screenshots or videos, be sure to give me some credit!
Polygon Counts:
4 vertices and 2 polygons
Additional Credits:
Thanks to the Sims 4 Studio
Thanks Adobe for making Photoshop