Bowling Career Mod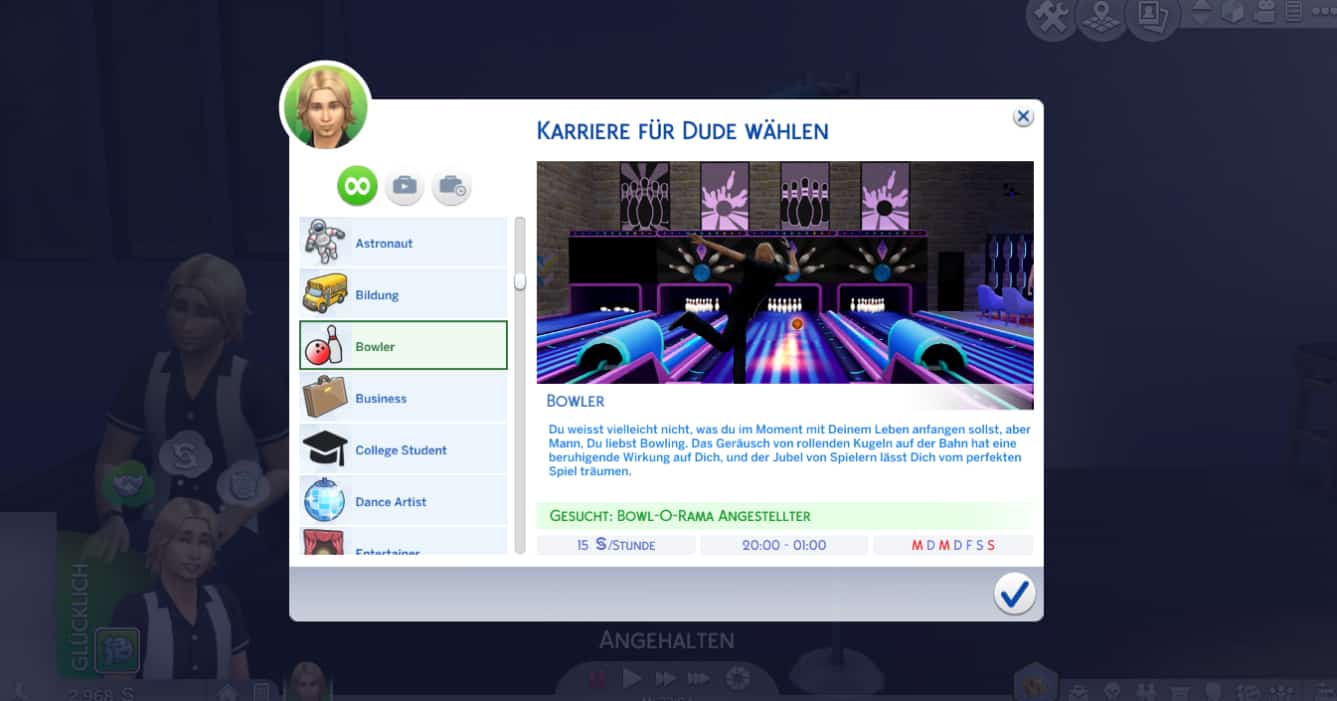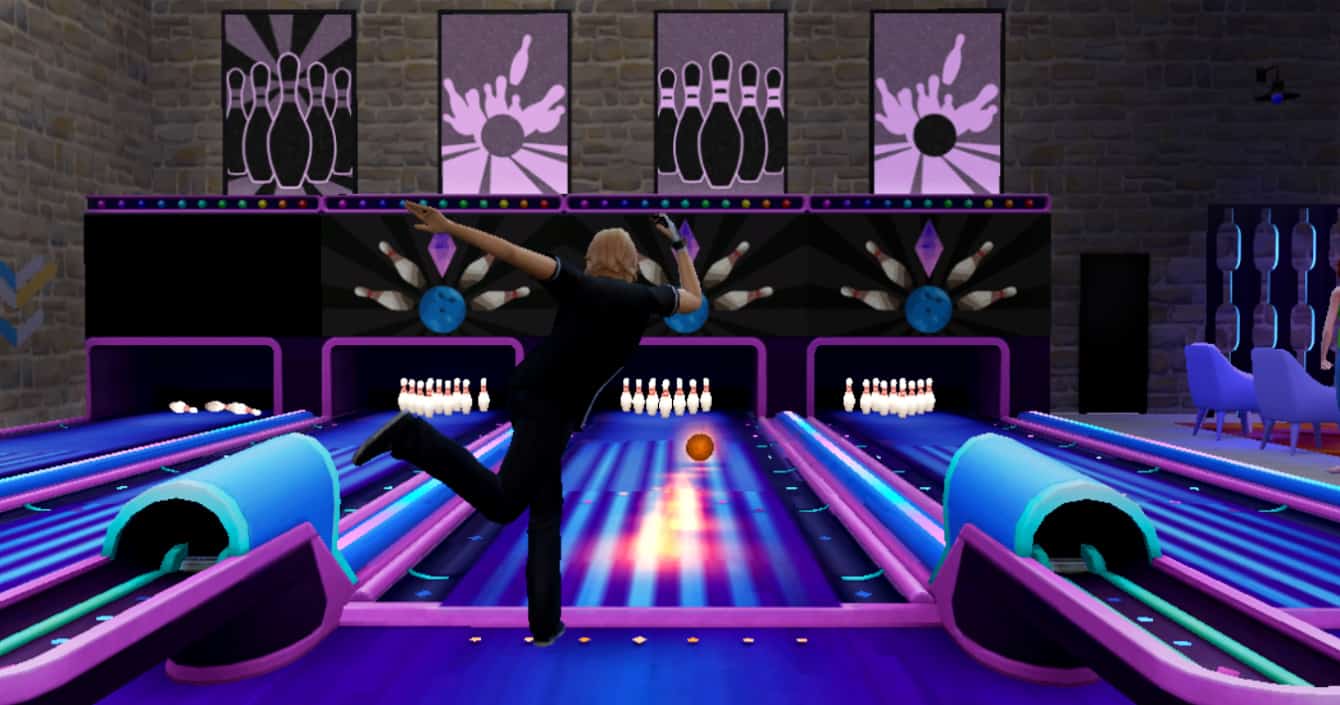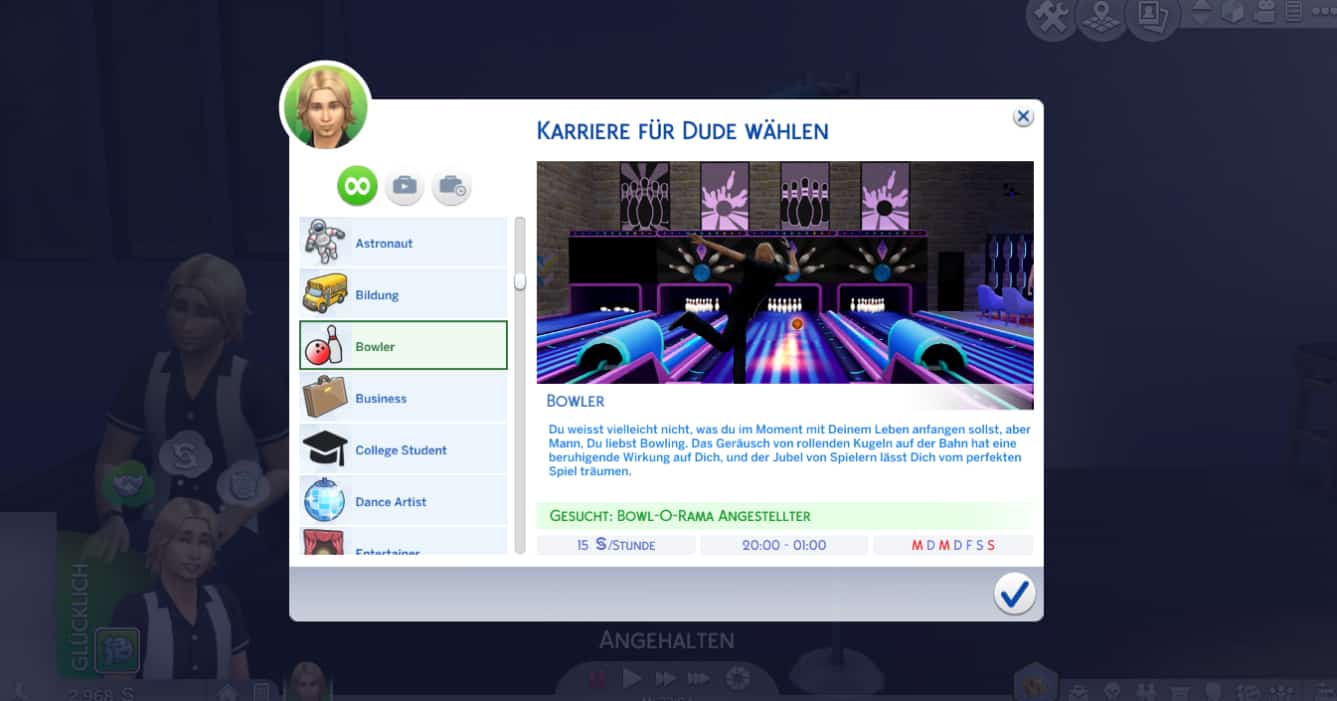 Bowling Career Mod
14/02/2019: Update for Patch 1.49.65.1020!
Update for Seasons Patch Version 1.46.18.1020
Professional bowling is an international sport and recreational activity, and i liked the idea of creating this career mod for sims who dream of the perfect game.
It is a 5 Level rabbithole career, i set the salary for what i thought was adequate, as working hours more resemble those of a part time occupation. Main skills are Bowling and Handiness, so the Bowling Night Stuff Pack is required to play this career mod, as well as the Neia_Careers_Commons.package which is included in the zip file.
The career was created with Neias Create-A-Career tool beta, so no job outfits, daily tasks, or rewards.
Career Details:
Sims start out as Bowling Center Employee and can work their way up to a Perfect Game Legend. Reaching the max career level is a not too easy task.
Bowler:
You might not really know what to do with your life right now, but boy, you love bowling. The sound of bowling balls running down the lane relaxes you, and the cheers of people makes you dream of the perfect game.
Level 1: Bowl-O-Rama Employee 15$/h
You rent out lanes and shoes, unjam the pinsetters, polish the lanes and sometimes unclog the toilets. But when off duty you can use the lanes for free as much as you like to.
Work: – T – T F S – 8pm-1am
Mood: Fine
Objective: Bowling 2 Handiness 2
Level 2: Jackpot Bowler 30$/h
You play with anyone who wants to place a little bet on a game. Luckily you win more than you lose, giving professional players a wide berth. You're bold, not stupid.
Work: – T – T F S – 8pm-1am
Mood: Focused
Objective: Bowling 3 Handiness 3
Level 3: Amateur Team Bowler 50$/h
You've joined one of the many teams in the amateur league, striving to win the trophy, prize money and a chance on going professional.
Work: – T – T F S – 8pm-1am
Mood: Focused
Objective: Bowling 4 Handiness 4
Level 4: Professional Bowler 75$/h
Your talent has opened the door to playing in the professional league. A spectacular seven-ten split has won you a generous sponsor. Boy, you really love bowling!
Work: – T – T F S – 8pm-1am
Mood: Focused
Objective: Bowling 5 Handiness 5
Level 5: Perfect Game Legend 100$/h
You've played the perfect game. It was in the newspaper and on tv. Now you've got advertisement contracts aplenty, and there will be new opponents to beat next season.
Work: – T – T F S – 8pm-1am
Mood: Focused
Objective: –
Paid Time Off is 0.2 for level 1-3 and 0.25 for level 4-5
Sims with handiness 5 can upgrade private lanes with moonlight bowling.
career cheat is careers.promote bowling
Available translations: english, german
Please give me feedback on how you liked to play this career mod, also if you run into any issues with it.
If you're interested in translating it to an other language, send me a pm.
Basic Download and Install Instructions:
1. Download: Click the File tab to see the download link. Click the link to save the .rar or .zip file(s) to your computer.
2. Extract: Use WinRAR (Windows) to extract the file(s) from the .rar or .zip file(s).
3. Cut and paste the file(s) into your Mods folder
Windows XP: Documents and Settings(Current User Account)My DocumentsElectronic ArtsThe Sims 4Mods
Windows Vista/7/8/8.1: Users(Current User Account)DocumentsElectronic ArtsThe Sims 4Mods
Need more information?
Anyone can use both .rar and .zip files easily! On Windows, use WinRAR.
If you don't have a Mods folder, just make one.