Custom Scenario: Therapeutic Tenderness Mod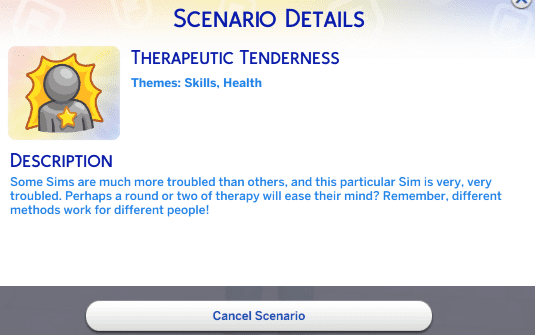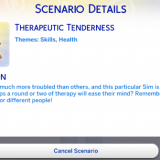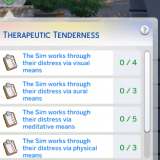 Custom Scenario: Therapeutic Tenderness Mod
Art Therapy – the top one – requires hitting level 5 in three creative skills, taking one of those skills to level 10, painting a masterpiece, and… lighting a fire (meant to represent burning away the demons written down).
Music Therapy needs Get Famous to function properly, as it requires maxing the Singing skill and getting another instrument to level 8, then writing a song about the Sim's experience. It also originally included playing said song, but I couldn't get that to take.
Wellness Therapy revolves around Spa Day, since it requires maximizing the Wellness skill and activating four unique emotional surges.
Dance Therapy (debating changing to Physical Therapy) needs Get Together to facilitate maximizing the Dance skill and participating in a dance battle, in addition to gaining certain moodlets from the punching bag.
Dream Therapy is exclusive to the Therapy_Triplis file, and requires the Thinking Skill Mod. If using this version, you need to complete your aspiration, sleep in a fully upgraded bed, and Soul Search for focused, happy and inspired moodlets respectively.
In addition to the 'invalid household' and 'Sim dies' endings, there is a further secret ending wherein the Sim relapses in terms of health. Completion requires making five enemies, winning a fight, losing another fight, and putting the Sim's health at risk.