Journalism Career Mod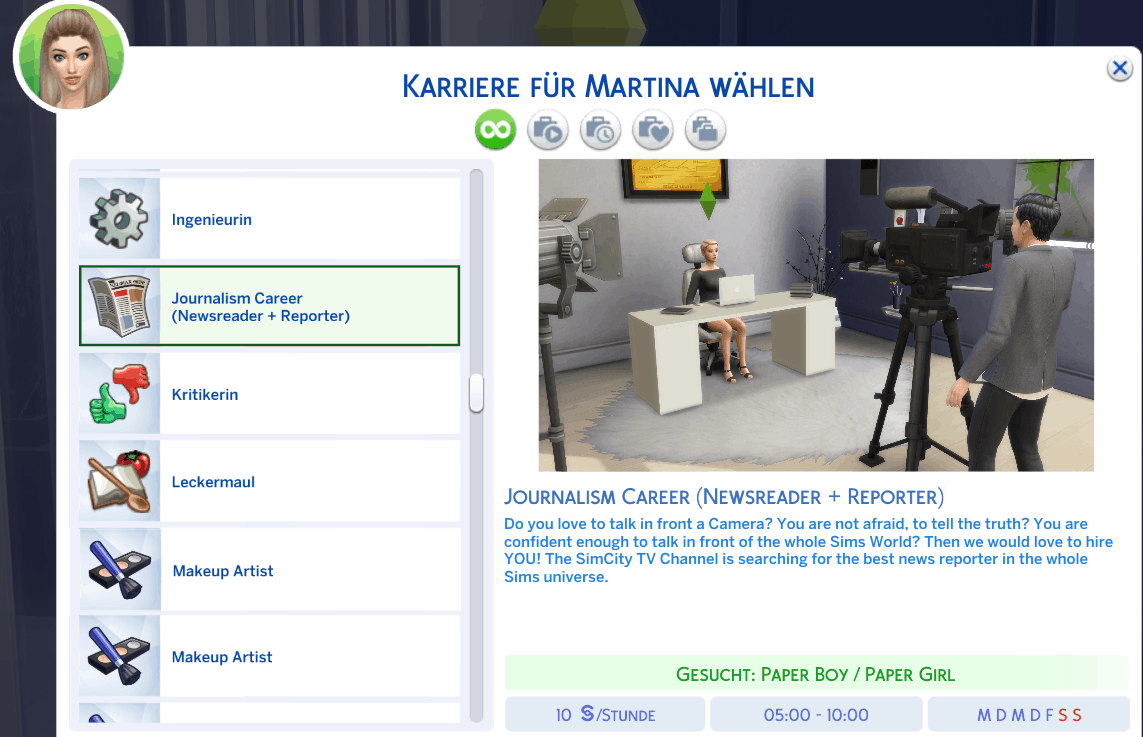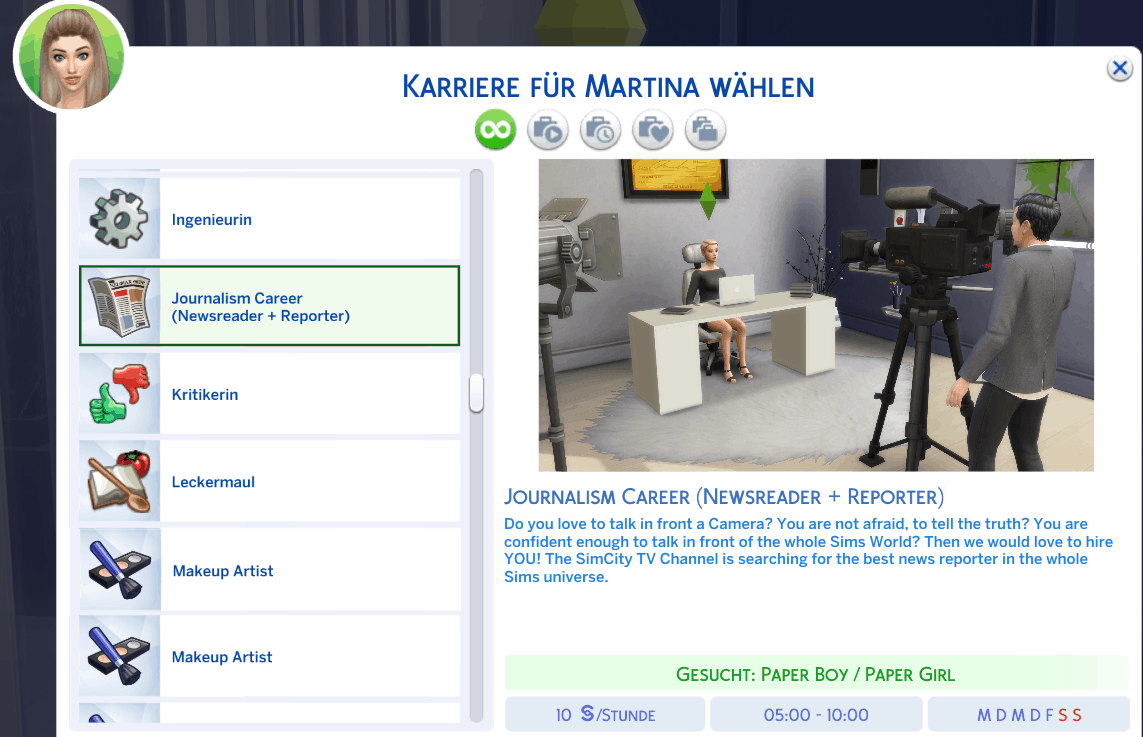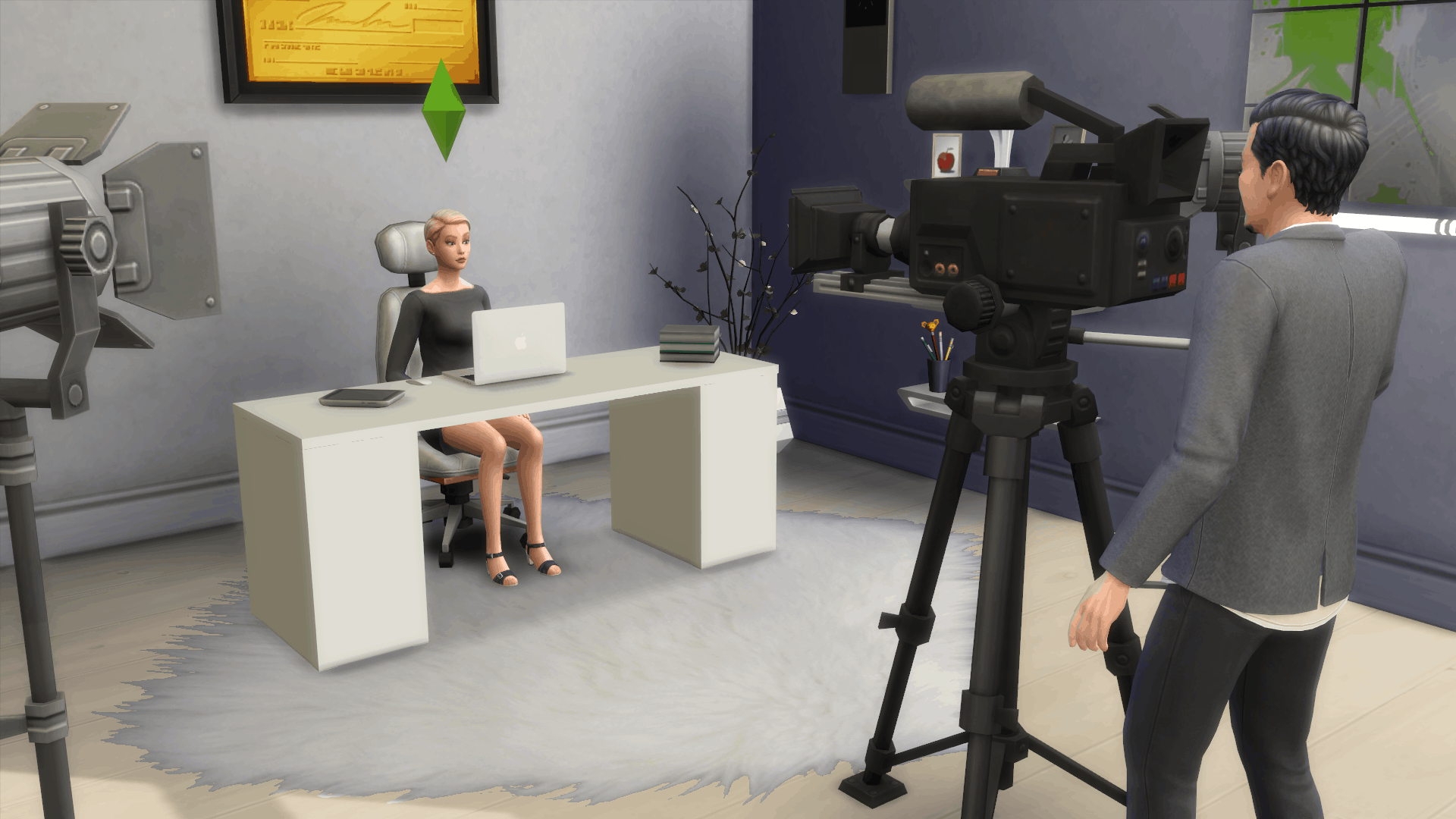 Journalism Career Mod
Introduction:
I added a Journalism Career I hope you guys like it! If u have any problems please let me know ^-^ If you guys have any wishes please let me know them, i will try to make more Careers
Basic Information:
Title: Journalism Career
Levels: 10
Workplace: SimCity Tv
Description: Do you love to talk infront a Camera? Are you not afraid, to tell the truth? Are you confident enough to talk in front of the whole Sims World? Then we would love to hire YOU! The SimCity TV Channel is searching for a new main tv Newsreader!
Technical: Base Game compatible.
Made with Game Version 1.61.15.1020
Languages: This career is currently only available in English!
1. Paper Boy / Paper Girl
10/Hour 5am to 10am M T W T F
Objectives: Level 2 Fitness
Description: Thank you for joining our TV Channel. We have to deliver newspapers before we can make you the ultimate news reporter since we are a new tv channel many Sims maybe still didn't hear of us, you have to show them that we exist!
2. Camera Assistant
14/Hour 6pm to 11pm M T W T F
Objectives: Level 2 Logic
Description: Well, before you become our Head News reporter there are several things to do. Our head Cameraman needs some help, so before you can stay INFRONT the camera why don't you just look at what happens behind the camera?
3. Blog Writer
18/Hour 8am to 2pm M T W T F
Objectives: Level 2 Writing
Description: The Editor noticed your hard work and wants you to start a small blog on our homepage. Let your ideas roll on the homepage maybe the Editor will give you soon the next promotion! Remember we always write the truth! That's why we are so different from the other TV Channels.
4.Fact & truth Checker
22/Hour 7am to 2pm M T W T F
Objectives: Level 3 Writing
Description: Our TV Channel trusts you so much! Every News to be featured in the public eye will first be checked by you before its spread in the Sims World. Make sure to double-check and try to avoid making mistakes.
5.Kids Channel Host
26/Hour 8am to 2pm T F S S
Objectives: Level 2 Charisma
Description: This is your first work infront of the Camera! Our TV Channel has our own Kids Program but sadly we couldn't find any Host for this Show. This is your chance to show how much you learned about your work. Don't forget to prepare some handicraft, so you can teach the kids how to do it at home!
6.Sports reporter
30/Hour 6pm 11pm M W F S S
Objectives: Level 3 Fitness & Level 3 Charisma
Description: You did great as the Host from the Kids Channel. Its time to get serious! You will be going to every local sports game. Even if our beloved Llama Football Team loses we have to show the world what went wrong. Our Channel is getting bigger and more people are watching our Channel.
7. Star reporter
36/Hour 6pm to 11pm T T S S
Objectives: Level 4 Charisma
Description: Well done! You are going to boom this Channel with your hard effort! Since we need to find out more about our lovely Celebrities it's your time to find the truth! Don't be afraid to show the truth about any Celebrity. We stand by the truth no matter the consequence!
8.Investigative Reporter
45/Hour 7am to 2pm M T W T F
Objectives: Level 5 Charisma
Description: Its time to dig deep! Everything which could make our Channel more famous is warmly welcomed. We heard that some weird things are happening in Strangerville. Find out what's happening there and bring us the proof that we are right about what we are thinking!
9. Local Newsreader
65/Hour 8pm to 12am M W F S
Objectives: Level 6 Charisma
Description: You made it all the way up! You are our local newsreader. The Viewers love your hard work and they appreciate that we are an honest tv channel! Without You, we wouldn't be standing here!
10.The SimCity main Newsreader
80/Hour 7pm to 11pm M T W T F
Objectives: Level 7 Charisma & Level up Writing skill
Description: Congrats! You made it! All the viewers wanted to see you more often! Our Viewers love you! You are being honest and that's the key to success! You did a great job and we love to have you as our head newsreader! We are proud. Thanks for making The SimCity such a nice and big Channel. We hope to work many years with you.