Longer Peed Self Buff Mod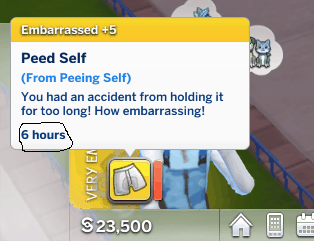 Longer Peed Self Buff Mod
When your sims peed them self, have you ever thought about how short the effect is? Like it just give your sims a few hours of embarrassment and then it just goes away?
Well then, look no further and makes your sims think twice before they peed them self again!
This mod will lengthen the peed self buff to 6, 8, 12 or 24 hours as you see fit. Just choose the file, extract it and drop it to mods folder and pay more attention to their bladder.
This is my first (successful) mod I've made. Feel free to gives your opinion, report bug, or leave any suggestion (Core Tuning mod only).
Made with:
Sims 4 Studio v.3.1.2.4 (Wishes)
The Sims 4 1.64.84.1020
Although i haven't seen any difference in the game script since 1.47, it's still recommended to use 1.64.
This mod override:
000000000000320F (Buff_Motives_PeedSelf)
Default value: 240 (in-game minutes)
Fun Fact: I made this mod in under 2 minutes, while i made this whole description for more than half an hour.
Additional Credits:
Sims 4 Studio