Makeup Artist Career-10 levels Mod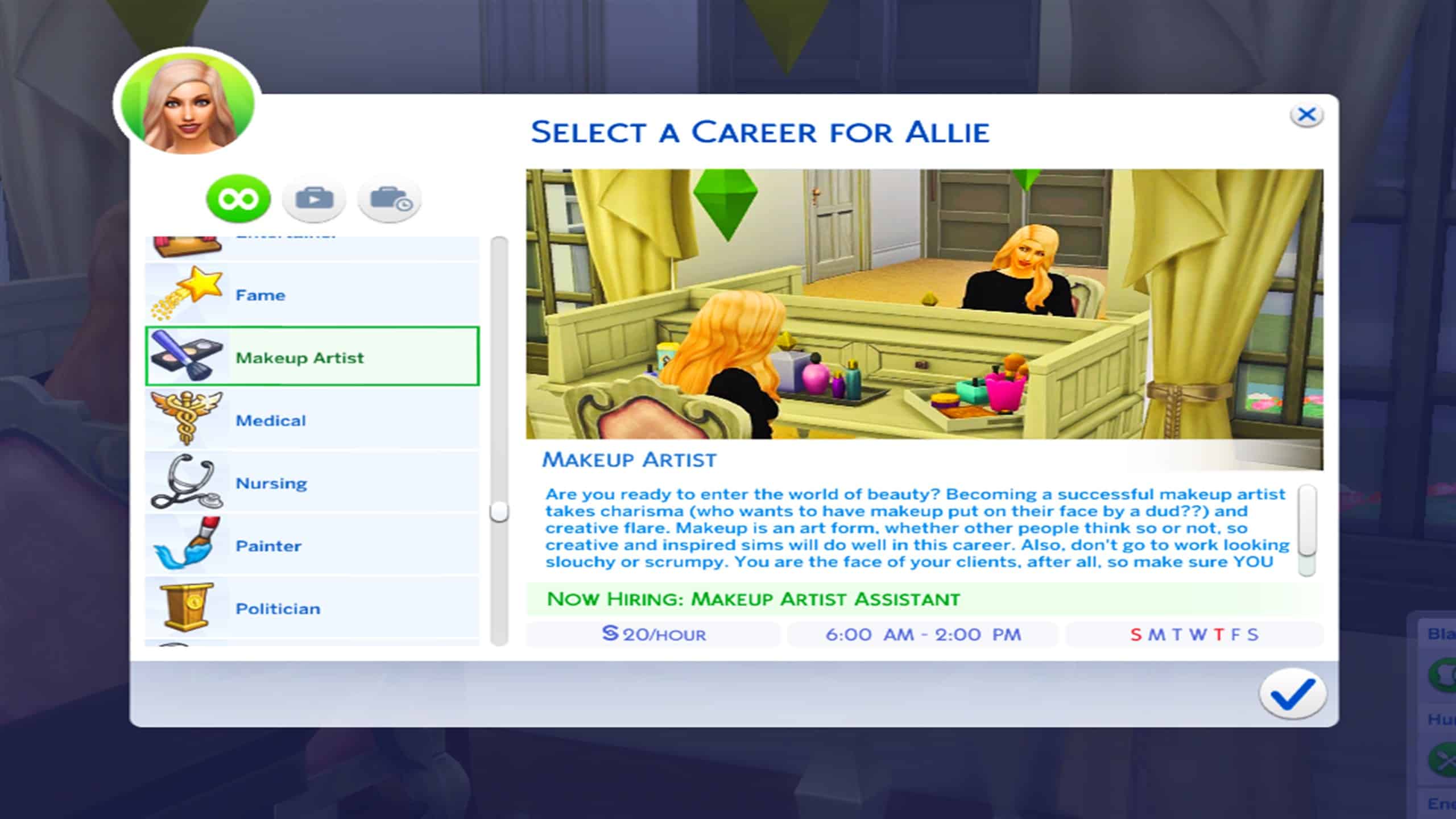 Makeup Artist Career-10 levels Mod
re you ready to enter the world of beauty? Becoming a successful makeup artist takes charisma (who wants to have makeup put on their face by a dud??) and creative flare. Makeup is an art form, whether other people think so or not, so creative and inspired sims will do well in this career. Also, don't go to work looking slouchy or scrumpy. You are the face of your clients, after all, so make sure YOU look as great as you're going to make them!
I'm a freelance makeup artist, so I thought this would be fun to make! This career only has 1 track, but it has the standard 10 levels. It is a rabbit hole career where your sims will need to max their charisma skill and get to level 2 of their photography skill to get to level 10.
Cosmetology Student It's time to learn! Cosmetology students learn how to cut and color hair, but they also learn how do what YOU'RE most interested in: apply makeup. For practice, you're allowed to charge $10 for a makeover. Yes, it's not much, but you're learning. After all….Sims won't get AS mad at you if you do a bad job if they're only paying you $10.
Mood: Inspired
Skills: Charisma 1
Pay: 10/hr.
Schedule: M T W T F – –
Salon Receptionist There weren't any makeup jobs available at any of the local salons, so you decided to take a job as their receptionist to get your foot in the door. You're in charge of keeping up with appointments, which is important since you might be on the other side soon. Keep on a happy face and you might just get promoted.
Mood: Happy
Skills: Charisma 2
Pay: 15/hr.
Schedule: M T W – F S –
Makeup Artist Assistant One of the makeup artists has been so busy she decided to hire you as an assistant! You'll be cleaning her brushes, making sure her makeup stays in-stock, and running out to purchase more if she runs out. You're learning a great deal just by watching her, and she said if you keep up the charisma with her clients she might just train you!
Mood: Inspired
Skills: Charisma 3
Pay: 20/hr.
Schedule: M T W – F S –
Trainee Artist You did such a good job as her assistant, the makeup artist decided to train you! You're learning so much more from her than you ever did in cosmetology school, and she wants you to learn the basics of photography so you can start building your portfolio. After all, you won't get clients if you don't have work to show them!
Mood: Inspired
Skills: Charisma 4, Photography 1
Pay: 25/hr.
Schedule: M T W – F S –
Makeup Artist (salon) Your training went so well that the salon owner decide to hire YOU when one of her artist quit! Now, you have your own clients coming in for all sorts of events like proms and weddings. You're portfolio is growing every day, and you love your job, but sometimes you wonder what it would be like to go on your own.
Mood: Inspired
Skills: Charisma 5
Pay: 40/hr.
Schedule: – T W – F S S
Freelance Artist You figured out that you could get even more clients by freelancing, so here you are! Clients love that you come to them, especially when they're stressed over a big event like a wedding! You can charge what you want, and as your skills grow so does your paycheck. Make sure to keep up the charisma, because clients are much more likely to recommend you to other sims if you have a personable attitude!
Mood: Inspired
Skills: Charisma 6 Photography 2
Pay: 60/hr.
Schedule: – T W – F S S
Theatre Artist One night you did makeup for a big-time Simbroadway actor, and he was so impressed he told his boss about you. His boss just so happened to need a full-time makeup artist for his shows, so he gave you a call, and you accepted! Your days of weddings, engagements, and proms are over, and now you've stepped into the showbiz world! Every night actors are performing in front of thousands of sims, so make sure they look their absolute best!
Mood: Inspired
Skills: Charisma 7
Pay: 65/hr.
Schedule: – T – T F S S
Editorial Makeup Artist An editor at Sim Vogue was watching one of your shows and was so impressed by your work, she reached out to you through Simstagram. Next thing you knew, you were sitting in an interview being offered a fantastic job doing makeup for all of the celebrities being featured in her magazine! The fashion is so inspiring you're able to try out more daring makeup, and it turns out you're great at it! Keep up the networking and you're career could get even farther!
Mood: Inspired
Skills: Charisma 8
Pay: 70/hr.
Schedule: – T – T F S S
Big Screen Makeup Artist You know the famous director, Malcom Simsie? He's hired YOU to do all the makeup for his newest movie! At first you're star struck by the famous sims who are sitting in your chair, but you quickly turn on the charisma and get into your creative zone. The actors and actresses love you, and a few of them have asked you to do one-on-one jobs with them. Your name is getting just as famous as theirs, and makeup-loving sims are noticing you on the street. This is the life!
Mood: Inspired
Skills: Charisma 10
Pay:100/hr.
Schedule: M T W – F S –
Celebrity Makeup Artist Wow. You're the full-time personal makeup artist for the MOST famous sim, Emelia Goth. You meet her every morning for coffee, gossip, and of course, her makeup. Her home is breathtaking, and she's paying a very pretty penny to make her look gorgeous every single day. Your social circle is filled with beautiful actors, models, and singers, and they all love you. Fame, glamour, and makeup… You've made it!
Mood: Inspired
Pay: 125/hr.
Schedule: M T – T F S –
I would still LOVE if someone could contact me about creating chance cards. I've been trying to find a resource, but I'm not having any luck. Chance cards could make these careers even better!
Created with Patch 1.42.30.1020
Basic Download and Install Instructions:
1. Download: Click the File tab to see the download link. Click the link to save the .rar or .zip file(s) to your computer.
2. Extract: Use WinRAR (Windows) to extract the file(s) from the .rar or .zip file(s).
3. Cut and paste the file(s) into your Mods folder
Windows XP: Documents and Settings(Current User Account)My DocumentsElectronic ArtsThe Sims 4Mods
Windows Vista/7/8/8.1: Users(Current User Account)DocumentsElectronic ArtsThe Sims 4Mods
Need more information?
Anyone can use both .rar and .zip files easily! On Windows, use WinRAR.
If you don't have a Mods folder, just make one.