Mental Support and Wellbeing Lot Trait Mod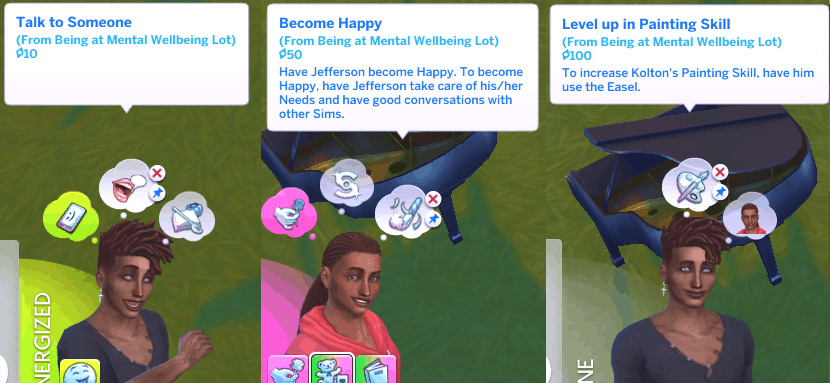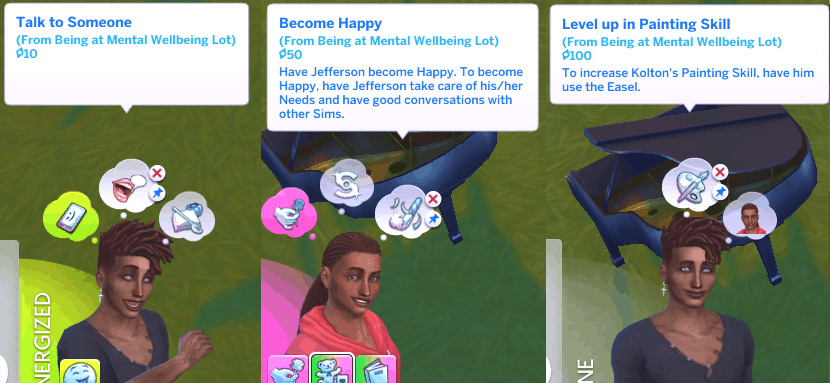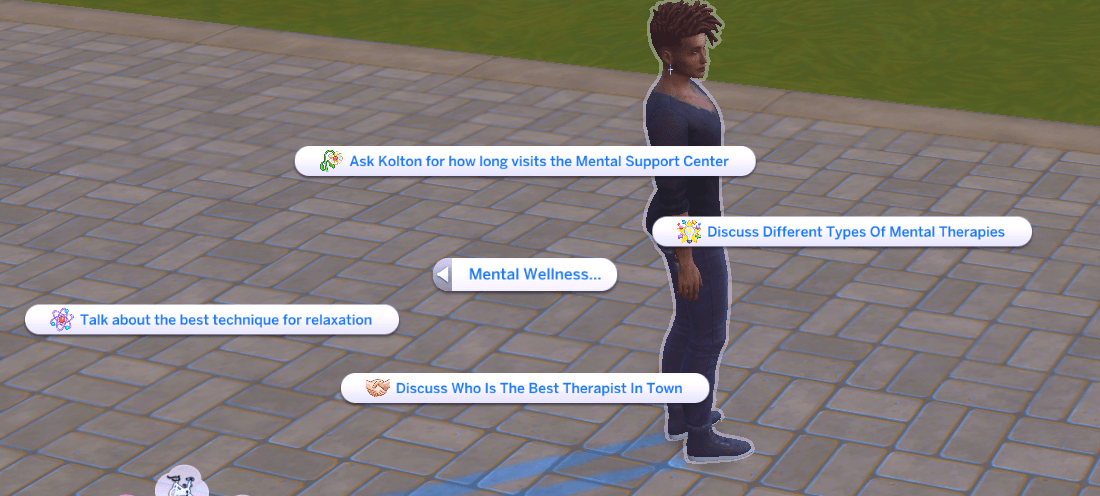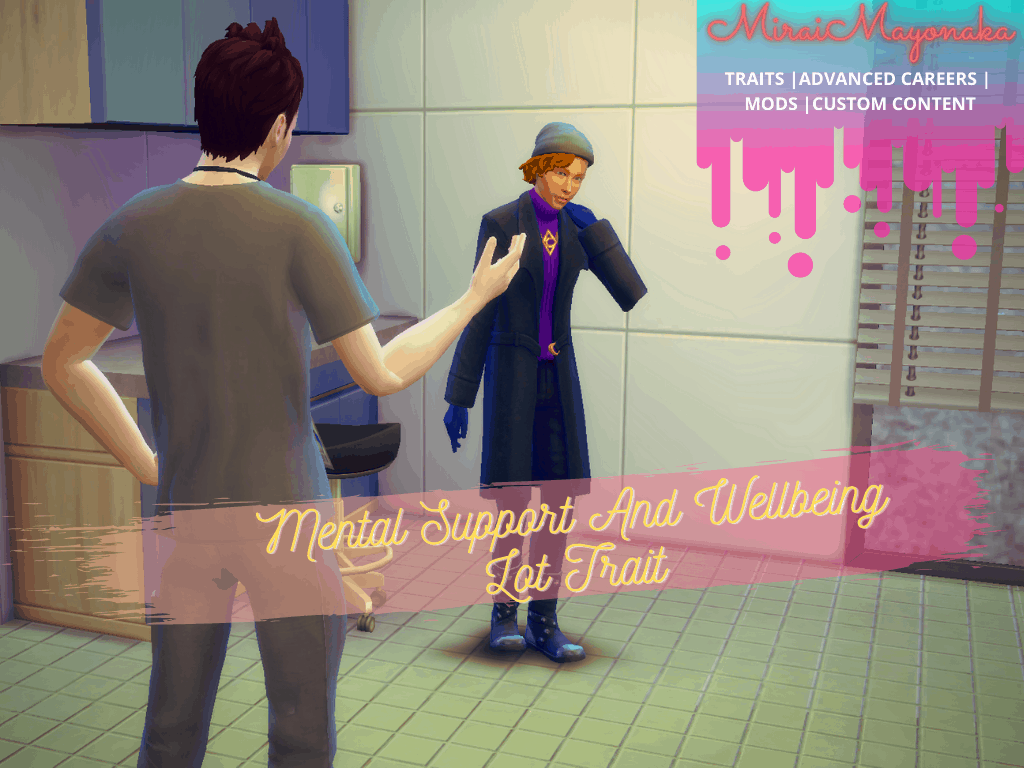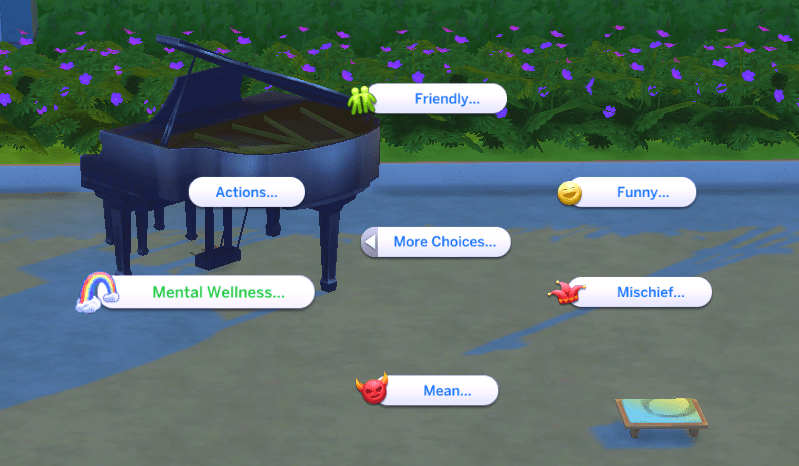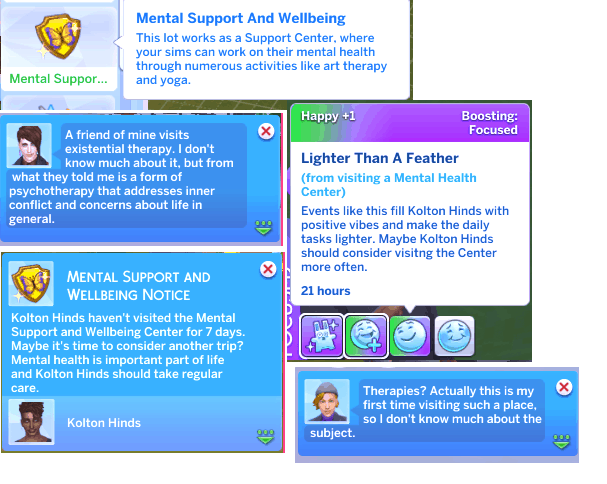 Mental Support and Wellbeing Lot Trait Mod
Isn't it interesting how in the Sims you have Vet Clinic Venue and a Hospital Venue (although you don't really use it unless your sim is not in the medical career), yet there is no venue for mental support?
Mental Health is an unknown word in the world of sims, but guess what? I
decided to introduce it to them, through a simple lot trait.
NOTE: THIS MOD REQUIRES SPA DAY!
This lot trait was created with the idea to use it as a place where your sims can relax mentally, meet with other sims and do therapeutic exercises like painting, meditation, yoga, and so on. While on this lot Sims build creative skills (musical instruments and painting, in particular, this does not include organ) faster (2x rate) as well as fitness and meditation. Increase the fun and social motive (again 2x rate), and sims gain friendship easier on this lot.
While your sims are on the lot, they will have a new pie menu called "Mental Wellness" that includes 4 social interactions. Two of the interactions give a moodlet to the actor, and from the other two, the actor will receive a notification with a random response from the target sim. And of course, I added a bunch of the old-school whims! Who doesn't like whims? While on the lot, your Sim will receive whims related to the creative and active skills (play a piano, painting, play the violin, write, play the guitar, exercise, gardening).
When your sim leaves the lot, they will receive one of 4 options (all positive) moodlet that will last almost a day.
And lastly … If your Sim, once being at the lot, doesn't visit the lot within 7 days straight, they will receive a reminder notice.
Your sim won't receive any negative moodlets from being away, I added this notice because I thought is nice and more realistic, it's like a subscription to a Support Group. If you want me I can add in a future update negative moodlets if your sims are
away for too long.
Interactions: (4)