Office Assistant Career (Part Time) Mod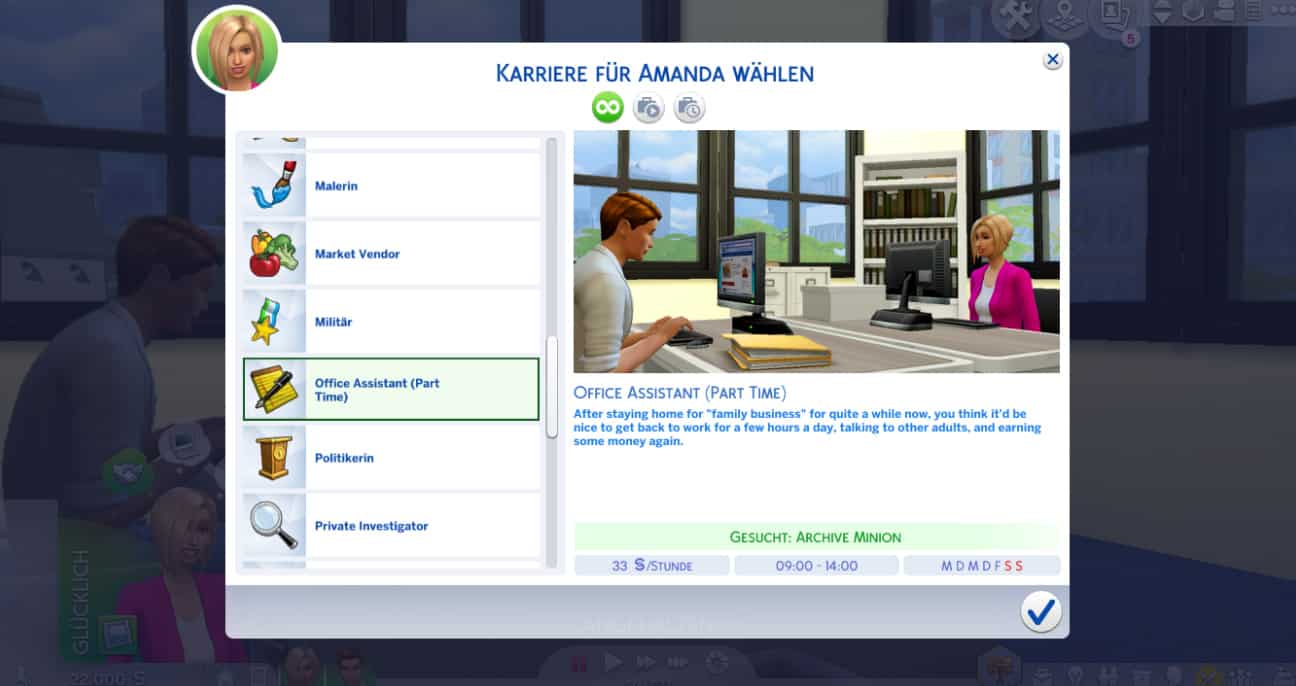 Office Assistant Career (Part Time) Mod
13/02/2019 Updated for Patch 1.49.65.1020
I've created this part time career for all those sim-moms and -dads whose children reached school age, and that would otherwise hang around bored at home until their little tyra… eh i mean loved ones, return home from school.
Just like a classic part time job for teens and elders, it only has three levels and pays out in the medium sector of those jobs.
This mod was created with Neias Create-A-Career Tool Beta, so no chance cards, rewards or job outfits.
Sims Patch Version: 1.46.18.1020
Office Assistant (Part Time)
After staying home for "family business" for quite a while now, you think it'd be nice to get back to work for a few hours a day, talking to other adults, and earning some money again.
For all Levels: M T W T F – -, 9am-2pm, PTO: 0,1/Day Mood: Focused
Level 1: Archive Minion 33$/h
Your job is to file reports, bills, contracts, requests and lots of other business-ish stuff. Luckily the company uses scanners and databases, so you don't have to deal with dusty cabinets in a gloomy basement.
Objectives: Writing 2 Logic 2
Level 2: Paper Shuffler 40$/h
Your last performance review was positive, so you get a raise and the new assignment, to prepare the notes and presentations for meetings. To add a little fun, you just use the most ridonculous color-combinations for all the pie charts.
Objectives: Writing 4 Programming 2
Level 3: Desk Jockey 48$/h
Your boss decides you're capable enough to help to manage the appointment schedule of the company. It's a really laid back task, and you even are permitted to use the restrooms for the executives.
Objectives: –
Career Cheat is (with testingcheats true) careers.promote officeassistant
As ever, feedback on how you like it is welcome, and i wish you lots of fun playing with it.
Basic Download and Install Instructions:
1. Download: Click the File tab to see the download link. Click the link to save the .rar or .zip file(s) to your computer.
2. Extract: Use WinRAR (Windows) to extract the file(s) from the .rar or .zip file(s).
3. Cut and paste the file(s) into your Mods folder
Windows XP: Documents and Settings(Current User Account)My DocumentsElectronic ArtsThe Sims 4Mods
Windows Vista/7/8/8.1: Users(Current User Account)DocumentsElectronic ArtsThe Sims 4Mods
Need more information?
Anyone can use both .rar and .zip files easily! On Windows, use WinRAR.
If you don't have a Mods folder, just make one.