Modeling Career–2 tracks Mod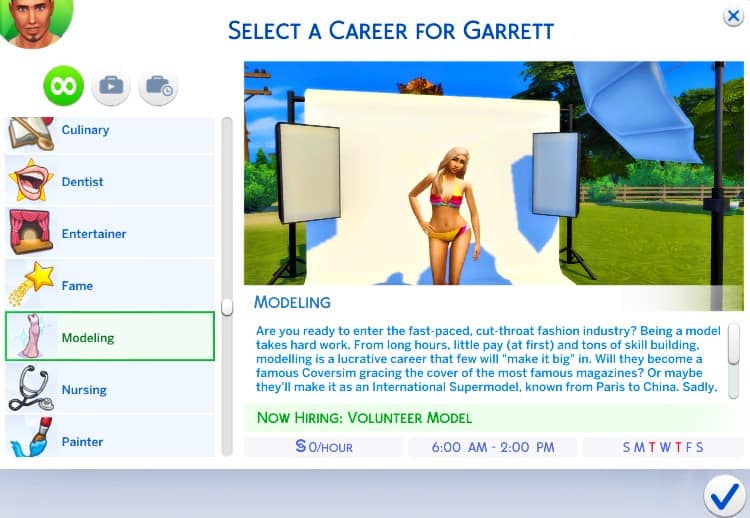 Modeling Career–2 tracks Mod
Does your sim long for a life full of fashion, cameras, and fame? Are they blessed with beauty that makes other sims look twice? If so, a career in modeling might be their destiny!
***HINT: If you don't want your sims looking super muscular when advancing with the fitness skill, you can customize their bodies using MC Command Center! I highly recommend this, as you can create slim, non-muscular models, as well as plus-size models!
Here is my first custom career! For me, the Road to Fame mod was too glitchy and caused many errors in my game, so I wanted to create my own modeling career. There are two tracks you can choose from, Commercial Modeling or High Fashion Modeling.
1. Volunteer Model–there is no pay for the beginning of this career. I wanted to make it as realistic as possible, so level 1 is all about building a portfolio and gaining exposure.
Mood: Confident
M – W – F S S
2. Local Model — Your sim will be part of the "mall crowd" participating in local fashion shows. These jobs aren't very selective…
$15/hr.
Skills: Charisma 1
Mood: Confident
– T – T F S S
3. Hand Model— Keep those hands soft and supple as your sims model rings, bracelets, and watches for local jewelry designers!
$18/hr.
Skills: Charisma 2
Mood: Confident
– T – T F S S
4. Hair Model— Cutting, coloring, styling. Your Sims's hair will be put through it all in exchange for some simoleons and their pictures to be featured in hair dressers' portfolios.
$20/hr.
Skills: Charisma 3, Fitness 3
Mood: Confident
– T – T F S S
Choose track: Commercial Model or High Fashion Model
Commercial Model track:
Commercial models are the models you would see in shopping catalogs and local commercials. The sim-next-door look is desired, so your sim will need attractive looks as well as an attractive personality to do well in this career track.
5. Commercial Catalog Model–Your sim will be showcasing the newest collections by the most popular stores, like Sim Navy and JC Simmy.
$50/hr.
Skills: Charisma 4, Fitness 4
Mood: Confident
M T W – F S –
6. Fitness Model— Fitness is the name of the game here. Your sim must continue to sculpt his/her body to perfection in order to sell the newest workout gear and sports drinks.
$65/hr.
Skills: Charisma 5, Fitness 7
Mood: Energetic
M T W T – S –
7. Social Media Model— Your sim's face is getting popular online! He/she will be modeling the hottest makeup, jewelry, and clothing through various social media platforms like Simstagram.
$80/hr.
Skills: Charisma 7
Mood: Confident
– – W – F S S
8. Music Video Model— Who wouldn't want to be a model in a famous music video? Your sim must hone in their dance skills so they don't embarrass themselves in front of the musical superstars….
$90/hr.
Skills: Charisma 8, Dancing 3
Mood: Confident
M T – T F S –
9. Television Model— Television! Your sim will be featured on all sorts of commercials, from clothing and perfume, to cookware and living room furniture. $130/hr.
Skills: Charisma 10
Mood: Confident
M T W – F S –
10. Coversim— The ultimate goal! Your sim is on every grocery store magazine rack, dishing the newest gossip about his/her love life, as well as modeling the hippest designs. Congrats, superstar!
$300/hr.
Mood: Confident
M T W – F S –
High Fashion Model track:
This track is for the serious fashionista. In order to gain celebrity as a high fashion model, your sim must be both gorgeous and interesting, as well as charismatic and athletic. Reaching the end of this track means worldwide fame and luxury!
5. Swimsuit Model— Swimsuit models are photographed even in the winter months, so this isn't just for fun! Your sim must be in excellent shape to make it as a swimsuit model.
$55/hr.
Skills: Charisma 5, Fitness 6
Mood: Flirty
M T W – F S –
6. Lingerie Model— No room for shy sims here! Upscale lingerie is a mega-money-making business, so only the most alluring sims will be successful.
$75/hr.
Skills: Charisma 6, Fitness 8
Mood: Flirty
M T W – F S –
7. Fashion Catalog Model— High-end fashion is extremely expensive, so the stakes are high. Your sim must continue to perfect his/her body and personality in order to sell these interesting-looking clothes in the highest end fashion magazines.
$90/hr.
Skills: Charisma 7, Fitness 9
Mood: Confident
M T – T F S –
8. Runway Model–Don't trip! All eyes are on your sim as he/she struts their stuff on the catwalk. Sims watching and cameras flashing can be nerve-wracking for even the most confident sim, but this is a necessary step in order to become a supermodel.
$120/hr.
Skills: Charisma 8, Fitness 10
Mood: Confident
– T W – F S S
9. Editorial Model–Sim Vogue. Your sim is on the cover, looking fierce as fierce can be! Your sim is the epitome of a style icon, and everyone is looking at him/her for style inspiration.
$300/hr.
Skills: Charisma 10
Mood: Confident
M T W – F S –
10. International Supermodel–Traveling the world for fashion shows? Check. Hosting reality style shows? Check. Getting paid to be famous? Check. Your sim is THE top model, as long as a newer, hotter thing doesn't come around.
$450/hr.
Mood: Confident
M – W – – S –
PTO from the phone is also functional.
This mod was created with the April 17th patch 1.42.30.1020
I've been playing with this in-game and I haven't found any errors, but please let me know if you encounter one. If you want to set a career outfit, you can in MCCommand Center if you have it. Thanks for downloading!!
Basic Download and Install Instructions:
1. Download: Click the File tab to see the download link. Click the link to save the .rar or .zip file(s) to your computer.
2. Extract: Use WinRAR (Windows) to extract the file(s) from the .rar or .zip file(s).
3. Cut and paste the file(s) into your Mods folder
Windows XP: Documents and Settings(Current User Account)My DocumentsElectronic ArtsThe Sims 4Mods
Windows Vista/7/8/8.1: Users(Current User Account)DocumentsElectronic ArtsThe Sims 4Mods
Need more information?
Anyone can use both .rar and .zip files easily! On Windows, use WinRAR.
If you don't have a Mods folder, just make one.