Paranormal Career (from TS2:U) Mod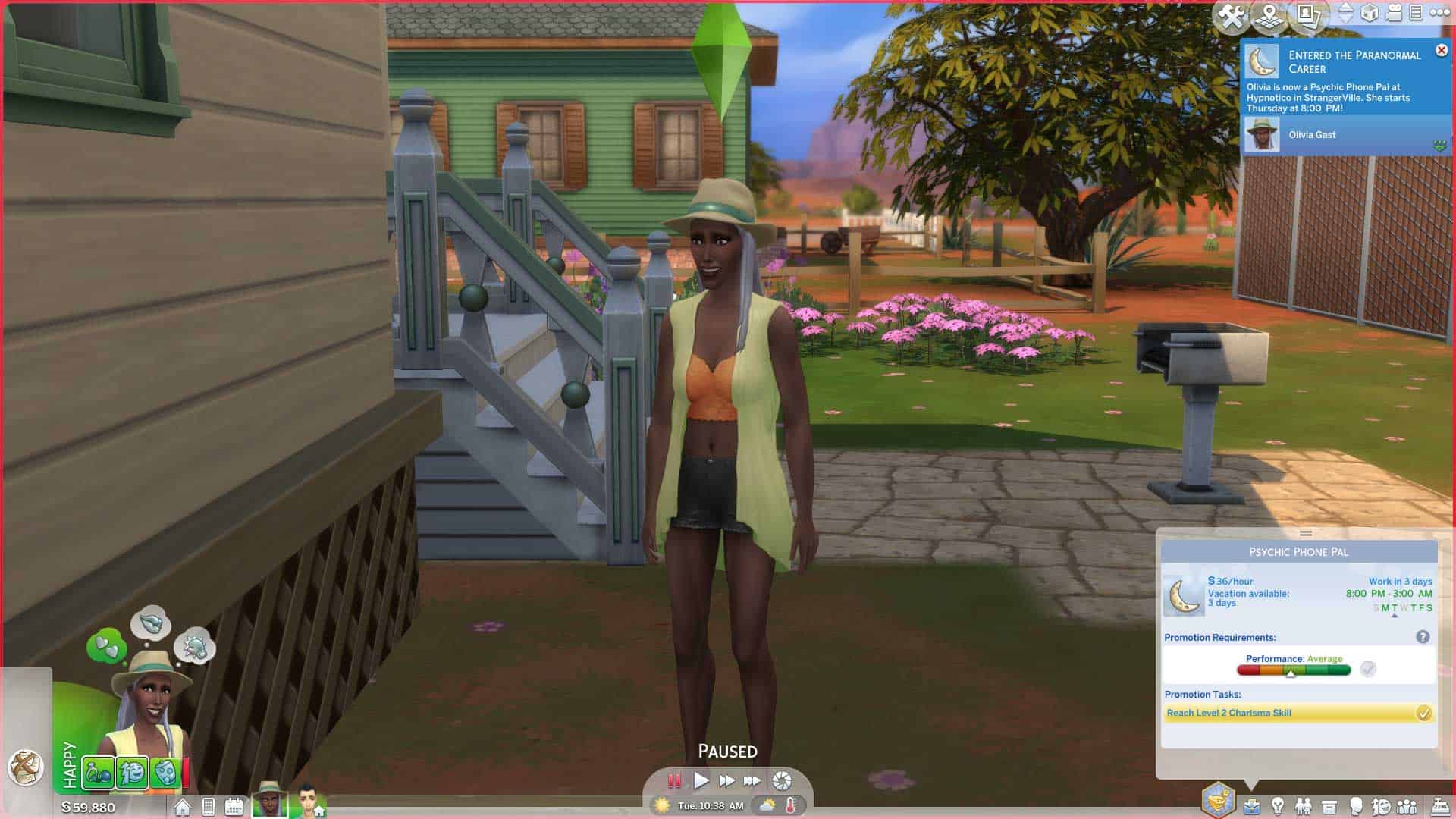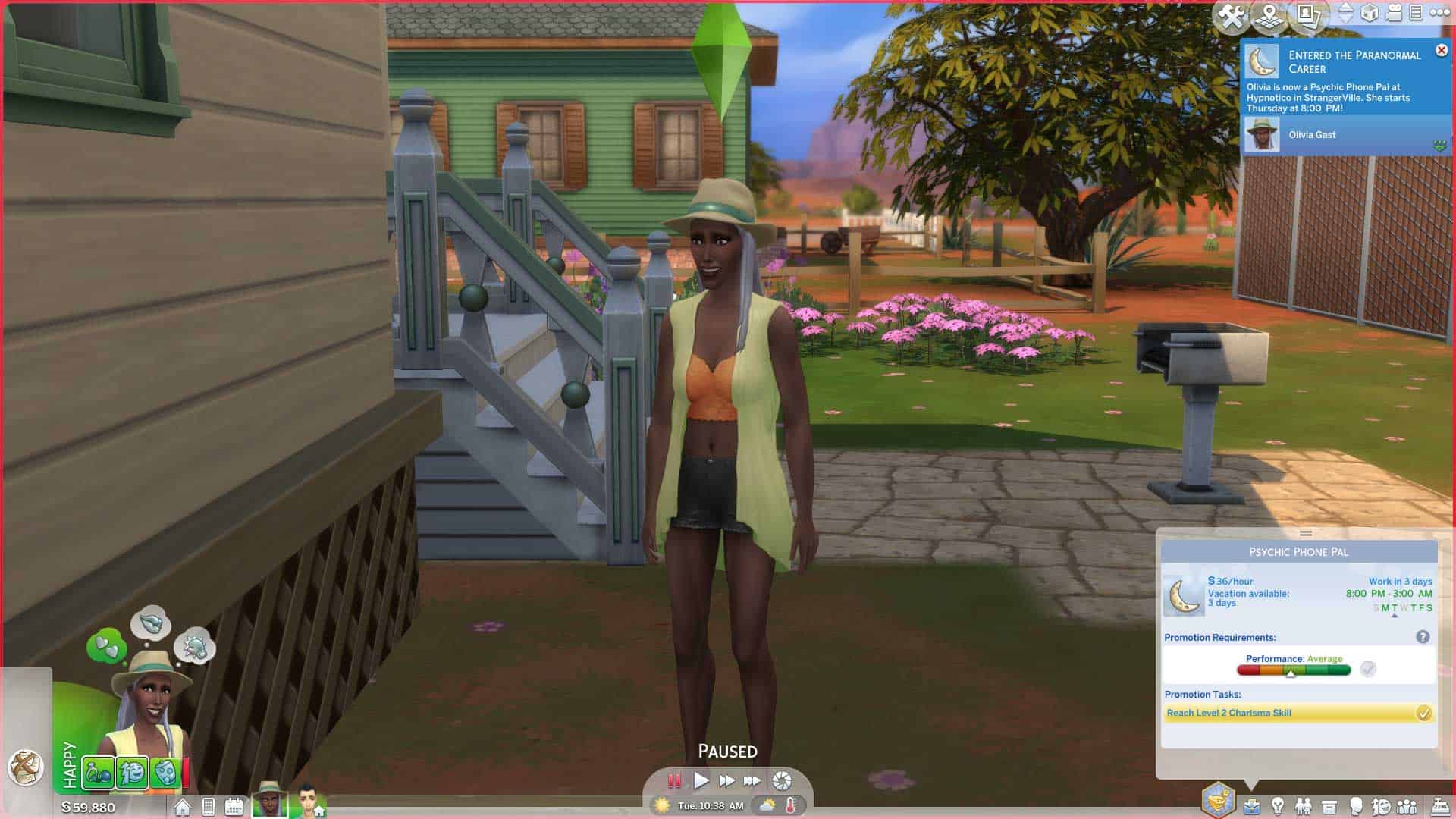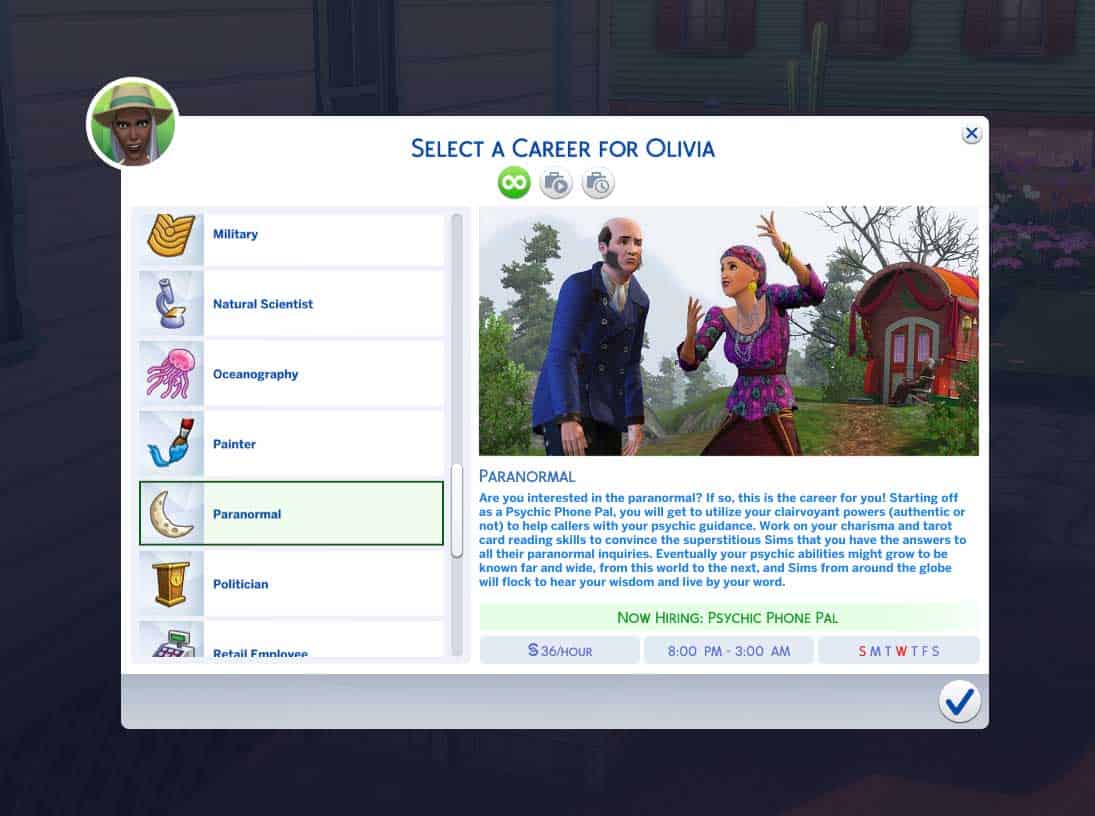 Paranormal Career (from TS2:U) Mod
I really missed the good old The Sims 2 careers in The Sims 4, so I decided to re-create some of my favorites. This is the Paranormal career from The Sims 2: University.
The workplace is called Hypnotico because a chance card from TS2:U mentioned the Sim working for a company with that name.
The daily pay, work hours, and workdays are the same as in TS2:U.
Technical
Base game compatible
Works with latest April patch (1.51.75.1020).
Text strings for objectives might not appear properly as the latest patch broke text strings for some mods. The gurus have promised a fix to be released soon. Hovering over the empty fields (where the text should be) will display which skill needs to be improved, however.
Levels
1. Psychic Phone Pal
§36/hour, 8:00 pm – 3:00 am, M T _ T F S _
Objectives: Charisma 2
Description: Ring ring! Someone's calling with a question about love, life or the mysteries of our universe. Good thing you're here to be their Psychic Phone Pal! Although you're not getting paid very much, and your chair smells a little like old french fries, at least you can dispense your mystic wisdom in your underwear.
2. Conspiracy Theorist
§54/hour, 5:00 pm – 12:00 am, _ T W _ F S S
Objectives: Charisma 3
Description: Is there a connection between rising sea levels and the distribution of government cheese? Does the UN have a secret plan to spy on us using trained fruit flies? What nefarious cabal controls the uneven ratio of hot dogs to buns? As a budding Conspiracy Theorist, your job is to raise these vital questions and many more…
3. Tarot Card Reader
§75/hour, 6:00 pm – 1:00 am, M _ W T F S _
Objectives: Charisma 4
Description: The Llama… the Gnome… the Social Bunny… flowing through you, the future reveals itself to your clients, one card at a time. Just remember that you hold their destiny in your hands, and try not to be too specific.
4. Hypnotist
§96/hour, 11:00 am – 6:00 pm, M T _ T F S _
Objectives: Charisma 5
Description: Whether it's reviving long-buried memories of past lives or just getting another Sim to act like a chicken, the Hypnotist's work is never done. So get out that gold watch and start swinging… you are getting sleepy…
5. Medium
§120/hour, 5:00 pm – 12:00 am, M T W T _ S _
Objectives: Charisma 6
Description: The spirits of the departed call out to us all, and you, the Medium, are the conduit for their haunting voices. Just keep in mind that not everyone likes to hear what their dead relatives have to say…
6. Dowser
§156/hour, 5:00 pm – 12:00 am, M _ W T F S _
Objectives: Charisma 7
Description: Whoever thought that you could make so much money getting a stick to point towards water? Just walk slowly, wait for that rod to wiggle, and then start digging. You might want to consult a city map, though, just to make sure what you're chasing isn't a sewer main…
7. Police Psychic
§231/hour, 1:00 pm – 7:00 pm, M T W T F _ _
Objectives: Charisma 8, Logic 3
Description: Some cases defy all cracking, and that's when the cops come running to you for help. Close your eyes and reach out with your senses, and what is cloudy will become clear… but you might want to make sure the TV's off before you begin.
8. UFO Investigator
§300/hour, 10:00 am – 5:00 pm, M _ W T F _ _
Objectives: Charisma 9, Logic 4
Description: You have always known that unseen beings from distant stars watch us with strange eyes that hold an unknown purpose. And now you get to turn that suspicion into some cold, hard cash! Just be warned, those who are pursued may suddenly become the pursuer…
9. Exorcist
§416/hour, 9:00 pm – 3:00 am, _ _ W _ F _ S
Objectives: Charisma 10, Logic 5
Description: Even today, dark forces from below reach out to take hold of unwitting Sims. That's where you come in, using your power over the spirit world to drive those unclean interlopers from the souls of those unfortunates who depend on you.
10. Cult Leader
§525/hour, 6:00 pm – 3:00 am, _ T _ _ _ S _
Description: Your legendary powers are now known far and wide, from this world to the next, and Sims from 'round the globe flock to hear your wisdom and live by your word. Just try not to believe all your own PR, or soon your devoted flock will stop gazing at your golden aura and start pecking at your feet of clay.
Languages
This career is currently available in English and Swedish.