Real Estate Career (Updated 12/8) Mod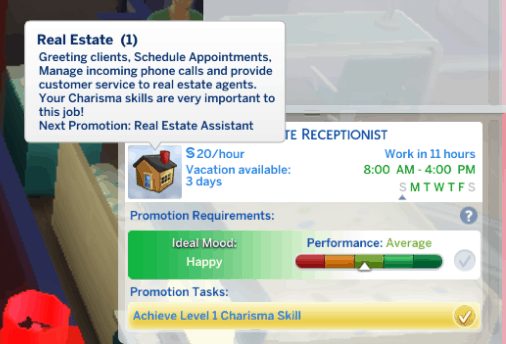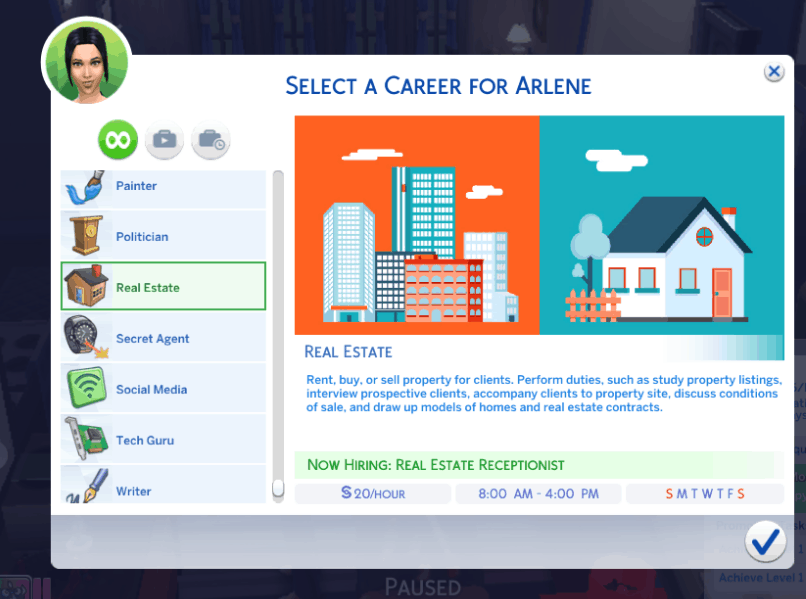 Real Estate Career (Updated 12/8) Mod
Update for Get Famous!
Real Estate Career – Rent, buy, or sell property for clients. Perform duties, such as study property listings, interview prospective clients, accompany clients to property site, discuss conditions of sale, and draw up models of homes and real estate contracts.
Base game compatible.
Ages: YA to Elder
Level 1: Real Estate Receptionist *20/hr
Monday – Friday
Skills needed: Charisma 1
Greeting clients, Schedule Appointments, Manage incoming phone calls and provide customer service to real estate agents. Your Charisma skills are very important to this job!
Level 2: Real Estate Assistant*35/hr
Monday – Friday
Skills needed: Charisma 3
You are still working behind a computer doing the same ol' skills, but you are now able to write agreements between home buyers and agents.
Level 3: Buyers Agent*50/hr
Tuesday – Saturday*
Skills needed: Charisma 4 and Photography 2
You are finally out of the office! Now you will be placing for sale signs in the front yard, placing door hangers on doors, taking pictures of properties and assisting real estate agents with open houses.
Level 4: Buyers Agent*40/hr
Monday – Friday
Skills needed: Charisma 5
Following up on and maintaining client and agent referrals and working with home buyers! Keep growing those skills of yours!
Level 5: Sellers Agent*145/hr
Monday/Wednesday/Friday/Saturday
Skills needed: Charisma 6*
You are showing homes all over the town on your own. Make sure to close those deals and keep up the charisma skills.
Level 6: Dual Agent*200/hr
Monday/Wednesday/Friday
Skills needed: Charisma 7
You know represent both the seller and the buyer in the same transaction. Remember to keep information confidential from both parties.
Level 7: Commercial Agent**225/hr
Tuesday – Friday
Skills needed: Charisma 8*
You have been selling homes, but now you work for companies who have been hired through your agency, who are in need of a business.*
Level 8: Surveyor *250/hr
Monday – Friday
Skills needed: Charisma 9*
As a surveyor, you-ll use your experience to survey the houses and find out how much they-re worth and report back to the agency you work for.
Level 9: Office Manager*350/hr
Monday – Friday
Skills needed: Charisma 10
You head back to the office, but this time you are overseeing the real estate receptionists, assistants, agents and reporting to the agency owner. Make sure you have reached max Charisma skills here!
Level 10: Agency Owner 500/hr
Tuesday – Friday*
No skills needed.
All those stock options paid off – now that you-ve gotten more liquid, you can pick and choose which struggling little startups will earn your magnanimity, as well as the prestige of your name as a backing for their work.
Basic Download and Install Instructions:
1. Download: Click the File tab to see the download link. Click the link to save the .rar or .zip file(s) to your computer.
2. Extract: Use WinRAR (Windows) to extract the file(s) from the .rar or .zip file(s).
3. Cut and paste the file(s) into your Mods folder
Windows XP: Documents and Settings(Current User Account)My DocumentsElectronic ArtsThe Sims 4Mods
Windows Vista/7/8/8.1: Users(Current User Account)DocumentsElectronic ArtsThe Sims 4Mods
Need more information?
Anyone can use both .rar and .zip files easily! On Windows, use WinRAR.
If you don't have a Mods folder, just make one.