Salon Career Mod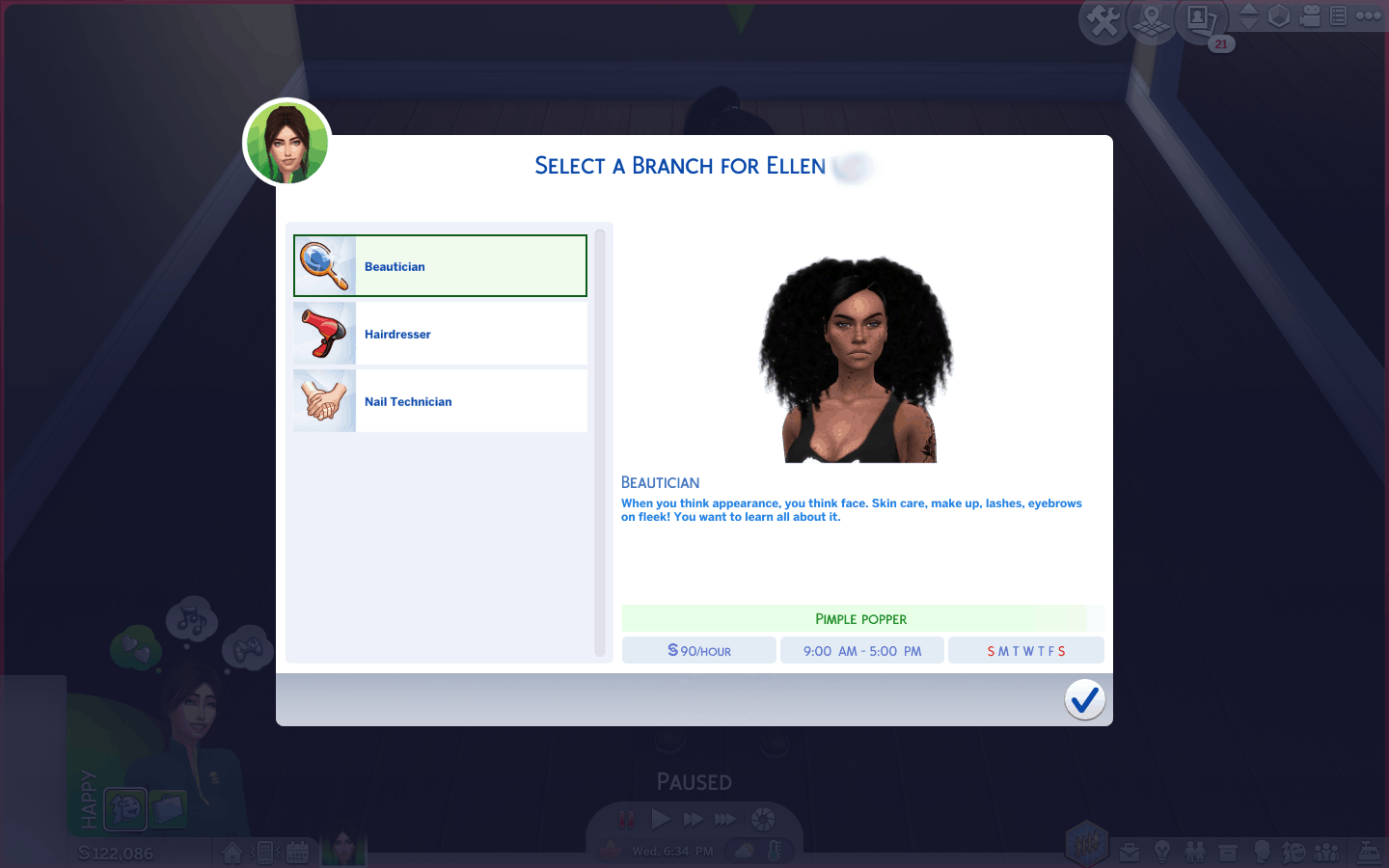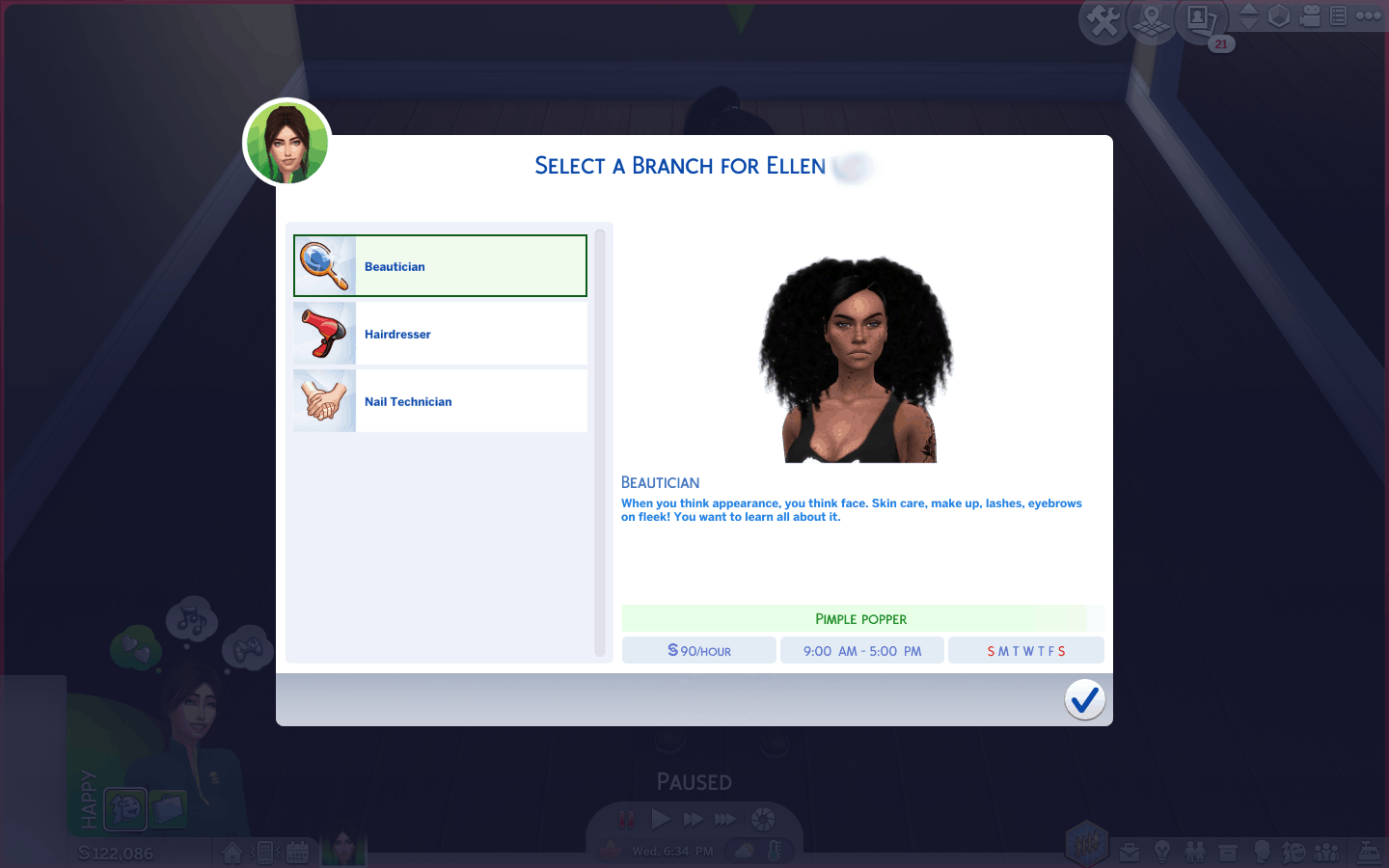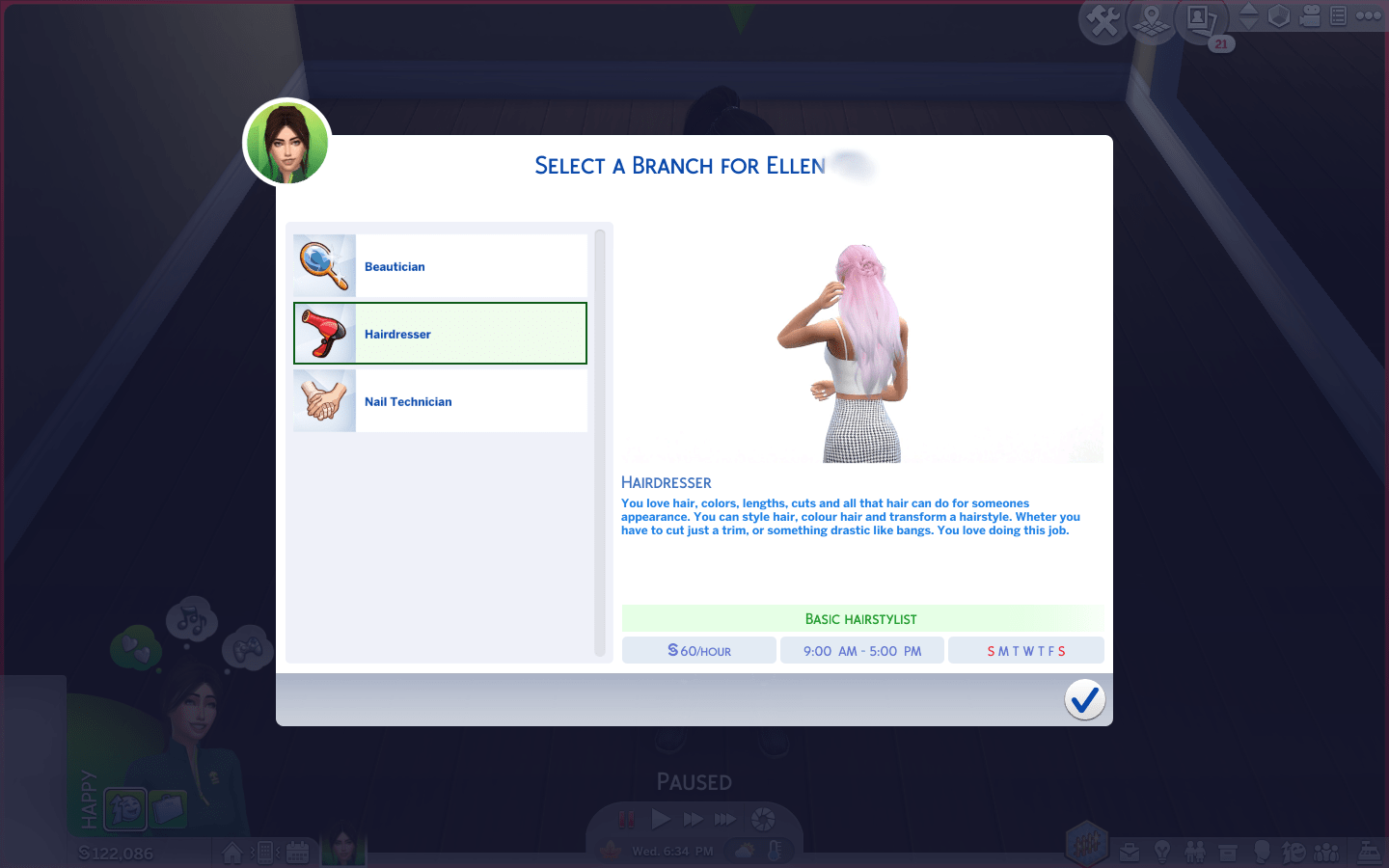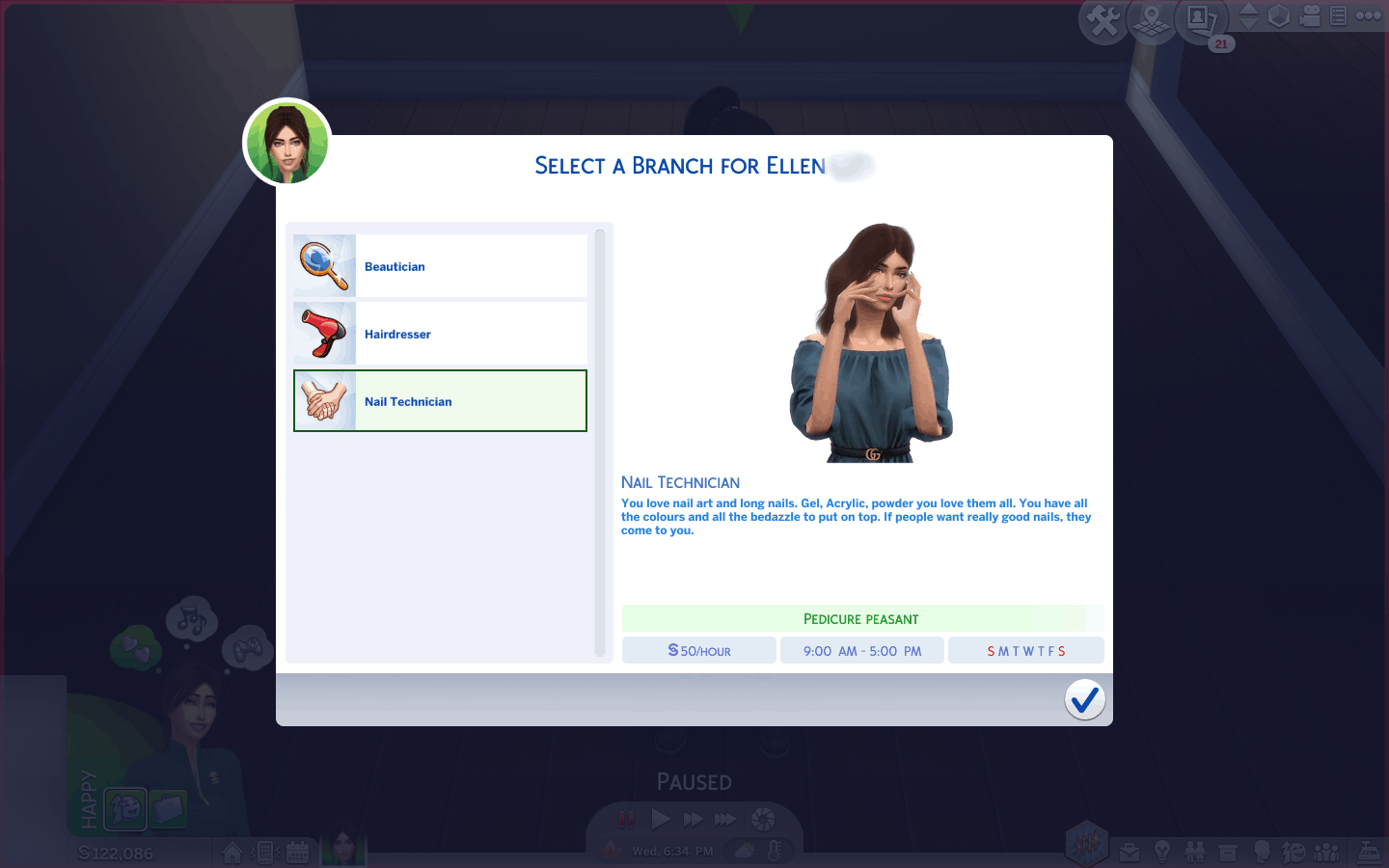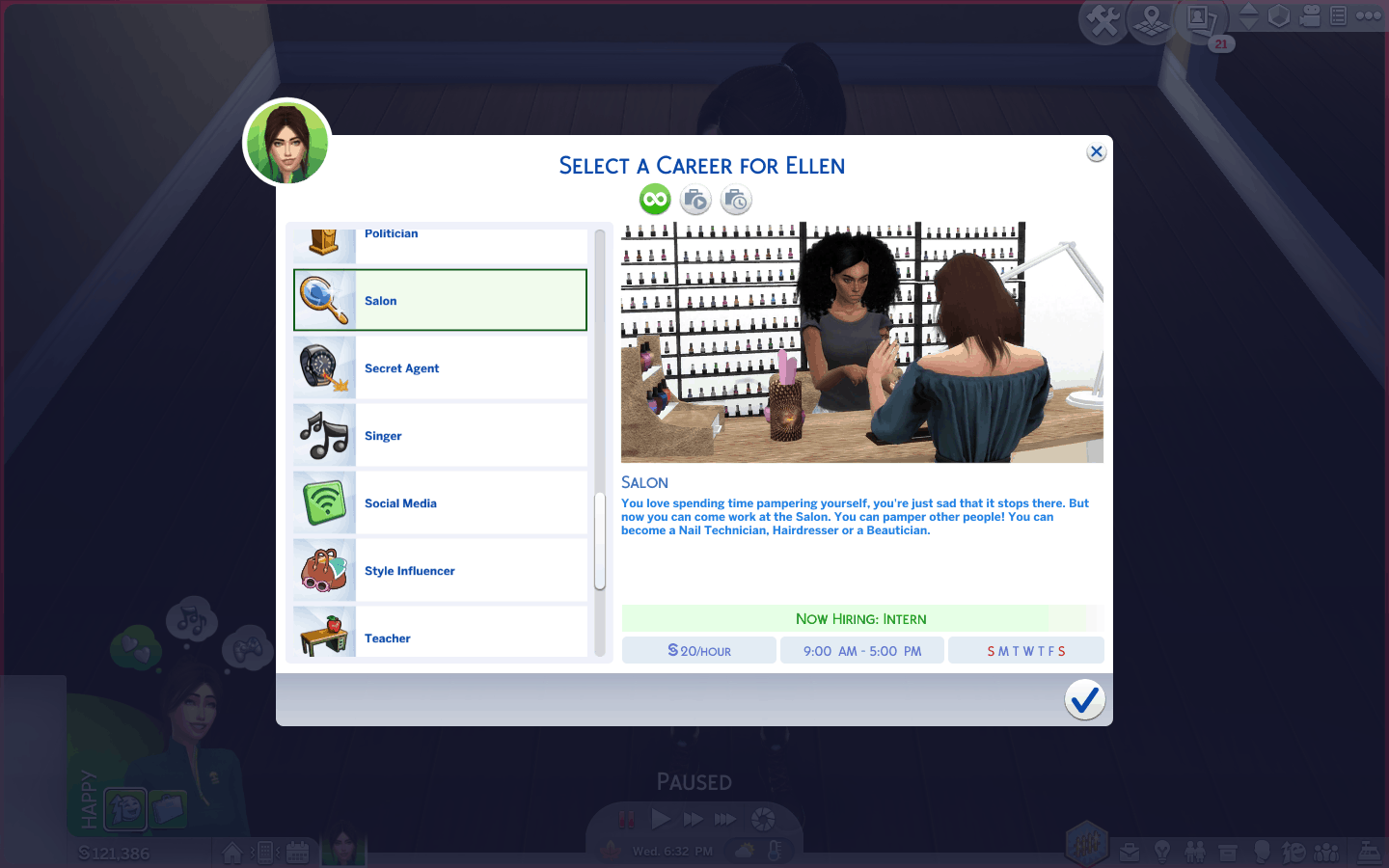 Salon Career Mod
The Salon Career is a custom career.
Patch required: 1.48.94.1020
This career requires the base game only.
Salon
You love spending time pampering yourself, you're just sad that it stops there. But now you can come work at the Salon. You can pamper other people! You can become a Nail Technician, Hairdresser or a Beautician.
Intern (20/H)
You may like this job, but the Salon has to like you too. Prove that you fit in this salon. Clean the salon, organize the salon an make some coffee while you're at it.
MTWTF
Receptionist (30/H)
You are the first form of contact people have with the salon. Welcome them, plan their appointments and answer the phone. it may not bee you're dream job yet, but just keep hanging in there.
MTWTF
Client Preparation (40/H)
Finally you get to do something. You prep the clients, if they're coming for a nail refill you clean their nails. If they want their hair done, you wash their hair. Sure you're not doing the important stuff, but you're getting there.
MTWTF
Track 1: Beautician
When you think appearance, you think face. Skin care, make up, lashes, eyebrows on fleek! You want to learn all about it.
Pimple popper (90/H)
Skin care is the foundation of a beautiful face. You exfoliate the skin, wax some hairs and get all those nasty blackheads and pimples out. When people leave the salon they will feel so very .. Red. But after the redness calmed down it'll be beautiful.
MTWTF
Make up artist (150/H)
You wanted to explore other beauty skills and learned more about make up. You love doing people's make up for special occasions, like weddings or prom. Make up may not be your biggest focus, but you love to have something you can do when you're getting a little bored with the skin care.
MWFS
Specialized eyebrow & lashes Beautician (200/H)
You took some special courses and learned all about the brows and lashes. You spend some time with make up and learned that brows and lashes are the core of a good appearance. You do lash extentions, micro blading brows and anything your client asks for. You are a true Beautician.
MWTS
Track 2: Hairdresser
You love hair, colors, lengths, cuts and all that hair can do for someones appearance. You can style hair, colour hair and transform a hairstyle. Wheter you have to cut just a trim, or something drastic like bangs. You love doing this job.
Basic hairstylist (60/H)
You need a little bit more training before you can get into the creative hair stuff. For now you give people the average trims and colour the natural colours. We can't do it all without proper training.
MTWTF
Colouring specialist (110/H)
You've had some colouring training and now are specialized. You want blue hair? Pink, green, yellow? You've got it. You know the right colours for the right people, the right amount of waiting time and the right toners. No one will walk out that door without having the colour they asked for. (that's a first)
MWTF
Allround Hairdresser (175/H)
Colouring, cutting, styling you can do it all. You're job won't make you bored because if you don't feel like giving someone a trim, you can go up to the client that wants a cool ombre with some bangs. When people want cool hair to reflect their cool personality's they come to you.
TWTS
Track 3: Nail Technician
You love nail art and long nails. Gel, Acrylic, powder you love them all. You have all the colours and all the bedazzle to put on top. If people want really good nails, they come to you.
Pedicure peasant (50/H)
You finally know what they mean with starting at the bottom, literally. You clean clients feet, cut and paint their toe nails. Cross you fingers for not getting a client with an ingrown toe nail today!
MTWTF
Moderate manicures (75/H)
You are finally getting close to doing what you really love. Sure you're manicures are not amazing (yet), but you've got to start somewhere. You pamper the clients with some nice hand soaking time and afterwards you give them a nice color on their nails. Just don't start doing all the fancy stuff or you'll mess up.
MTWF
Nail technician (100/H)
You did some training, took some classes and now you can call yourself a Nail technician. You make the most beautiful nails. You're nail art is out of this world and you're bedazzle collection is filling this store. Whatever the client wants, you have it.
MWTF
Download the file and added it to your mods folder.
I also attached a Neia Careers Commons package which you will need to run this mod.
Basic Download and Install Instructions:
1. Download: Click the File tab to see the download link. Click the link to save the .rar or .zip file(s) to your computer.
2. Extract: Use WinRAR (Windows) to extract the file(s) from the .rar or .zip file(s).
3. Cut and paste the file(s) into your Mods folder
Windows XP: Documents and Settings(Current User Account)My DocumentsElectronic ArtsThe Sims 4Mods
Windows Vista/7/8/8.1: Users(Current User Account)DocumentsElectronic ArtsThe Sims 4Mods
Need more information?
Anyone can use both .rar and .zip files easily! On Windows, use WinRAR.
If you don't have a Mods folder, just make one.