Security Guard Career Mod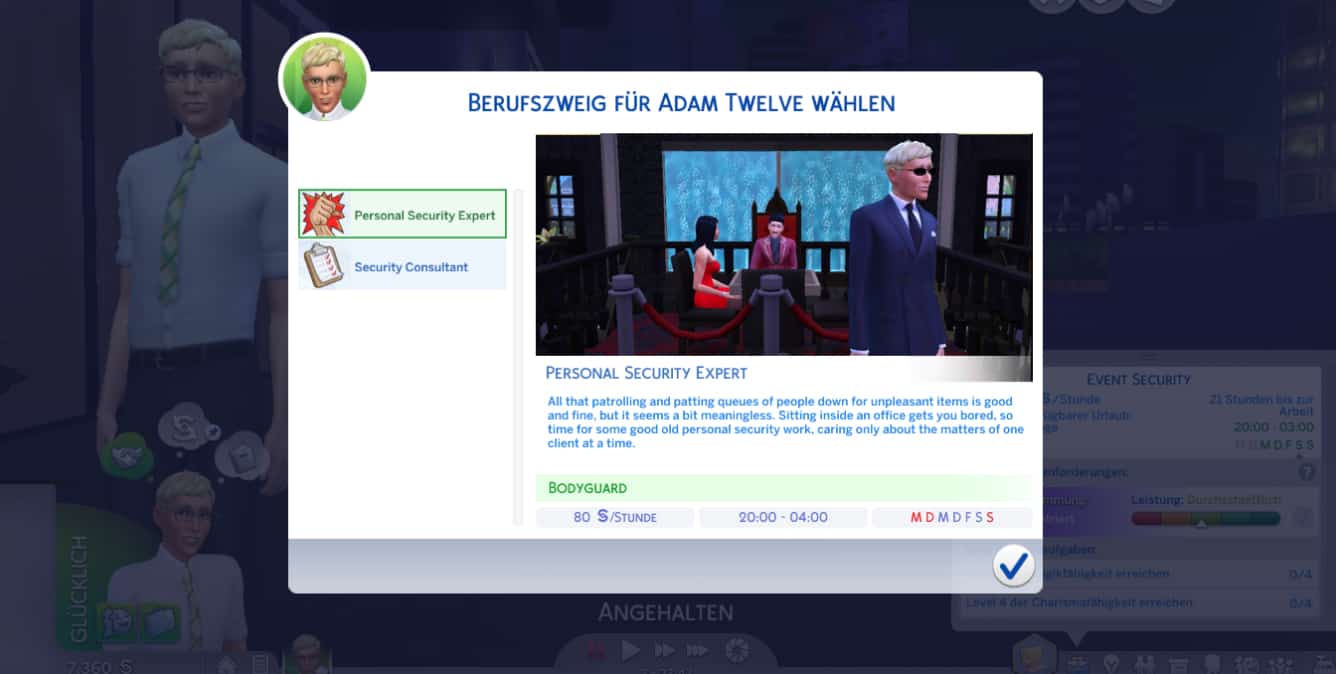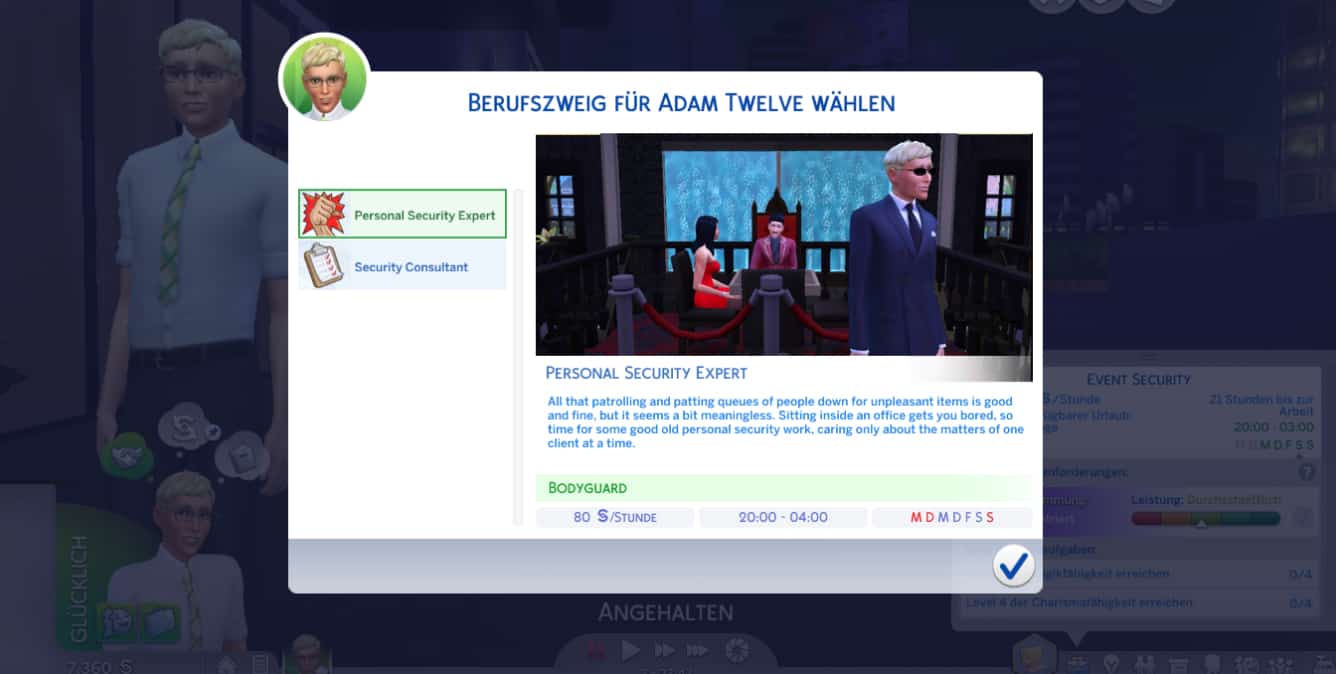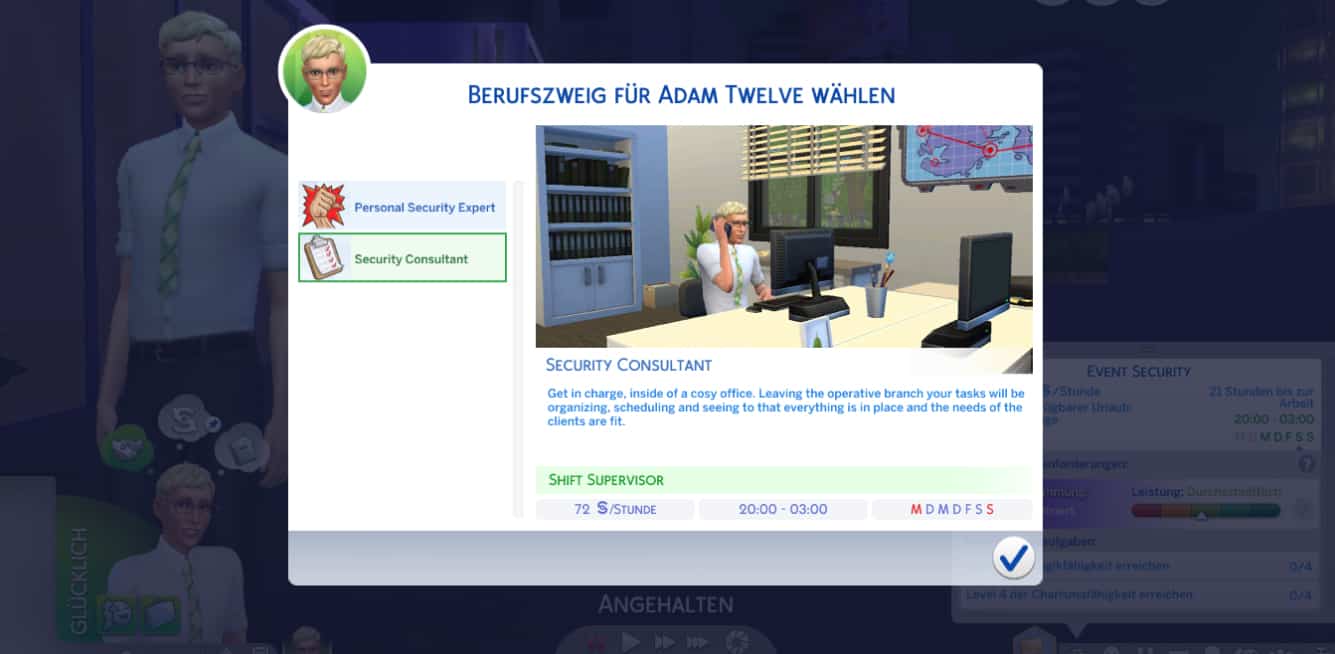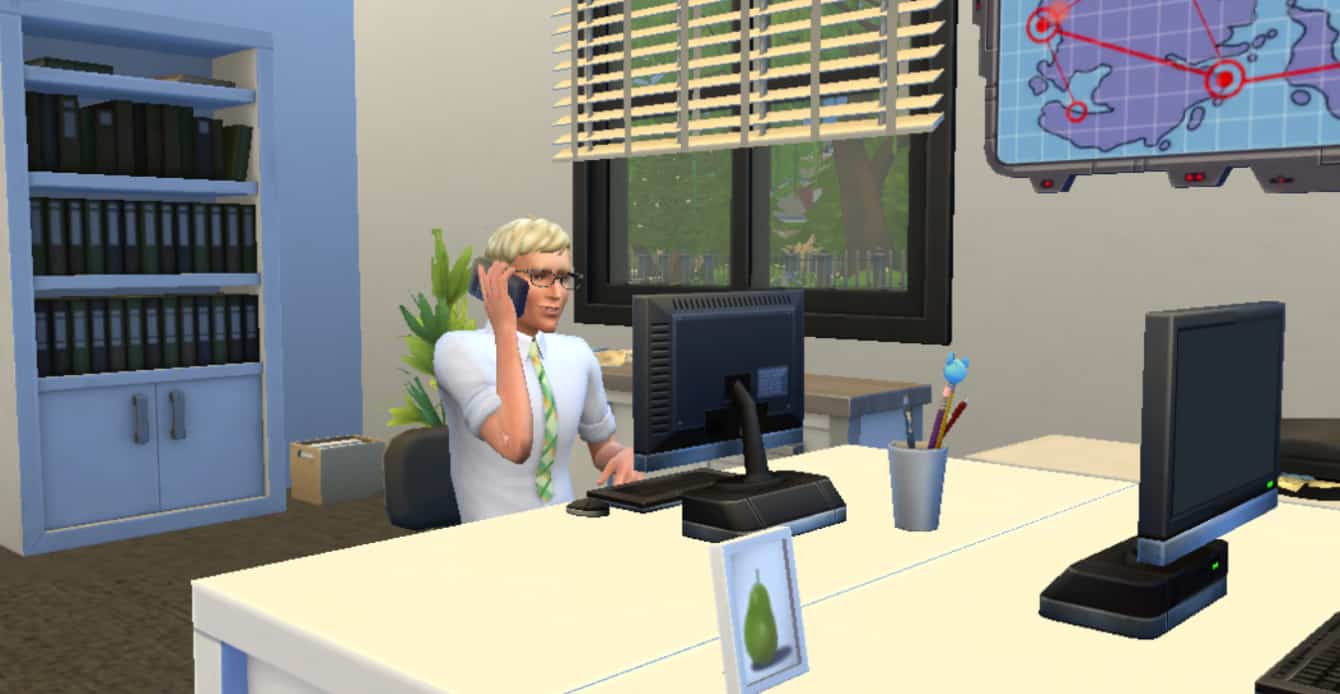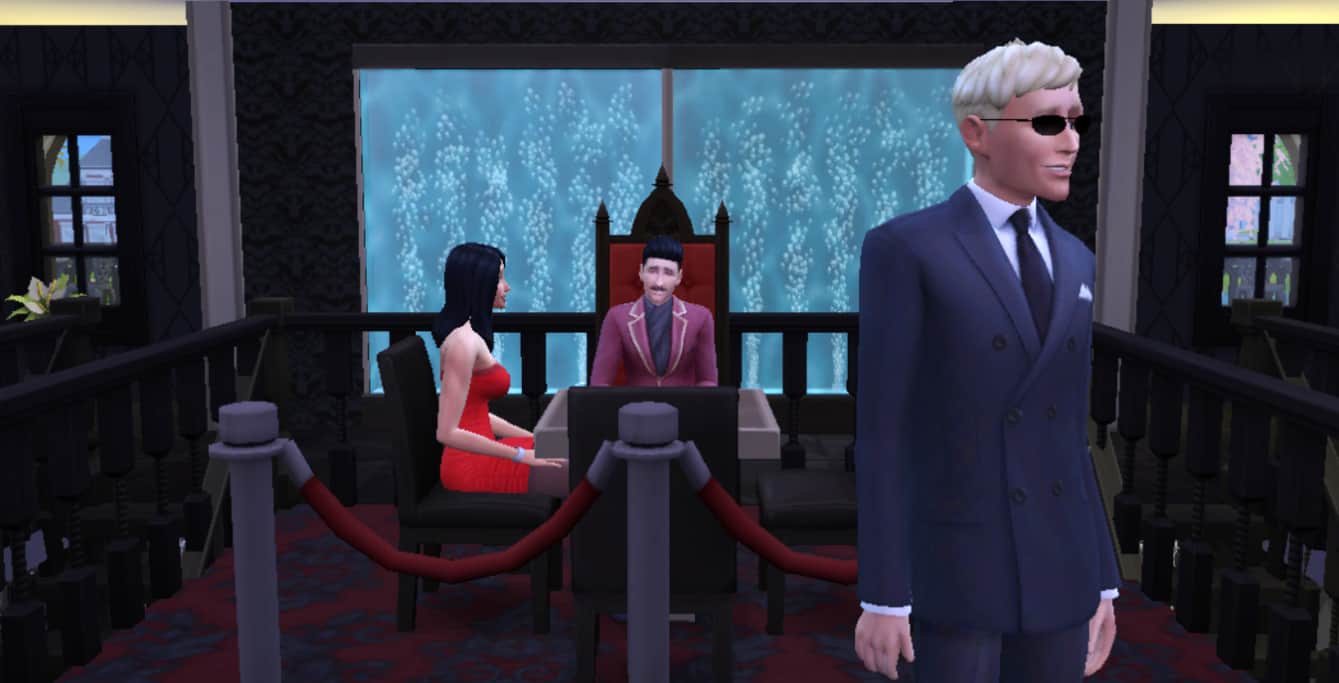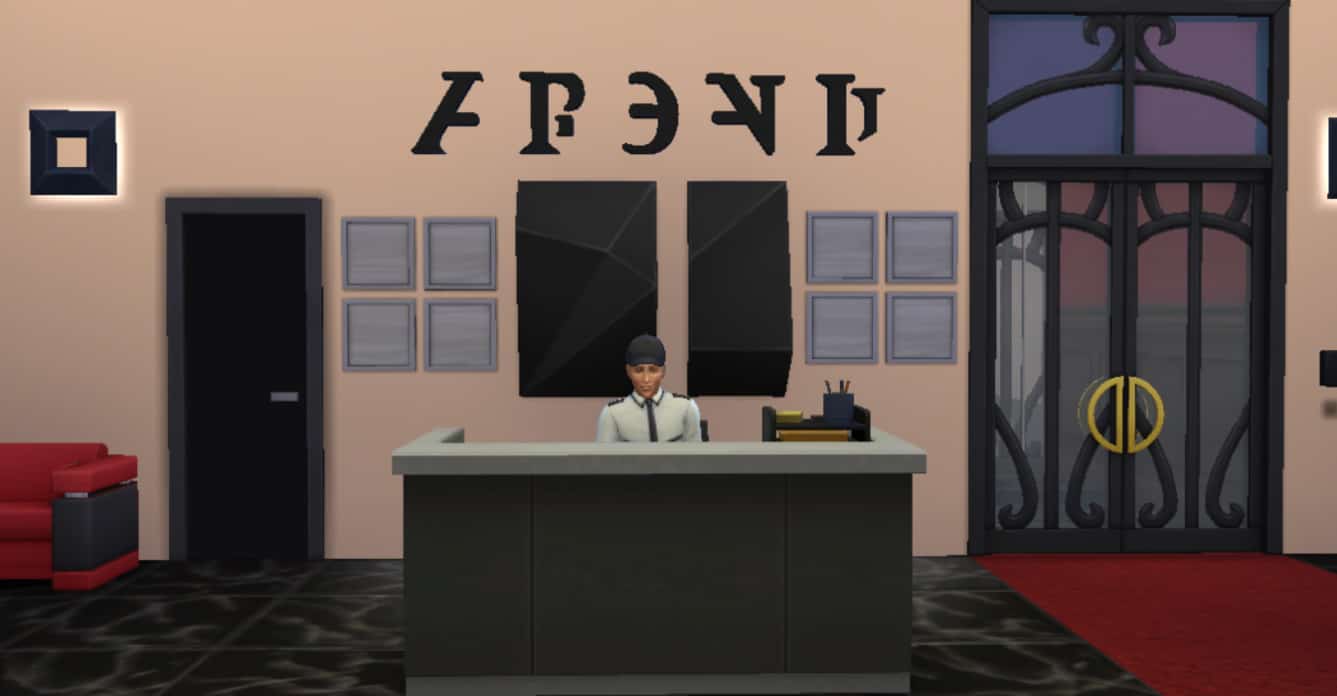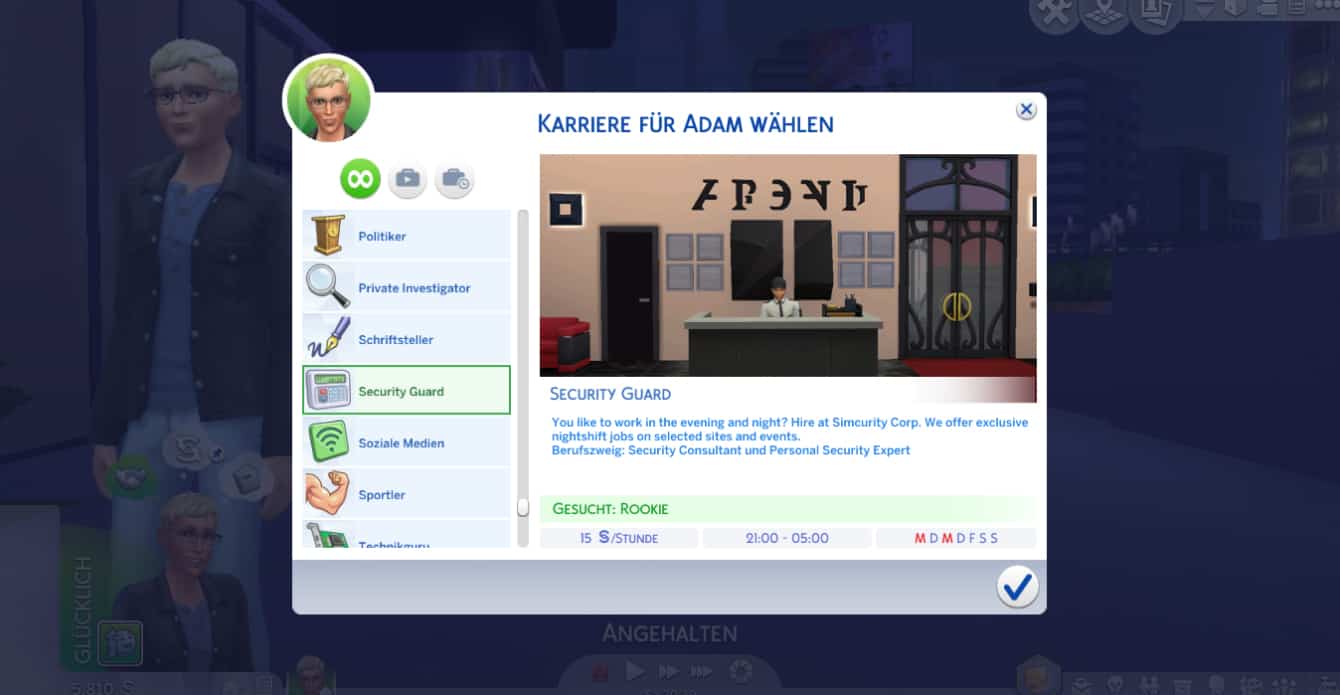 Security Guard Career Mod
Update for Patch 1.49.65.1020!
Update for Seasons Patch Version 1.46.18.1020
As security is a big market and has a lot of employees in any kind of business, i've created this career to fit in between police and secret agent.
It has 10 levels and 2 promotion tracks: security consultant and personal security expert. The pay is roughly maxis standard, and it follows the slightly humorous tradition when it comes to the texts i've used – that's also a reason why it's nightshift only. (vampire friendly, yay!)
This mod was made with neias create-a-career-tool beta, and is a rabbithole career, so there are no daily tasks, chance cards, or rewards. (neia_careers_commons.package is needed)
Security Guard Career
You like to work in the evening and night? Hire at Simcurity Corp. We offer exclusive nightshift jobs on selected sites and events.
Level 1: Rookie 15$/h
You're the new one on the job. You get to accompany an experienced colleague on your first few shifts – nightshifts, to be exact. Better not fall asleep.
Work: -T-TFSS 9pm-5am
Mood: Energized
Objectives:: Fitness 2
Level 2: Nightwatch 15$/h
You've now got your own walkie talkie and your flashlight. You're the man in charge when the site goes quiet. At least you now know where the coffee machine is.
Work: -T-TFSS 9pm-5am
Mood: Engergized
Objectives: Fitness 3
Level 3: Patrol Driver 20$/h
You get a raise. And a car. You spend the night driving from site to site, checking doors and gates. Sometimes you even get to call the cops.
Work: -T-TFSS 9pm-5am
Mood: Focused
Objectives: Logic 2
Level 4: Freight Guard 30$/h
You get a bigger car. And a partner. You two see that different valuable goods get from A to B without complications.
Work: MTWTF– 9pm-5am
Mood: Focused
Objectives: Logic 3, Charisma 2
Level 5: Door Man 40$/h
The company has decided to let you work with people. You look if they're on the list and check their bags and pockets for unpleasant items.
Work: –WTFSS 8pm-4am
Mood: Confident
Objectives: Fitness 4, Charisma 3
Level 6: Event Security 50$/h
As you look good in a suit, you're ordered to switch your walkie talkie against one of that cool earplug-things, and now monitor indoor events.
Work: –WTFSS 8pm-4am
Mood: Focused
Objectives: Logic 4, Charisma 4
Track: Security Consultant
Get in charge, inside of a cosy office. Leaving the operative branch your tasks will be organizing, scheduling and seeing to that everything is in place and the needs of the clients are fit.
Level 7: Shift Supervisor 72$/h
As you didn't mess it up, you get promoted and are now responsible for service schedules and the disposition of your team, occasionally sending out response teams to mainly false alarms.
Work:-TWTFS- 8pm-3am
Mood: Confident
Objectives: Logic 5
Level 8: Task Coordinator 145$/h
As you seem to have an eye for details, you now directly work with the companys who made a contract and plan the upcoming tasks. And you never forget to put a guard at the locked backdoor.
Work:-TWTF– 8pm-1am
Mood: Focused
Objectives: Logic 6, Charisma 5
Level 9: Chief Operative Officer 254$/h
You now haul in new Contracts, negotiate prices with new clients and hire personal for the benefit of your employer.You also got a personal assistant, to manage your mail and need for coffee.
Work:M-WTF– 8pm-1am
Mood: Confident
Objectives: Logic 7, Charisma 6
Level 10: Security Consultant 288$/h
You know everything there is about security issues and processes, and there is a high demand for your expertise, which reflects in the fees you take for your advice – and the choice of restaurants in which those meetings are often held.
Work:MT-TF– 7pm-0am
Mood: Focused
Objectives: –
Track: Personal Security Expert
All that patrolling and patting queues of people down for unpleasant items is good and fine, but it seems a bit meaningless. Sitting inside an office gets you bored, so time for some good old personal security work, caring only about the matters of one client at a time.
Level 7: Bodyguard 80$/h
Since you like the cool outfit and made some contacts, you applied for a position in the personal security branch of your employer, because it's not much worse than babysitting.
Work:–WTFS- 8pm-4am
Mood: Energized
Objectives: Fitness 5
Level 8: VIP Bodyguard 110$/h
As your reputation grows and you meet more people on different events, your clients become a little more famous, and they pay much better. Also, you've become very adept at fending off pesky paparazzis and rotten tomatoes.
Work:–WTFS- 8pm-4am
Mood: Energized
Objectives: Fitness 6, Charisma 5
Level 9: Security Instructor 250$/h
Because your Employer is in need of more capable Bodyguards of your caliber, they offered you a position as Instructor, including a not too shabby raise in salary. You know you're up to the challenge, and the boxes of rotten tomatoes you're going to need are being paid for by Simcurity Corp.
Work:-T-TFS- 7pm-1am
Mood: Confident
Objectives: Fitness 7, Charisma 6
Level 10: Personal Security Expert 322$/h
Quitting as a regular employee at Simcurity Corp, and working on your own account, you still take on selected subcontracts from them from time to time – for a fee that matches your experience.
Work:-TWTF– 7pm-1am
Mood: Confident
Objectives: –
Paid Time Off (PTO) is 0.2/day for level 1-6, and 0.25/day for level 7-10
Career cheat is careers.promote securityguard
Please give me feedback on how you liked it to play this career, also if you run into any problems, i've tested it without getting any bugs.
Basic Download and Install Instructions:
1. Download: Click the File tab to see the download link. Click the link to save the .rar or .zip file(s) to your computer.
2. Extract: Use WinRAR (Windows) to extract the file(s) from the .rar or .zip file(s).
3. Cut and paste the file(s) into your Mods folder
Windows XP: Documents and Settings(Current User Account)My DocumentsElectronic ArtsThe Sims 4Mods
Windows Vista/7/8/8.1: Users(Current User Account)DocumentsElectronic ArtsThe Sims 4Mods
Need more information?
Anyone can use both .rar and .zip files easily! On Windows, use WinRAR.
If you don't have a Mods folder, just make one.