United Nations Career Mod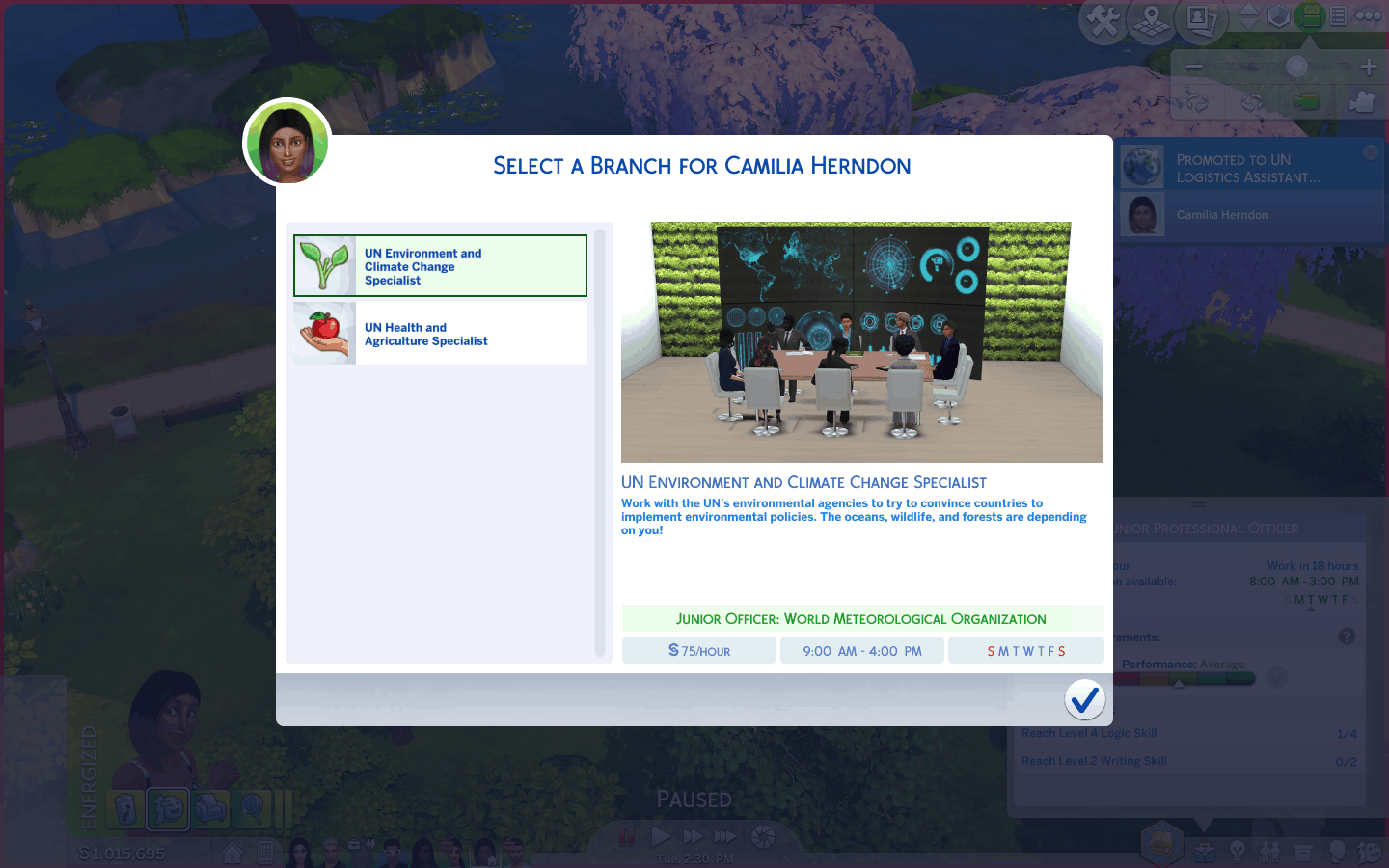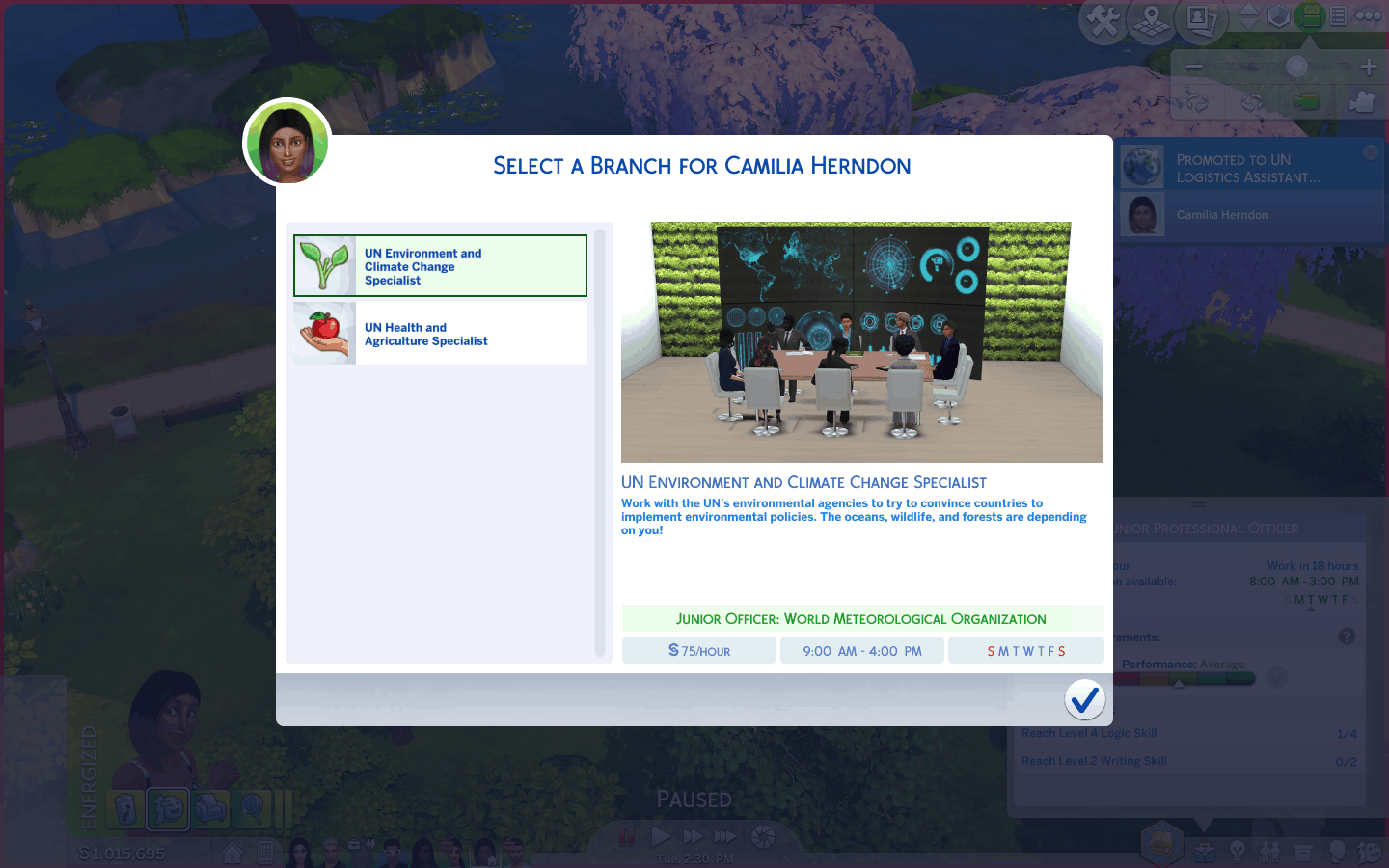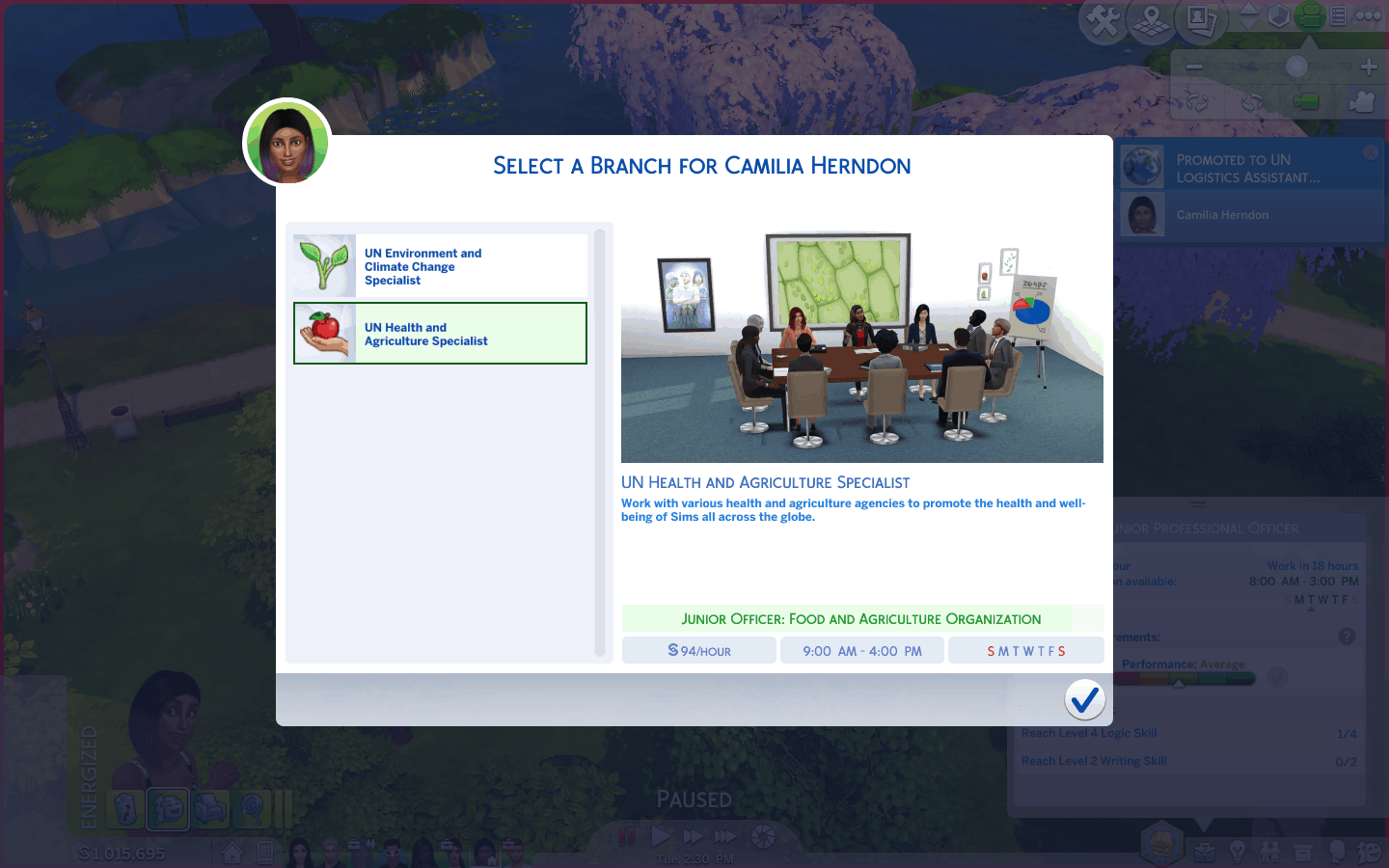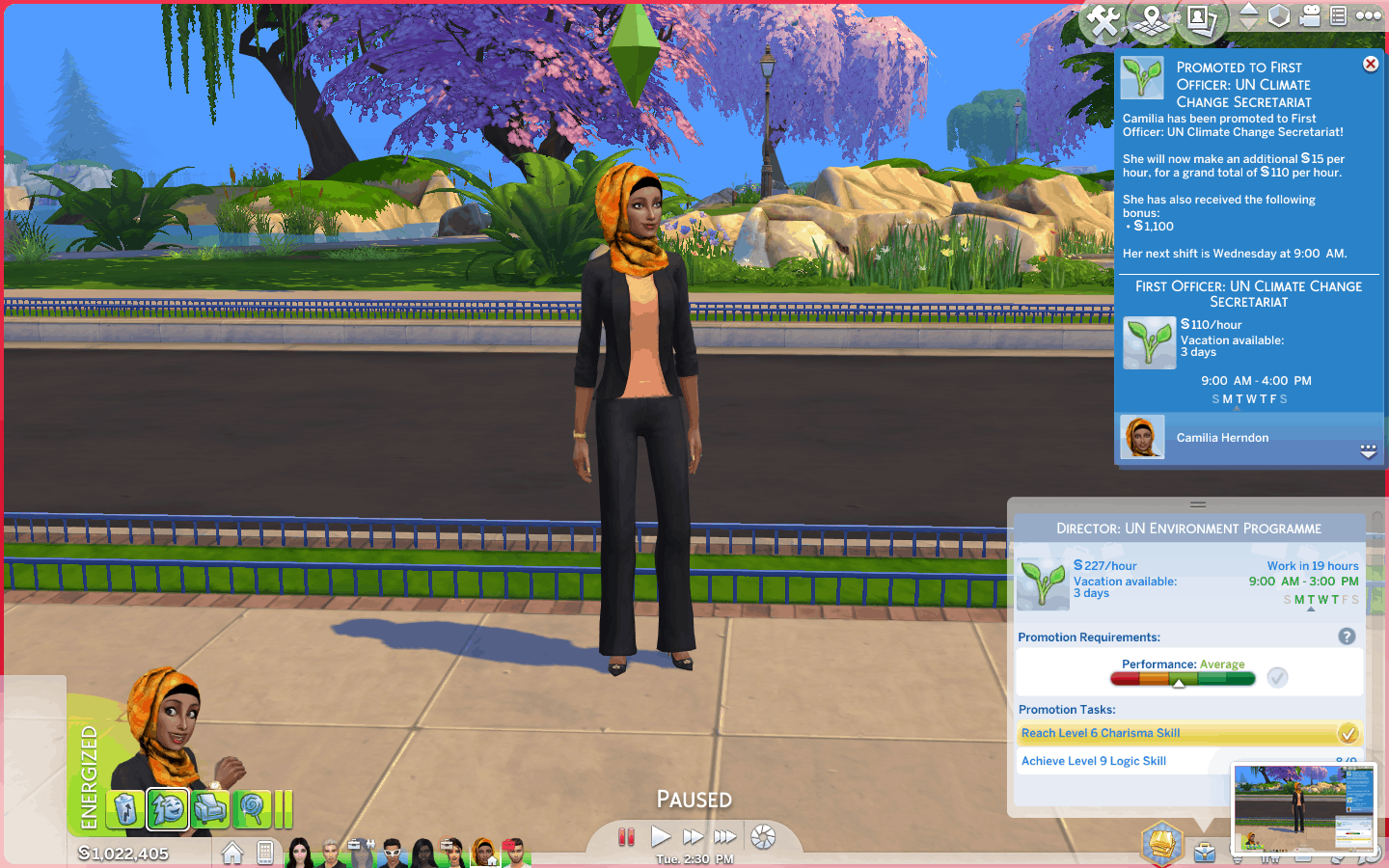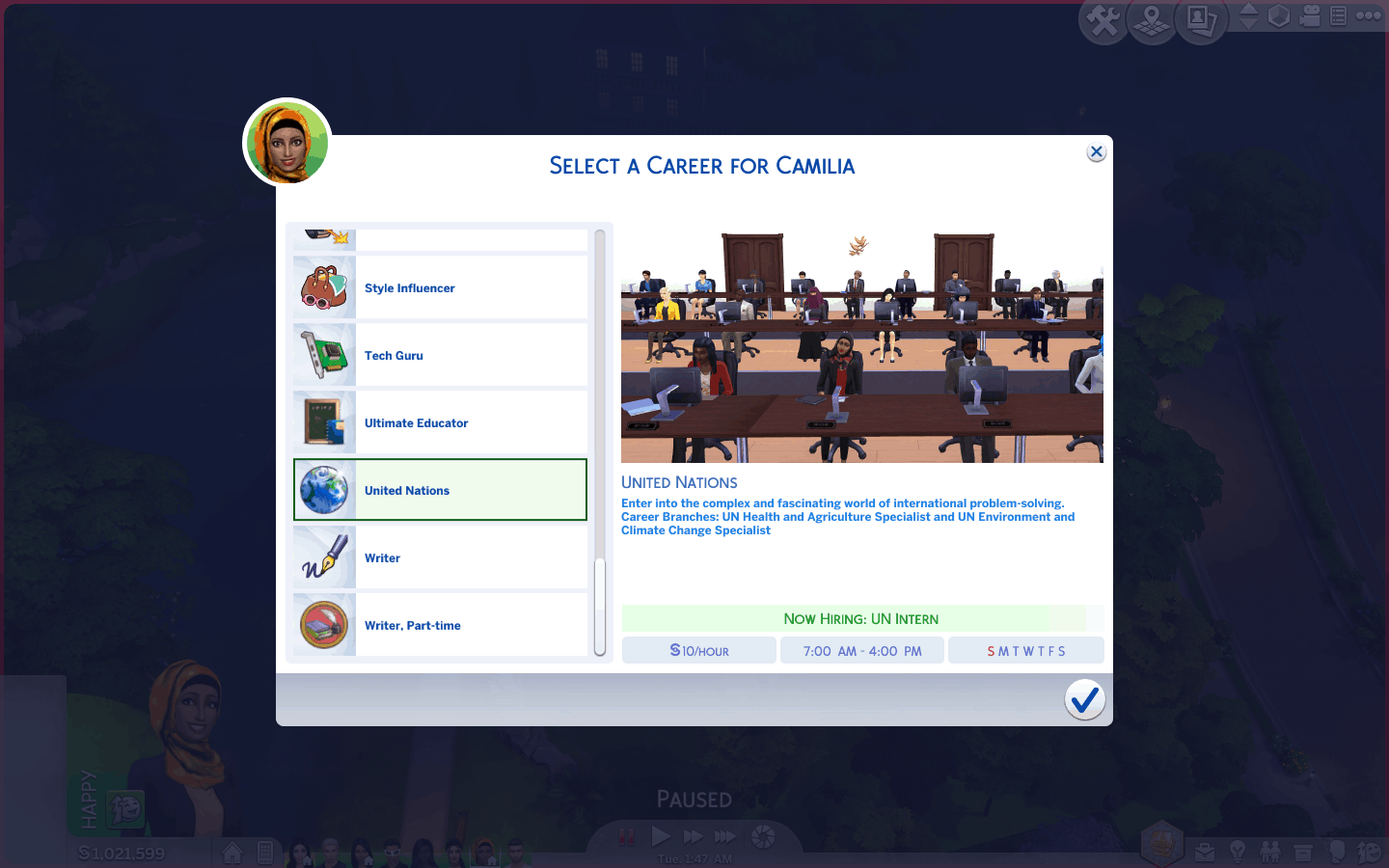 United Nations Career Mod
TECHNICAL
Compatible with base game and EPs
Patch version 1.50.67.1020
OVERVIEW
Salary range: §10/h to §487/h or §352/h
Work schedule: With some exceptions early on, the work schedule is morning to early afternoon.
Tracks: (1) Health, Food, and Agriculture Specialist (2) Environment and Climate Change Specialist.
Description: Is your dream to advocate for progress on an international stage? The United Nations is seeking entry-level Sims to work with Member states on environmental issues and food security.
UNITED NATIONS CAREER
Enter into the complex and fascinating world of international problem-solving.
Level 1: UN Intern This internship is a test of how dedicated you are. You'll be asked to work long hours on everything from formatting official reports to fetching fair-trade coffee.
M T W T F S – [7am-4pm] §10 /h = §90 /d
Charisma 2
PTO: 0.2
Level 2: UN Logistics Assistant Get your hands dirty with some humanitarian field work. Between running around distributing mosquito nets and llama blankets, secure a promotion by figuring out how to improve these projects.
– – W T F S S [2pm-10pm] §29 /h = §232 /d
Logic 2, Fitness 2
PTO: 0.21
Level 3: UN Junior Professional Officer Congrats! You are now an official UN staffer. This busy-body position will require a bit of everything, from drafting press releases to developing original ideas. Luckily, soon you will be choosing your specialisation.
M T W T F – – [8am-3pm] §52 /h = §364 /d
Logic 4, Writing 2
PTO: 0.22
Track 1: Health, Food, and Agriculture Specialist
Work with various health and agriculture agencies to promote the health and well-being of Sims all across the globe.
Level 4: Junior Officer: Food and Agriculture Organization The FAO aims to sustainably defeat malnutrition and poverty. Assist the organisation's efforts by learning about growing nutritious meals in different climates.
M T W T F – – [9am-4pm] §94 /h = §658 /d
Gardening 2, Cooking 2
PTO: 0.23
Level 5: Second Officer: Food and Agriculture Organization You are now the right-hand-Sim for those who manage projects to end world hunger.
M T W T F – – [9am-4pm] §114 /h = §798 /d
Gardening 3, Cooking 4
PTO: 0.25
Level 6: First Officer: World Food Programme The WFP's objective is Zero Hunger. You are now responsible for designing cutting-edge humanitarian programmes to further that goal.
M T W T F – – [9am-3pm] §138 /h = §828 /d
Logic 6, Gardening 4
PTO: 0.27
Level 7: Senior Officer: World Food Programme From Symada to Mosimia, disaster-stricken areas need nutrition assistance. Luckily, you are ready to make it happen.
M T W T F – – [9am-3pm] §192 /h = §1152 /d
Charisma 4, Logic 7
PTO: 0.29
Level 8: Director: World Health Organization This high-level position gives you the power to direct health policy across the entire United Nations. Choose your health priorities, target regions, and elite team.
M T W T F – – [9am-3pm] §233 /h = §1398 /d
Charisma 6, Logic 8
PTO: 0.3
Level 9: Under-Secretary-General of the UN Make sure that the vast and complicated structure of the United Nations remains stable and effective.
M T W T – – – [9am-2pm] §326 /h = §1630 /d
Charisma 8, Logic 10
PTO: 0.32
Level 10: Secretary-General of the UN You now hold the highest rank within the United Nations. How you choose to use your newfound status is up to you!
M – W – F – – [9am-3pm] §487 /h = §2922 /d
PTO: 0.34
Track 2: Environment & Climate Change Specialist
Work with the UN's environmental agencies to try to convince countries to implement environmental policies. The oceans, wildlife, and forests are depending on you!
Level 4: Junior Officer: World Meteorological Organization If it snows in April, does that mean that climate change isn't real? You are sure to find out while working for the WMO.
M T W T F – – [9am-4pm] §75 /h = §525 /d
Gardening 2
PTO: 0.23
Level 5: Second Officer: UN Climate Change Secretariat Half of your time will be spent learning some environmental skills to allow you to assist in implementing projects to address climate change. The other half will be spent memorising your organisation's acronym (UNFCCC).
M T W T F – – [9am-4pm] §95 /h = §665 /d
Gardening 3, Handiness 2
PTO: 0.25
Level 6: First Officer: UN Climate Change Secretariat You now have the opportunity to develop and implement your own climate change and conservation initiatives.
M T W T F – – [9am-3pm] §110 /h = §770 /d
Gardening 4, Logic 6
PTO: 0.27
Level 7: Senior Officer: UN Environment Programme Work with member states to get them to implement sound environmental policies. You will have to balance your environmental objectives with the development and economic concerns of member states.
M T W T F – – [9am-3pm] §164 /h = §984 /d
Logic 8, Handiness 4
PTO: 0.29
Level 8: Director: UN Environment Programme Direct the most beneficial climate policies, pick environmental priorities, and negotiate conflicts with member states.
M T W T – – – [9am-3pm] §227 /h = §1362 /d
Charisma 6, Logic 9
PTO: 0.3
Level 9: Under-Secretary-General of the UN Make sure that the vast and complicated structure of the United Nations remains stable and effective.
M T W T – – – [9am-3pm] §352 /h = §2112 /d
Charisma 8, Logic 10
PTO: 0.32
Level 10: Secretary-General of the UN You now hold the highest rank within the United Nations. How you choose to use your newfound status is up to you!
M – W – F – – [9am-3pm] §412 /h = §2472 /d
PTO: 0.34