Ultimate SBA Baller **TESTED WITH 12/20/18 PATCH** Mod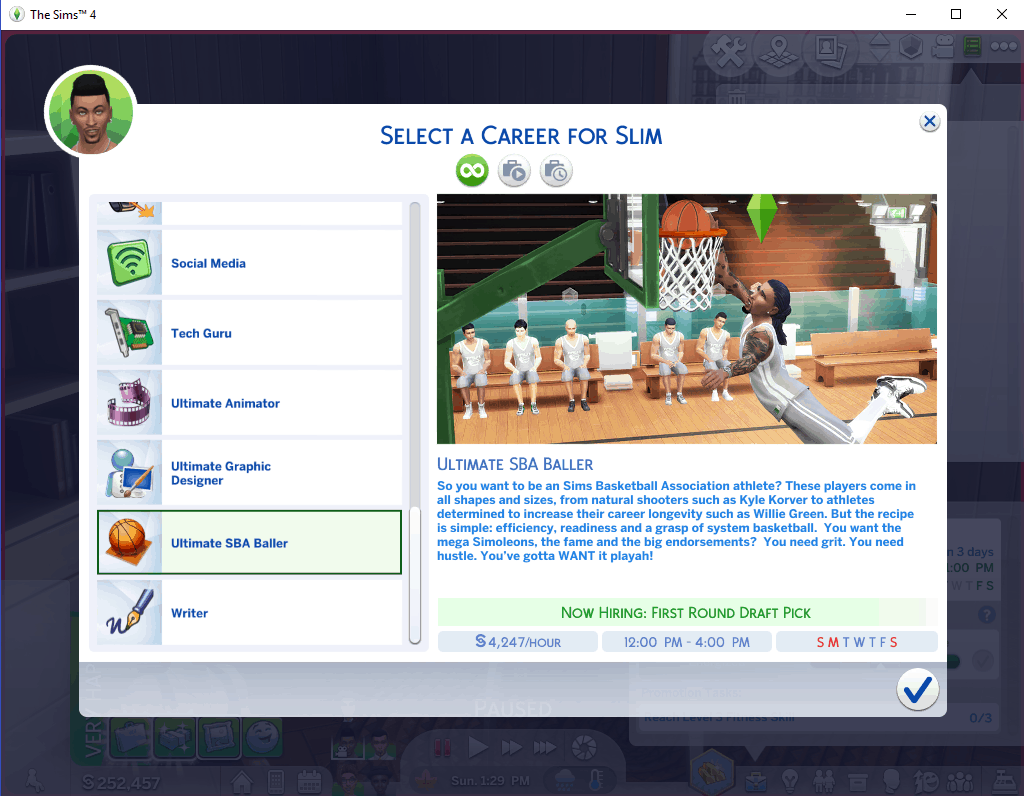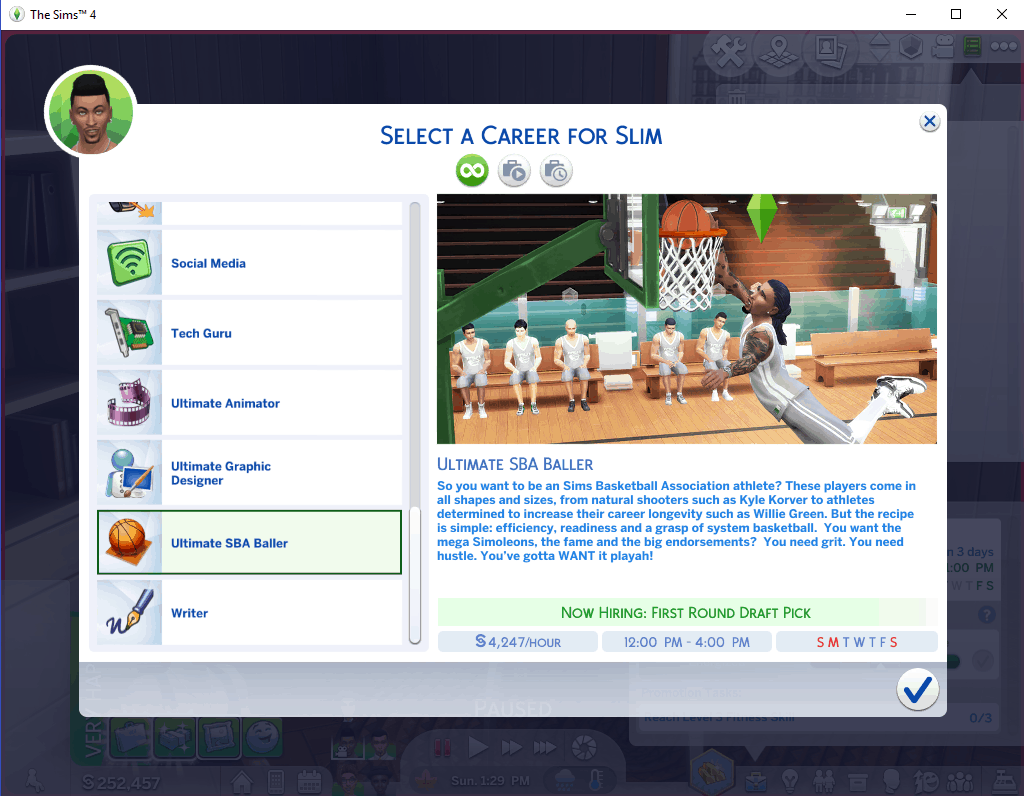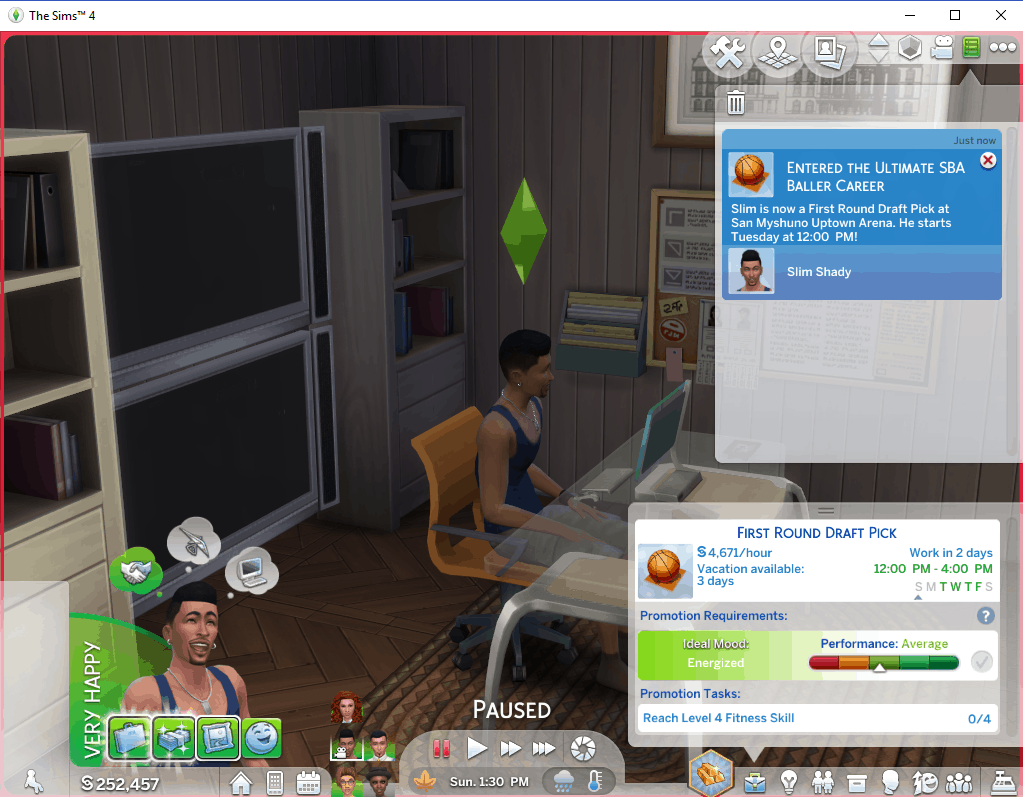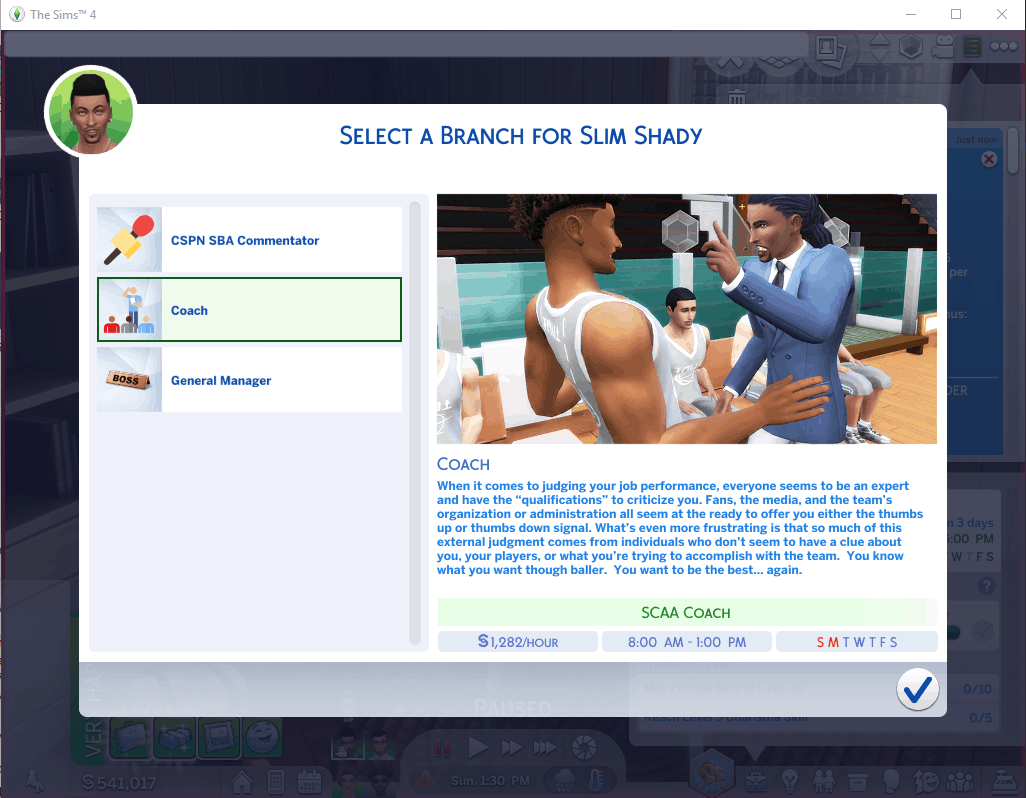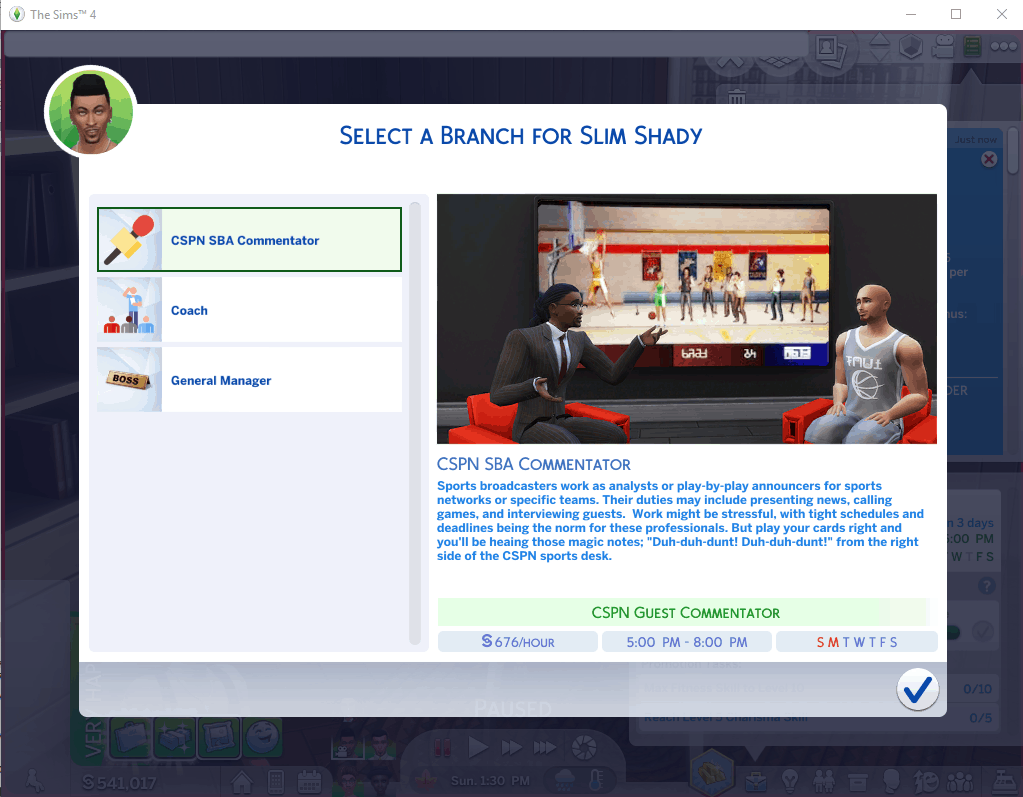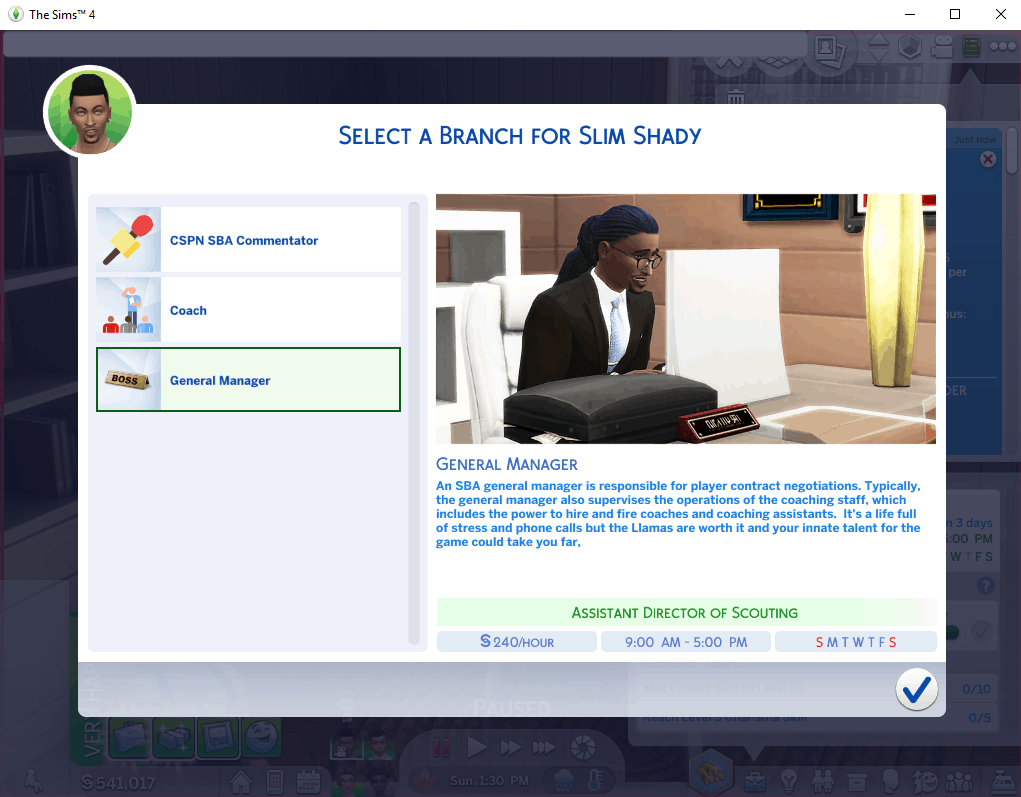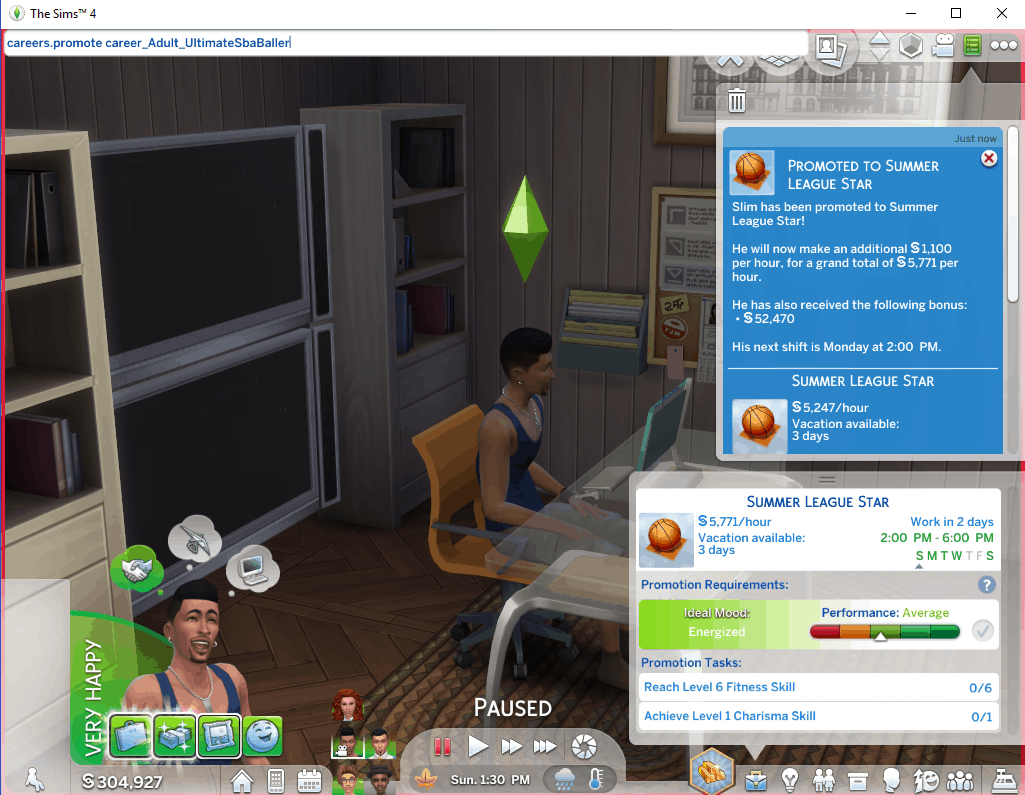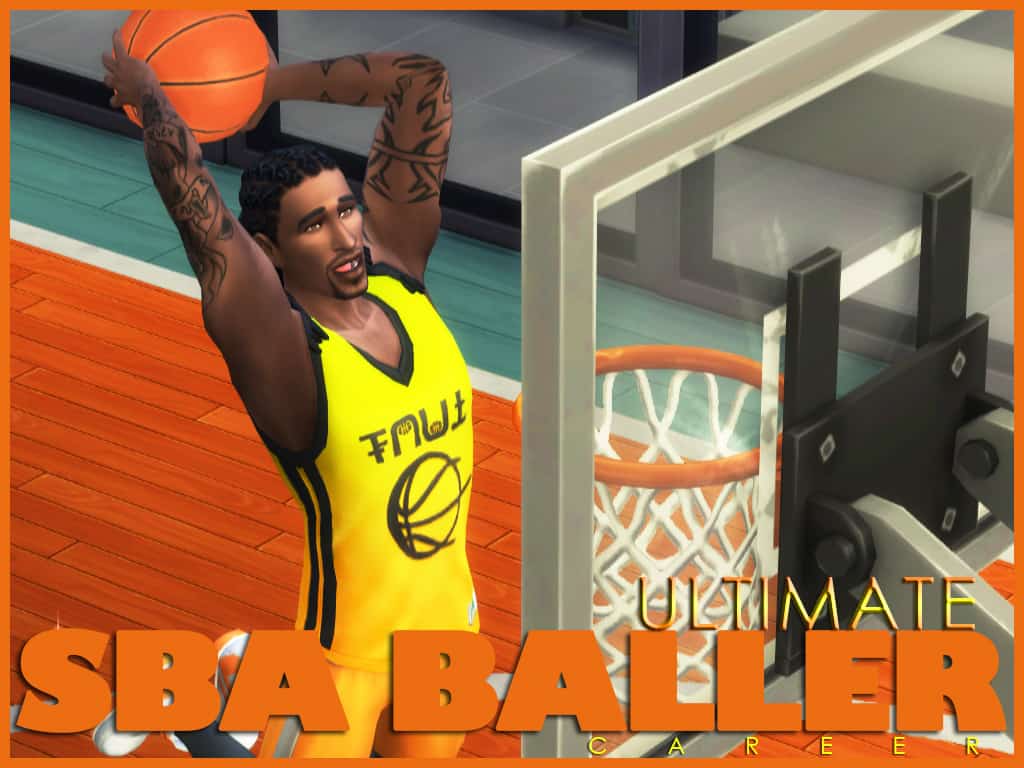 Ultimate SBA Baller **TESTED WITH 12/20/18 PATCH** Mod
*** Tested with Get Famous (not required) and Game Version 1.47.51.1020 – November 13, 2018 Update (definitely required) ***
PLEASE NOTE: You WILL need the newest Neia Career Commons file (included in download) also!
Also just as an FYI (because I thought it was a bug and was about to completely embarrass myself on Neia's forum)
as of the last patch, EA removed the "ideal mood" for rabbit hole careers.
Oh… You knew that already… Soooo… It was just me? Okay then…. Carry on.
This career is the companion to my SBA Baller career. It starts off pretty much the same as SBA Baller, but then gives the option for 3 additional career tracks. If you love basketball but want MORE, this one is for you. You can have both this career and the regular SBA Baller in your game with no problems. I made a basketball club and set up a team to back up my Ultimate player. It was fun!
A few words on the pay levels. Their still INSANE by EA standards but they're researched and reasonably accurate against actual annual pro basketball salaries and the other career tracks as well.
ALSO, when you start the bonus tracks, your pay levels will drop. That isn't a glitch. Pro ball players make the big Simoleons, but you're starting over after your career ending injury. The game isn't really set up for that though. You'll get the standard message about a raise, but the amount of your raise will be a negative (whatever the drop is). Ironically you still get a bonus though, so still a win.
I tested this thoroughly through all the tracks and while it looks a bit funny, it doesn't cause any problems and you continue to progress with raises after that as usual. SO, without further ado, on to…
Ultimate SBA Baller
So, you want to be an Sims Basketball Association athlete? These players come in all shapes and sizes, from natural shooters such as Kyle Korver to athletes determined to increase their career longevity such as Willie Green. But the recipe is simple: efficiency, readiness and a grasp of system basketball. You want the mega Simoleons, the fame and the big endorsements? You need grit. You need hustle. You've gotta WANT it playah!
Career Details:
First Round Draft Pick
For the 30 players who will be selected in the first round of the SBA Draft, there aren't many decisions left to make — other than what color suit to wear, that is. You can't choose what team you'll get to play for, and even your salary will be dictated by the SBA's rookie wage scale. You got picked in the first round by San Myshuno! Go Llamas!
Mood: Energized
PTO: .33
Hourly: 4247
Per Day: 16988
Schedule: -TWTF—
Objectives: Fitness 4
Summer League Star
The SBA Summer League, also known as the Lucky Simoleon Summer League, is an off-season competition organized by the National Basketball Association. SBA teams come together to try out different summer rosters instead of their regular season line-ups, including rookie, sophomore and G League affiliate players. You don't just want to Simoleons, you want the fame (and even more Simoleons)! Time to shine baller!
Mood: Energized
PTO: .33
Hourly: 5247
Per Day: 20988
Schedule: MTW–SS
Objectives: Fitness 6, Charisma 1
Rookie Stunner
"Wait a minute, you're telling me they have catered food? Salmon cakes, asparagus and salad … like, for free? I don't have to throw in money for Domino's or Wal-Mart pizza every night with my roommates like in college? I'm about to go Kobe on this whole damn league." And then reality sets in. Don't forget where you came from Rookie. They're calling you the next Steph Curry for a reason. Better get some sleep on the plane. You're gonna need it to keep this up.
Mood: Energized
PTO: .33
Hourly: 6254
Per Day: 25016
Schedule: -T-TFS-
Objectives: Fitness 8, Charisma 3
SBA Superstar
A superstar is someone who can have a team built around them. They should be able to take them deep into the playoffs and be that ONE you can depend on in the closing minutes. A GM would literally break their arm before trading a you. And if by some miracle you get traded, the other team would have to give up everything -including the kitchen sink- to acquire you. You already have a Championship under your belt. Time to make this team a DYNASTY baby!
Mood: Energized
PTO: .33
Hourly: 7943
Per Day: 31772
Schedule: -T-TF-S
Objectives: Fitness 9
Championship Dynasty Leader
Most teams would be lucky to have one Richie Striker SBA Championship Trophy in their case. The San Myshuno Llamas are a certified dynasty and every commentator (except the haters) attribute that to YOU. You're being called the next Lebron James… the next Kobe Bryant… the next Michael Jordan! You wake up in the morning and sign a new endorsement. You have more Simoleons than you can spend. As long as you're not hobbled by a career ending injury, nothing can stop you!
Mood: Energized
PTO: .33
Hourly: 9142
Per Day: 37648
Schedule: -TW-FS-
Objectives: Fitness 10, Charisma 5
Track 1: Coach
When it comes to judging your job performance, everyone seems to be an expert and have the "qualifications" to criticize you. Fans, the media, and the team's organization or administration all seem at the ready to offer you either the thumbs up or thumbs down signal. What's even more frustrating is that so much of this external judgment comes from individuals who don't seem to have a clue about you, your players, or what you're trying to accomplish with the team. You know what you want though baller. You want to be the best… again.
SCAA Coach
We had to say it didn't we? The highlight reel of your career ending injury went viral. Bones really shouldn't stick out like that (or knees bend in that direction for that matter). Well the haters hated and the media had a field day with "Oh, how the mighty have fallen." stories. But you hobbled on down to Windenburg University and landed a sweet SCAA coaching gig. Sure, they basically hired you because your name will fill the stands, but you won't rest until Windenburg U. is next SCAA darling.
Mood: Energized
PTO: .33
Hourly: 1282
Per Day: 6410
Schedule: -TWTFS-
Objectives: Logic 3, Wellness 3, Charisma 5
SBA Journeyman Coach
OK, maybe you won't be the next John Wooden. But your talent did catch the eye of an SBA GM. Now you're a journeyman coach. A few seasons here. A season there. The best way to make a reputation in the league is simple: be good at your job. And you are. Your Midas touch has not gone unnoticed, but your dream is to get back to San Myshuno and make the Llamas great again.
Mood: Energized
PTO: .33
Hourly: 1345
Per Day: 5380
Schedule: –WTFSS
Objectives: Logic 5, Wellness 5
Assistant Coach
Yes! You made the right connections and finally landed a plumb job in your beloved San Myshuno. The team has fallen on hard times since your femur decided it would rather be on the outside of your body, but you have a lot of ideas to get them back in fighting shape. Prove your worth and keep those Llamas winning. That head coach is getting up there (and the owner isn't too happy with the team record). Who better to fill his shoes than you?
Mood: Energized
PTO: .33
Hourly: 1410
Per Day: 5640
Schedule: -T-TF–
Objectives: Logic 7, Wellness 7
Head Coach
It's go time. You were a highly valued assistant coach and well-regarded defensive mind before the owner had his hissy and fired the top guy. Now it's your time to show them what you can do! Run practices, recruit players and call the plays during games that will make San Myshuno great again. You tasted the life of a dynasty member before and you want it again!
Mood: Energized
PTO: .33
Hourly: 2991
Per Day: 14955
Schedule: –WTFS-
Objectives: Logic 8, Wellness 8
Championship Dynasty Coach
Few coaches in the history of basketball have been as intimidating, polarizing and utterly successful as YOU! In all, more than 300 men have been head coaches in the SBA. Most haven't lasted long. In a league that churns through coaches like Elizabeth Taylor through husbands, a select few have enjoyed successful careers spanning more than a decade. You let your work, job, and your commitment do the talking. Pretty much everyone else hates your guts, but San Myshuno thanks you.
Mood: Energized
PTO: .33
Hourly: 10684
Per Day: 53420
Schedule: –WTFS-
Objectives: Logic 10, Wellness 10
Track 2: General Manager
An SBA general manager is responsible for player contract negotiations. Typically, the general manager also supervises the operations of the coaching staff, which includes the power to hire and fire coaches and coaching assistants. It's a life full of stress and phone calls but the Llamas are worth it and your innate talent for the game could take you far.
Assistant Director of Scouting
We had to say it didn't we? The highlight reel of your career ending injury went viral. Bones really shouldn't stick out like that (or knees bend in that direction for that matter). Anyone can watch a game, and anyone can be right about a few players, but having success in this job over the long haul is more difficult than people think. Do you have the eye for talent over the long haul? Start with finding your replacement.
Mood: Focused
PTO: .33
Hourly: 240
Per Day: 1920
Schedule: MTWTF–
Objectives: Logic 3, Charisma 6
Director of Player Personnel
Player evaluation, sometimes called scouting, is a central part of a director of player personnel's job. He must pull together all the information on a player, including input from team scouts and coaches, recruiting services and other sources, to present to the general manager and head coach. You had an amazing run as a scout but keeping a whole team running is a whole new level of challenge. Use those instincts and study up on compliance to keep moving up in the front office!
Mood: Focused
PTO: .33
Hourly: 386
Per Day: 3088
Schedule: MTWTF–
Objectives: Logic 5
Assistant General Manager
You definitely have a proven knowledge of the game. But, there's no draft and connections won't cut it. You need to prove you can make good decisions at a very high level before an owner puts all the control in your hands. Keep all of those (basket) balls in the air and keep the Llamas winning championships. Your dream job is so CLOSE!
Mood: Focused
PTO: .33
Hourly: 961
Per Day: 7688
Schedule: MTWTF–
Objectives: Logic 7, Charisma 7
SBA General Manager
SBA general managers must wear numerous hats. First, GMs are responsible for overseeing all the business and financial operations of the team. Most have an important role in public relations as the public face of the team. Many GMs also have significant roles in player personnel decisions, including drafting, handling free agents and contracts. You're the captain of the ship now. There's nowhere else to go… or is there?
Mood: Focused
PTO: .33
Hourly: 3365
Per Day: 26920
Schedule: MTWTF–
Objectives: Logic 9
President of Sports Franchises
Congratulations team President! You're now the CEO of the Llama's franchise. Your job now is to make money for the company. The main way you can do this is to fill those seats for every game. Along with selling tickets, you make sure every other money-making opportunity is exploited: concessions; box seats; season tickets; corporate accounts; souvenirs; broadcast rights and licensing fees. Working your way up to the top meant knowing the sport inside and out, but even more than that it meant being the best business person in San Myshuno. Maybe you should take a day off every once in a while.
Mood: Focused
PTO: .33
Hourly: 6211
Per Day: 49688
Schedule: MTWTF–
Objectives: Logic 10, Charisma 8
Track 3: CSPN SBA Commentator
Sports broadcasters work as analysts or play-by-play announcers for sports networks or specific teams. Their duties may include presenting news, calling games, and interviewing guests. Work might be stressful, with tight schedules and deadlines being the norm for these professionals. But play your cards right and you'll be hearing those magic notes; "Duh-duh-dunt! Duh-duh-dunt!" from the right side of the CSPN sports desk.
CSPN Guest Commentator
We had to say it didn't we? The highlight reel of your career ending injury went viral. Bones really shouldn't stick out like that (or knees bend in that direction for that matter). Time to trade on your fame. CSPN comes calling and you land your first post injury gig as a celebrity guest commentator. You'll have to show them you're more than just a handsome face who can wear a suit. Your talents extend beyond the court (and it's a good thing they do). Time to parley this limited job into an even more profitable career!
Mood: Energized
PTO: .33
Hourly: 676
Per Day: 2028
Schedule: -TWTFS-
Objectives: Charisma 7
CSPN Play-by-Play Commentator
A sports play-by-play announcer gives a running commentary of a game in real time. You have to have a referee level of basketball knowledge and enough wit to keep it interesting without being annoying. But man does it suck being that close to the thrill of the sport with nothing to show for it but getting covered in second hand sweat. Study up on those basketball plays and keep your eye on the next prize… Sideline reporter.
Mood: Energized
PTO: .33
Hourly: 1442
Per Day: 7210
Schedule: –WTFS-
Objectives: Charisma 8, Logic 4
CSPN Sideline Reporter
"Let's go to the third member of our team today. . ."
It's a "throw" like that, from the sideline reporter, that has become a staple of game coverage on CSPN and throughout the industry. You're a welcome face on the San Myshuno courts, and your knowledge and game cred are respected throughout the industry. Do you have the charisma, uniqueness, nerve and talent to go beyond San Myshuno? Can you take your skills nationwide to get to the platform as a Game Analyst?
Mood: Energized
PTO: .33
Hourly: 1952
Per Day: 9760
Schedule: –WTFSS
Objectives: Logic 6
CSPN Game Analyst
You're one of the best commentators in sports. You're respected and admired, and for good reason. Your work-ethic and your passion for the SBA are second-to-none. Now you'll be able to share all of your knowledge from the booth, with SBA fans on a regular basis. The good ones provide insight, analysis, background information and humor and help us understand and enjoy the game. You aim to be the best, so you can land your own show!
Mood: Energized
PTO: .33
Hourly: 2884
Per Day: 26920
Schedule: -TWTFS-
Objectives: Charisma 9, Logic 7, Comedy 2
CSPN Prime-Time Studio Analyst
The SBA has long been a star-driven league, from the days of Wilt and Russell, to the era of Larry, Magic and Michael, to more modern times of Shaq, Kobe, AI and the current generation of King James' reign.
Perhaps in the SBA more than any other major American sport, the announcers have been as much a part of the game as the players. Is it possible that you're more important to the game of basketball as a studio analyst than you were as a Hall of Fame player? Your paycheck certainly thinks so!
Mood: Energized
PTO: .33
Hourly: 2884
Per Day: 26920
Schedule: -TWTFS-
Objectives: Charisma 10, Logic 8, Comedy 5
Career cheat is tested and working!
Select CTRL+SHIFT+C
Enter:
testingcheats on
And then:
careers.promote career_Adult_UltimateSbaBaller
I did not in ANY way base this on any other career. It's 100% my own creation and a LOT of work went into it. So…
Thank you so much in advance if you decide to try Ultimate SBA Baller. I hope your Sim enjoys living ALL their pro basketball dreams.
Basic Download and Install Instructions:
1. Download: Click the File tab to see the download link. Click the link to save the .rar or .zip file(s) to your computer.
2. Extract: Use WinRAR (Windows) to extract the file(s) from the .rar or .zip file(s).
3. Cut and paste the file(s) into your Mods folder
Windows XP: Documents and Settings(Current User Account)My DocumentsElectronic ArtsThe Sims 4Mods
Windows Vista/7/8/8.1: Users(Current User Account)DocumentsElectronic ArtsThe Sims 4Mods
Need more information?
Anyone can use both .rar and .zip files easily! On Windows, use WinRAR.
If you don't have a Mods folder, just make one.